1.
A reviewer-beloved pet hair remover with over 106K 5-star ratings (!) for anyone who can never seem to get all of their pet's fur off of their clothes and furniture. Just roll it over your fuzz-covered item of choice, and watch it lift the fur RIGHT OFF.
Promising review: "If I could give this product six stars, I would. My husband and I use it almost every day. We have three furry dogs and six fluffy cats, which makes for A LOT of hair. We were using a lint roller before we bought our ChomChom Roller. The lint roller didn't work very well and had to be replaced. We have had our ChomChom Roller for months and it still works just as well as it did when we first got it. We can actually invite our friends over now without worrying about all the pet hair." —Morgan Willis
Get it from Amazon for $29.99.
2.
A FURemover squeegee broom reviewers say attracts hair like a magnet. All that fur and fuzz hiding deep in your carpet is no match for this thing, and while pet hair is the focus, it'll do an impressive job cleaning up water, dirt, and dust too.
Check this out in action on TikTok!
Promising review: "So of course I saw this product on TikTok...and added it to the list of things that TikTok made me buy. But I'm very glad that I did. I have a Siberian husky who sheds a LOT...and in all seasons. I use this on my carpet before vacuuming and it loosens up the hair so easily that my vacuum never got. I never realized I had that much dog hair caked into my carpet until I used this!" —Alyssa Frey

Get it from Amazon for $16.99.
3.
Some Wet & Forget shower cleaner — it makes it easy to keep your tub and shower nice and shiny. All you have to do is spray, let it sit, and rinse — and it'll clean and prevent scummy buildup all on its own. No scrubbing or wiping required — hooray!
Promising review: "This stuff is amazing! I had a horrible gray ring in the bottom of my shower that was impossible to remove. I had tried the Dawn dish soap method (with a lot of scrubbing) and had even used toilet bowl cleaner to try to remove the soap scum. My next step was to tear out and replace the shower pan and tile. I figured this was my last chance. I ordered the Wet & Forget spray and really coated the shower walls and floor pan and walked away. I CANNOT begin to tell you how happy I was to rinse down the walls sometime later and watch all that crud roll right down the drain!! This is the best product I have ever used in my life!! Works great and no toxic fumes!!" —Amazon Customer
Get it from Amazon for $20.52 (available in two scents and two sizes).

4.
A tub of The Pink Stuff,  which has reached cult-favorite status for being great at removing stains, rust, discoloration, and other stubborn marks from metal, ceramic tiles, saucepans, barbecues, and much more without leaving behind any scratches!

Promising review: "Oh my gosh — this stuff is a life-changer! Used it to get my fiberglass shower totally clean. Nothing else would get it done and this stuff brought my shower back to near-new in one use. We've since cleaned a weird chalky film off our garage door, removed wall markings, and cleaned my storm door. We'll never be without a jar (or three) of this stuff. Worth every penny." —Nancy F.
Get it from Amazon for $5.97 (also available as a pack of six).
5.
A cleaning K-Cup you can pop into your Keurig just like you're making a normal cup of coffee. Then all you have to do is brew one large cycle with the cleaner pod, and one or more with just water (depending on how dirty your machine is), and you're done! Reviewers are overjoyed by how easy it is, and are relieved that they no longer have to wonder what gross bacteria is hiding out in their morning bean juice.
Promising review: "Our coffee can start to taste funky after several uses. We run this through once, then two times with just water. Works great and coffee goes back to tasting like normal! It clears out any build up that can affect the taste of your coffee. It is super easy and just as quick as making a cup of coffee." —Maine Customer
Get a pack of six from Amazon for $9.95 (also available in larger multipacks).
6.
An all-purpose scrubber kit capable of making your surfaces look brand-new — without any scrubbing on your part! Just attach the brush head to your drill, turn it on, and watch all of that grime disappear so fast and easily, you'll think it's magic.

Check it out in action on TikTok here!
Promising review: "I bought this on a whim because my walk-in shower is just a pain to clean. I'm 51, and I guess I've just been old school with how I clean, hand-scrubbing for years. The FIRST time I used this to clean my shower, it took five minutes, AND it scrubbed my shower more clean than it has been in years. In the corners, the floor, the glass door...everything came out squeaky clean. I'm NEVER cleaning my shower by hand again." —Terry
Get it from Amazon for $15.29+ (available in six colors and five bristle stiffnesses).
7.
A super satisfying-to-use electric pressure washer in case you need a little extra power at your disposal when it comes to cleaning layers of grime and discoloration off of your deck, patio, car, driveway, fence, boat, and more.  
Promising review: "Power washer was delivered Monday, it's Wednesday and I have washed two cars, cleaned driveway and sidewalks, cleaned back fence, and the work keeps piling up; everything I see now needs to be cleaned! This little dude does not back down; plenty of power and it's surprisingly not too loud. Soap dispensers work great, and the tips are easy to change." —Mar
Get it from Amazon for $169.
8.
A fast-acting carpet spot-removing spray to remove those stains you thought you'd never be able to get rid of.
Promising review: "This stuff is AMAZING! I was a little skeptical because I have some carpet stains I've let sit for a while because I didn't have any cleaner at the time of the accident. The accidents have included coffee spills and poorly cleaned cat barf stains. I ordered this because I didn't want to spend the money on a carpet cleaning service plus you have to be out of your house too long. This stuff was INCREDIBLE. You just spray a concentrated amount and then scrub the stain away. It worked on every single stain I had and was super quick and easy. 100% recommend if you need a good spot cleaner!" —Kimberly
Get it from Amazon for $6.65+ (available in two sizes and multipacks).
9.
A machine-washable EasyWring microfiber spin mop featuring an automatic hands-free wringer and a splash guard so you can mop *without* the worst parts of mopping — getting your hands all dirty and splashing dirty water all over the floors you JUST washed. Plus, it'll deep clean your home using *only* water — no harsh ingredients needed (!) — thanks to its millions of advanced microfiber strands that are pros at capturing dirt and grime, the triangle mop-head, and the 360-degree rotating ability, which allows it to easily reach into corners, under furniture, alongside baseboards, and between tiles.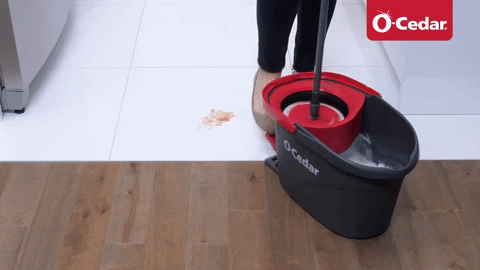 Check out this TikTok showing it in use!
Promising review: "I had had it with my broken basic mop and bucket. I tried to just get a dollar store Swiffer to get us by, but that wasn't cutting it at all. With three boys and a dog that makes his rounds on all the furniture and every exposed corner, I had to do something. After seeing a TikTok where a woman demonstrated this mop to clean her walls, and hearing my boss raving about it, I decided to click the Amazon button. Let me tell you, I HATE cleaning, I HATE mopping, but I LOVE for things to be clean. 
I was able to mop the entire house TWICE (Because it was that dirty. Please don't judge.) within an hour. A few days later I mopped the entire house again within 10 minutes because they weren't quite as dirty. On another positive note, my boys love the spinner and think it's a toy! So, every time I get the bucket out my 10-year-old and 4-year-old ask to mop the house because they think it's fun. MAJOR BONUS!" —Molly
Get it from Amazon for $34.97. 
10.
A plant-based stainless-steel cleaner and polish that quickly dissolves fingerprints and smudges on kitchen appliances so keeping up with the carnage left behind by your little ones isn't such a chore.
Promising review: "This is hands-down the only product that has ever perfectly cleaned my stainless steel appliances. It deserves 10 stars because nothing else comes close to removing streaks and toddler finger prints as easily and completely as this. I have tried for years to get my appliances to look like new. Everyone who has stainless should own this." —Danielle
Get a bottle from Amazon for $19.95 (also available as a pack of two or six).
11.
A pet urine stain–removing spray perfect for pet owners who are desperate for a borderline magical solution to remove spots and smells both old and new.
Rocco & Roxie Supply Company is a family-owned small business established in 2013 that specializes in pet odor eliminators, pet toys, pet snacks, and pet accessories.

Promising review: "I don't know how I ever survived without this. There's tons of 'pet stain/odor remover' products out there, but this by far is the absolute best. I cringed paying the $20 for it when others are between $5–$10, but I have NO ISSUES paying now. I foster dogs, some puppies, some older, some not housebroken, and every room in my house is carpeted except the kitchen, which means I have lots of accidents. 
I spray enough to saturate if it's a lot of urine, let it soak for 10 minutes, then wipe it up with a hand towel. Then I put a larger towel on top of it if it's in a high-traffic area until it's completely dry. It's taken out every stain and, more importantly, the odor is gone! I will never stop buying this product. I recommend it to everyone who has dogs!" —Shelley
Get it from Amazon for $19.97+ (available in two sizes).
12.
Or a Bissell Little Green machine designed to make removing tough pet stains no big deal thanks to its super strong spray and suction capabilities. If your pets are reigning destruction upon your carpets, household fabrics, furniture, and car interiors — this was made for you.
Promising review: "Two months ago we got a 6-month-old puppy who has needed some time to get adjusted. That included more than a few accidents in our living room and on his bed. This machine has made cleanup of everything so much simpler and I love that it's deep cleaning and has a nontoxic pet cleaner so that our not-so-little puppy isn't harmed through exposure or smells. Also helpful since my teenage sons like to camp out on the couch with their friends on long weekends and our couch gets that fresh clean smell in an hour." —Kindle Customer
Get it from Amazon for $123.59+ (available in two styles).
13.
A pack of Bottle Bright tablets that'll help make your gunky, stained tumbler look and smell brand-new — no scrubbing necessary!
Promising review: "I keep two stainless-steel mugs at work, and they rotate between tea, water, and occasionally coffee. I'm good about washing them, but they had still developed a thin, tea-colored patina. I didn't think there'd be much of a difference after using these tablets (I really bought them for a coworker whose mug is thick with stains), but WOW! Ten minutes with simmering-hot water made my mugs look brand-new. I didn't realize how stained the mugs actually were." —Library Chick
Get a 12-pack from Amazon for $8 (also available in multipacks).