1.
An ~a-gourd-able~ lumbar pillow that'll add some cozy fall flavor to your outside seating.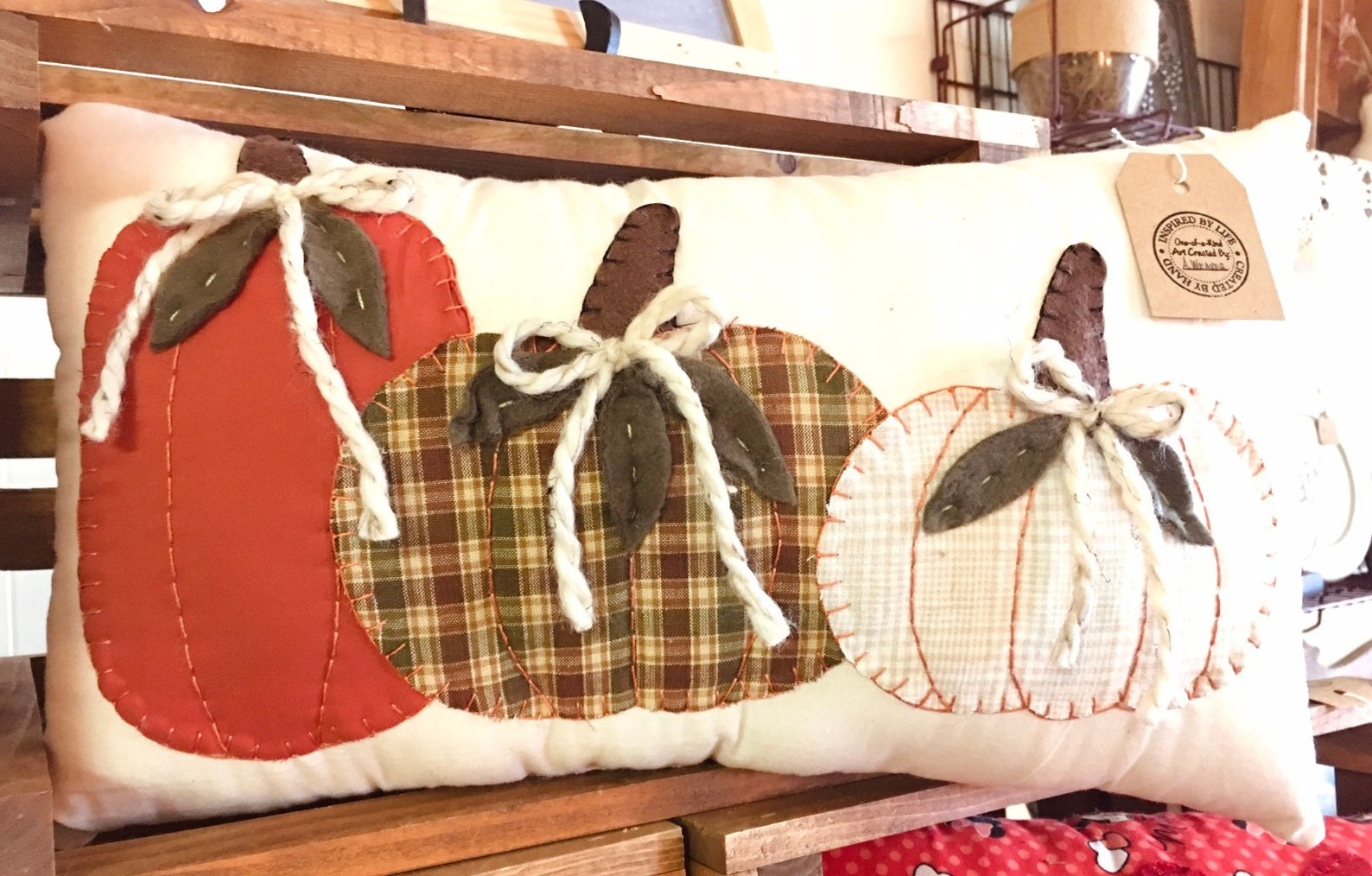 Just a heads up that it isn't weather/waterproof, so take it inside if there's any bad weather in the forecast!

DW Creations LLC is a small Etsy shop based in New Holland, Ohio that specializes in handmade decorative pillows.

Promising review: "This is a beautiful and quaint pillow. It's perfect for my fall/Thanksgiving decorating. So well made. I'm very happy😍." —Christy Kelley
Get it from DW Creations LLC on Etsy for $27.20 (original $32).
2.
A durable and weatherproof Dr. Infrared indoor/outdoor wall/ceiling heater so you can extend outdoor hangouts well into the chilly season we all know is coming. Choose between three heating modes using the handy remote control, and use the timer and auto shutoff features for extra convenience!
Key features: Electric, 900–1,500 Watts, remote control, auto shutoff, timer, wall/ceiling mounting bracket included (tripod sold separately).
Promising review: "Works great and is a really nice size, not dominating our deck. I put it directly above our outdoor sofa. Takes the edge off the cold for the two of us underneath. Doesn't make us hot, but makes us warm enough that sitting outside is really comfortable. I don't think if it's much farther away it will give enough heat. Works perfectly for us, though!" —Capt H
Get it from Amazon for $126.79.
3.
Or a cast-iron fire pit if you'd rather cozy up next to a bonfire and maybe roast a marshmallow or two!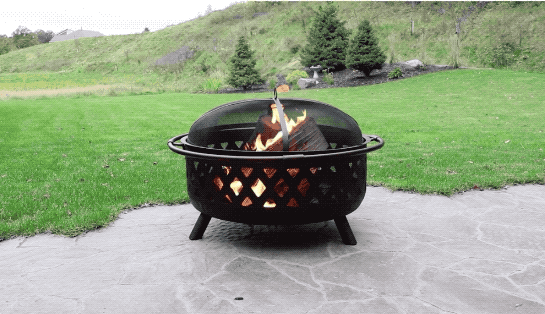 Promising review: "This is a great value and it was very easy to assemble! We used it recently and found it to be a great addition to our backyard — and it helped keep the mosquitoes away! As the weather has gotten colder at nights, I've been impressed by how sturdy the fire pit is and by the wonderful heat that it provides us!" —Arthur Glauberman
Get it from Amazon for $199.
4.
*And* some extendable roasting sticks to help you make perfect s'mores without burning your hand in the process.
Promising review: "These roasting sticks will get the job done. They retract easily and will be perfect for light use (roasting marshmallows) with our firepit. Not extremely sturdy but not flimsy either. The metal points are not sharp which is a good thing if kids are handling them. I like the storage pouch it comes with too." —Sheri J. O
Get a pack of eight from Amazon for $11.99 (also available in packs of five, ten, and 15).
5.
*ALSO* —  a small tabletop firepit if you don't have room for a full-sized fire pit but still wanna enjoy roasting marshmallows over an open flame!

Grab fuel for this little bad boy here.
Promising review: "What is it about a fire that's so soothing? If you've ever sat around a campfire or gathered with friends at a patio fireplace, you know how the flames draw your eye, the warmth offers security, and conversation springs forth delightfully. Despite its tiny size, this tabletop fire pit offers up the same benefits of a traditional social fire gathering. As a centerpiece, it becomes a focal point and stimulates feelings of warmth and camaraderie. Bring out the marshmallows, and you have a fun and easy dessert that brings smiles all around! A small item that brings big satisfaction. This is one holiday purchase for which there are no regrets! —Nature Girl

Get it from Amazon for $29.99 (also available as a pack of two).
7.
A cool hammock chair you'll love hangin' around in all autumn long.
It comes with two cushions and installation hardware, and can hold up to 500 pounds!
Promising review: "This came in great shape, it was easy to set up, and it is comfy and sturdy. As a plus-size woman, I was a little concerned about how sturdy it would be, but it is great! I've never felt nervous about hopping into it and staying there right until the mosquitoes come out." —Mal T
Get it from Amazon for $39.98+ (available in five colors).
8.
Or a hammock with a steel stand and carrying case if a hanging hammock isn't an option, but you still wanna lounge comfortably under the wide open autumn sky.

Plus, the stand is easy to assemble, disassemble, and pack up in the included carrying case for storage or travel!
Long, but worthwhile promising review: "Features to love: The cotton fabric is sturdy and breathable. I never feel stuck to it the way I do in a nylon hammock. The setup/take down is super easy, and the frame is very sturdy — we have definitely put 300-plus pounds in it. 
The ability to raise and lower the hammock with the multiple hook positions might be the best feature. I have bad knees and like to get into the hammock from a higher position... no problem. My kids like it lower so they can reach the ground to swing in... no problem. 
It works great as a traditional hammock to lie in. It works as a 'swing' to sit on. It has enough fabric that you can cover up if you're cold or want to block out light or bugs. 
We have accidentally left it out in the rain several times, and it dries great, hasn't faded from the sun, hasn't had any mold, and hasn't developed any weird smell.
Things not to love: Nothing! This is a great hammock. It may not be as portable as those little nylon hammocks, but if this is for your yard and not for camping, this is hard to beat." —Mary
Get it from Amazon for $69.99+ (available in a 18 colors/patterns).
9.
A portable karaoke microphone that'll turn your patio into the coolest karaoke bar in town for all of your fall hangouts with friends and fam! The speaker is built in, so all you have to do is connect it to your phone or other device via Bluetooth or cable and start singin' the hits!
Promising review: "We need something to let the kids sing without having to turn on the whole karaoke system. This works like a charm. The Bluetooth connection helps as well. You can just turn on YouTube and look for any song, and they probably have a karaoke version or a sing-along they can sing to. The range is also great. We were outside and the volume can be heard nicely." —Phong Bui
Get it from Amazon for $19.99+ (available in 14 colors).
10.
A durable, Shark Tank-famous Rumpl outdoor blanket – it's super portable, waterproof, and dirt-resistant so you can use it for backyard picnics or to stay warm and cozy when the nights get a little nippy.
Rumpl is an Oregon-based small business specializing in outdoor blankets that donates a portion of its revenue to environmental nonprofits.
Promising review: "I've used it in Wisconsin to continue having outdoor hangouts with my friends during Coronatime. It's that extra cozy layer for patio dining and porch sitting. Packs down tight to keep in the car for impromptu outdoor happy hour!" —Julie K.
Check out our full Rumpl puffer blanket review for more details!
Get it from Amazon for $93.50+ (available in 34 colors) or from Rumpl for $125 (available in a variety of colors).
11.
Connectable Edison bulb string lights to ensure that all of your patio parties are truly ~lit~ this season — especially since the sun is setting earlier.
Promising review: "I have ordered four boxes of these light sets now. I love love love these lights. When they arrived, I plugged them in while in the package to make sure they all worked. Then I unscrewed all the bulbs to make it easy to hang. I hung them up all around my balcony using a staple gun. When I finished I screwed the light bulbs all in :). I would highly recommend these lights. They are PINTEREST perfect!" —Cora
Get it from Amazon for $14.99+ (available in six sizes, three colors, two styles, and packs of two).
12.
Or some pumpkin string lights for anyone who's been in the Halloween spirit for months already and is waiting for everyone else to catch up.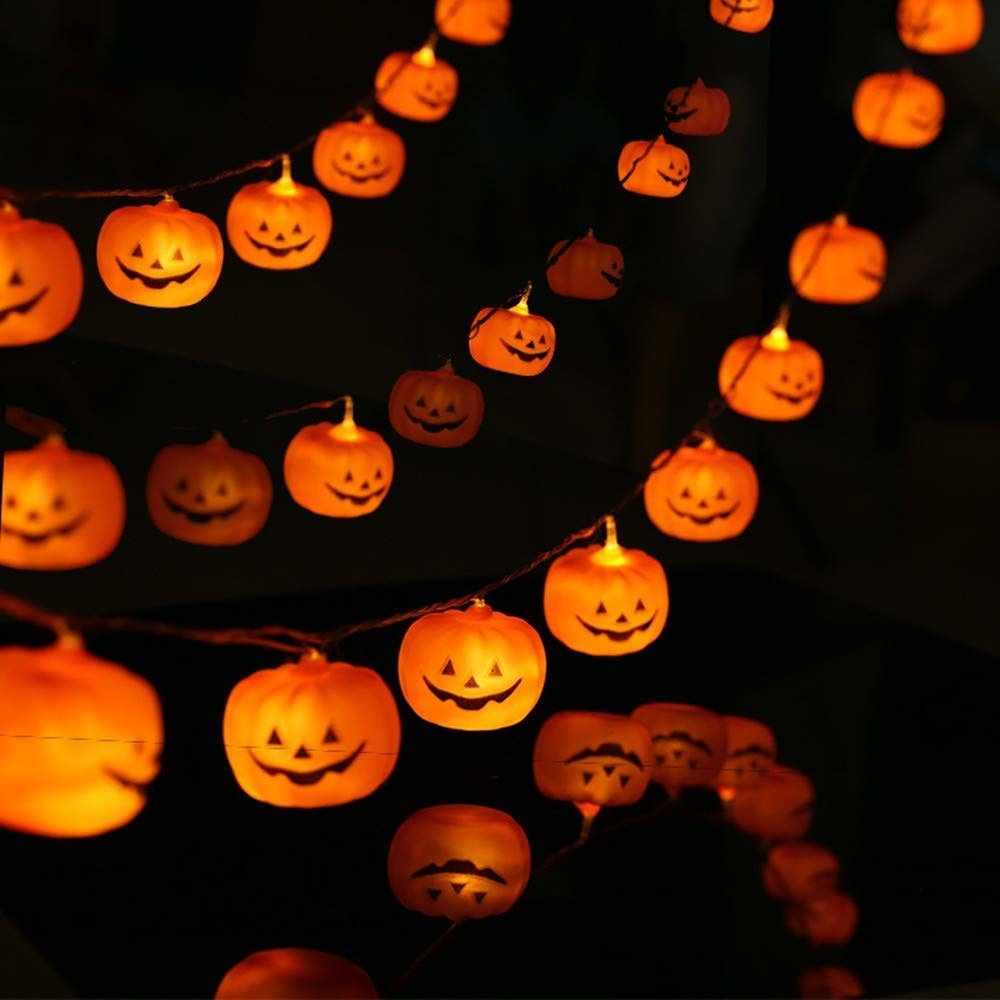 This set is 9.8 feet in length and is powered by three AA batteries. It has two different modes (flashing and steady) so you can create the perfect ambience for your party.
Promising review: "These lights are great because you don't need to plug them in. They are a fun decoration that you can put on a table, string around a door, or put inside a haunted house. I like how there is a mode to leave them on and a second mode to leave them blinking. The pumpkins are small and cute. I can't wait to put them out for my Halloween party!" —Amazon Customer
Get them from Amazon for $9.99.
13.
A three-piece wicker chair and table set — it'll provide comfy seating and a convenient place to put drinks and snacks so you can hang out on the porch and look at all the pretty fall colors around you.
This set includes two armchairs with seat cushions and a side table with a tempered glass top.
Promising review: "I absolutely love this set 😍. I cannot believe the price of it. It was fairly quick and easy to assemble. It's a hit. I get so many compliments from anyone who rings the doorbell." —Mrs.Mathews
Get it from Amazon for $81.99+ (available in four colors).
14.
Or a modern boho-style three-piece bistro set with two chairs and a matching glass top table that's ideal for small spaces. Plus, it'll make any yard, porch, or patio look instantly more fashionable.
Promising review: "Exactly what I was looking for. Construction seems sturdy. Dimensions and style were perfect for the small patio space I was looking to get use out of, and the egg shape of the chairs is very comfortable. I paired them with a seagrass outdoor rug, faux fur chair pads, a beanbag-style poof footstool, and some boho throw pillows, and love how the space was instantly transformed. I highly recommend this set." —Baby blues
Get it from Amazon for $129.99+ (available in five colors).