1.
A bottle of Glisten dishwasher cleaner and disinfectant because the thing that cleans your dishes, cups, and silverware gets dirty, too! Thankfully, this powerful formula will get rid of the limescale, rust, grease, and other gross buildup (even salmonella and E. coli!) living rent free in your dishwasher, so you can feel good about the stuff that touches your food. No scrubbing required! Simply pour in your empty dishwasher, run it at the hottest setting — and you're done!
Promising review: "This is one of those products you always wish you could have. It outperforms expectations and cleans a calcified dishwasher so that it gleams. Remember that stunning finish on the stainless steel panels and a sparkling detergent dish when you first bought the dishwasher? Well, if you have a high number of dissolved solids in your water, the result of just one treatment is remarkable. We recommend this product without qualification." —D. C. Alexander III

Get a pack of three from Amazon for $10.46 (also available individually or in a pack of six).
2.
A *loooooooooooong* vacuum hose attachment capable of reaching those hard-to-reach spaces behind the stove, fridge, couch, and laundry machines that you know are getting grosser and grosser the longer you avoid them. It's also great for cleaning out your dryer vent so it doesn't get clogged with lint — which makes for longer drying times, higher utility bills, and even dangerous fires. Skip all that hassle by simply attaching this hose to your vacuum and letting it do all the hard work!
This hose adapter fits on most vacuum cleaners (except for some Dysons), and some reviewers have even found socks they thought were gone forever after this thing pulled them out of their lint traps!
Promising review: "This thing is seriously amazing. I figured out how to use it very quickly and it worked like a charm. I had a sock stuck way down in my vent and would've had no idea! I still can't believe how much lint and dust came out of my dryer. My husband is already talking about other uses for this unique tool, like getting into tight spaces in our cars." —J. Johnson
Get a set of two from Amazon for $9.95+ (available in five colors).
3.
A mold and mildew removing gel that only requires you to apply it to the problem areas, leave it alone to do its thing overnight, and simply rinse it off the next day! Scrubbing? Never heard of it.
Promising review: "Didn't think it would work, but it DID with no scrubbing!! My husband didn't think our grout was originally white, but I knew better. I put this on before bed on a section of grout in the shower, and woke up to gorgeous and bright white, no scrubbing at all the next morning. Just rinse it off. Absolutely buying another bottle. It wasn't quite enough for my entire shower, but to be fair, we have a lot of small tiles. I think two bottles will get the whole shower floor. Bravo on a great product." —thekuan

Get it from Amazon for $13.99.

4.
A toilet wand with a disposable head (and six refills) preloaded with Clorox so cleaning your neglected throne is a breeze. Just swish, swirl, and scrub as needed with the hexigon-shaped sponge head designed to hit those tough-to-reach places, then pop it off and toss it when you're done! Your toilet will be sparkling and smelling fresh in record time.
It comes with one ToiletWand, one storage caddy, and six disposable ToiletWand refills to kill 99.9% of bacteria and viruses. Just click the wipe onto the wand, swish, scrub, and clean the bowl, pop the wipe off, and dispose in the trash.
Promising review: "So, we have a toilet that belongs to the cats. We don't use it, we don't look at it, we like to pretend it does not exist. Even with semi-regular flushing, cat waste is pretty nasty stuff and built up quickly in the bowl. One of these wands cleaned it up in a single session! Before and after pics attached (above)." —Whitney
Get it from Amazon for $8.75.
5.
Or some hydrogen peroxide-infused toilet bombs — they'll fizz around to freshen and clean your bowl. When used regularly, they'll even eliminate the need to get in there with a pumice stone, so you can spend as little time face to face with your throne as possible.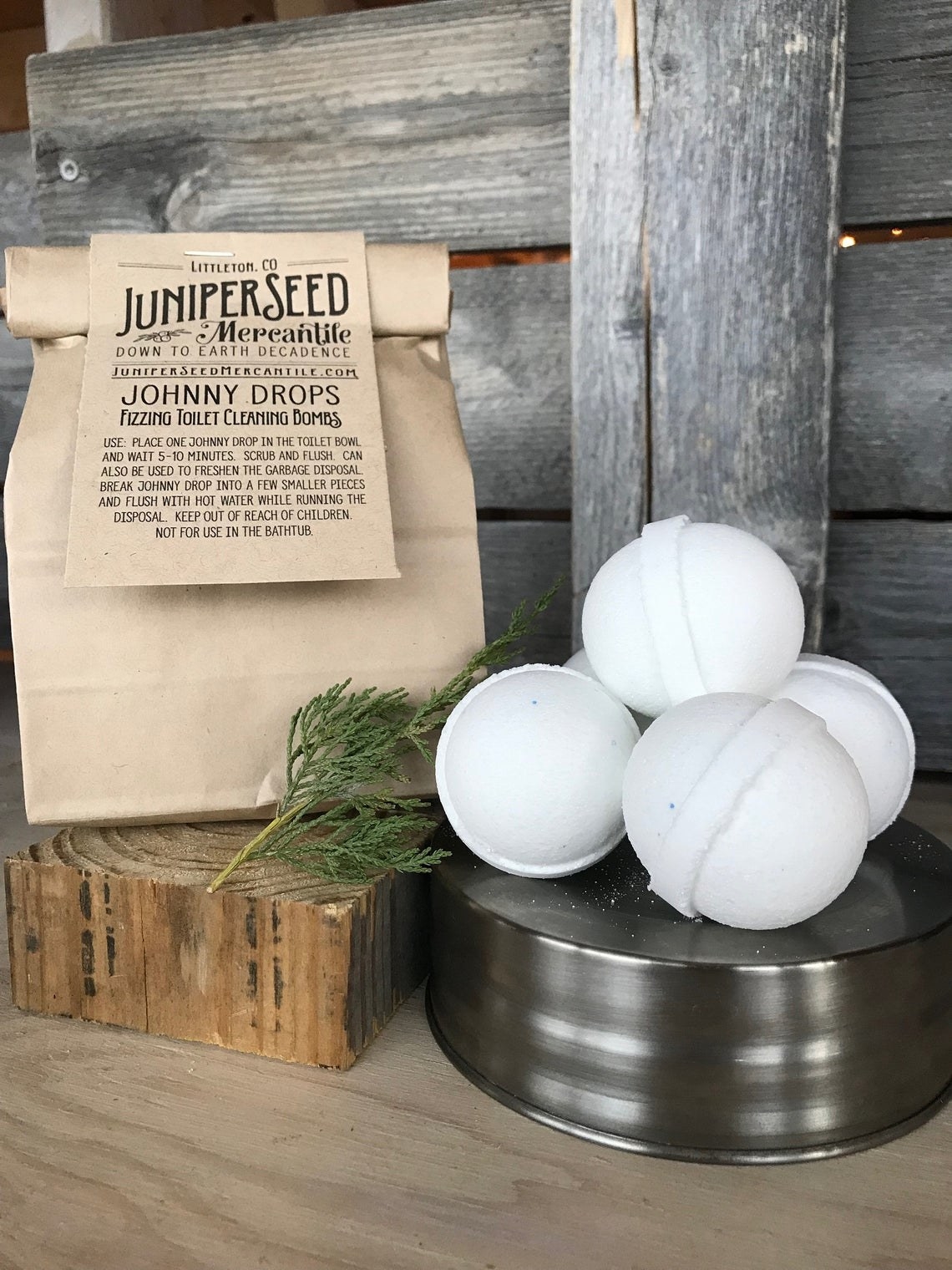 All you have to do? Drop one in the bowl, swish once or twice, let it fizz for about five minutes, then scrub for a minute or so with a toilet brush. Juniperseed Mercantile is a Littleton, Colorado–based small business with a passion for great skincare, simple living, and the Earth.
Get the pack of five from Juniperseed Mercantile for $10.
6.
A TikTok-famous, machine-washable EasyWring microfiber spin mop featuring an automatic hands-free wringer and a splash guard so you can mop *without* the worst parts of mopping — getting your hands all dirty and splashing dirty water all over the floors you JUST washed. Plus, it'll deep clean your home using *only* water — no harsh ingredients needed (!) — thanks to its millions of advanced microfiber strands that are pros at capturing dirt and grime, the triangle mop-head, and the 360-degree rotating ability, which allows it to easily reach into corners, under furniture, alongside baseboards, and between tiles.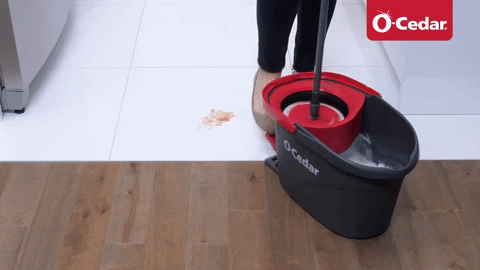 Check out this TikTok showing it in use!
Promising review: "I had had it with my broken basic mop and bucket. I tried to just get a dollar store Swiffer to get us by, but that wasn't cutting it at all. With three boys and a dog that makes his rounds on all the furniture and every exposed corner, I had to do something. After seeing a TikTok where a woman demonstrated this mop to clean her walls, and hearing my boss raving about it, I decided to click the Amazon button. Let me tell you, I HATE cleaning, I HATE mopping, but I LOVE for things to be clean. I was able to mop the entire house TWICE (Because it was that dirty. Please don't judge.) within an hour. A few days later I mopped the entire house again within 10 minutes because they weren't quite as dirty. On another positive note, my boys love the spinner and think it's a toy! So, every time I get the bucket out my 10-year-old and 4-year-old ask to mop the house because they think it's fun. MAJOR BONUS!" —Molly
Get it from Amazon for $32.98. 
7.
Some Bissell Stomp & Go Cleaning Pads that simply ask you to stomp on them to release a powerful cleaning formula capable of banishing tough set-in stains from wine, pet messes, mud, coffee, blood, and more. You don't even have to scrub or touch the stain at all — these pads'll do all the hard work and leave your carpet smelling nice and fresh after!
Promising review: "These things saved me from replacing my entire upstairs carpet! We had already replaced one section before finding these and were worried we'd have to replace another section at a cost of $3,000. Stomp and leave it for 24 hours and I was amazed to see my carpet was its original light cream color. I now stock a box of these and have told every one of my pet-owning friends about them. I'll never spend hours scrubbing the floor or carpet shampooing again!" —findingk8
Get a 20-pack from Amazon for $27.49.
8.
An amazing drill brush kit to make your surfaces look brand-new — without any scrubbing on your part! Just attach the brush head to your drill, turn it on, and watch all of that grime disappear so fast and easily, you'll think it's magic.
Need a drill? Here's one.
Promising review: "Bought these on a whim and was skeptical if they would really help, but man am I glad I did! They made cleaning our glass shower door and fiberglass shower a breeze! Don't really want to admit how long it had been between cleanings, but the shower shined like it never had before (even with using tough elbow grease and a standard bristle brush). No issues with the brushes leaving marks, but definitely want to err on the side of caution on how long you stay in a spot. Used the large flat circular brush for the door and walls, and the round toilet bowl type brush worked great in the corners and on fixtures." —Molly
Get a set of three brush heads from Amazon for $12.70+ (available in soft, medium, stiff, and ultra-stiff bristles).
9.
A pet hair remover for anyone who can never seem to get all of their pet's fur off of their clothes and furniture. This thing has over 78,000 5-star ratings for a reason! Just roll it over your fuzz-covered item of choice, and watch it lift the fur RIGHT OFF.
Promising review: "About four years ago, I adopted Daisy, who I was told was short-haired. Little did I know that she would be more medium-haired and about the sheddiest animal I've ever owned. My wife and I love her, but because most apartment housing doesn't allow animals because of dander, we were getting to the point that we were going to give her away. I saw a video on YouTube about the ChomChom Roller and I was convinced after seeing a guy remove all of the white pet fur off of a velvet topper. This thing is amazing! It even got hair off of the carpet that our vacuum cleaner couldn't get. Now, the mechanism isn't really a roller, it's actually one of those lint brushes where the hairs face a certain direction, so you're not actually rolling, but rubbing away the fur. The trap has brushes facing the opposite direction inside that grab the hair and keep it maintained in the trap. It is easy to clean and well worth the money! It is so much more effective than any lint roller I've ever purchased, and I was even able to get her fur off of my jeans. Get this thing!" —K. Patao
Get it from Amazon for $26.95.
10.
A speedy oven cleaner designed to blast through baked-on crud, so all you have to do is simply wipe it clean.
If your oven is in need of a deep, deep clean, you may need to let this cleaner sit longer, but it'll do a heck of a job lifting all the barnacles of food bits that are crusted on your oven.
Promising review: "Oh man, this stuff is awesome! I sprayed and left it on overnight. I had no idea what to expect. I took a paper towel and started wiping out the oven. The grime just melted away. It was awesome! I am VERY pleased! And it is truly odor-free. I was shocked! —KsGrl444
Get it from Amazon for $6.57.
11.
Or a heavy-duty oven scrub, because it'll make spring cleaning your oven a whole lot easier. It's made with gritty pumice stone so you can easily scrape out those burnt-on bits on the sides, racks, and even on the door's glass panel.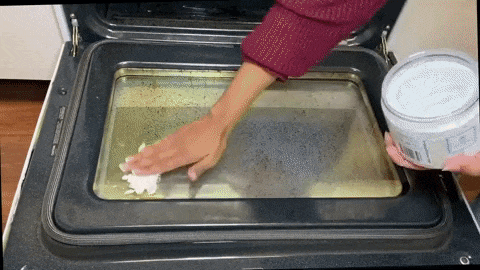 Everneat is a small business based in Fairfield, Connecticut, that specializes in natural cleaning products.
Promising review: "This product is amazing! It works fast with pretty minimal elbow grease. The stainless-steel sponge that comes with it makes it easier. And it smells great!" —Melissa C.
Get it from Everneat on Etsy for $19.99+ (available in a plastic or glass jar).
12.
A jar The Pink Stuff, which has reached cult-favorite status for being great at easily removing stains, rust, discoloration, and other stubborn marks from metal, ceramic tiles, saucepans, barbecues, and much more without leaving behind any scratches!
Check it out on TikTok to learn more!
Promising review: "Found this product on TikTok. I don't think I've ever seen value like I do this product! Literally use it on EVERYTHING!! Kids and teens have dirt, grime, and grease on their walls? ...This will make it look like a new paint job. Baseboards need some love? A pea-size amount of this makes them look brand new. Need a shoe cleaner? PERFECT for sneakers. I could name a million more uses, but I can ASSURE you this is worth every penny. What's more? You need such LITTLE of this product, it will last a VERY long time. Thank you, TikTok!!!" —Rachel in CLT

Get it from Amazon for $9.99.
13.
A garbage disposal cleaner to bubble and fizz through the odor-causing grime all on its own, while you just stand back and wish you'd gotten it sooner.
Here's all you have to you do: Run some hot water, pop one of the packets in your disposer, let it foam, then wait for the foam to fully disappear. Garbage disposer = clean and odor-free.
Promising review: "Works like a charm! These are pretty cool! I was a little skeptical but I followed the easy-to-use directions and it worked just like the product said it would. Foamed up and cleaned the drain!! Smell removed!!" —Jennifer K
Get two packs of four from Amazon for $9.50.
14.
A pet urine stain–removing spray perfect for pet owners who are desperate for a solution to remove spots and smells both old and new.
Rocco & Roxie Supply Company is a family-owned small business established in 2013 that specializes in pet odor eliminators, pet toys, pet snacks, and pet accessories.

Promising review: "I don't know how I ever survived without this. There's tons of 'pet stain/odor remover' products out there, but this by far is the absolute best. I cringed paying the $20 for it when others are between $5–$10, but I have NO ISSUES paying now. I foster dogs, some puppies, some older, some not housebroken, and every room in my house is carpeted except the kitchen, which means I have lots of accidents. I spray enough to saturate if it's a lot of urine, let it soak for 10 minutes, then wipe it up with a hand towel. Then I put a larger towel on top of it if it's in a high-traffic area until it's completely dry. It's taken out every stain and, more importantly, the odor is gone! I will never stop buying this product. I recommend it to everyone who has dogs!" —Shelley
Get it from Amazon for $19.97+ (available in two sizes).