1.
A wireless, Bluetooth-enabled karaoke mic that syncs with most devices so you can live out all your pop star dreams without leaving your home. Plus, you can even use it as a Bluetooth speaker by turning off the microphone function!
Promising review: "You don't understand — TikTok made me obsess over this microphone. As a 30+ year-old woman, I resisted purchasing it. I finally broke down and bought it because it was haunting me in my sleep. I'm so glad I did. When I am in a bad mood, I start karaoke in my house and am instantly better. It has 'ruined' my teenage son's life because my performances can be heard through his Xbox microphone. This is a must-have product." —Zane A. Undercoffer
Get it from Amazon for $23.99+ (available in 13 colors).

2.
A Goody Hair Spin Pin capable of doing the work of 20 bobby pins for an impressive and easy-to-achieve all-day hold!

Simply gather your hair into a ponytail, twist your hair into a tight bun and tuck in the ends, then spin one pin from the top and the other from the base.

Promising review: "I must confess I am obsessed with these. I discovered spin pins this summer. I love them!! I have medium-thickness hair, and these work well for me. They are so simple to use and keep my hair up all day!! I own several pair." —kc in va

Get a set of three from Amazon for $6.89+ (available in two styles).
3.
A universal cup holder that easily attaches to strollers, diaper bags, and more so you can stop juggling your water, coffee, and other beverages while trying to care for your little one on the go.

Ryan & Rose is a family-owned small business that creates stylish accessories parents will love. Reviewers also love adding this cup holder to other objects like their spin bikes, beach chairs, shopping carts, and more.

Promising review: "I am obsessed with these holders! I have a huge stroller that a conventional cupholder won't work on, but the Ryan And Rose Cutie Holder is perfect! I am actually ordering a second one that I can use to hold my cell phone! The uses are endless! Stock up when you can!" —ShopTillYouDrop
Get it from Amazon for $18.99 (available in 11 colors).
4.
A stylish high-neck sweater dress if being cozy *and* looking super chic are both on your to-do list.
Promising review: "Super soft material. Form-fitting and stretchy. I'm going to wear this for family pics with knee-high boots, and I think it'll be perfect! Obsessed with it." —zoey meigs
Get it from Amazon for $42.99+ (available in women's sizes S–XL and in 23 colors — not every color is available in every size).
5.
Revlon Volcanic Face Roller you can roll over your T-zone or other greasy areas to soak up excess oil *without* messing up your carefully applied makeup. Stop buying wasteful oil-blotting sheets and use this instead!
The face roller is reusable! Just twist the ring to pop out the stone, then wash it with a mild soap/cleanser and let it air dry after every use.
Promising review: "I am obsessed with this roller! I normally have to use oil blotting sheets three times a day, and this roller makes me feel so much more environmentally conscious. This roller seriously just takes the oil right off of your face. It's super easy to clean and reuse. I have one by my bathroom sink, one in my gym bag, and one in my purse, and I've been reusing them all for months!" —K
Get it from Amazon for $12.89.
6.
A pack of melamine cleaning sponges, which reviewers say are a great and more affordable alternative to Mr. Clean Magic Erasers if you're looking to effectively clean surfaces without using chemicals. Simply add water to these extra thick sponges and watch in amazement as the grime wipes away without leaving damage behind!
Reviewers have used this to clean marks on their walls from their kid's markers, grease marks, the yellow rust stains in their tubs, pigment stains from paint, and even dirty sneakers! Note: The sponges *will* slowly disintegrate as you use them— good thing there's 20 in the pack!
Promising review: "Obsessed. You start by scrubbing that one scuff that's been bugging you every time you walk by since the day it mysteriously appeared. ... Then, you see a small one next to it. Then, hours have passed, and you're holding this shriveled up fluff, and your house is spotless, and you realize you can't live without these things." —Amazon customer
Get a pack of 20 from Amazon for $13.95 (also available as a pack of 100).
7.
A set of popular fine tip pens in 18 gorgeous colors that'll make doodling way more fun while your least favorite professor goes on and on about something you can just *telI* isn't gonna show up on the test.

Promising review: "These ROCK. I am obsessed with these. They have the perfect point and the colors are so pigmented and bright. No bleed through… just awesome pens at an affordable price. Love love love." —Miquelon

Get them from Amazon for $7.99
Don't forget to check the coupon box and score 20% off!
8.
A car seat gap filler so you can stop struggling to dig for your phone, keys, or anything else that tends to fall into the dreaded black hole between the seats.
Drop Stop is a small business that specializes in car accessories. 

Promising review: "The inventors of this are literal geniuses. I'm obsessed with this thing. It worked great. It's saved my phone and other little items more times than I can count. It also catches crumbs so I can clean them up way easier than trying to vacuum in that little crevice. Absolutely worth the money. If you don't have these, you're doing it wrong." —ds
Get a set of two from Amazon for $24.99.
9.
A super popular Baby Einstein Take Along Tunes Musical Toy that's JAM-packed with stimulating lights and engaging melodies by Mozart, Vivaldi, and others that your little one can switch between to help keep them calm and occupied. 

11.
A set of self-tying shoelaces that'll turn your favorite pair of shoes into slip-ons so you can get out the door faster and spend less time hunched over — something your back *and* your busy schedule will thank you for.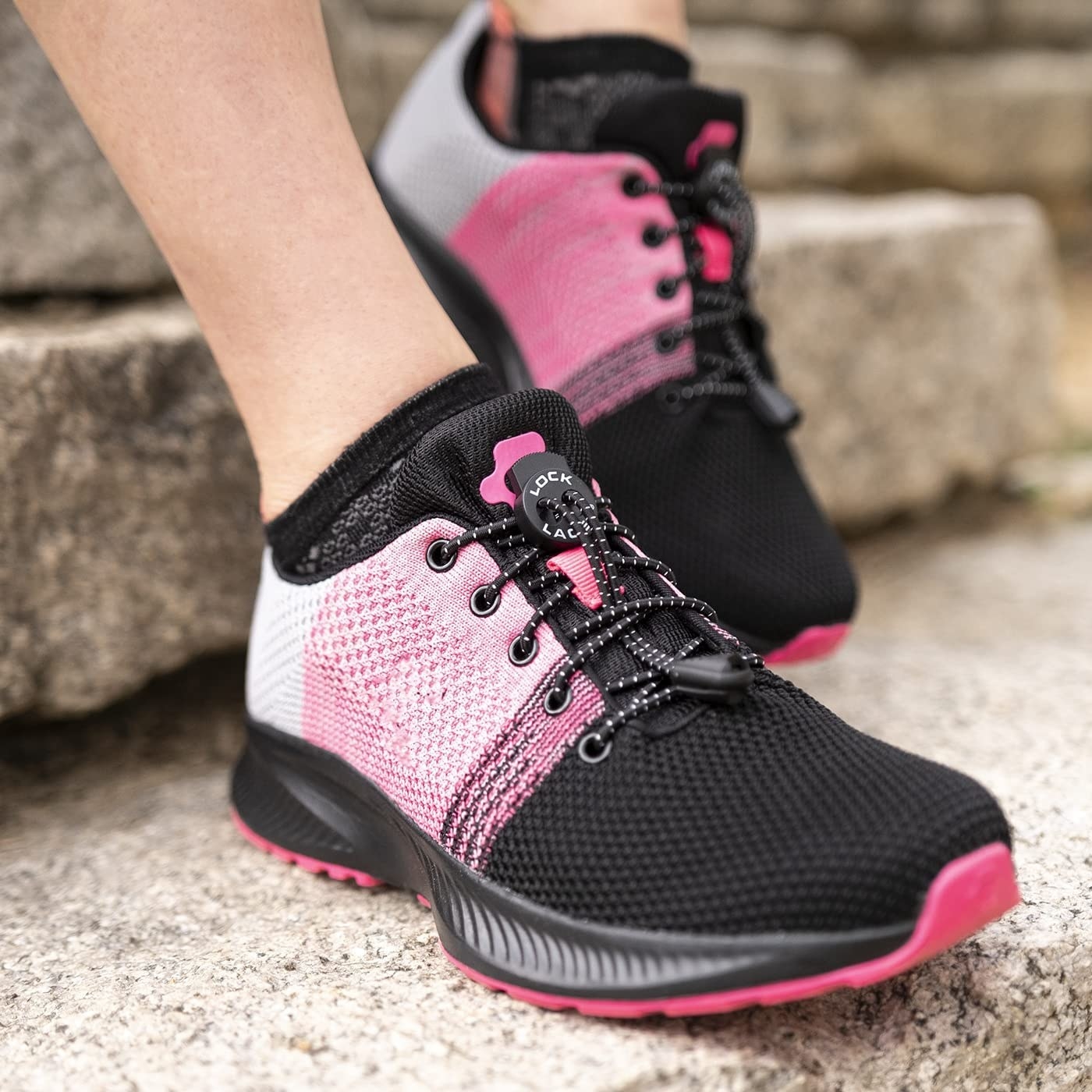 A lot of runners and athletes also swear by these for training and races, since it's a guarantee their shoes won't come untied (and it also helps distribute the tension through the entire top of your foot, preventing localized injuries for longer runs!). You can also adjust the tension easily if your feet are more swollen on a particular day.
Promising review: "Obsessed with these laces. Bought these after two years of frustration with the round laces on my Keen hiking shoes. I had never had laces come undone so easily after tying or double knotting. Since I had paid so much for the shoes, I searched for new laces and these no-tie ones came up. Amazing. I can now slip the shoes on and walk or hike without worrying about tripping. They make my shoe fit better too by being perfectly snug." —Sandra
Get it from Amazon for $9.99 (available in 13 colors).
12.
A Spatty Daddy set because now you can easily get to every last bit of food, lotion, makeup, or anything else that tends to get stuck in the hard-to-reach nooks and crannies of a bottle. After all, you paid for those remnants! Why let them go to waste?
These are FDA- and USDA-approved, and BPA-free. Plus, they're made of sturdy, resilient, and flexible material, and you can even put them in the dishwasher! Wanna learn more? Check out one former BuzzFeeder's full review of the Spatty Daddy!
Promising reviews: "Five Stars. Obsessed!!!" —Maria
"So worth it! I'm so happy with it. You will definitely save money using this. I think about how much I could have saved if this was invented 30 years ago. I mostly use it for small makeup jars. I tested out the Spatty Daddy on an 18-ounce lotion and it worked fine. You get so much more makeup than you would without it. I give it five stars." —Liz

Get a pack of two from Amazon for $9.99.
13.
A nail concealer — it can subtly brighten nails and hide yellowing and staining.

Promising review: "I'm obsessed. It is smooth and easy to apply, it dries evenly, and it is a little thicker than normal polish, which I love. It looks like I got my nails professionally done, but I paid half the price, and it took me half the time to do it myself!" —C.M. HervHeitz
Get it from Amazon for $20 (available in four shades).
14.
A Cowboy Cats print with big "there ain't enough room in this litterbox for the both of us" energy.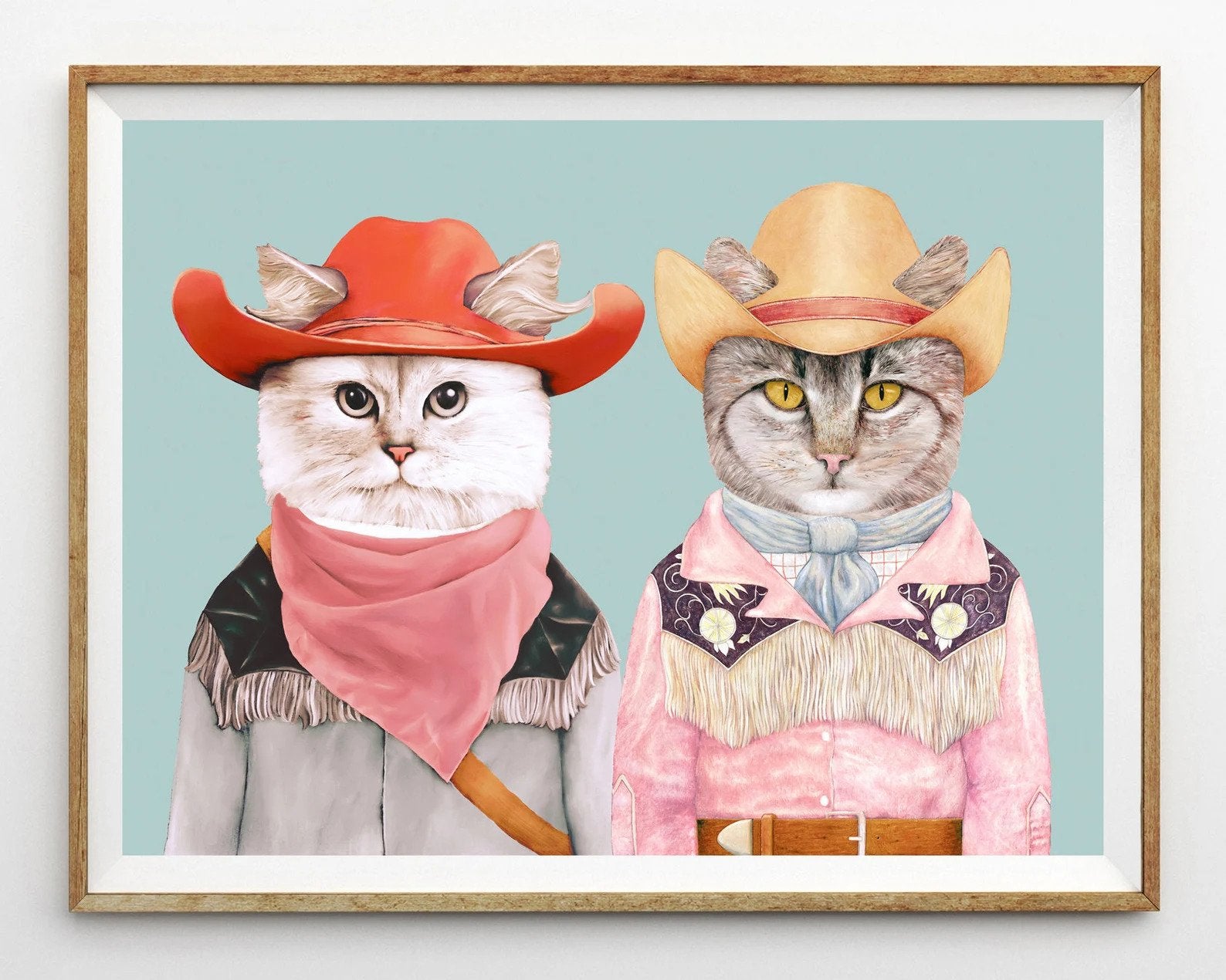 Animal Crew is a US-based small business has an eclectic collection of critters in all sorts of costumes. If you're looking for home decor that'll give you a laugh, look no further than Animal Crew! 
Promising review: "I got the print in matte. I adore the print! It's vibrant and good quality, and I'm obsessed with it." —Gabrielle Strahan 

Get it from Animal Crew on Etsy for $19+ (available in six sizes and two styles). 
15.
An ingenious dinner plate that turns mealtime into a fun game for little ones! It's divided into eight sections and even has a hidden dessert compartment that'll encourage your little one to clear their plate!

Promising review: "I am obsessed! Our 2.5-year-old was getting very picky and wouldn't eat any meats or veggies! This plate makes her want to keep eating until she gets to her prize.