1.
Some faux pampas grass plumes here to turn an empty vase into the most scene-stealing decor in the room.
2.
A set of two velvet mid-century lounge chairs that'll most likely get compliments from everyone that sets their eyes (and behinds) on them.
Promising review: "These are the 'wow' in my living room. I'd buy more if I had the space. The gray is so nice and elegant. The gold on the gray is stunning. I love these." —Ebony Michelle
Get it from Amazon for $199.99+ (available in seven colors).
3.
A hidden bookshelf — it'll turn your prized book collection into a bookworm's dream display so you can admire them daily and show them off to all your guests.

Promising reviews: "These are so much fun! We ordered the small size, which fits standard hardback books (approximately five to seven hardbacks in my experience). They're a great way to add some extra storage to our very small home, and we've placed them in our hallway so people ask us about them all the time. I'd highly recommend!" —LaBuenaVidaMere
"These are my favorite decorating items ever. I purchased them four years ago in medical school and they have held up over many moves." —Susan Giampalmo

Get it from Amazon for $15.20+ (available in two sizes and in sets of one or three).
4.
A stylish, handmade moon phase garland you'll be over the moon for every time it catches your eye.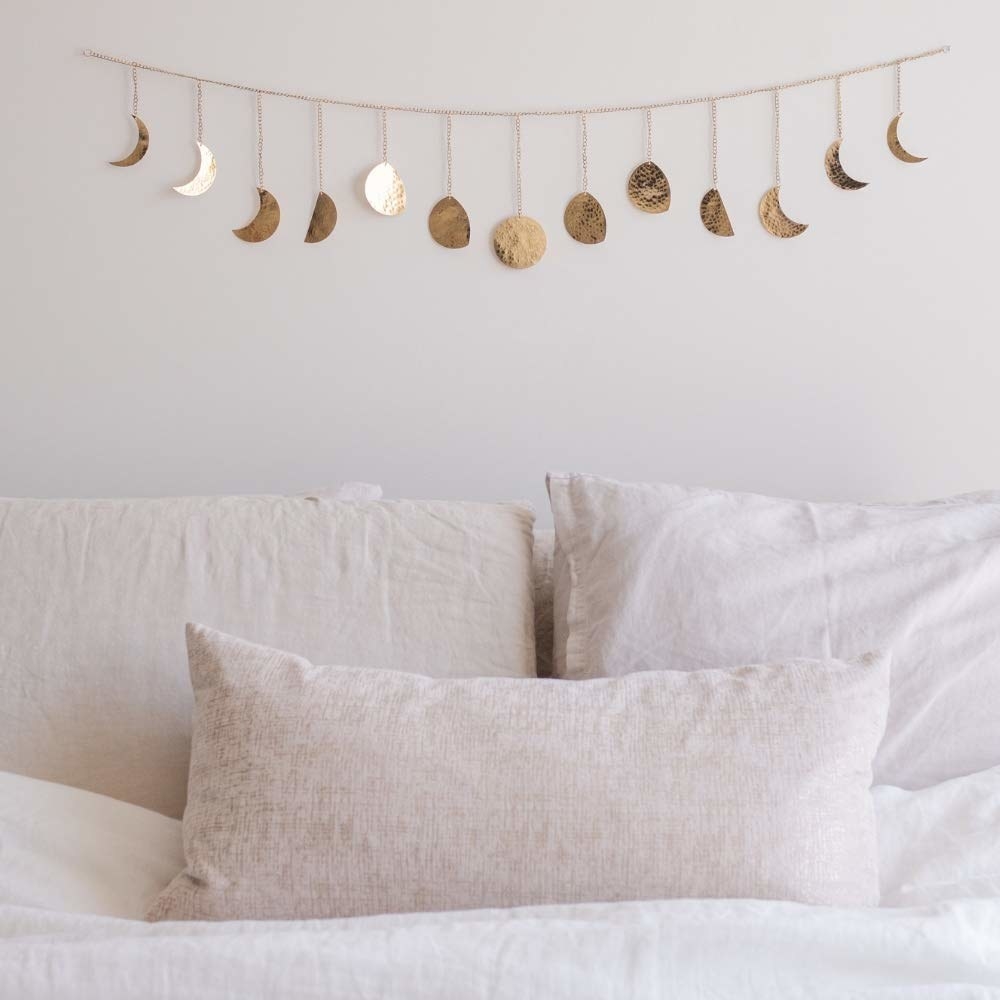 Promising review: "I'm an incoming freshman this fall and I bought this to add some personality to my dorm. It has beyond exceeded my expectations! I placed it directly on top of my dorm bed as shown in the display photos and am so pleased with how it looks. It fits perfectly with the gray/white color scheme I was going for and have received numerous compliments from both my friends and RAs when they've visited. I cannot stress enough how much of an 'aesthetic feel' it adds to my dorm." —jhsgf
Get it from Amazon for $15.99+ (available in two styles and two colors).
5.
A blanket ladder made from recycled and reclaimed wood for anyone whose space could use some rustic farmhouse vibes. The rungs are great for storing blankets and clothes, but are also wide enough for books, plants, pictures, and more!
Promising review: "Super cute! I used this barnwood ladder to store blankets in my living room. I am currently redoing my home in a cottage farmhouse style and this was the perfect addition! It's beautiful and has a rustic feel. Everyone who comes to my house compliments me on it! Would definitely purchase it again." —LinSmith714
Get it from Amazon for $56.99+ (available in four heights and six finishes).
6.
An under-$35 runner that looks way more expensive than it actually is. If you have a hallway or space in front of your closets that feels like it needs a little extra something, this runner's a great way to add a little *fancy* without going over budget.
7.
A cute tissue box cover because the secret to having a cool-looking home is turning even the most boring household items into something fun to look at! Plus, you'll wanna keep this box stocked at all times because of how fun it is to pull tissues out of the chimney.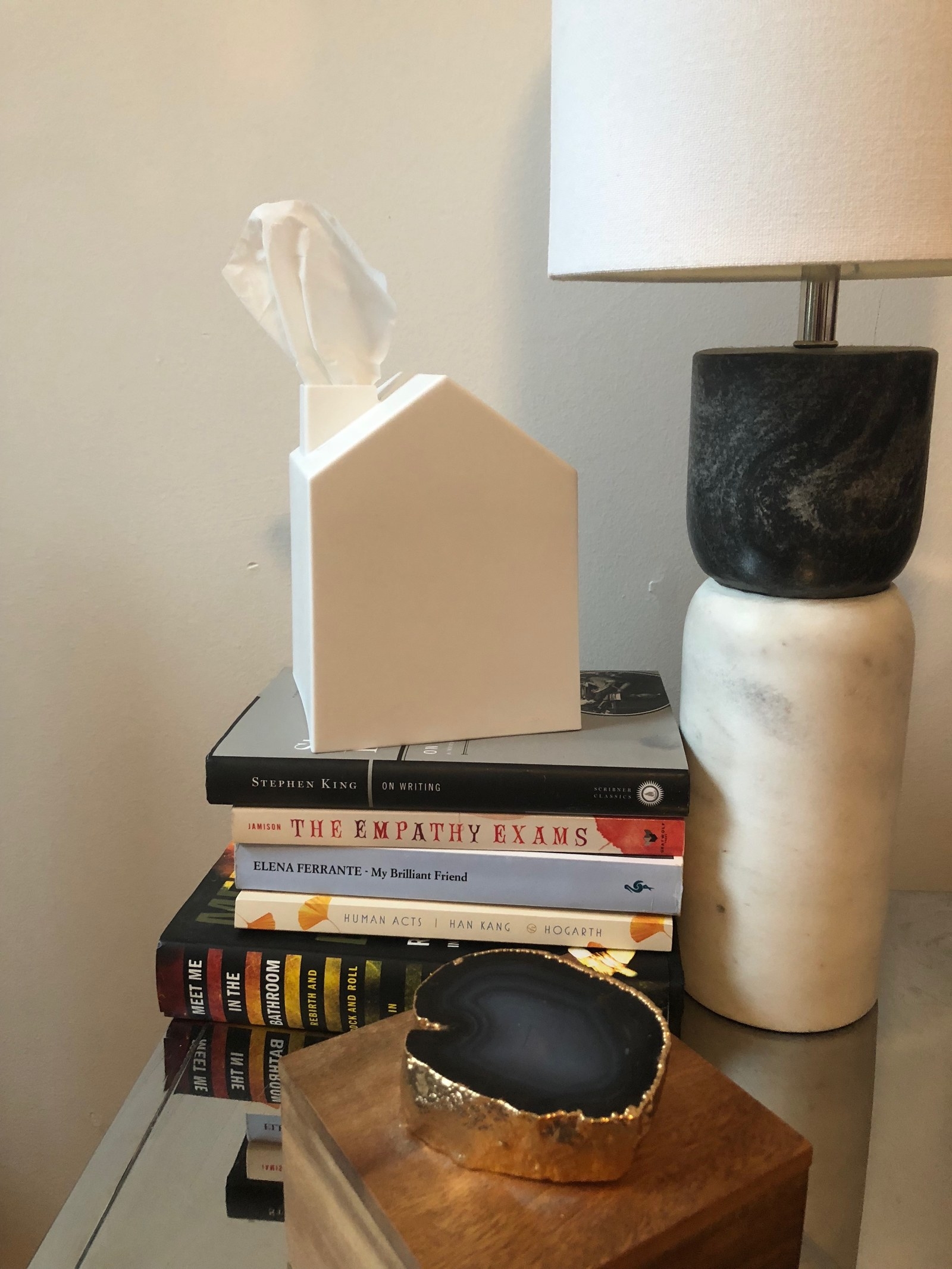 Elizabeth Lilly / BuzzFeed
Here's why BuzzFeed editor Elizabeth Lilly loves these:
"I, an adult woman, cannot remember the last time I bought a box of tissues for my home (though I have several purse packs?!). It may have been when I most recently had a sinus infection, which I guess was two-plus years ago. But now that I'm playing house as a grown-ass person in an apartment to myself, I'm trying to be *responsible*. So obviously buying this whimsical tissue box cover we've featured in a million BuzzFeed shopping posts is peak adulting.
Perhaps the reason I've been so bad at keeping around a box of tissues is because tissues just look...kind of ugly out in the open. But not with this lil' cover! Now it's a ~design element~ that I'll hopefully remember to keep full. For now, it's filled with a square box of tissues I unearthed from my old apartment's closet while packing; it's presently neatly housed inside the tissue box cover, providing the 'smoke' for the tiny chimney. The only downside to committing to this box is that I'll have to buy square-shaped tissue boxes only now. But I can live with that. And with my not-snotty nose."
Get it from Amazon for $8.
8.
Some LED stick-on lights that'll make any mirror look like it's straight out of a movie star's home! Plus, this lighting upgrade will make a *huge* difference when you're putting on makeup.
Promising review: "Best idea ever! I'm living in an old house with only one outlet in the bathroom so I needed a lot of light with just one outlet. This is the perfect solution. You can arrange the bulbs as you wish, you can set the distance between them and the dimming option is awesome! Dimmed for baths and super light for makeup. When it is on max it is really bright. The back of the bulbs are adhesive and they are sticking very well." —Annamarie T.
Get it from Amazon for $20.99.
9.
A prismatic window film — it's easy to stick on any glass surface for an extra layer of privacy *and* some gorgeous rainbow reflections when the sun peeks out that'll make your space feel a little more magical.

Promising review: "I can't tell you how surprised and delighted we were at the rainbow effect this film has. I bought it to make a window overlooking the street more private, and I thought I would appreciate seeing the rainbow colors on the window itself. But then when the light was shining on it at the right angle, it cast these beautiful rainbow colors on the wall. So I bought a second roll to put on one of our master bedroom windows that overlooks our neighbor's patio so I don't have to draw the curtains. In the morning now, the light comes in at just the right angle to pass through the rainbow prism and cast beautiful rainbow colors on the wall. And the bed. And the cat." —J. B.

Get it from Amazon for $8.98+ (available in 11 sizes)
10.
A woven pendant light with enough breezy charm to transform the vibe of an entire room.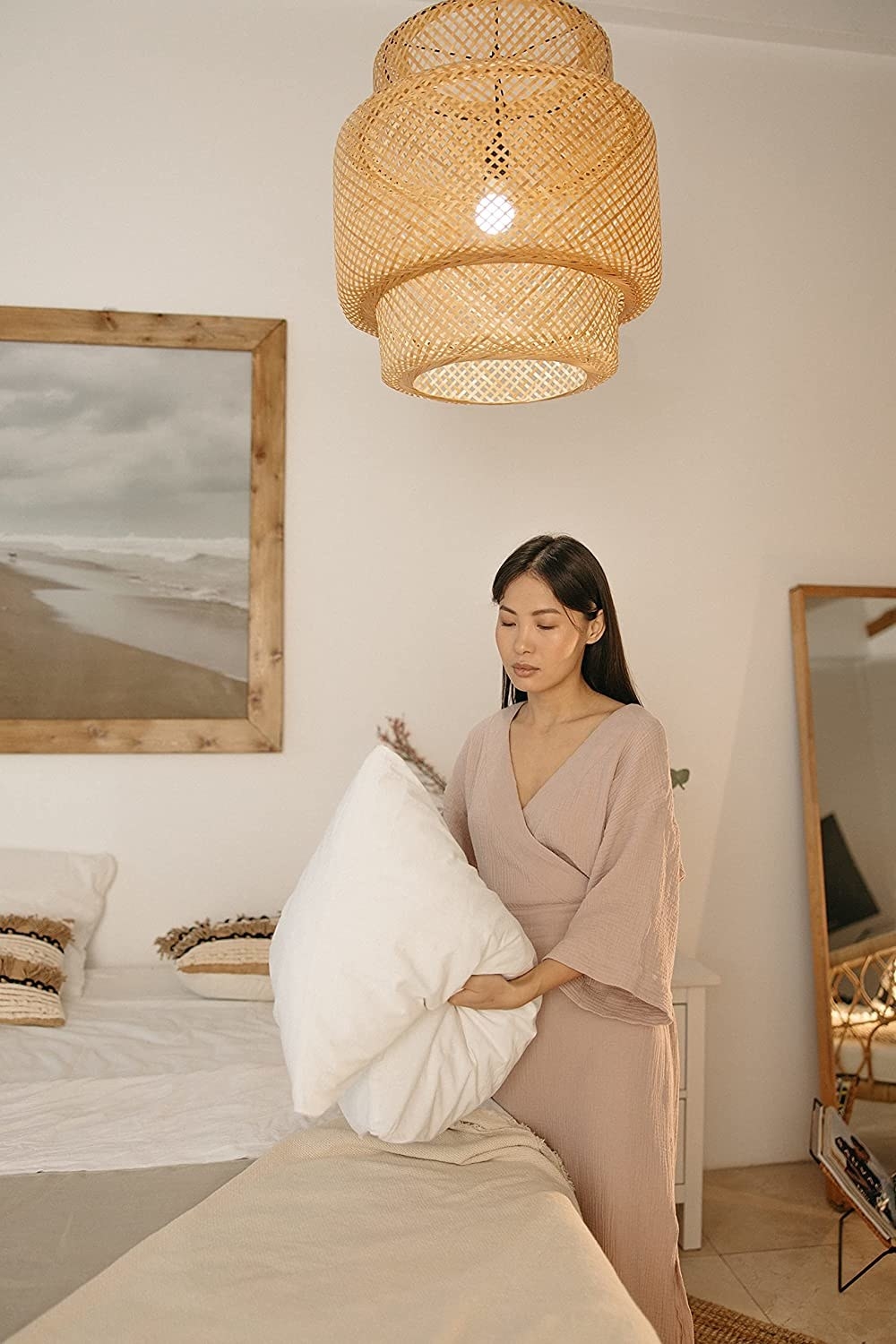 Promising reviews: "Love it! Easy to install, looks beautiful when lit or off, and puts pretty pattern on ceiling when lit." —Courtney Gott
"LOVE love love! It was everything i wanted at a great price!" —Sarinna Martin
Get it from Amazon for $89.99.
11.
A minimalist-meets-industrial bookshelf if you're looking for a sturdy and stylish way to to display decor. Plus, it comes in other colors so you can ensure it complements the rest of your space's ~flawless~ aesthetic. 
Promising review: "I love these shelves. We put three of them side by side in our living room. We have a large space and it's been a bit awkward to create the cozy, 'at home' feel and to figure out what to do with all the empty wall space. These shelves really transformed our living space. They look amazing, filled in the awkward, empty wall space and really brought the room together." —SFH

Get it from Amazon for $109.99+ (available in three sizes and a variety of colors and styles).
12.
A set of macaron containers so you can store your trinkets and other small items in the ~sweetest~ way possible.
Promising review: "Just received these cute little boxes and am in love with them. Very thick and sturdy plastic but easy enough to open. These will work perfectly for filling with solid perfumes and giving out as stocking stuffer gifts because I don't have to worry about it being a snug fit/lid falling off." —Mary
Get a pack of six from Amazon for $6.99.
13.
A chic arc-frame mirror that comes in a variety of sizes so you can make any room look bigger *and* more fashionable with one item!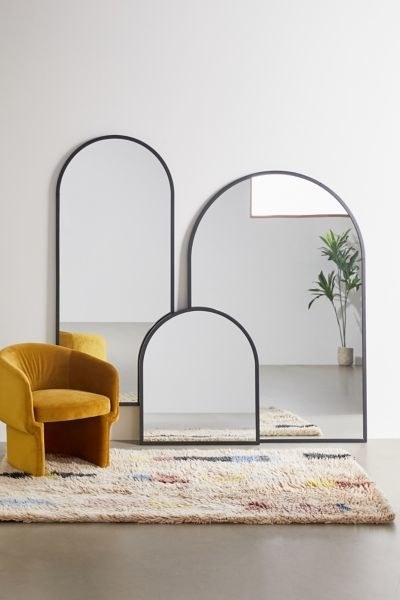 14.
An impressively detailed, dual color moon-shaped light to add a cozy lunar glow that'll make your space feel a lil' more soothing.
Promising review: "I originally bought the 7-inch moon for my husband as a gift of 'I love you to the moon and back' for our anniversary... Well, I loved his moon so much that I kept stealing it from our bedroom and taking it to the living room. So I bought myself the 5.9-inch moon to compare sizes and have one to call my own. As it turns out, the slightly smaller 5.9-inch one is just as amazing as the 7-inch.
These moons charge up fast with a cord (with a cool 'blue moon' color when charging) and then once charged, they are completely free from cords or any connection dependence. They light up with a very detailed real moon surface design in white or yellow, and it will totally mesmerize you. You can literally 'hold the whole moon in your hand' and use it as a cordless and battery-free lamp, a nightlight, a lantern or quasi-candle in the dark. The wood stand is sleek and super easy to assemble, and is a perfect accent to any room décor. These moons are the best gift for friends, family, co-workers, kids, pets and spouses." —Amazon Customer
Get it from Amazon for $14.95+ (available in four sizes and three colors).