1.
A blank acrylic dry-erase board so you can leave notes for your roommates in the most ∼aesthetic∼ way possible. 
1801 & Co. is a Minnesota-based, family-owned Etsy shop established in 2016 that specializes in family wall calendars, chore charts, wedding signs, and more.
Promising review: "I love it! I got it so fast after ordering, and it's perfect. I love the sleek design for my small home office space. I can't function at work without a dry-erase board but couldn't find any that would look nice in my office space, which is in the corner of my master bedroom! Having functional office space that doesn't LOOK like 'office in the bedroom' is challenging, but this acrylic board is PERFECT. The black pen that comes with it is a very nice fine tip and erases without a trace." —Dawn Powell
Get it from 1801 & Co. on Etsy for $19.16+ (available in multiple thicknesses and sizes as well as three hardware colors).
2.
Some abstract watercolor wall decals made from matte vinyl designed to look like paint so you can give your walls a whole new personality without having to deal with paint or wallpaper.

Promising review: "I was looking for something that would match up my abstract aesthetic and pastel colors. These really add more personality to my room! They were easy to stick — probably spent 15 minutes trying to decide the best arrangements. I would 100% recommend." —Sofia Camarillo
Get them from Amazon for $10.89 (available in five styles).
3.
Or some pretty floral decals to make any room feel more magical.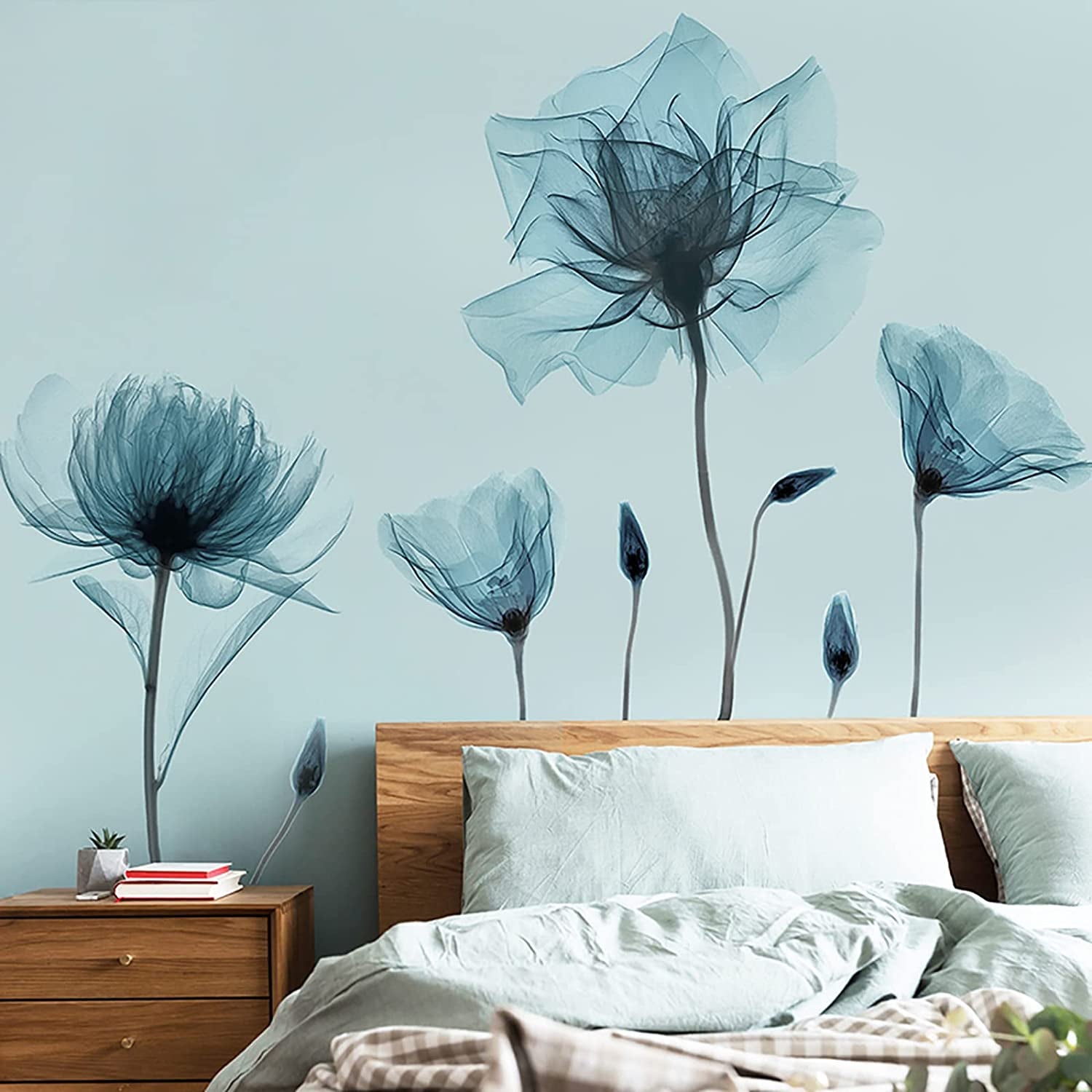 Promising review: "These 10/10 look exactly as pictured. They were easy to peel off from the paper and are definitely sturdy against the wall — but they're also easy to move around or readjust, and they don't lose their stickiness. I thought they might look shiny with the bright overhead light and look tacky and cheap, but they're so beautiful and look great in all lighting. Definitely a great Amazon purchase and not expensive. Also had zero rips or tears in the flowers, so they're good quality." —Gretchen Stearns
Get them from Amazon for $10.60+ (available in seven styles).
4.
A pretty gold wire photo wall frame that comes with seven detachable clips so you can use it to display your favorite photos, meaningful postcards, and more!
5.
A set of two wooden floating shelves — now you'll have somewhere nice to display all of your beloved decor items that are currently cluttering up your other surfaces because you simply can't part with them. 

Promising review: "Never imagined I would be so excited about a shelf :), but this is a solid, modern-looking, and good old-fashioned quality product. It's versatile and made of natural wood, so it won't disintegrate in your bathroom like other cheap stuff. Easy to install, with smart, adjustable holder brackets that you can fix in all directions — including an incline for the shelf. I put these slightly toward the wall so that stuff doesn't slide off. Highly recommend." —ME

Get it from Amazon for $47.49+ (available in four colors and in two sizes).
6.
Custom Scrabble-style tile wall art in case you wanna spell out your roommates' names and your own in the style of your favorite word game!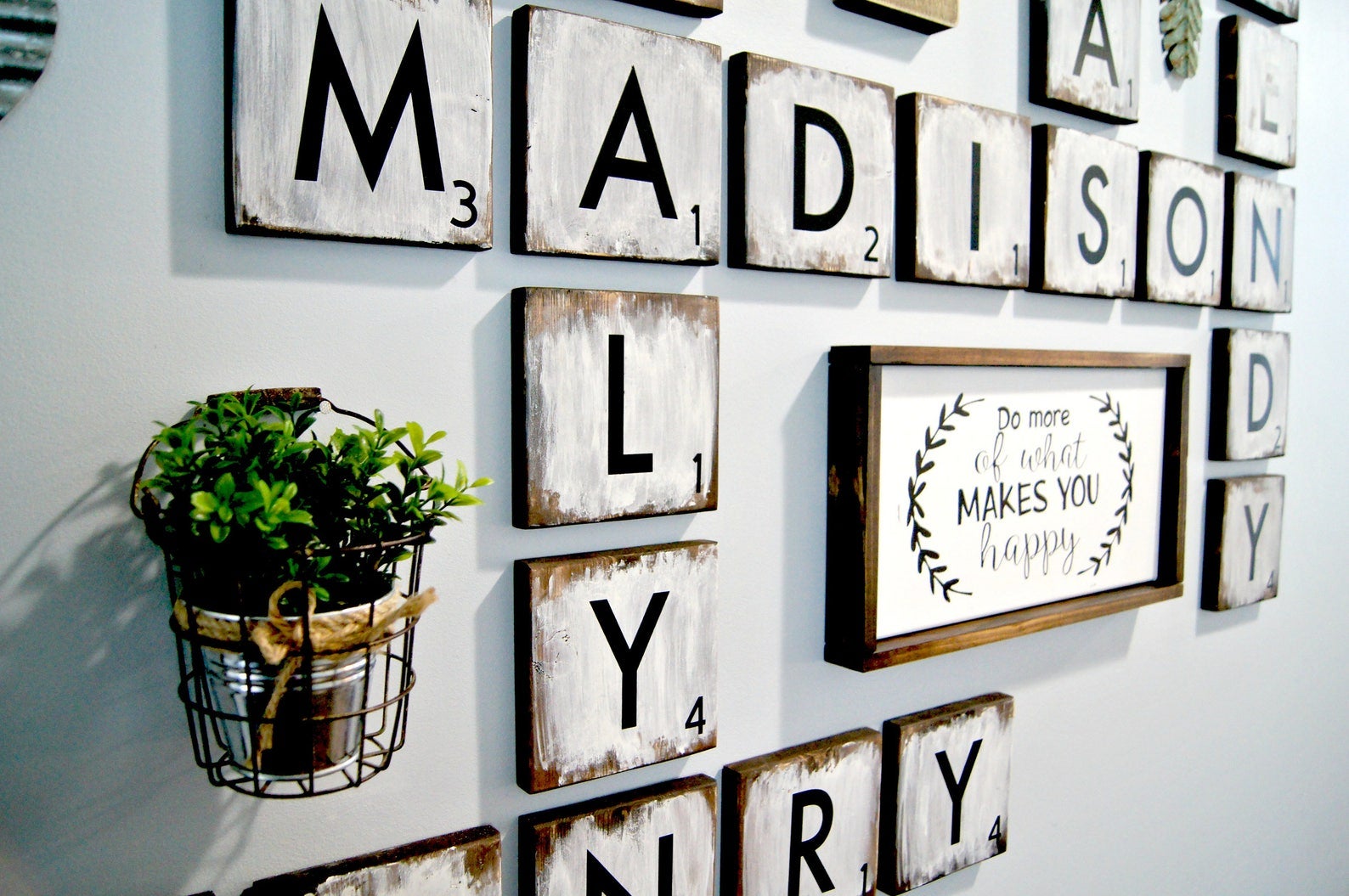 Burlap & Birch is a Wiscasset, Maine–based small biz specializing in wood home decor.
Promising review: "These letters are great! I put them up with Command strips, and they were very easy to hang. They look great on the wall and are very good quality." —Marie Masciantonio
Get them from Burlap & Birch on Etsy for $5.50+/tile (available in six color combos and in black or white text).
8.
A jumbo clothespin in case your home could use a unique conversation piece *and* a charming place to hang towels!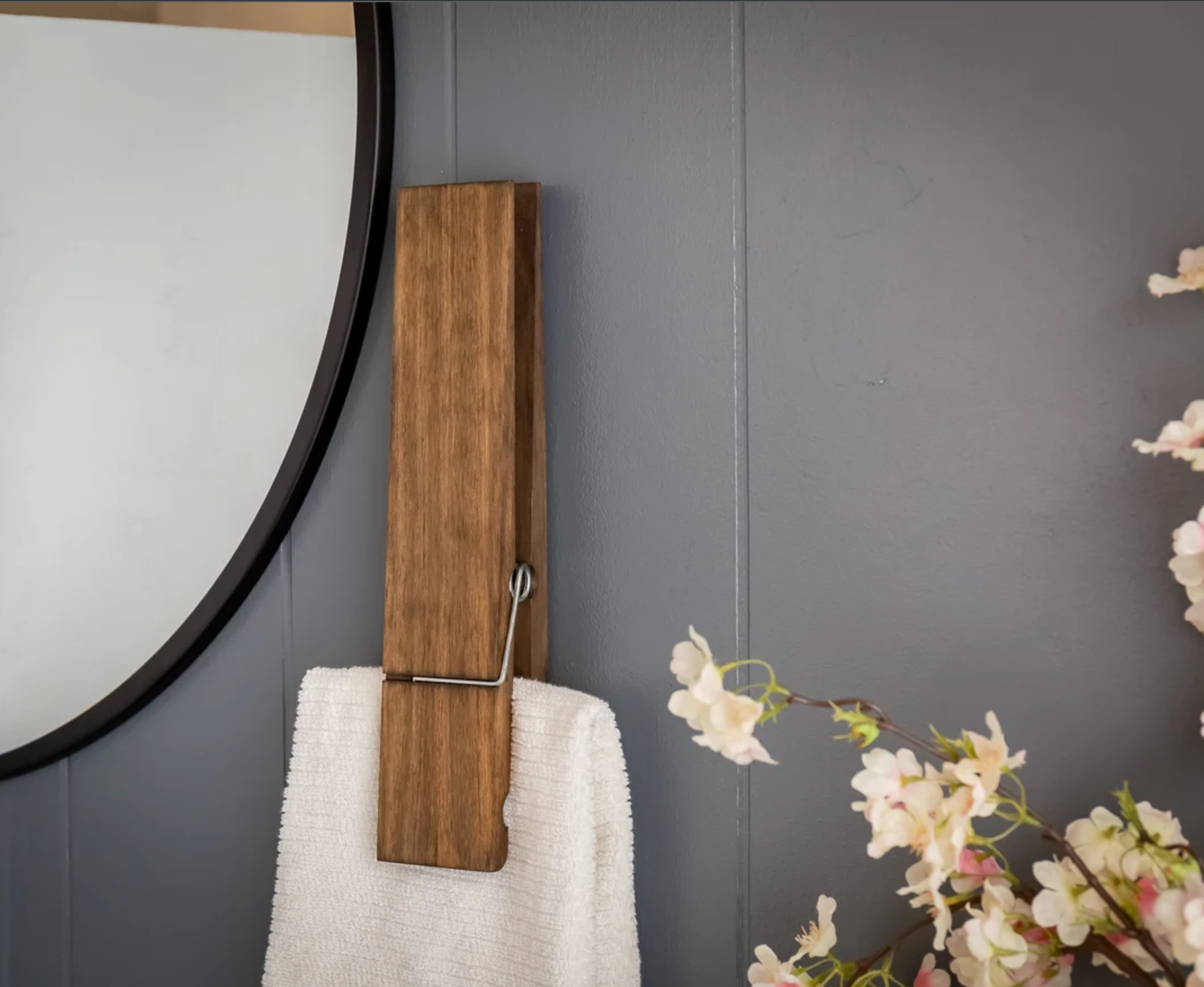 Barwood Shop is an Adirondack, New York–based small business creating home and living decor!
Promising review: "These are adorable and just what I wanted! Everyone who uses my bathroom comments on how cute these pins are! They work well and are super stylish — a win-win!" —Raeanne O'Day
Get it from Barwood Shop on Etsy for $6.99+ (available in three sizes and in six colors).
9.
A pegboard that comes in a variety of colors and is perfect for hanging pots, pans, and cooking utensils from. Now you can clear out some cabinet space and turn what once was clutter into a more visually appealing display.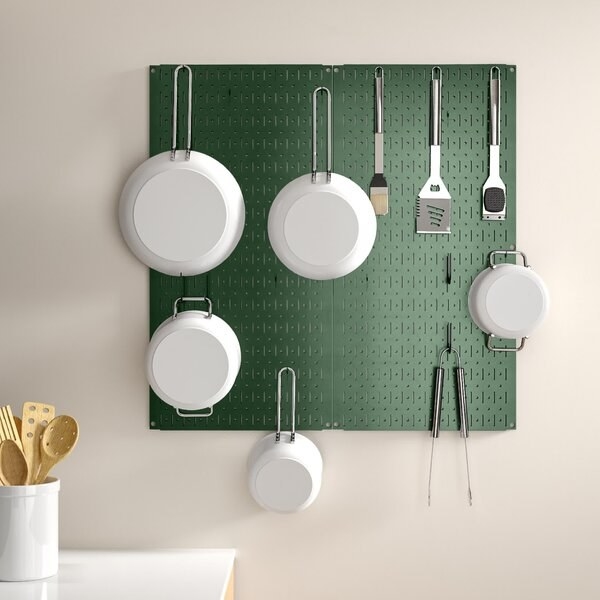 Promising review: "This is the perfect arrangement that I needed so, so badly. Endless configurations, and it's almost like a work of art. My new pot-and-pan set has red handles, and it all just matches up perfectly. Plus, my new oversize dark red mugs are a great addition to this piece and just overall for my kitchenware needs. LOVE this!!! :-)" —Gabe Marshall

Get it from Wayfair for $82.99 (available in a variety of colors). 
10.
A gorgeous macramé tapestry — it'll make even the most boring walls look stylish.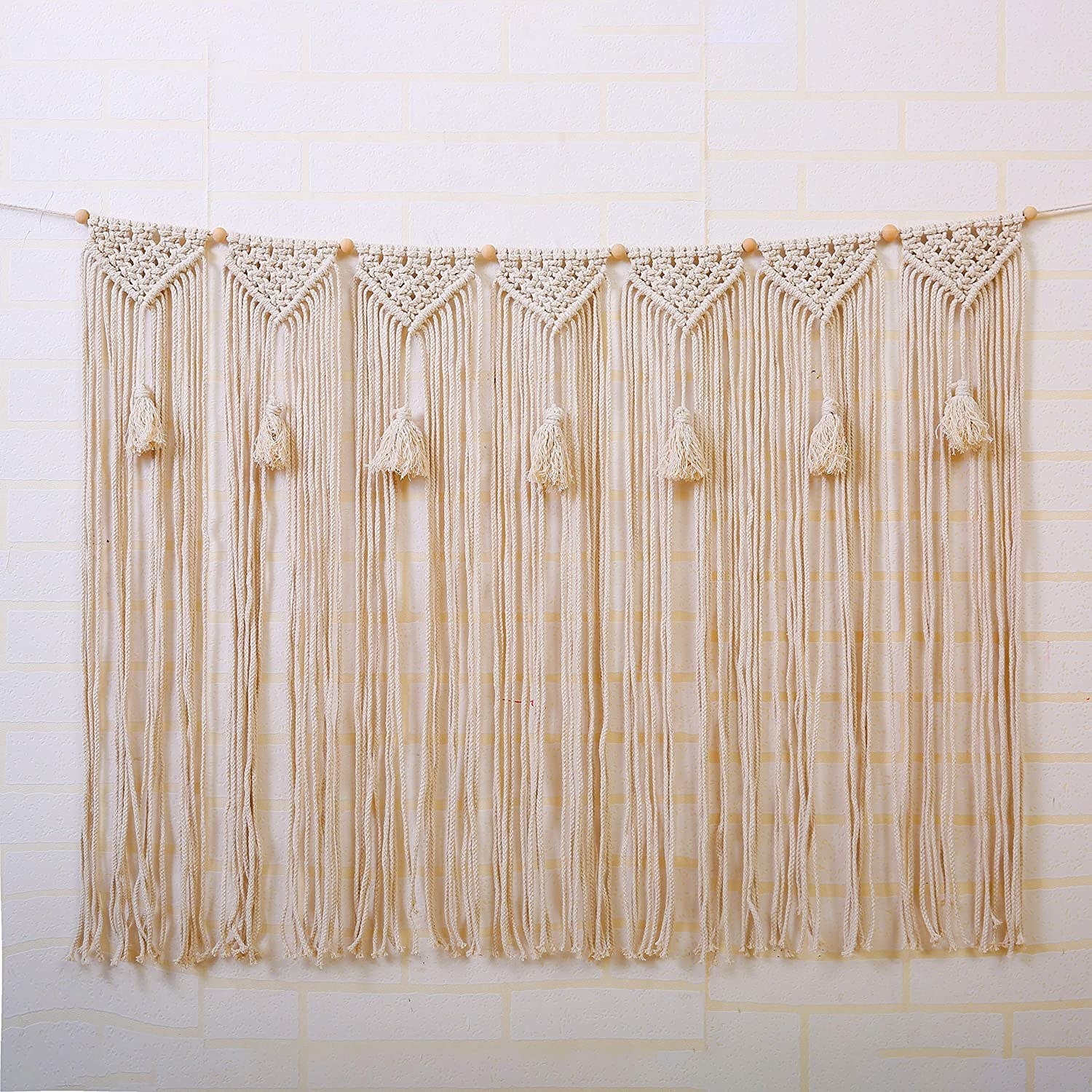 Promising review: "Nice size for a wall hanging. It's easy to hang; I use small hooks to hold it up. Looks great in my boho guest room." —WranglersRoost
Get it from Amazon for $19.99.
11.
Some classy-looking peel-and-stick tile that'll trick visitors into thinking you hired a pro to give your walls a makeover.
Promising review: "I'm very pleased with this product. The tile is very shiny and looks beautiful in natural light. It is textured and looks very real. Honestly, I didn't do the best job installing the tiles, but you can't see any mistakes unless you really stare at them up close! So even if you don't have a DIY thumb, you can do it!! The white 'grout' on the white tile helps hide mistakes as well! Definitely would recommend. :)" —lauren porter
Get it from Amazon for $22.67+ (available in eight colors).
12.
A hidden bookshelf to turn your prized book collection into a bookworm's dream display so you can admire them daily.

It works by holding the cover of the bottom book!
Promising review: "These are my favorite decorating items ever. I purchased them four years ago in medical school, and they have held up over many moves." —Susan Giampalmo
Get it from Amazon for $10.49+ (available in two sizes and in sets of three).
13.
A floating vinyl ledge perfect for making your space feel like a cool little record shop.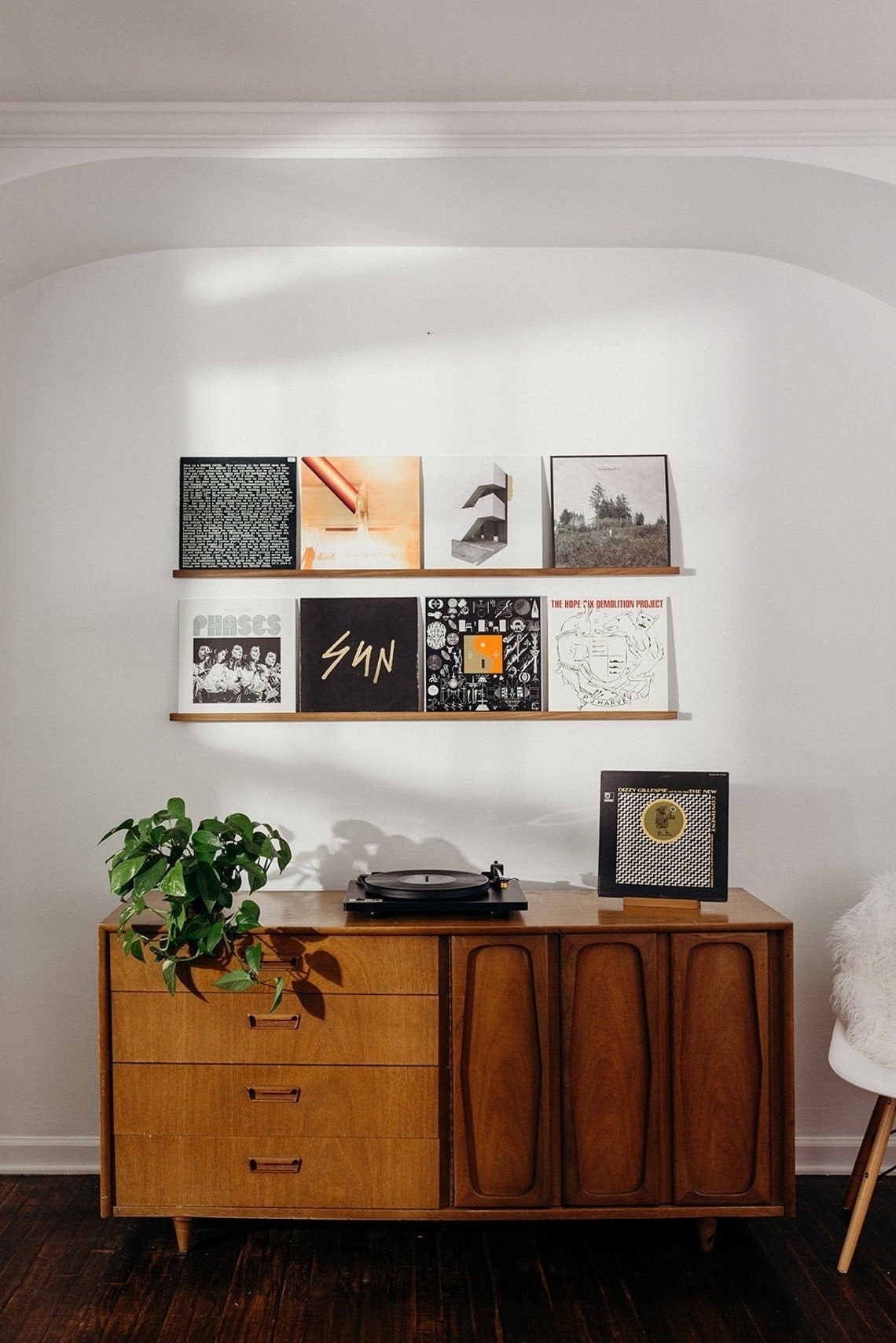 Divider Records (formerly Prathermade) is a couple-owned small business based in Sugarcreek, Ohio. Owners Brit and Jason Prather specialize in hand-built vinyl record storage and offer a lot of super-cool options for record enthusiasts!
Promising review: "I wish there were more than 5 stars to give out! Quality wood; flawless finish. Arrived well protected with lots of bubble wrap, and included drywall screws to hang easily. I requested shelves a few days earlier than their normal ship time to arrive in time for a birthday celebration, and they came through for me. Very much appreciated!" —Emily Arnold
Get it from Divider Records on Etsy for $68+ (available in five materials and in six finishes).
14.
A floral medallion tapestry to make it feel like a bright spring day no matter what the weather's like outside your window.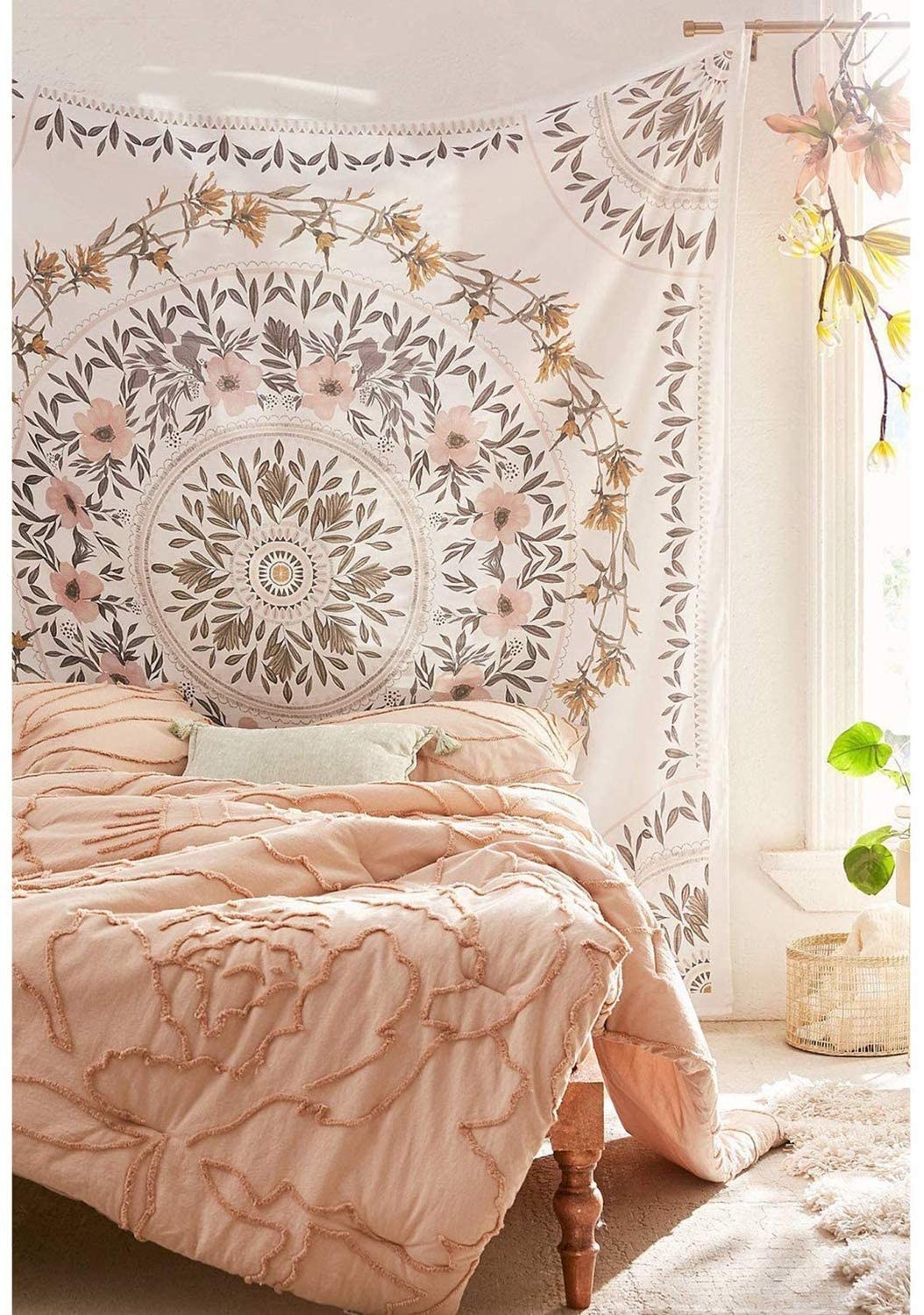 It comes with two traceless thumbtacks, two metal clips, and two mounting tapes so you can hang it however you like.
Promising review: "It's so cute! And fills up the space so beautifully. Honestly, get it LOL. I just used nails to attach it to the wall, and I did it alone. It's very big, too. Also made a cute background for pics." —Tanya
Get it from Amazon for $14.99+ (available in two sizes and in three colors).