1.
A Baseboard Buddy, which is a four-foot extendable cleaning tool that makes it easy to reach those spots that would otherwise require a ladder or you kneeling uncomfortably on the floor. Now you can stop avoiding cleaning your baseboards, molding, ceiling fans, grates, and other tough spots, and finally make any room look truly spotless.
The kit comes with one Baseboard Buddy and three reusable pads which can be used wet or dry. 
Promising review: "Buy it NOW. Honestly, I had huge reservations for this thing. Yet another miracle cleaning tool that will break or bend or something. I was so wrong. It was easy to put together and I sprayed it with Mean Green and went to the baseboards. No more kneeling and no broken back. This thing is amazing. It is durable and the pad is super absorbent. I am so happy. I can't wait to do the rest of the house!" —artgirl
Get it from Amazon for $24.99. 
2.
A set of three drill brush attachments capable of making your surfaces look brand new — without any scrubbing on your part! Just attach the brush head to your drill, turn it on, and watch all of that grime disappear so fast and easily, you'll think it's magic.
Need a drill? Here's one! And check out our Drill Brush attachment review for more on just how well it works.
Note: Each color of the Drill Brush attachment corresponds to the type of bristles they have, and each one is best suited for a specific type of cleaning job (for example, the yellow brush has medium bristles, best used for bathroom cleaning — bathtubs, showers, tile, and porcelain). Be sure to check the listing for which color is best for your intended purpose before buying!
Drill Brush is a small business based in New York that makes cleaning brushes that attach to drills. It was started in 2007 by a former electrician who suffered from carpal tunnel and needed a way to clean without causing him harm.
Promising review: "I bought this on a whim because my walk-in shower is just a pain to clean. I'm 51, and I guess I've just been old school with how I clean, hand-scrubbing for years. The FIRST time I used this to clean my shower, it took five minutes, AND it scrubbed my shower more clean than it has been in years. In the corners, the floor, the glass door...everything came out squeaky clean. I'm NEVER cleaning my shower by hand again." —Terry

Get the set of three from Amazon for $18.95 (available in six colors and four bristle stiffnesses).
3.
A Bissell Little Green machine designed to make removing tough pet stains no big deal thanks to its super strong spray and suction capabilities. If your pets are reigning destruction upon your carpets, household fabrics, furniture, and car interiors — this was made for you.

Promising review: "Two months ago we got a 6-month-old puppy who has needed some time to get adjusted. That included more than a few accidents in our living room and on his bed. This machine has made cleanup of everything so much simpler and I love that it's deep cleaning and has a nontoxic pet cleaner so that our not-so-little puppy isn't harmed through exposure or smells. Also helpful since my teenage sons like to camp out on the couch with their friends on long weekends and our couch gets that fresh clean smell in an hour." —Kindle Customer
Get it from Amazon for $123.59.
4.
A spinning makeup brush cleaner because cleaning and drying your brushes by hand takes forever, and you have way better things to do. So why not let this device do the work for you? It swirls your brushes in soapy water until leftover makeup, dead skin cells, dirt, and debris are gone, and then spins the brush until it's dry.
It comes with the brush spinner, charging station, eight rubber collars that securely connect the makeup brush to the spinner, a glass bowl, and a splash guard ring.
Promising review: "I use my makeup brushes daily, and they get filthy. I've used other cleaners and this product wins hands down. The wand and the cleaner itself takes all the hard work and does it for you, not to mention the brushes dry in seconds. This is the cleanest my brushes have ever been. Highly recommend." —Valerie
5.
A strangely fun-to-use universal cleaning putty to get to those nearly impossible-to-reach nooks and crannies in your keyboard, car vents, printer, and other appliances where dust and crumbs are steadily building up.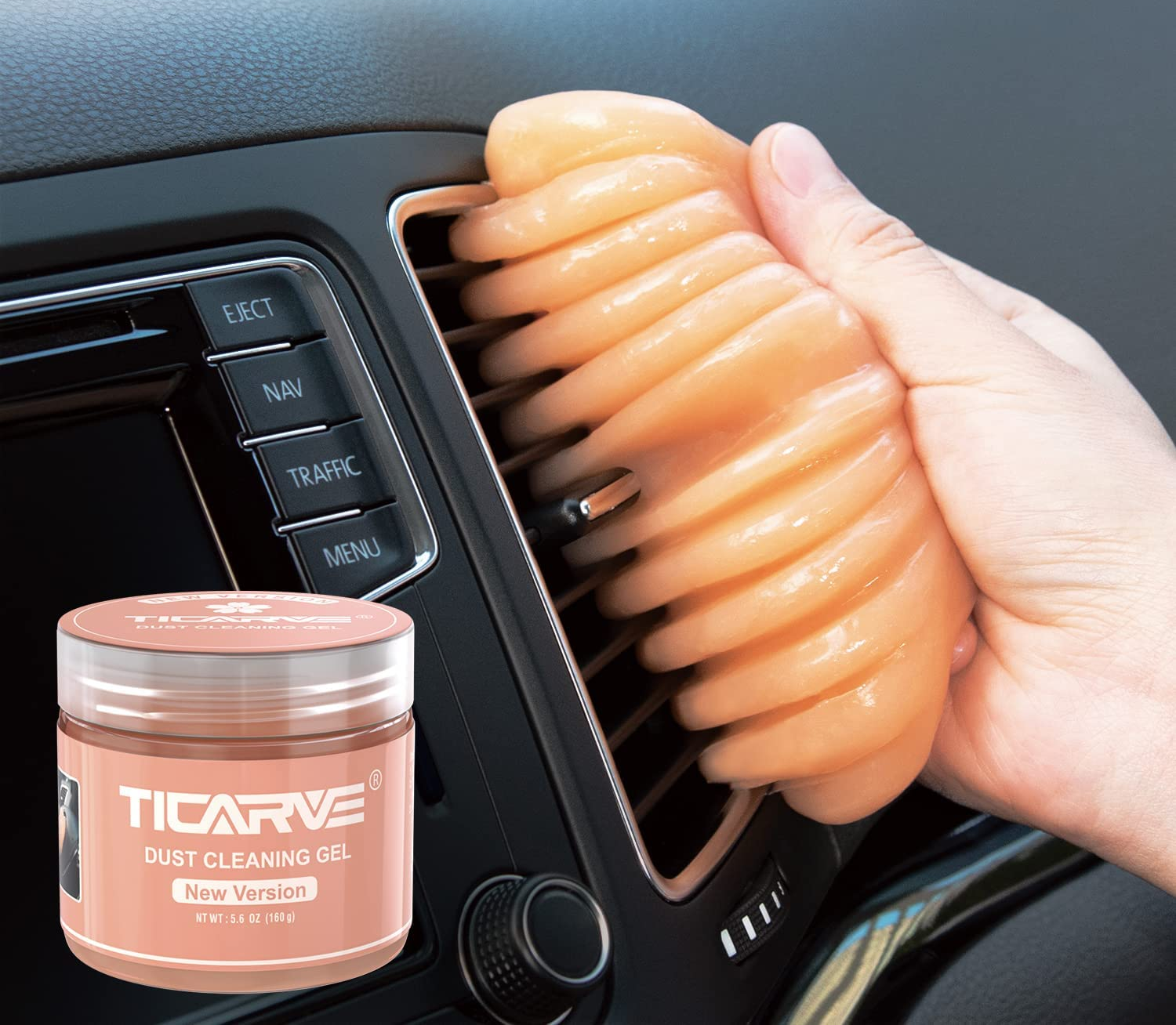 See it in use on TikTok!
Promising review: "This product does exactly what it says it does. I saw this product from TikTok. I was surprised at how easily it picks up dust and small debris, especially from inside of vents and cup holders. The only complaint is the very artificial smell when you use it. It doesn't last, just when it's out of the container!" —Loren

Get it from Amazon for $6.88.
6.
A cleaning K-Cup you can pop into your Keurig just like you're making a normal cup of coffee. Then all you have to do is brew one large cycle with the cleaner pod, and one or more with just water (depending on how dirty your machine is), and you're done! Reviewers are overjoyed by how easy it is, and are relieved that they no longer have to wonder what gross bacteria is hiding out in their morning bean juice.
Promising review: "Our coffee can start to taste funky after several uses. We run this through once, then two times with just water. Works great and coffee goes back to tasting like normal! It clears out any build up that can affect the taste of your coffee. It is super easy and just as quick as making a cup of coffee." —Maine Customer
Get a pack of six from Amazon for $9.95 (also available in larger multipacks).
7.
Some Bissell Stomp & Go Cleaning Pads that simply ask you to stomp on them to release a powerful cleaning formula capable of banishing tough set-in stains from wine, pet messes, mud, coffee, blood, and more. You don't even have to scrub or touch the stain at all — these pads'll do all the hard work and leave your carpet smelling nice and fresh after!
Promising review: "These things saved me from replacing my entire upstairs carpet! We had already replaced one section before finding these and were worried we'd have to replace another section at a cost of $3,000. Stomp and leave it for 24 hours and I was amazed to see my carpet was its original light cream color. I now stock a box of these and have told every one of my pet-owning friends about them. I'll never spend hours scrubbing the floor or carpet shampooing again!" —findingk8
Get a 20-pack from Amazon for $30.24.
8.
Some Wet & Forget shower cleaner — it makes it easy to keep your tub and shower nice and shiny. All you have to do is spray, let it sit, and rinse — and it'll clean and prevent scummy buildup all on its own. No scrubbing or wiping required — hooray!
Promising review: "This stuff is amazing! I had a horrible gray ring in the bottom of my shower that was impossible to remove. I had tried the Dawn dish soap method (with a lot of scrubbing) and had even used toilet bowl cleaner to try to remove the soap scum. My next step was to tear out and replace the shower pan and tile. I figured this was my last chance. I ordered the Wet & Forget spray and really coated the shower walls and floor pan and walked away. I CANNOT begin to tell you how happy I was to rinse down the walls sometime later and watch all that crud roll right down the drain!! This is the best product I have ever used in my life!! Works great and no toxic fumes!!" —Amazon Customer
Get it from Amazon for $20.08+ (available in two scents and two sizes).

9.
A reviewer-beloved pet hair remover with over 106K 5-star ratings (!) for anyone who can never seem to get all of their pet's fur off of their clothes and furniture. Just roll it over your fuzz-covered item of choice, and watch it lift the fur RIGHT OFF.
Promising review: "If I could give this product six stars, I would. My husband and I use it almost every day. We have three furry dogs and six fluffy cats, which makes for A LOT of hair. We were using a lint roller before we bought our ChomChom Roller. The lint roller didn't work very well and had to be replaced. We have had our ChomChom Roller for months and it still works just as well as it did when we first got it. We can actually invite our friends over now without worrying about all the pet hair." —Morgan Willis
Get it from Amazon for $29.99.
10.
An "Angry Mama" microwave cleaner — it'll loosen those splatters and stains so all you have to do is wipe them clean.

Just add water and vinegar, and place this gadget in the microwave for five to eight minutes on high heat. Afterward, wipe off with sponge, rag or napkin, and all the grime will come right off!
Promising review: "I'm embarrassed to say I hadn't cleaned my microwave in about six months. It's an awful task. I ran Angry Mama one time, wiped down easily, then ran it one more time to get it detailed really clean. Highly recommend using it more often than once every six months for a super fast, super clean microwave!" —Kelsey
Get it from Amazon for $6.99 (available in four colors).

11.
A powerful, but gentle silicone paw cleaner here to make cleaning your pet's cute lil' feets a lot more effective *and* a lot less of a hassle. Just add water, insert filthy paws, give 'em a little twist, and dab till dry! No scrubbing, no pain, and no more dirt, mud, sand, ice melt, *POOP*, and other grime getting tracked around your otherwise spotless home for you to clean up. Sounds like a win-win!

Promising review: "I've been using this for a few weeks, and I love it. It cleans the salt off my dogs' paws so easily. When it's super dirty and the streets are covered in salt, I'll refresh the water supply. I add a few drops of their doggie shampoo, and it works great. It is so easy to use. I have four dogs in NYC. I have to wash their feet after every walk because the streets are so filthy. It would take me about 10–15 min to clean their paws with a spray bottle and towel. Now, it takes about five minutes. And the towel doesn't end up filthy. The dirt gets caught in the cup. Plus the dogs seem to like it. The silicone bristles must feel good. A huge thumbs-up!" —Sandra
Get it from Amazon for $16.99+ (available in three sizes, eight colors, and with or without lid).
12.
A TikTok-famous bagless, touchless stationary vacuum — it'll make you wonder why you ever owned a regular dustpan. No more bending over and transporting your filth to the trash can — inevitably dropping crumbs and dust bunnies along the way. Now you can just sweep directly over to this ingenious device and watch it slurp up every last bit of filth.
After debris is collected into the vacuum's canister, an indicator light will turn on to let you know when the canister is full and ready to be emptied out. Pull the canister out and dump debris into the trash without spilling crumbs and dirt everywhere.
See it in action on TikTok here.
Promising review: "Saw it on TikTok and knew I had to have one. I hate cleaning but get annoyed with the clumps of dog hair and bits of things on my kitchen floor...I usually just vacuum my tile with the vacuum, which is a pain. This thing is so easy to just sweep things into and it sucks them right up. Sure, it's more expensive than my actual vacuum but I've only had it three days and have used it two times." —Amazon Customer
Get it from Amazon for $109.99+ (available in eight colors).
13.
A garbage disposal cleaner to bubble and fizz through odor-causing grime all on its own while you just stand back and wish you'd gotten it sooner.
Here's all you have to you do: Run some hot water, pop one of the packets in your disposal, let it foam, then wait for the foam to fully disappear. Garbage disposal = clean and odor-free.
Promising review: "Works like a charm! These are pretty cool! I was a little skeptical but I followed the easy-to-use directions and it worked just like the product said it would. Foamed up and cleaned the drain!! Smell removed!!" —Jennifer K
Get a two-pack (each with four uses) from Amazon for $9.88 (also available in bigger multipacks).
14.
A bottle of Sunny & Honey Carpet Miracle — it makes it easy to banish discoloration and get your carpet back to looking like the day it was born!
It's from a family-run small business that specializes in cleaning products, especially ones for homes with pets!
Promising review: "Worth every penny. I've bought this product so many times now I have it on auto ship! Saw the reviews and figured I'd give it a try. My cat likes to pee over the litter box and stained the brand new carpet. I used this in my Bissell and it took all the stain and smell out!!! I'll never use another cleaner." —Wendy
Get it from Amazon for $19.99+ (available in two sizes).