1.
A helpful pair of scrubby gloves to make dishwashing duty wayyy easier. The gloves act as a protective barrier between your hands and hot water (and disgusting half-eaten food), and the silicone bristles work to tackle any tough messes (better than that dirty sponge that's been living next to your sink). 
Promising review: "These gloves have held up SO WELL. And are perfect for dishes and when I'm cleaning/rinsing before putting in the dish washer. Definitely better than a lot of sponges I've tried and they have been very durable! Recommend!!" –Tabitha Collier
Get them from Amazon for $11.39+ (available in five colors). 
2.
A strangely fun-to-use universal cleaning putty that'll get to those nearly impossible-to-reach nooks and crannies in your keyboard, car vents, printer, and other appliances where dust and crumbs are steadily building up.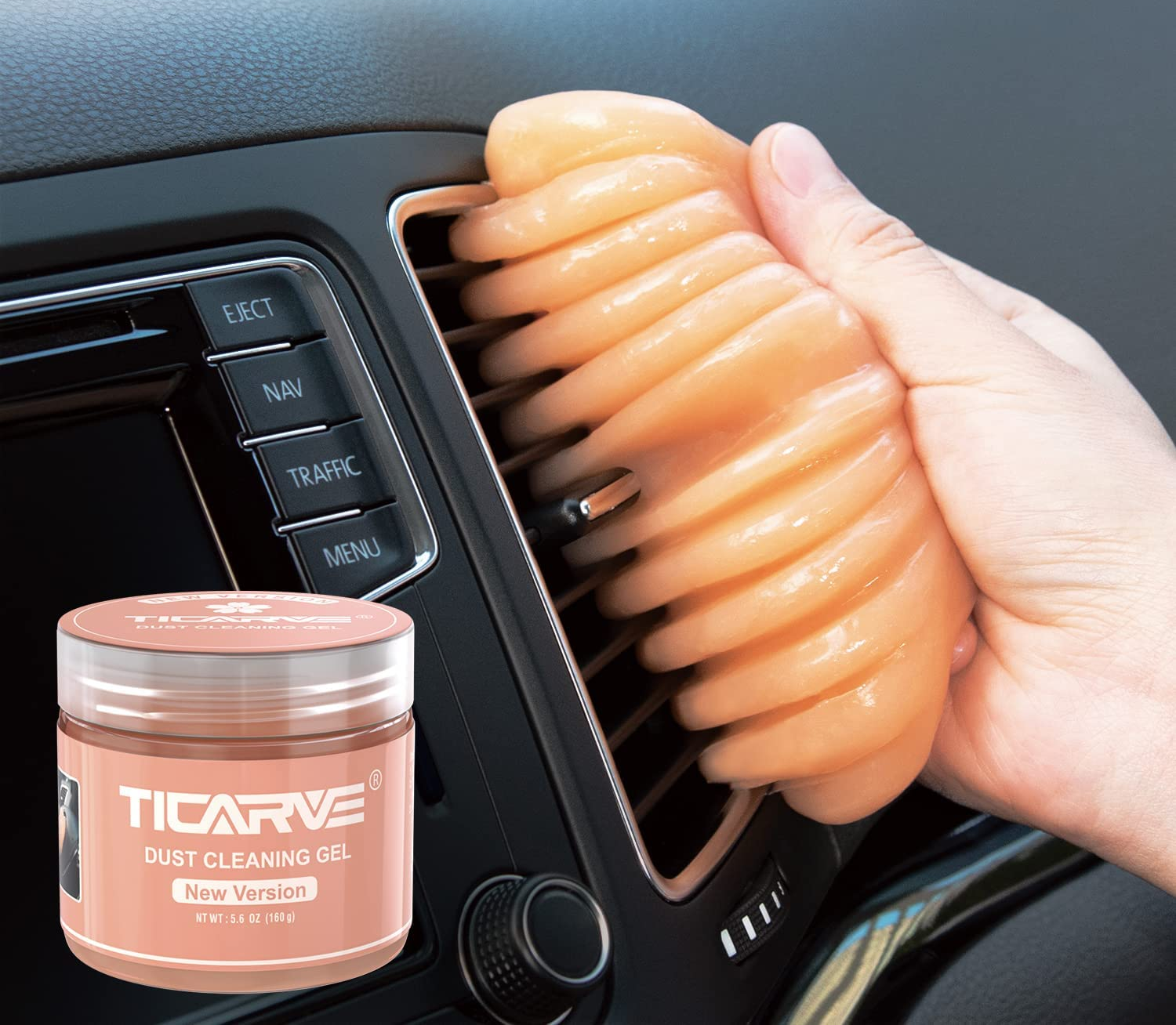 See it in use on TikTok!
Promising review: "This product does exactly what it says it does. I saw this product from TikTok. I was surprised at how easily it picks up dust and small debris, especially from inside of vents and cup holders. The only complaint is the very artificial smell when you use it. It doesn't last, just when it's out of the container!" —Loren

Get it from Amazon for $6.88.
3.
A jar of The Pink Stuff, which has reached cult-favorite status for being great at easily removing stains, rust, discoloration, and other stubborn marks from metal, ceramic tiles, saucepans, barbecues, and much more without leaving behind any scratches!
Check it out on TikTok to learn more!
Promising review: "Found this product on TikTok. I don't think I've ever seen value like I do this product! Literally use it on EVERYTHING!! Kids and teens have dirt, grime, and grease on their walls? ...This will make it look like a new paint job. Baseboards need some love? A pea-size amount of this makes them look brand new. Need a shoe cleaner? PERFECT for sneakers. I could name a million more uses, but I can ASSURE you this is worth every penny. What's more? You need such LITTLE of this product, it will last a VERY long time. Thank you, TikTok!!!" —Rachel in CLT

Get it from Amazon for $9.99.
4.
A grout paint pen — it works like a regular marker to make it beyond easy to cover up the years and years dirt and grime that are keeping your bathroom from ever looking truly clean.
Promising review: "This stuff is amazing! After over 10 years of the grout not being cleaned, and a botched repair job, the bathroom floor in this house looked horrendous. Two pens covered the entire bathroom floor, with plenty leftover in the second pen, even with applying two to three layers (which you will definitely need as the paint is a bit thin and also absorbs into the grout). Super easy to apply, works exactly like a regular paint marker. Be sure to press the pen tip on a separate (thick) cloth to activate it before actually using on the grout so you don't end up with a huge mess on the tile when the paint floods out at first. If you see the first side of the tip is getting frayed, just pull it out and turn it around to the other side." —regalle
Get it from Amazon for $8.99+ (available with a narrow and wide tip).
5.
A super satisfying-to-use electric pressure washer in case you need a little extra power at your disposal when it comes to cleaning layers of grime and discoloration off of your deck, patio, car, driveway, fence, boat, and more.  
Promising review: "Power washer was delivered Monday, it's Wednesday and I have washed two cars, cleaned driveway and sidewalks, cleaned back fence, and the work keeps piling up; everything I see now needs to be cleaned! This little dude does not back down; plenty of power and it's surprisingly not too loud. Soap dispensers work great, and the tips are easy to change." —Mar
Get it from Amazon for $169.
6.
A cleaning K-Cup you can pop into your Keurig just like you're making a normal cup of coffee. Then all you have to do is brew one large cycle with the cleaner pod, and one or more with just water (depending on how dirty your machine is), and you're done! Reviewers are overjoyed by how easy it is, and are relieved that they no longer have to wonder what gross bacteria is hiding out in their morning bean juice.
Promising review: "Our coffee can start to taste funky after several uses. We run this through once, then two times with just water. Works great and coffee goes back to tasting like normal! It clears out any build up that can affect the taste of your coffee. It is super easy and just as quick as making a cup of coffee." —Colorado Customer
Get a pack of six from Amazon for $9.45.
7.
A super-long extendable duster so you can stop neglecting your ceiling fans as well as other hard-to-reach spots like vents and under your furniture. This'll make it easy!
Promising review: "I love my new duster. The ability to extend the pole makes it easy to clean the ceiling fan blades, chandeliers, and the AC vents. Because it's so lightweight it makes reaching very easy." —Linette L.
Get it from Amazon for $9.99+ (available in five colors).
8.
A spinning makeup brush cleaner because cleaning and drying your brushes by hand takes forever, and you have way better things to do. So, why not let this device do the work for you? It swirls your brushes in soapy water until leftover makeup, dead skin cells, dirt, and debris are gone, and then spins the brush until it's dry.
It comes with the brush spinner, charging station, eight rubber collars that securely connect the makeup brush to the spinner, a glass bowl, and a splash guard ring.
Promising review: "I use my makeup brushes daily, and they get filthy. I've used other cleaners and this product wins hands down. The wand and the cleaner itself takes all the hard work and does it for you, not to mention the brushes dry in seconds. This is the cleanest my brushes have ever been. Highly recommend." —Valerie
Get it from Amazon for $28.99+ (available in two colors).
9.
Some all-natural, no-scrub Bottle Bright tablets — they'll banish those stains, smells, and tastes lingering in your your bottles and thermoses...pretty much all on their own. Just fill your bottle with warm water and drop in a tab, let it sit and fizz for 15 to 20 minutes, empty and rinse, and that's it!
Promising review: "At work, we have stainless-steel coffee pots with a plastic top that no one cleans and they are often left on for hours at a time. The bottoms got very gross and someone tried to clean them with hot water and soap but not much happened. I bought these, added hot water and two tablets (since they are bigger than a water bottle), and let the pots sit overnight. So much came off with no scrubbing! I then soaked again for about another hour with two more tablets and almost all of the grime was gone. I did scrub just a tiny bit to get all the stains out with a brush I had... They are almost like new! I did this on two pots and we were all amazed by the results. I'm ordering more so that we can clean regularly since it's so easy!" —Heather
Get a pack of 36 from Amazon for $24+ (also available as a pack of 78).
10.
Some Bissell Stomp & Go Cleaning Pads that simply ask you to stomp on them to release a powerful cleaning formula capable of banishing tough set in stains from wine, pet messes, mud, coffee, blood, and more. You don't even have to scrub or touch the stain at all — these pads'll do all the hard work and leave your carpet smelling nice and fresh after!
Promising review: "These things saved me from replacing my entire upstairs carpet! We had already replaced one section before finding these and were worried we'd have to replace another section at a cost of $3,000. Stomp and leave it for 24 hours and I was amazed to see my carpet was its original light cream color. I now stock a box of these and have told every one of my pet-owning friends about them. I'll never spend hours scrubbing the floor or carpet shampooing again!" —findingk8
Get a 20-pack from Amazon for $24.99.
11.
Or a portable, hands-free Bissell SpotBot capable of taking care of stains all on its own, doing all the spraying, scrubbing, brushing, and suctioning that you definitely don't feel like doing yourself.
It also comes with a hose and tool attachment if you'd prefer a more hands-on cleaning session.
Promising review: "I have an older pug and he has always been good, but I knew one day this machine would be brought out. I had it nine months before my first use. He got sick one week, and I literally used the machine about 12 times in a week. All I can say is Bissell knocked it out of the park with this. It's amazing. It cleans so well. It is the simplest machine I have ever used that does so much. It is well-designed. Quick setup. And clean up. It does all the work for you. And it does a fantastic job. I love it. Worth every penny. I'll never be without one. If you are on the fence, buy it. I can't believe how good this machine works. And the design is flawless. The tanks are so easy to fill. And clean for storage. And if it can clean 100% of what we had this week. It can clean anything!!! Like it never even happened. Thank you Bissell!!!" —David
Get it from Amazon for $190.38.
12.
An "Angry Mama" microwave cleaner — it'll loosen those splatters and stains so all you have to do is wipe them clean.

Just add water and vinegar, and place this gadget in the microwave for five to eight minutes on high heat. Afterward, wipe off with sponge, rag or napkin, and all the grime will come right off!
Promising review: "I'm embarrassed to say I hadn't cleaned my microwave in about six months. It's an awful task. I ran Angry Mama one time, wiped down easily, then ran it one more time to get it detailed really clean. Highly recommend using it more often than once every six months for a super fast, super clean microwave!" —Kelsey
Get it from Amazon for $8.59+ (available in four colors).