1.
A pack of 36 acne patches that'll absorb pimple-causing gunk out of your skin overnight! They can help speed up the healing process and give you clearer-looking skin without the picking or popping that can leave scars behind. 
Promising review: "Best pimple patches I've tried! So impressed with these patches! I usually get a few annoying pimples, and these really help keep me from picking them while helping the inflammation go down! Compared to other brands I've tried, I found that these stick on better, and I don't wake up in the morning wondering where it went! Also, they're a great size compared to the other brands I'd been using prior to purchasing these." —SK
Get a 36-pack of the small patches from Amazon for $11.99.
2.
A mini knife sharpener — now you can stop struggling to get your ancient dull blades to be the faithful collaborators they once were. This'll bring 'em back to life so your wallet can stop shuddering at the thought of purchasing a brand-new set.

Promising review: "I gotta say this is the best sharpener I ever bought in my whole life. I got it today and brought it to work. I work at a Japanese restaurant as a sushi chef and I sharpened it at work and, wow, my knife was as sharp as a samurai sword! Even my coworkers were surprised and asked me to order one for them. Thanks for the product ! Now I don't have to use the stone or sharpen rod that much anymore." —Are
Get it from Amazon for $9.77.
3.
A pair of gardening gloves with claws that'll give you *way* more digging power than you ever thought you'd possess. Reviewers love how much easier this makes digging holes for planting, digging up weeds, and even raking leaves! 
Promising review: "I laughed when I first saw the picture of this item. I thought, well if they don't work, I'll use them for a costume. But they are amazing at pulling weeds. I use mine for those pesky weeds in the rocks. One pull and you get root and all." —cynthia Williams
Get it from Amazon for $7.95+ (available in two colors and as a pack of two).
4.
Some washing machine cleaning tablets you just have to run through a cycle to clean your machine and get rid of all the gross stuff making your clothes smell funky even after they come out of the wash.

Promising review: "I purchased with skepticism, but after using them I am pleasantly surprised. I LOVE this product!! Our laundry used to come out smelling WORSE than before I washed it. I thought I needed to buy a new washing machine. NO!!! I used two tabs initially (two different wash cycles), then use one a month for maintenance. My clothes always come out smelling fresh and clean! What a miracle, money-saving product. Only wish I'd known about them sooner!" —Ashley
Get a box of three tablets from Amazon for $6.99 (also available in packs of five and six).
5.
L'Oreal's 8 Second Wonder Water — it'll give your hair the moisture, shine, and silkiness it's missing, with instant results visible after the first use. Use it on wet hair after shampoo for healthier-looking locks and a weightless feel that takes a mere *eight seconds* to achieve!
Promising review: "Why haven't I tried this sooner? This is hands down the absolute best product I have tried on my hair in years, maybe decades! I have very thick, coarse, highlighted hair that proves to be a challenge for any product that claims smoothing, frizz control, shine, etc. I have tried so many high end products that do not live up to their claims with my hair. Consequently, after so many disappointing products, my expectations were low when I tried this.
As soon as I removed the towel, I knew this product was a winner. My hair looked smoother than usual before I even started to blow dry. When I finished blow drying, it looked the way it does when I leave a salon. I am super impressed and immediately ordered more." —shopsalot
Get it from Amazon for $9.87.
6.
A "wrinkle release" spray if taking the time to warm up an iron in the morning is simply impossible and you aren't looking to splurge on a dry cleaning bill. It's also great for those days when you don't notice wrinkles until the last minute.
Promising review: "This stuff is the bomb dot com. You just spray it on your clothes, smooth out the clothes with your hands quickly, wait a few minutes, and the clothes are wrinkle-free! I hate ironing, so this is magic. Obviously it won't work on hard creases but wrinkles from the dryer, for example, it will get rid of." —J. Larsen
Get two bottles from Amazon for $15.94 (available in two scents, three sizes and packs of two).
7.
A five-in-one aerator that'll instantly make even cheap wine taste better. But that's not all! It'll also 1) filter out cork and keep bugs and debris from getting inside, 2) make it easy to pour without splashing, 3) reseal the bottle if you wanna store some for later, *and* 4) prevent leaks whether you store it upright or on its side!
Promising review: "These are amazing! I bought one in New York at a winery not thinking it would change my life but it did! This is the perfect topper so you can put your wine back in the fridge on its side and not have to worry about it spilling. It was a great aerator, too. You don't need all the tools when you have this little guy. I bought three in total. One for my mom, too!" —Jenna
Get it from Amazon for $8.32 (also available in multipacks).

8.
A set of Keurig cleaning cups if your machine is getting grimy after all the hot beverages it's been in charge of this winter. Simply pop one of these cups into your Keurig just like you're making a normal cup of coffee. Then, all you have to do is brew one large cycle with the cleaner pod, and one or more with just water (depending on how dirty it is in there), and you're done! Before you go replacing the whole thing, give these a try first!
In the reviewer image above on the right, the first cup is after running the cleaning pod (GROSS!) and then the cup on the right is after three rinse cycles!
Promising review: "I give 5 stars!! These were really quick and clean... and easy!! So happy to have found these. My machine needed it bad. I use my Keurig every day and recently noticed how dirty the needle was getting and the coffee was starting to taste 'off.' Will definitely start a routine cleaning with these cups! Made a huge difference." —Reggie Gonzalez
Get a pack of six from Amazon for $9.95 (also available as a pack of 12).
9.
A roll of marble peel-and-stick paper so you can trick house guests into thinking you splurged on new, more expensive furniture when you in fact did no such thing.
Promising review: "I used this marble contact paper as part of a makeover on two Ikea dressers. I was hopeful yet skeptical, so I was thrilled at the quality and the results! It looks amazingly real! Everyone who sees it has thought that it's real — I only know this because I proudly announce, 'DUDEEEEEEE THIS IS CONTACT PAPER!' to anyone who sees them, whether they care to know or not. All in all, for the price, it's a seriously awesome product for small projects." —Blair T.
Get it from Amazon for $13.73 (available in 12 colors and two sizes).
10.
A strangely fun-to-use universal cleaning putty — it'll get to those nearly impossible-to-reach nooks and crannies in your keyboard, car vents, printer, and other appliances where dust and crumbs have been steadily building up.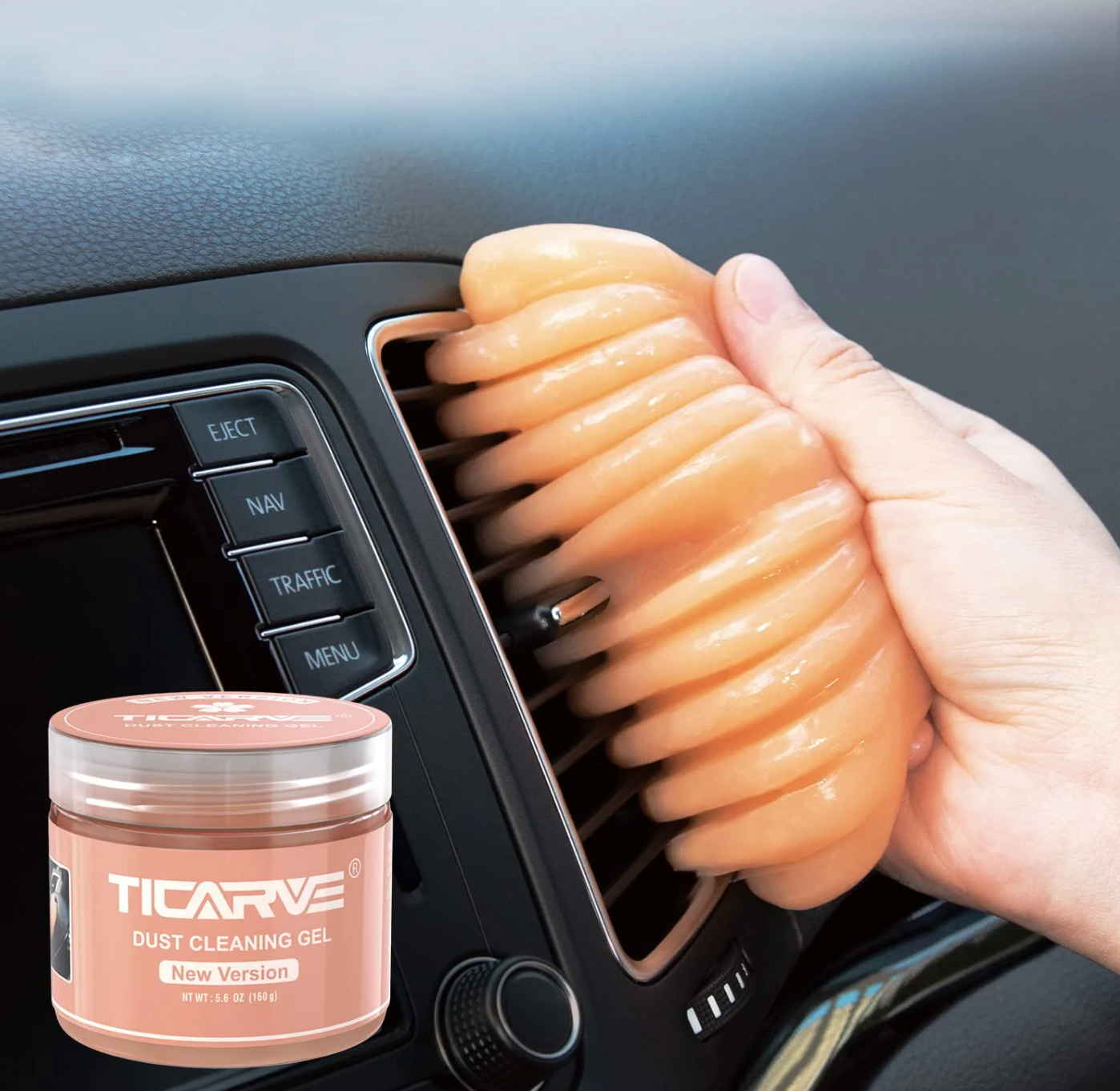 See it in use on TikTok!
Promising review: "This product does exactly what it says it does. I saw this product from TikTok. I was surprised at how easily it picks up dust and small debris, especially from inside of vents and cup holders. The only complaint is the very artificial smell when you use it. It doesn't last, just when it's out of the container!" —Loren

Get it from Amazon for $6.88.
11.
A Lovoir Winged Eyeliner Stamp if you love a winged eye look but hate how long it takes you to apply it to yourself. This stamp makes it quick and easy!
Promising review: "Amazingly easy to use! Winged liner used to take so long and I'd always have to fix mistakes. This stamp makes a perfect wing every time in seconds. Dries fast and lasts all day. Cannot recommend enough." —Emily Drew
Get a two-pack from Amazon $14.98 (available in three sizes and a combo pack).
12.
A jar of The Pink Stuff, which is beloved by the Internet for being great at easily removing stains, rust, discoloration, and other stubborn marks from metal, ceramic tiles, saucepans, barbecues, and much more without leaving behind any scratches! Getting your space looking sharp for the new year has truly never been easier.

A lot of people compare it to the Magic Eraser in paste form, so even your weirdest, most stubborn stains will meet their match.
Promising review: "Found this product on TikTok. I don't think I've ever seen value like I do with this product! Literally use it on EVERYTHING!! Kids and teens have dirt, grime, and grease on their walls? This will make it look like a new paint job. Baseboards need some love? A pea-size amount of this makes them look brand new. Need a shoe cleaner? PERFECT for sneakers. I could name a million more uses, but I can ASSURE you this is worth every penny. What's more? You need such LITTLE of this product, it will last a VERY long time. Thank you, TikTok!!!" —Rachel in CLT
Get it from Amazon for $5.97.
13.
A Crave Naturals Detangling Brush designed to glide through wet *or* dry hair while gently separating tangles (instead of tugging or ripping through them like other brushes) — all thanks to the firm but flexible bristles and unique cone shape that makes this brush a great option for kids *and* adults!
Promising review: "This is the BEST detangler EVER!!! Do not use on dry hair though if you have curly or wavy hair. It will straighten your hair and leave it frizzy. But, use this in the shower with your conditioner and you can finger comb your hair, air dry if possible, and your waves and curls will be the best ever!" —TDHokey
Get it from Amazon for $11.99+ (available in eight colors and as a two pack).
14.
A pack of FryAway Waste Cooking Oil Solidifier Powder that makes it much easier to dispose of cooking oil, which should *never* be poured down the drain. Simply add this powder to the pan once you're done cooking, and it will solidify up to eight cups of oil so you can easily scoop it out and toss it straight into the trash — problem solved!
Promising review: "Quite impressive. After making some fries, we added a packet to the hot oil and stirred a few times. Maybe 10 minutes later, we checked the pan, and the oil had solidified. Using a wood spoon, we easily removed the solid and put it in the trash. I will always make sure to keep a pack of FryAway in our pantry. Highly recommended." —Ryan O.
Get it from Amazon for $9.99+ (available in two sizes).