1.
COSRX Snail Mucin 96% Power Repairing Essence, a lightweight face serum that could repair, hydrate, and rejuvenate the skin, helping to heal acne scars, fade dark spots, and smooth fine lines. It's designed for all skin types, and reviewers love how gentle and effective it is — with many seeing results within the first few uses!
Promising review: "I'm legitimately shocked by this product! I think this is the best thing I've ever put on my face. I have super sensitive skin, and I gave myself a retinol burn. I had huge dry patches all over my face, and it was so uncomfortable. I ordered this, and after using it for one day, my face wasn't red anymore. I've been using it for three days, and the fine lines I had on my forehead and smile lines are hardly visible, and I have no more dry patches on my face anywhere. I'm amazed. I can't wait to see what this continues to do for my skin. If you're thinking about buying this, here's your sign — get it!!!" —Kyoko Ozaki
Get it from Amazon for $23.26. 
2.
A bottle of Elizavecca Hair Treatment — it uses ceramides and collagen to help bring your damaged hair back to life with all the body and silky softness you could possibly imagine! Simply let it sit on your hair after shampooing for five to 20 minutes and rinse!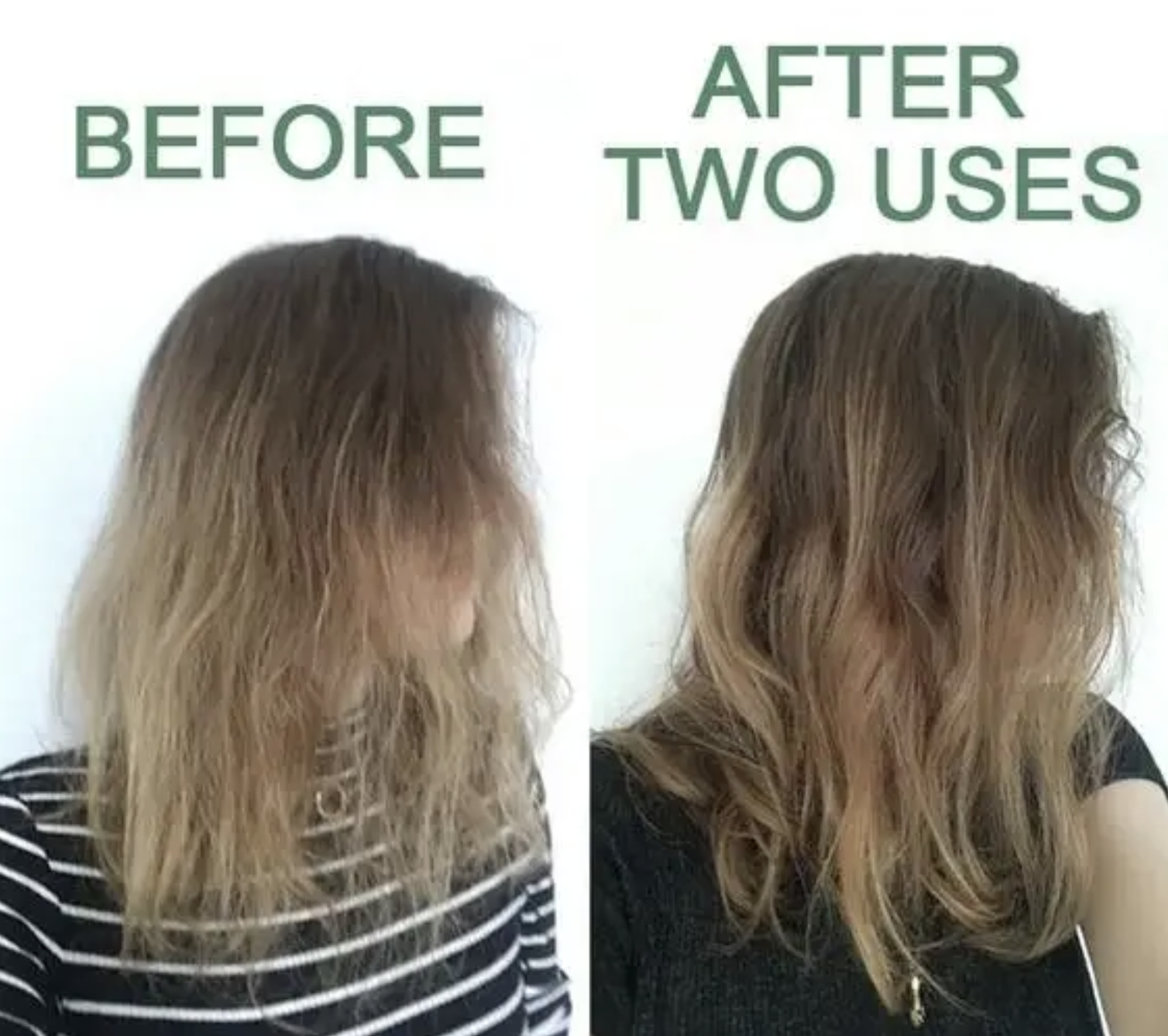 It's designed to work for all hair types, with reviewers with 2a through 4c hair saying it worked for them!
Promising review: "I have naturally blonde, medium length, more coarse hair that gets damaged from heat styling and is just naturally dry. I was looking for a hair mask to help heal my dry ends and just general damage. I followed the directions on the box, and left it in my hair for 15 minutes, and rinsed my hair, and styled as normal, and my hair has never been so sleek, and NOT weighed down, and the hair cuticles are together, and not frizzy. AND it's sooooo humid outside today and my hair stayed looking fresh. BONUS! I've tried so many masks and treatments that have weighed down my hair or left a weird residue, and this is the best one I've ever tried. For my hair length/thickness, I could get about five treatments from this size of a bottle." —Annie J.
Check out BuzzFeed's full Elizavecca hair treatment review for more deets!
Get it from Amazon for $7.84.
3.
A tube of Essence's Lash Princess mascara (over 228,000 5-star ratings!) that easily defines and separates lashes to give you the bold look you usually need to struggle with ~falsies~ for. Not anymore! Plus, it'll last all day — even in hot weather — without clumping, flaking, fading, or wearing.

Here's what BuzzFeed editor Kayla Boyd has to say about these:
"As someone who isn't a big fan of false lashes (the glue irritates my eyes and I'm terrible at applying them) this budget-friendly holy grail does the trick for both lengthening and volumizing my lashes. After you've given it a minute to dry, it lasts all day long and doesn't smudge or fade. It seriously gives the effect of false lashes, without the discomfort." 
Promising review: "I am so blown away. I put on ONE.COAT. One coat and my jaw dropped. One coat and it looked like I had on false eyelashes. I was super skeptical and I kept seeing ads for this everywhere and finally I decided to give it a try because the price is so good. I had no expectations at all and I am floored by how great this is. It took me a lot of years to find the mascara that I liked and I thought was good, but I think this had taken its place. The coverage is great, washes off easy, and no smudges. Holds up well for a day's wear. Would highly recommend" —Dana Bice

Get it from Amazon for $4.99 (also available in a pack of three).
For more info and review pics, check out Kayla's full review of the Essence Lash Princess Mascara! 
4.
A pair of exfoliating mitts here to astound you with how much dried skin they can lift away from your body. Use these reviewer-loved mitts to help unclog pores, remove spray tans, prevent ingrown hairs, and more!
Promising review: "I use a loofah every day, so I just bought this to use once a week, not thinking it would do much if anything. Man, was I wrong!!! I read reviews, viewed pictures, and watched the videos. I assumed they all used tanning products or spray tans, because the skin in the tub was brown/black. OMG, mine was too!!! I haven't tanned in 15 or so years. It was gross. On the bright side, my skin really does feel great. Just get it, seriously..." —Kim McMahon
Get them from Amazon for $11.99 (also available individually).
5.
L'Oreal's 8 Second Wonder Water — it'll give your hair the moisture, shine, and silkiness it's missing, with instant results visible after the first use. Use it on wet hair after shampoo for healthier-looking locks and a weightless feel that takes a mere *eight seconds* to achieve!
Promising review: "Why haven't I tried this sooner? This is hands down the absolute best product I have tried on my hair in years, maybe decades! I have very thick, coarse, highlighted hair that proves to be a challenge for any product that claims smoothing, frizz control, shine, etc. I have tried so many high end products that do not live up to their claims with my hair. Consequently, after so many disappointing products, my expectations were low when I tried this.
As soon as I removed the towel, I knew this product was a winner. My hair looked smoother than usual before I even started to blow dry. When I finished blow drying, it looked the way it does when I leave a salon. I am super impressed and immediately ordered more." —shopsalot
Get it from Amazon for $9.87.
6.
A liquid callus remover that's basically the equivalent of getting a pedicure in your own home. This stuff'll quickly help get rid of YEARS worth of calluses that you thought were just part of your feet forever. Not anymore!  

Promising review: "BEST THING I'VE EVER BOUGHT. I've spent so much money on foot creams, lotions, and foot scrubbers over the years. Like for legit 10 years now I've had cracked heels. My feet are always dry and my heels get so bad that they crack and bleed. I've tried so many things that I honestly just believed I'd always have cracked heels forever. 
After reading all the reviews... even the scary ones that made me almost not want to buy it... I thought I'd give it a chance. I followed the directions exactly, and used gloves along with only leaving the gel on for no more than 5 minutes. I think I could've probably left the gel on for a little longer because of how bad my heels are, so I'll do it again tomorrow, but already they look like brand new feet!! The kind of feet I thought I'd never have! So, I'm incredibly impressed and so excited!" —Heather Nelson
Get it from Amazon for $11.19.
7.
E.l.f.'s Poreless Putty Primer (with over 23,000 5-star ratings!) — it'll give you a smoothing layer to help your makeup go on a whole lot more evenly. Simply apply a thin layer, wait 30 seconds for it to absorb, and apply your foundation!

Promising review: "I saw this on TikTok and thought I'd take a chance. I have sensitive skin and have to watch what I use. I LOVE this product! Goes on smooth and you don't need to use a lot. I put it on before I put on my foundation. Makes a huge difference. Highly recommend and will buy again!!" —Brooks Crim

Get it from Amazon for $9.
8.
A leave-in conditioner that'll detangle hair, reduce frizz, restore curls, and more so you can get out the door faster. It's designed for kids, but adults love using it too!
Promising reviews: "The BEST for tangles! I'm on my third bottle used on my three-year-old and my own hair. Her hair is so tangled when she wakes up and combing it dry makes it frizzy. This stuff smells amazing and keeps her hair shiny, soft and makes her slightly curly hair just pop with beautiful curls. What a great product at an affordable price!" —Drew
Get it from Amazon for $9.69 (also available as a pack of two).
9.
A tube of Elizabeth Mott Thank Me Later Eye Shadow Base because you didn't spend time putting on eye makeup in the morning only for it to be all smudged, faded, and creased by the time the afternoon rolls around. This stuff'll help enhance and lock in your eyeshadow, keeping it vibrant and in place all day long!
It's cruelty-free!
Promising review: "Best primer EVER. I absolutely LOVE this primer! It goes on very smoothly, and it will keep your eye makeup in place literally all day. It also helps with maximizing the pigments in your eyeshadow, making sure they pop. 
I also bought a tube for my mom, because she struggles with oily skin and her eyeliner never stays on. Once she used this, not only did her eyeliner stay in place and not budge, but it helped control the oil as well. Out of all the primers I've tried, this is the only one I will use, because it is reliable and affordable." —Carolyn
Get it from Amazon for $13.75.
10.
A firming eye cream that uses vitamins and organic botanicals to help rejuvenate the delicate area around your eyes.

Promising review: "Incredible product! Still cannot believe what a difference it has made in the lines and wrinkles around my eyes. I use it twice a day, and actually use it for my entire face and my neck. My skin feels so soft and lines are disappearing." —Melissa

Get it from Amazon for $22.99 (available in three sizes and a pack of two).
11.
A convenient, smudge-proof eyeliner stamp if you love a winged eye look but hate how long it takes you to apply it to yourself. This stamp makes it quick and easy so you can speed up your routine and have more time for other tasks!
Psst — this tool is double sided, so you can choose the thickness of your wing, and comes with two stamp pens — one for each eye!
Promising review: "This goes on well and stays well. I cannot wing eyeliner for the life of me and this does it for me!! I just repurchased a second time and it's been almost a year since my first purchase...I use this daily! That means it lasted me almost a year. Can't beat the price point and quality for that! I also enjoy the clean ingredients. :)" —Nickel
Get a set of two from Amazon for $12.72 (available in four styles).
12.
A bottle of sulfate- and paraben-free Biotin shampoo that can help make thinning hair feel thicker, as well as look fuller and more hydrated. It has over 24K 5-star ratings! 
Read more about how biotin shampoo could help with the fullness of hair at Cleveland Clinic.

Also, if you're wondering whether or not this shampoo will work for kinkier textures, then you'll be happy to know that one reviewer with a 4c curl pattern said this shampoo helped to restore her hair's thickness after a Dominican blowout thinned her strands.
Promising reviews: "My hair feels great! My hair was thinner, and my hair was falling out, so I started looking for something to help. This was literally the best thing I could have gotten. It works wonderfully!!" —Amazon Customer
Get it from Amazon for $11.95+ (available in three sizes).
13.
A bottle of Fanola purple shampoo designed to neutralize yellow tones so you can achieve the vibrant platinum hair you've been dreaming of — all without an expensive salon visit! 
Promising review: "This is literally the best purple shampoo I have ever used. My hair gets brassy so fast. When I use this, it makes it look like I just left the salon. I bought a bottle in July. It is now November, and I still have not had to buy a new bottle yet. 10/10 recommend." —makaila hebert
Get it from Amazon for $13.98.
14.
A bottle of Paula's Choice Salicylic Acid Exfoliant for your face — it'll help unclog and diminish large pores, exfoliate dead skin cells, smooth wrinkles, and brighten and even out your skin tone so it looks radiant and youthful!

Promising review: "I have acne-prone skin that is on the combo to oily side with large pores and this stuff has truly been a lifesaver! I really appreciate the short ingredient list and the fact that this product is fragrance-free! I use this after cleansing and apply about five drops on a cotton round both morning and night. I then follow up with a retinol serum, moisturizer, and SPF. Since I have started using this product (FIVE DAYS AGO) my skin is soft and glowing, my acne is clearing up, and my pores actually look smaller!! Like, this is literally witchcraft in a bottle and my new holy grail! Ditch your harsh scrubs and give this a go, your skin will thank you!" —Philena
Get it from Amazon for $13+ (available in three sizes).