Hello BuzzFeeders,

BuzzFeed's core strength has always been our ability to adapt and innovate as the world changes. When BuzzFeed started, smart phones didn't exist, the social platforms were just for personal updates, and digital video provided a terrible user experience. At the time, BuzzFeed was a website for desktop audiences with minimal social traffic and no video content. Fortunately we were able to evolve our model as the world changed and today mobile, social, and digital video are at the core of our business. Likewise, for most of BuzzFeed's history, almost all our revenue came from native advertising. In the past few years, we launched new businesses and today 70% of our revenue comes from these new businesses.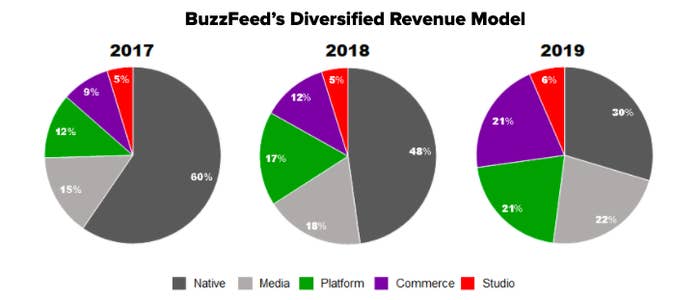 BuzzFeed changes with the world; our adaptability is core to our DNA. This is why we continue to survive and thrive in a rapidly changing media environment that has been unforgiving to so many other companies. We always think "how should this work in the future" and then we build toward that future. Collectively our new businesses generate over $200m in revenue, are growing at almost 40% year-over-year, and are the key to our bright future.

In the coming years, we will continue to adapt and transform our business, focusing on key strategic areas:
Media Network. We will strengthen and optimize our content flywheel to profitably grow our content network.
Switchboard for Culture and Commerce. Our content drives real world transactions. We will extend our successful shopping content to new industries and begin to capture more value for the transactions we inspire.
The Future of TV. We will capitalize on the shift to streaming with innovative marketing, new formats, content development, and a new interactive content studio.
Community and Membership. We will pioneer "paid social" and better models for building community on BuzzFeed as an alternative to the big social platforms.
Original Documents and Receipts. We will expand our work providing primary documents and source material, as an alternative to blind trust in news.
I wanted to take this opportunity to share more on each of these areas and how we will approach them in the coming year. I'll also meet with groups across the company to discuss how we can accelerate our progress in these key areas.
1) WE ARE BUILDING THE MEDIA NETWORK OF THE FUTURE
We make content people love, distributed across all platforms, spreading joy and truth to hundreds of millions of people. And we leverage this network to do many other things: build a commerce business, promote shows across platforms, forge strategic partnerships, and collect data allowing us to understand the pulse of culture. Fueling creativity and innovation across our content network drives everything we do.
We started to build our cross-platform global network in a world where investment dollars were flowing into digital media but the platforms weren't sharing much revenue with content creators. In those days, the goal was growing audience quickly and figuring out how to make money later. Today the dynamic has reversed, the funding for digital media has slowed, but the platforms are finally starting to share revenue. It has become harder to raise money, but easier to make money!
To adapt to this change, BuzzFeed has expanded our data-driven approach to growing audience to include revenue. When we make a piece of content we measure how much it costs, how many people it reaches, and how much revenue it generates, all to create a flywheel that then allows us to make more content, reach more people, and generate more revenue we can reinvest to continue the virtuous cycle. With the exception of News, every content division is now operating profitably, and News is trending in the right direction.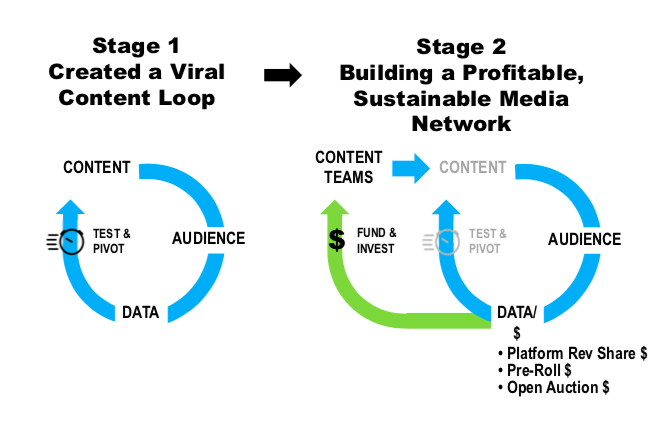 Our flywheel is really starting to work thanks to a team effort. Our video team developed new block shooting models and theme weeks that double video production per producer. The BuzzFeed.com team launched new strategic initiatives like a dedicated quiz squad that increased quiz traffic by more than 60%, and a new team initiative that increased weekend traffic by 30%. The BuzzFeed Japan team developed a new post assignment model that increased traffic by more than 20% and more than doubled programmatic revenue. This work is paying off, our media network now more than pays for itself just through platform revenue, programmatic, and display, while also providing a promotion engine for all our other businesses. A big focus for 2020 will be to continue to grow and optimize our content network.
2) WE ARE BUILDING THE SWITCHBOARD FOR CULTURE AND COMMERCE
Our content network started as a way for our audience to consume media, and increasingly it is becoming where they get inspiration to take action, try new experiences, or buy new products. We've always curated the best of the Internet. In the early days, that mostly meant memes, tweets, and breaking news stories. Today the entire economy has moved online, so curating the Internet means curating all the products on Amazon or Walmart, all the shows on Netflix or Disney+, all the songs and podcasts on Spotify, or all the places to travel on Airbnb. Every consumer-facing company is either becoming an Internet business or already is one. Consumers, especially younger ones, expect to have instantaneous access to absolutely everything in the entire world, easily accessible via an app on their phones.
Last year, BuzzFeed drove more than $425M in directly attributable transactions, and this year will be much bigger. We are the layer of inspiration and discovery across the infinite choice provided by the online marketplaces. We are the best in the world at what we call "try content" - we do taste tests, figure out what is Worth It, cook Tasty recipes, write about which shows are worth watching, travel to the best destinations with Bring Me, do DIY projects with Nifty. We sort through millions of products on Amazon to find the perfect gift for your family, and we track the buzz and news on Twitter and Instagram to find the most interesting, entertaining, accurate, and relevant stories. In a world of infinite and overwhelming choice, we are the switchboard for culture, news, and commerce.
Our work in commerce also will be part of solving a longstanding problem in the media industry where content creators provide the inspiration to buy a new product, go on a vacation, or watch a new show--but don't capture much of the economic value created. This is sometimes referred to as the "attribution problem," where Google and other middlemen end up capturing value they didn't create. We see a real opportunity for us to reclaim some of that profit.
Let's take a trip to Dallas as an example. The idea to go to Texas likely originated from content created by a publisher, like this Bring Me video that shows off the Margarita Mile in Dallas. Then the consumer goes to Google and searches "Dallas vacation." The highest paid link in Google is likely Expedia or another online travel agency (OTA), and eventually the consumer finds a flight and a hotel. The two most important players in this chain are the publisher who inspired a consumer to take action and the companies that actually deliver the product, in this case the hotel and airline. But most of the profit is captured by digital middlemen who didn't create much value.

The convergence of mobile content and mobile commerce means we can finally make progress on this problem. The traditional marketing funnel can be compressed and consumers can move more fluidly from inspiration to transaction:


This shift will be good for all content companies and especially for BuzzFeed because we are digitally native, have massive scale and an audience that loves to transact online. We are also doing pioneering work with many online marketplaces and product companies to help them go direct to consumer and cut out the digital middlemen. For instance, Tasty users can now grocery shop directly from our app through our Walmart partnership. Our audience can buy the Tasty line of McCormick spices featured in our videos. Scott's Miracle-Gro now has a direct relationship with its consumer thanks to Lunarly, a plant subscription service we developed together during a sprint. Companies in many industries are focused on going direct-to-consumer and BuzzFeed is by far the best strategic partner to help them transform for the future.

3) WE ARE BUILDING THE FUTURE OF TV
By the end of the next decade, traditional media's most lucrative business models will be gone or radically transformed: the cable TV bundle, movie rentals and sales, the legacy windowing model allowing studios to get paid many times for the same content from multiple distributors and in multiple geographies. None of these business models make sense in a world where the Internet allows free, global, instantaneous access to full libraries of content. The legacy models are being replaced by digital subscriptions and the Internet is becoming the "universal window" for all content, including premium long-form programming. The coming decade will be the first time that ALL media is digital media.
Fortunately, BuzzFeed is ready for this shift and will be a big beneficiary. As a free, global, cross-platform media network, we are the ideal complement to the streaming services, helping them drive new subscriptions, reduce churn, and market new shows. We curate the Internet and soon every show and movie will be part of the Internet. We help hundreds of millions of people sort through the overwhelming choice to find the shows worth watching.
We are also ramping up production of original content for these services, and our digital media network helps us 1) understand our audience's obsessions, 2) develop unique IP, and 3) market our content to our huge and receptive audience. As long form video entertainment moves to the Internet, BuzzFeed's deep digital knowledge will give our studio an advantage we didn't have with traditional TV, and we will grow our leadership making shows for virtually every major digital platform.
To further these efforts, we are establishing a new state of the art studio in partnership with eko, to pioneer new forms of interactive video. The next stage of the streaming wars will begin when media companies realize you can do more than just put traditional TV and movies on the Internet. When they truly embrace digital, the content itself will start to change, become more personalized, more interactive, more social, more transactional, more global - just the way we like it at BuzzFeed!
4) WE ARE PIONEERING THE FUTURE OF "PAID SOCIAL"
The major social platforms are facing challenges as they struggle to support authentic, sustainable, healthy communities. People want to be on platforms that share their values, not the same platform as their parents. They are uncomfortable having data about their conversations and social interactions used to power targeted ads. They are sick of bots, trolls, and assholes harassing them when they are just trying to connect with peers.
There is huge demand for better ways to connect with friends and meet new peers. This is why people are increasingly willing to pay for better social experiences. We are especially seeing this in the rapid growth of offline social experiences: music festivals; new sports communities like crossfit, yoga, and spinning; coworking spaces and social clubs; and "experiences" like the Museum of Ice Cream, teamlab, and a myriad of experiential pop ups. The social platforms are free, but people are looking for more, and are willing to pay.
BuzzFeed will be investing and expanding into this space in the coming years. We invested in and helped launch CAMP, a family experience store now with 5 locations. This hasn't been public, but we also bid (unsuccessfully) to buy Meetup to accelerate these efforts, and will continue to look at M&A opportunities in this space. We are launching new premium social features for our sites and apps throughout the year, and will build and partner to bring our audience innovative paid membership programs and live events that let them connect with one another in new ways. We are confident the paid social trend will grow both online and off, and we see real opportunity in that space for BuzzFeed.
5) WE ARE BUILDING A BETTER MODEL FOR DIGITAL JOURNALISM, WITH A FOCUS ON ORIGINAL DOCUMENTS AND RECEIPTS
The public no longer blindly trusts news organizations to give them the truth. Fortunately this erosion of trust doesn't need to kill journalism, and in the long run, the Internet can point toward new models. Instead of a focus solely on building trust in its own brand, news organizations can focus on service to the audience and society, showing their work, and providing receipts. At BuzzFeed News, we don't expect our audience to trust us on faith: we know they want to see the evidence themselves, so we deliver it to them.
We sued the government to get access to the Mueller documents and are releasing them each month as we receive them; we published the actual Stanford Letter instead of just telling you about it; we released the Dossier that the powerful people in media and government were reading so you could see it for yourself; and we published the actual diary entry of a teen who attended the camp where Tony Robbins allegedly assaulted a teenager. Just last week, we published a searing internal report on the horrible conditions in ICE detention centers. Over the coming decade, we will lean into this approach to build the defining news brand for a new generation. You will see us accelerate our work publishing original documents and providing editorial context for source material. As trust in the news continues to fragment and decline, we will provide undeniable proof, the unfiltered truth.
LET'S GET AFTER 2020!
We enter the 2020's stronger and more diversified than ever. But we have lots of industry-defining, career-defining work ahead of us to achieve our ambitions.
Let's make our media network bigger and our content flywheel stronger so we can flood the Internet with joy and truth.
Let's extend our lead in editorial curation for retail and shopping, expand this work into every industry through strategic partnerships, and get the attribution we deserve for the value we create.
Let's help build the future of TV through innovative marketing as well as groundbreaking new formats for shows produced in our studio.
Let's pioneer "paid social" and fix the social web with better experiences for our audience.
And let's break the biggest news stories, sharing what we know with our audience as a service to them and society, while never demanding their blind trust.
Working alongside so many talented BuzzFeeders gives me complete confidence we will be able to do all these things and more. We are fighting for truth and joy, in a world where both are under threat, and doing our part to fix the Internet. We are creating content that inspires hundreds of millions of people, helping them discover new products, experiences, and communities. We are having a bigger impact on culture and people's lives than ever before, with a reach and centrality surpassing media companies that have existed for decades longer than us. I'm excited for the coming year and what we will build together.
Thank you and Happy New Year,
Jonah