Hi BuzzFeeders,
Growing the diversity of our teams and the identities represented in our content is a top priority at BuzzFeed. Everyone across the hundreds of millions of people we serve should be able to see themselves in our work and throughout media. Everyone who works at BuzzFeed should feel comfortable being themselves at work and benefit from a dynamic culture enriched by employees with a wide range of backgrounds and experiences. Diversity makes us a better company, allows us to attract the best talent in all departments, and helps us grow into a stronger, more resilient business. I'm pleased to share our annual status report on diversity and inclusion, and provide an update on our progress and commitment in this vital area.
We made significant improvements to our hiring processes in 2018 to ensure a diverse pipeline of candidates — resulting in our most diverse population of new hires in three years. We also rolled out cultural sensitivity training across our two biggest teams – Advertising and Content — to continue to foster a more inclusive environment. Additionally, our new manager training program helped managers continue to develop their leadership capabilities, including inclusive management skills. We will be rolling out an action plan for our diversity and inclusion work moving forward in the coming weeks.
We've also made diversity and inclusion part of the performance and merit review process for the senior leadership team. Every Purple leader will receive a scorecard for their work and many will serve as an executive champion for one of our ERGs.
We went through some tough changes as an organization, but gave careful consideration to the composition of our employee population. Our layoffs in January impacted ethnic diversity by less than 1% (34.8% to 34.4% people of color) and gender diversity by about 1% (60% to 61% women). Promotion rates in 2018 were held within 1% across both gender and race/ethnicity, leaning slightly in favor of women and employees of color in the U.S. Overall, we continue to beat benchmarks for diversity in our industry.
That's not to say we shouldn't strive to do better — we can and will continue to work hard to build a more diverse company. I truly appreciate everything you do to foster a diverse and inclusive culture at BuzzFeed, and to hold me and our leaders to account in protecting and growing that culture. It's because we have such engaged and passionate employees that we're able to continue to make progress on this front. I'm proud and thankful for your dedication to this work and to BuzzFeed.
Thanks,
Jonah
OUR WORKFORCE
Race/Ethnicity (U.S.)
More than 34% of U.S. employees identify with a race/ethnicity other than our most common group, White (not Hispanic or Latinx). Employees who identify as one of these less-represented groups make up:
48% of employees hired in the last 6 months

27% of our U.S. leadership (director level and above), up from 23% last year

40% of our content creators (e.g., News and Content), up slightly from last year (38%)

36% of our Tech organization, which no longer includes I.T. as in previous years.
Full details by race/ethnicity and division are below:

*This reporting adheres to the Equal Employment Opportunity Commission's designated identity selections for compliance and standardization. The full identification given for each item are White (Not Hispanic or Latino), Asian (Not Hispanic or Latino), Black or African American (Not Hispanic or Latino), Hispanic or Latino, American Indian or Alaska Native (Not Hispanic or Latin), Native Hawaiian or Other Pacific Islander (Not Hispanic or Latino), and Two or More Races (Not Hispanic or Latino)

Gender (Global)
BuzzFeed is made up of more people who identify as women (60.5%) than ever before. Globally, women make up:
48% of global leaders, even with last year

57% of global managers, up from 53% last year

35% of our Tech organization, which no longer includes I.T. as in previous years.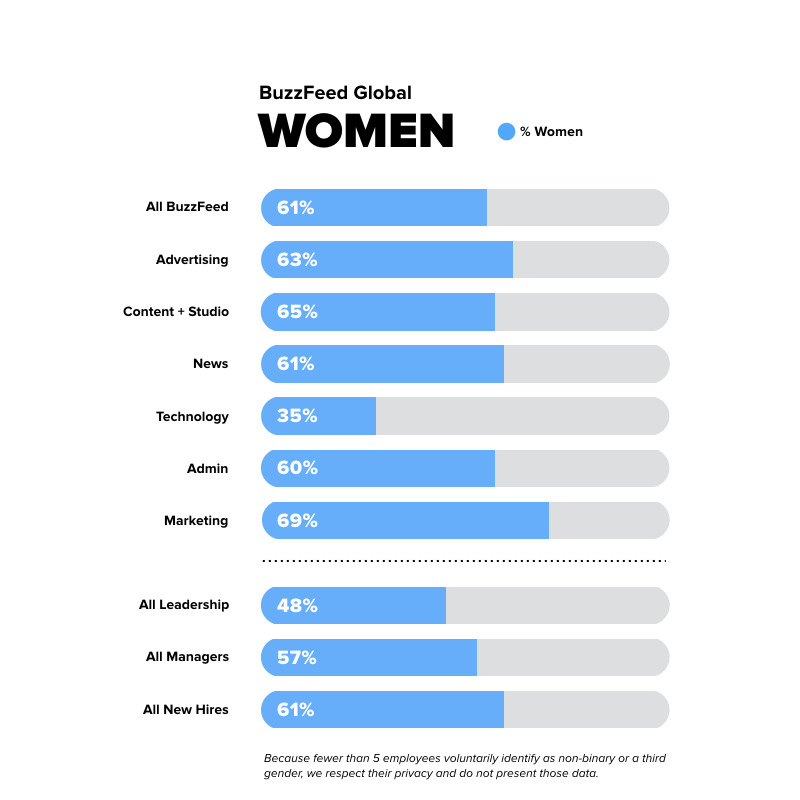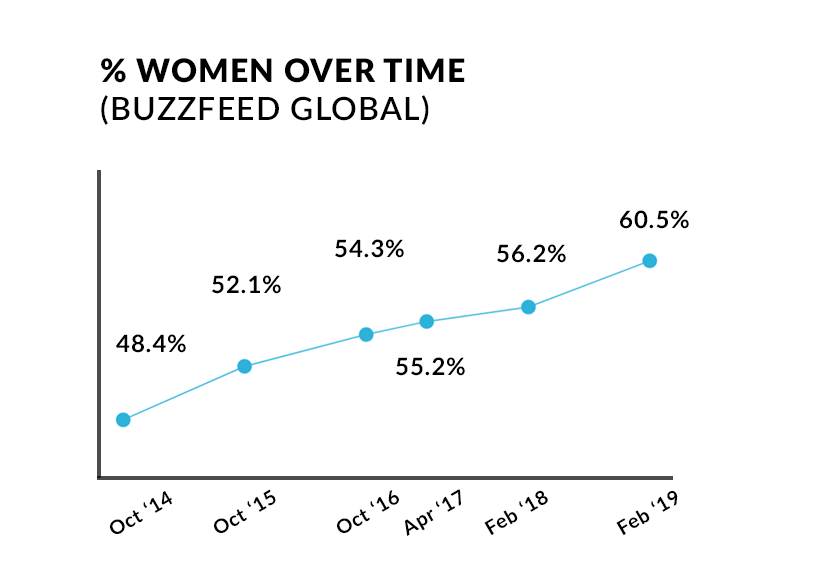 Competitive Landscape
While our focus on this work is internal, and we hold ourselves to our own high bar, we find that understanding the competitive landscape can also inform our work. From publicly available data posted by 5 peer companies – Netflix, Facebook, Vox, Google, and Pinterest – we know that we:
Have a higher share of women in leadership than all

Have a higher share of U.S. employees who are Latinx or Hispanic than all

Have a higher share of U.S. leadership who are Black/African-American than all but Netflix (roughly same as Netflix)

Have a higher share of women in tech than all but Vox (no data for Vox)...according to their latest available public diversity reports. We are also guided by and proud to receive accolades from Forbes for Best Places to Work for Diversity & Best Places to Work for Women....
...according to their latest available public diversity reports. We are also guided by and proud to receive accolades from Forbes for Best Places to Work for Diversity & Best Places to Work for Women.
In addition, thanks to open data from the American Society of News Editors, we know we have one of the most diverse newsrooms (on the basis of gender and race/ethnicity) in the United States: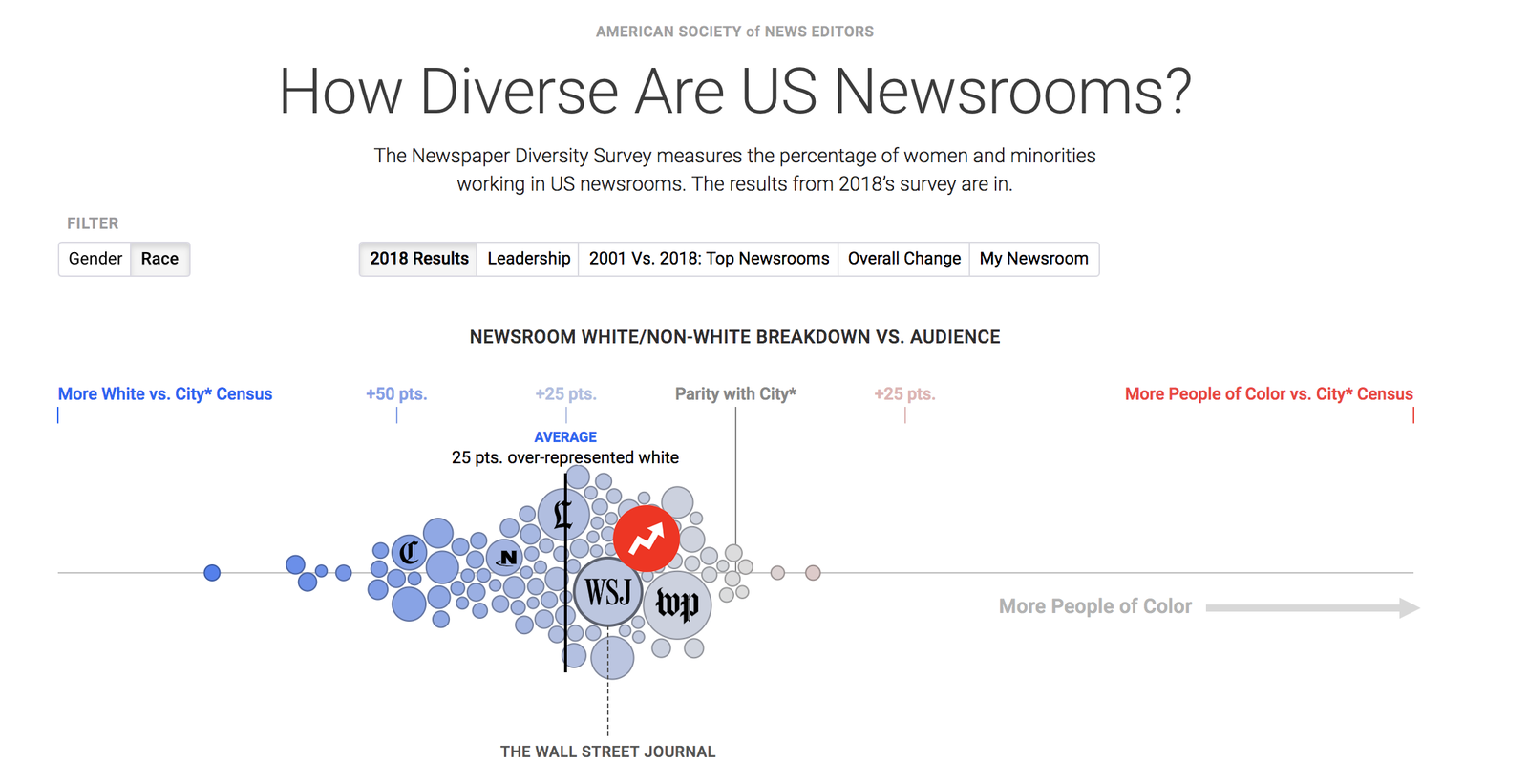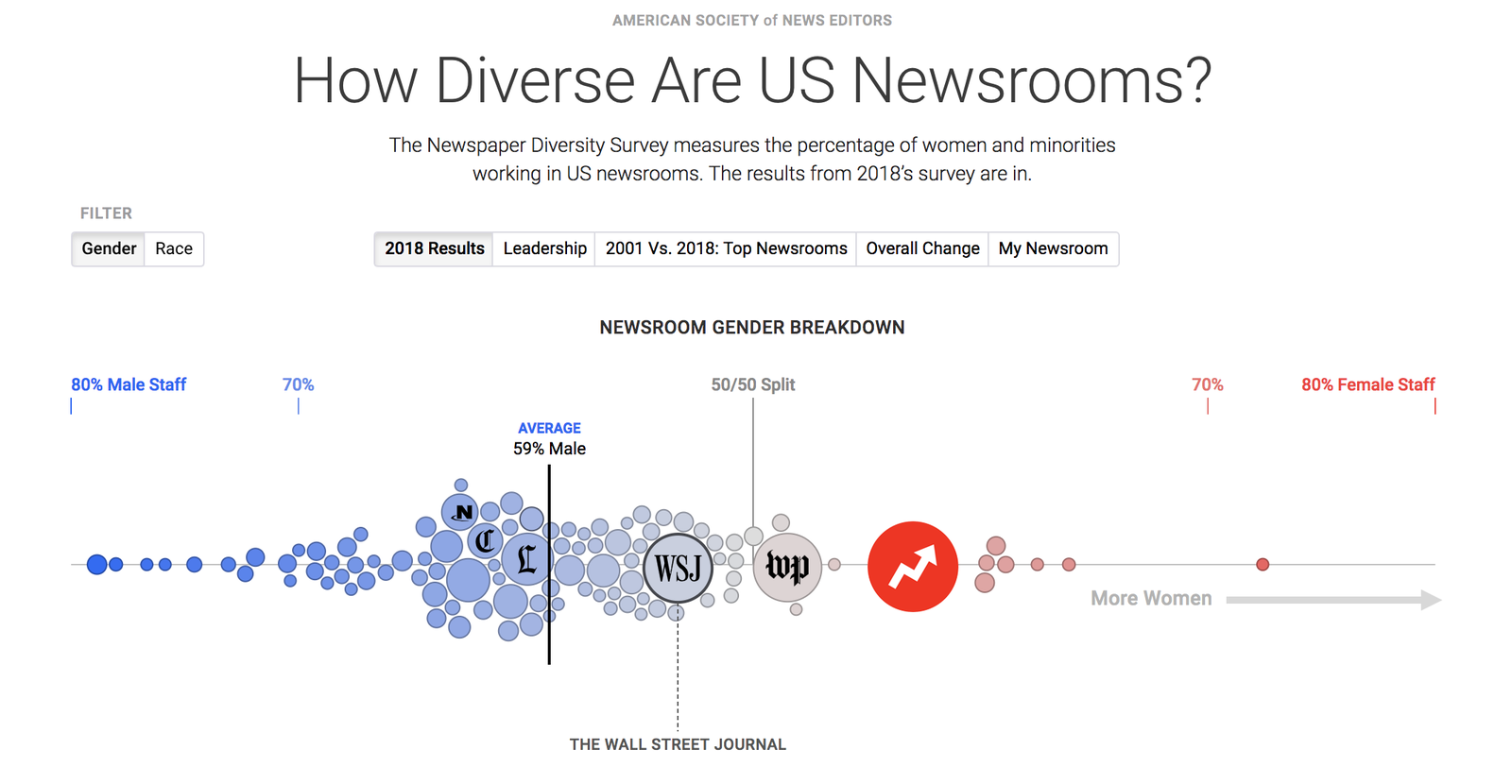 Pay Equality
At BuzzFeed US, overall pay equality is within 1%, leaning slightly (<1%) in favor of both women (vs men) and employees of color (vs. white employees) when adjusting for role and geography. All of our major divisions have kept gender pay equality within 2% (perfectly equal in several divisions), and all have kept ethnic pay equality within 1% (between white employees and employees of color).
Sexuality and Gender Identity
While we do not yet report detailed data on sexuality and gender identity, we allow our employees to voluntarily self-identify in a way that reflects their true selves. Eighteen percent of BuzzFeed voluntarily self-identifies as a part of the LGBTQ community.
Age
BuzzFeed's extremely successful early career programs — including our Video Fellowship program — drive a workforce with a significant number of employees under 30. In fact, nearly 20% of our employees began their careers with the company in an internship or fellowship. Still, more than half of our employees are over 30 and every age group — from 18-24 to 60-64 — is represented here.
Additional Self-Identification Categories
We continue to monitor trends within our organization — as well as greater trends in culture — to ensure we provide employees the ability to self-identify in all the ways that are important to them. While we do not currently track additional self-identification categories including Veteran Status and Ability of current employees, we work with this data in our applicant pipelines and will consider releasing information publicly in future reports.
OUR PRACTICES
BuzzFeed implemented and solidified many practices in 2018 to ensure that not only are we a diverse workforce, but that all of our employees experience equality, inclusion, and belonging.
Diversity
This year, we took noteworthy, progressive steps to improve diversity in our recruiting process. We are now using TapRecruit, a software that audits every job description to give real-time feedback on the inclusiveness of language used. We also purchased Greenhouse Inclusion, a product that removes potential biasing info from applications (e.g., removing names and schools/brands from resumes).
Diversity is measured and the resulting data served to BuzzFeed leadership on an ongoing basis throughout the year. We consider all parts of the employee life cycle. In recruitment, we ensure that we are targeting a diverse cross-section of candidates, and that we are hiring the best people in the labor market. In terms of our current employees, we use team-level measures to maximize the diversity of perspectives throughout the organization.
Absence of Bias
Absence of bias is central to all of our compensation and promotion processes. Our leaders, managers and People Team are driven by data to determine that merit and advancement are without bias across genders and ethnicities.
Inclusion & Belonging
We measure inclusion and belonging by measuring key behaviors including retention and surveying our employees. Through employee feedback, we have good indication that BuzzFeeders of all ethnicities and gender identities feel they can be their true selves: originally, 88% of all BuzzFeed agreed with this sentiment, and in the past year of new-hire surveys, that number has climbed to 93%.
In addition, we hold our teams accountable by generating scorecards for executives on their inclusion work. This ensures that executive compensation is tied to executive partnership in making BuzzFeed an inclusive place to work.
Employee Resource Groups
In 2017, we significantly expanded our Employee Resource Groups (ERGs). The majority of our ERGs launched last year and have grown to reach more than half of BuzzFeeders in the U.S.
We currently have ERGs focused on the following affinities: women (NYWomen@, Women of the West), Asian/Pacific-American identity (A*Family), Black identity (B.I.O.), Latinx identity (Mi Gente), Parents, and LGBTQ+ (OUT). These groups are led by employee volunteers, with the support of BuzzFeed leadership and the People Team. BuzzFeed ERGs have contributed to the company in myriad ways, including employee mentorship; monthly leadership lunches and events; connecting employees across teams and offices; referring more than 50 candidates per year for open roles; fundraising for disaster relief; and hosting celebrations and events for Lunar New Year, Día de los Muertos, Black History Month, Women's History Month, Pride and Diwali, and more.
Reporting Methodology
Methodology: based on all regular employees who self-reported gender and race/ethnicity data. Data reflects best-available information on 2/5/19. New hires reflect those with start dates within 6 months of 2/5/19. Due to rounding, undeclared employees, or unavailable data, values may not always sum to 100%.
This reporting adheres to the Equal Employment Opportunity Commission's designated identity selections for compliance and standardization. Internally, however, we know employees may prefer to identify by other language.