I'm writing to update you on our progress towards being a more diverse company, keeping a commitment we made in 2015 to be accountable to you and transparent on these metrics. The numbers show that BuzzFeed is more ethnically diverse and employs more women than ever before, but we still have a lot of work to do. Before I get to the numbers, I'd like to explain why increasing diversity at BuzzFeed is an ongoing priority. Diversity isn't just a moral and cultural imperative, it is also a source of competitive advantage for our company.
We are focused on building a closer connection to our audience, understanding what matters to them, and making content that is meaningful to them. We don't think of content as something people "consume", we think of content as something our audience uses to do a real job in their lives and often that job involves helping them connect or communicate with friends. We cannot fully serve this audience unless we have a diverse team making content and building products, a team that can relate, empathize, and understand the experience of our diverse audience and how they use content in their actual lives.
We are different than legacy media companies focused on a subscriber base that skews older and less diverse. Our content is freely available to the public for maximum impact and scale. We reach hundreds of millions of people around the world every month across dozens of platforms. The global scale of "social" and "mobile" is vast and extends beyond the traditional demographics of newspapers, magazines and broadcast TV. Our work is especially popular among young people who are part of the most diverse and globally connected generation in history. It isn't possible to connect with this audience or reach our full potential as a company without a diverse team around the world that is deeply connected to diverse cultures and communities.
We are different than most media companies because we have technology and data science at the core of what we do and we are different than most tech companies because our team includes hundreds of creative content producers and journalists. We combine art and science. Our teams speak the language of technology, journalism, video production, and business. These intersections are a source of ongoing creativity and innovation that make us a more successful enterprise. They also give us an even greater imperative to expand diversity, to continue to grow our team's diversity of thought, diversity of experience, and the ability to communicate across diverse cultures and disciplines.
For all these reasons, we need to continue to expand diversity at BuzzFeed. We need to attract the best talent across news, entertainment, sales, operations, and tech, drawing from the largest and most diverse pool of candidates. And we need to track our progress as we go, just like any other business opportunity, with a plan, metrics, and analysis of results.
So how are we doing? Below are the latest numbers from across BuzzFeed and some highlights on progress since the last report. The information about gender is global and the information about ethnicity is limited to BuzzFeed US.
BuzzFeed is more ethnically diverse than ever before:

34% of BuzzFeed identifies with a race/ethnicity other than White (non-hispanic)
39% of new hires in the US from Oct 1 to April 1 are non-white
25% of new hires above the director level were non-white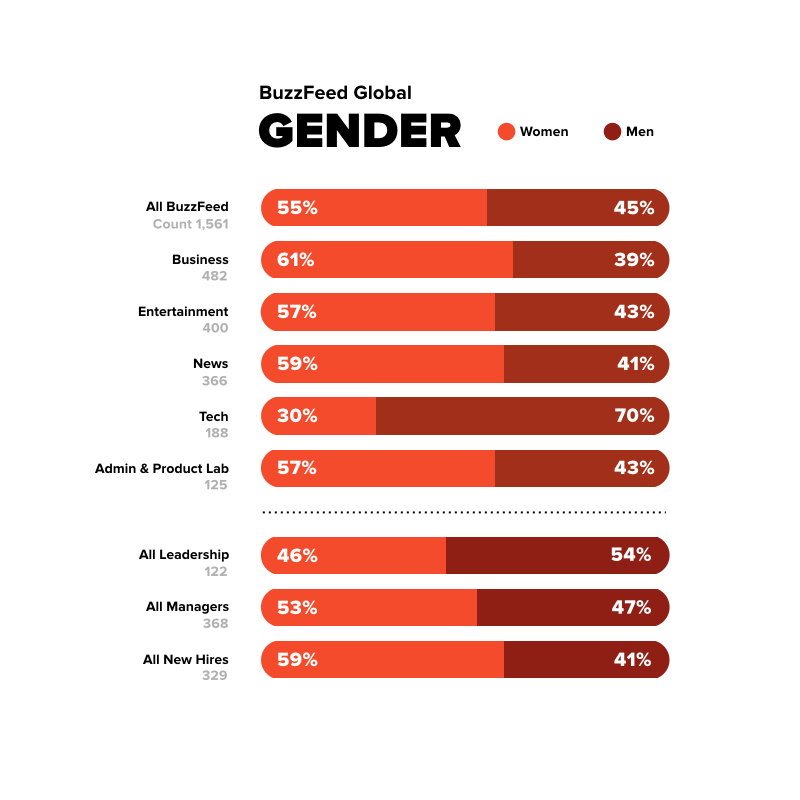 BuzzFeed also employs more women than ever before:

BuzzFeed is 55% women

59% of new hires are women

We have more women managers than men (53 percent vs. 47 percent)

46 percent of leaders (director or higher) are women
Men & women were promoted at equal rates at the beginning of the year, diverse employees were also promoted at an equal rate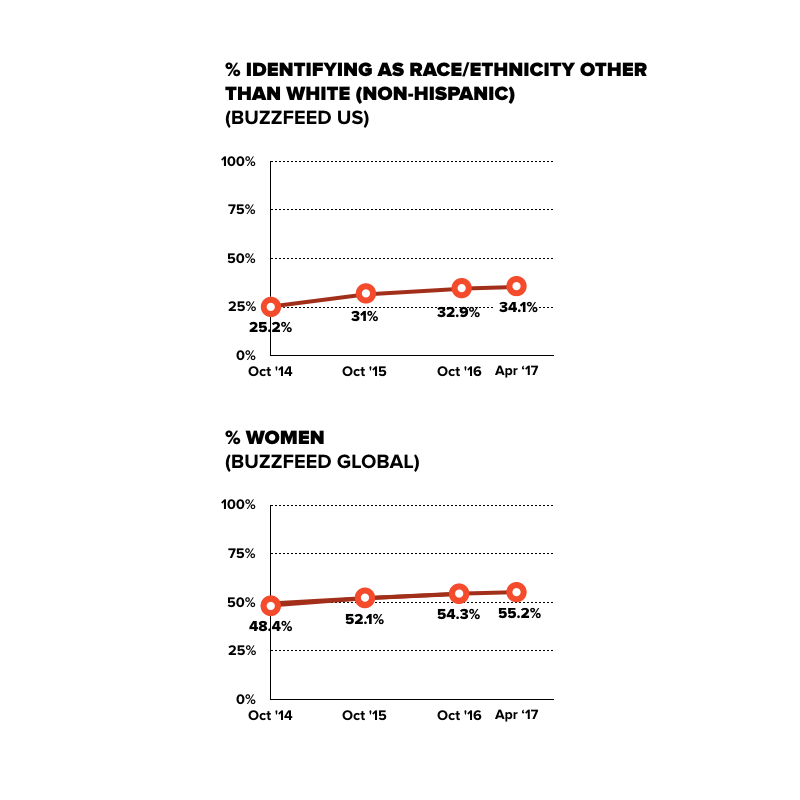 Methodology: based on all employees who self-reported gender and race/ethnicity data. Data reflects best-available information at the close of Q1 2017. New hires reflect those with start dates after 10/1/2016. "Other" category in race/ethnicity is inclusive of those who identify as two or more races or as a native ethnicity. Due to rounding, undeclared employees, or unavailable data, values may not always sum to 100%.