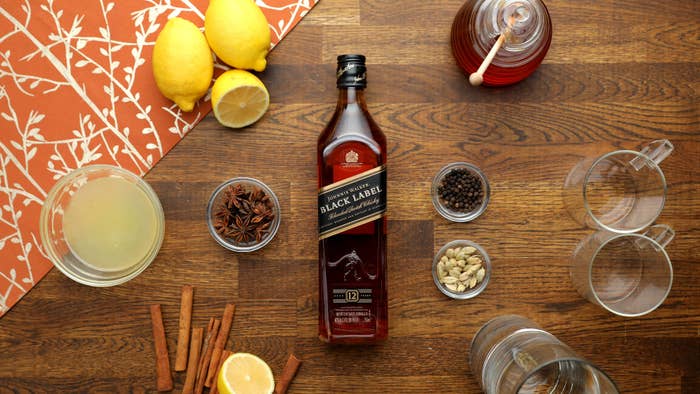 Ingredients
4 cups water
1⁄4 cup honey
2 cinnamon sticks
2 star anise pods, plus extra for garnish
1 tablespoon cardamom pods
1 tablespoon black peppercorns
1 strip lemon peel
4 ounces Johnnie Walker Black Label (1 ounce per serving)
8 teaspoons lemon juice (2 teaspoons per serving)
Preparation
1. Place water, honey, cinnamon sticks, star anise pods, cardamom pods, black peppercorns, and lemon peel in a small pot over medium-high heat. Stir to dissolve honey. Bring to a simmer. Cover and continue simmering for 10 minutes.
2. Remove from heat and strain.
3. Pour 1 ounce Johnnie Walker Black Label and 2 teaspoons of lemon juice in each glass. Fill the rest of the way with spice mixture. Garnish with a couple star anise pods.