Winter Smash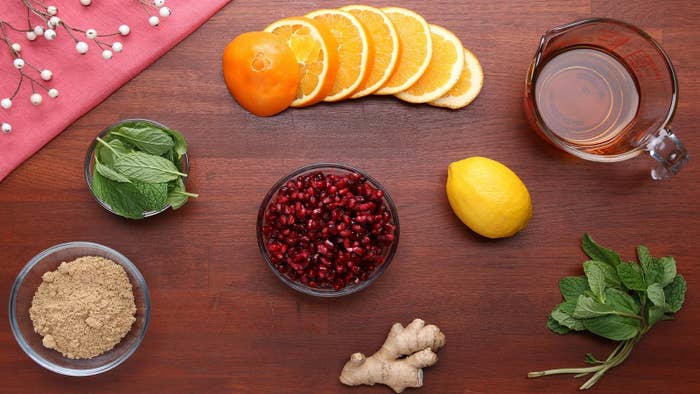 INGREDIENTS
Servings: 4-6
Ginger mint simple syrup
½ cup ginger, peeled and thinly sliced
½ cup brown sugar
½ cup mint
½ cup water
1 orange
1½ cups pomegranate seeds
¾ cup mint leaves
6 ounces Johnnie Walker Black Label
Crushed ice
1 lemon
Club soda (optional)
PREPARATION
1. Thinly slice ginger root.
2. Heat brown sugar, water, ginger, and mint to a soft boil. Then immediately simmer for 5 minutes. Strain mixture and let cool.
3. Cut orange into whole wheel slices.
4. In a large pitcher, place orange slices, pomegranate seeds, mint leaves, and 2
ounces ginger simple syrup mixture. Muddle.
5. Add in whisky and stir well.
6. Strain and then pour into glasses filled with crushed ice.
7. Garnish each glass with a squeeze of an orange slice, an orange wheel slice, sprinkle of pomegranate seeds, squeeze of ½ lemon, and a mint sprig.
8. OPTIONAL: Add a splash of club soda for fizz.