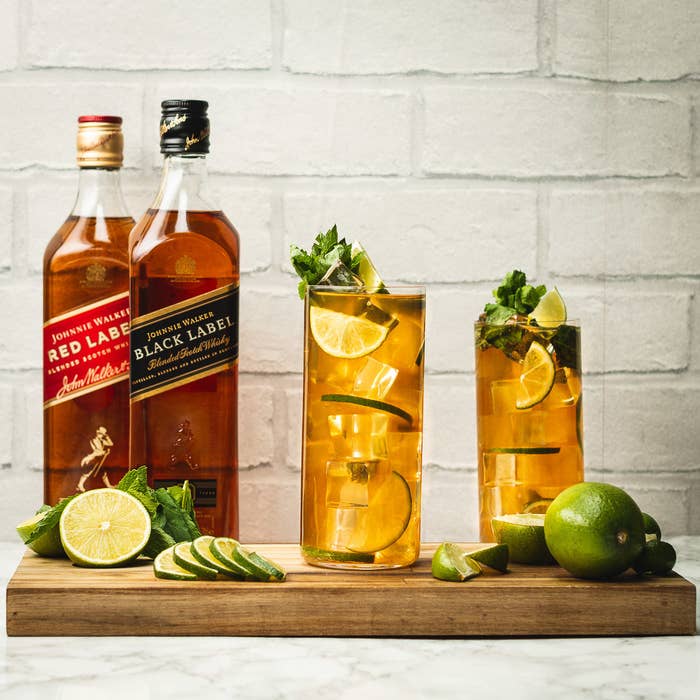 Serves: 4 — 15.8 grams of alcohol per serve
Ingredients
Wojito simple syrup
60g light brown sugar
120ml water
Peel of 1 lime
10g mint leaves
200ml Johnnie Walker Black Label
6 slices of lime, halved
24 mint leaves
Juice of 1 lime
Soda water
To serve
Ice
Lime wedges
Mint
Preparations
1. Start by making your flavoursome Wojito syrup. Add the light brown sugar, water, peel of 1 lime, and 10g mint leaves to a small saucepan and place over a medium heat. Bring to a simmer, stir, and remove from the heat. Cover with a lid and leave to infuse for 10 minutes.
2. Take a large serving jug and add 200ml Johnnie Johnnie Walker Black Label, 160ml Wojito simple syrup, juice of 1 lime, lime slices, and 24 mint leaves. Stir and fill the jug with lots of ice.
3. Next top your jug up with soda water and serve! Why not finish your serves with lots of mint and a wedge of lime to go the extra mile? Enjoy!