It happened: It's February.
Winter has transformed from a charming vehicle for holiday cheer into something…else. Something considerably bleaker. One thing you may have noticed as winter grinds on (Southerners, just nod your heads in empathy from here on) is that your desire to leave the house has lessened dramatically. You never see your friends. Dates are turning you down for living too far from the subway.
But look, over there in the kitchen!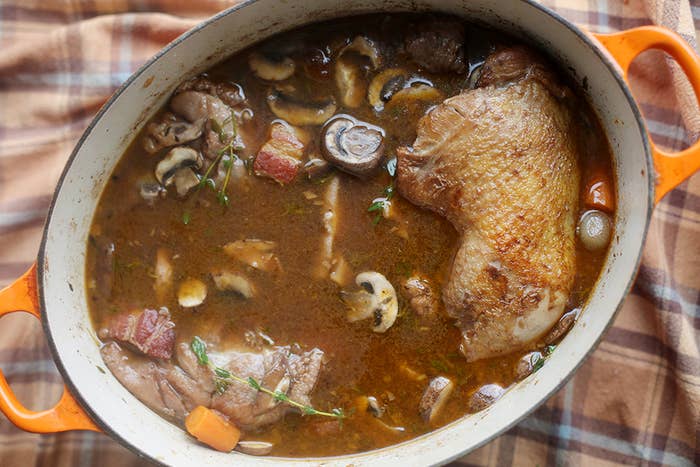 There is a pot of stew bubbling away — a chance for lovebirds both aspiring and established to snuggle closer in a home fragrant with delicious aroma. An excuse to coax your friends out of hibernation.
Over the next few weeks, as winter keeps slapping you in the face with its cold winds and homebound friends, let me, BuzzFeed's Winter Stew Correspondent, aid your despair. We'll start with one of the all-time classic stewed dishes — coq au vin.
Coq au Vin. French. Chicken. Bacon. Wine. The Best.
As every food writer or TV personality is quick to remind you, most delicious things we eat today have humble roots. (Name a traditional dish from just about any culture, and odds are good it was born out of a need to take ingredients that were scarce, old, or unwanted and turn them into something filling, long-lasting, and delicious.) Coq au vin is no exception: It is called "coq" and not "poulet" because it was originally designed to take the old, sinewy farmhouse rooster and make him feel at home in the cook pot (along with, ahem, a large quantity of his own blood).
Some will say that the only way to eat true coq au vin today is to still start with a chewy rooster.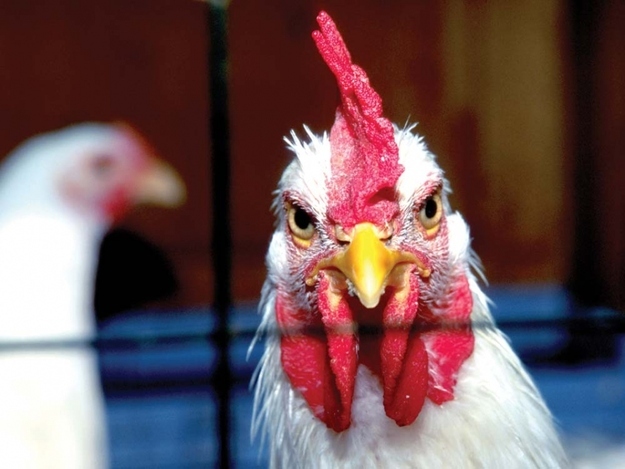 I disagree. I love coq au vin so much that I once bought an old rooster from a farmer's market, just to try the real deal. But even after a long braise, the meat was stringy, tough, and less delicious than chicken. Were I a 17th-century French peasant, I might have been overjoyed. But I'm not, and neither are you!
So we don't have an old rooster to kill, and we don't have a pitcher of its blood to dump into our stew. But we still want all the grandmotherly warmth of a classic French dish. So we turn to Julia Child.
Her coq au vin recipe is a testament to her greatness. There's no old rooster. No blood. No cooking a day before to chill and reheat, no 24-hour marinating. Just a simple, delicious stew that can be thrown together in an hour or so.
One last note: Even though stews are designed to turn runty ingredients into purebreds, you should try to work with the freshest and best chicken you can find. The higher quality ingredients you start with, the better it will taste.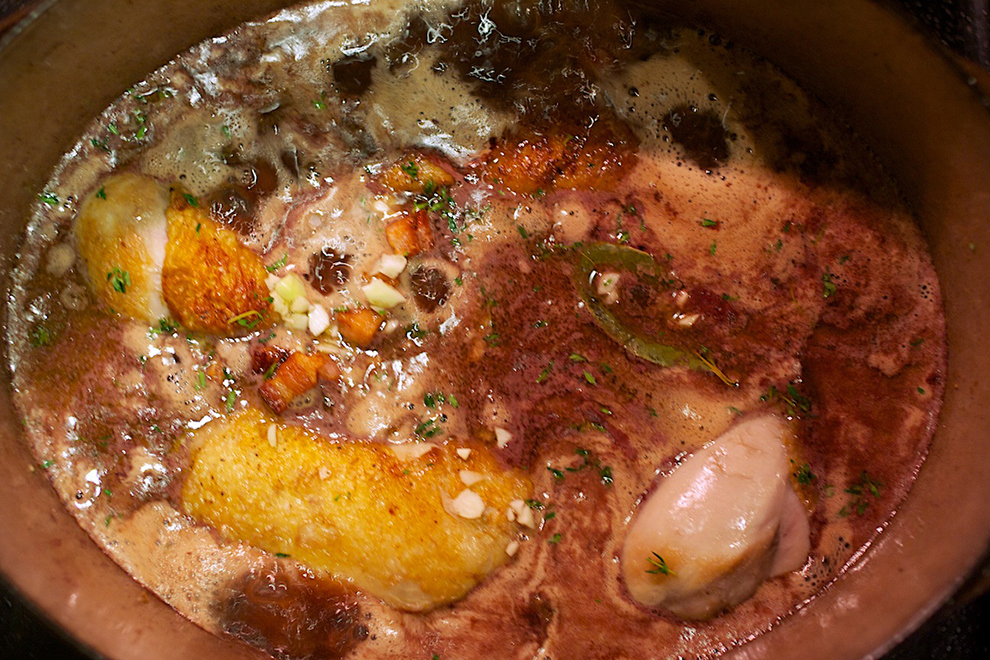 Coq Au Vin
Adapted from From Julia Child's Kitchen
INGREDIENTS
• ½ cup cubed thick-cut bacon (regular bacon slices are OK, but if you can get the thick-cut or unsliced kind, the cubes hold up better in the stew. If it comes skin-on, remove it before cubing.)
• Chicken thighs, legs, or leg quarters (as many as you care to cook; I'd recommend at least four pieces or two quarters)
• ½ of a 1 lb. bag of frozen pearl onions (like this, don't get the ones in cream sauce)
• 4–6 oz mushrooms, cleaned and coarsely sliced (whatever kind you like will work)
• 1 large carrot, coarsely chopped
• About half a bottle of red wine (nothing too sweet)
• About 2 cups beef stock
• 1 tablespoon tomato paste
• 2 cloves garlic, minced
• 3 tablespoons flour
• 1 bay leaf
• ½ tsp fresh thyme leaves stripped from their stems
• Healthy splash of cognac (important and fun!)
• Kosher salt + freshly ground pepper
PREPARATION
1. Gather all of your ingredients and prep them so they're ready to go: Chop the carrots and mushrooms, strip the thyme, and mince the garlic.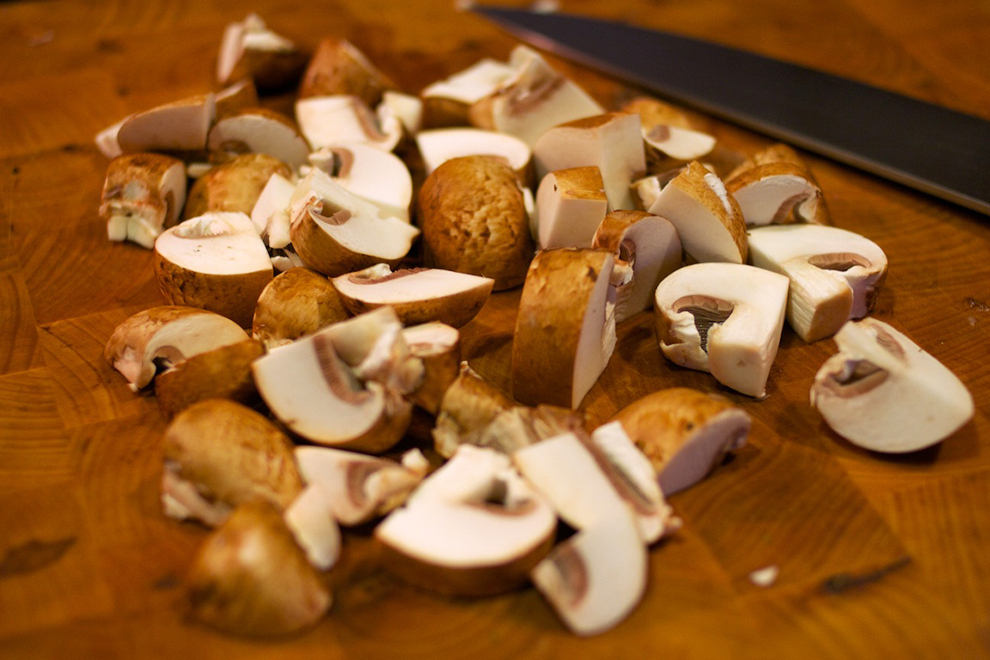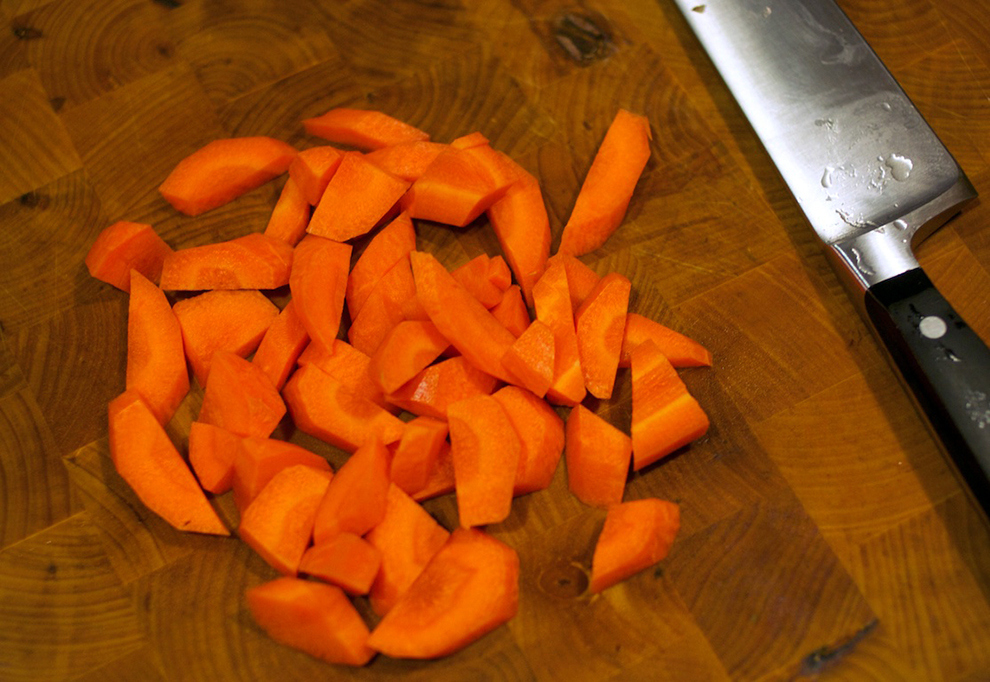 2. In a heavy-bottomed pot/Dutch oven with a lid, cook the cubed bacon over medium-high heat until it's brown and starting to get crispy. (You can add a splash of oil to the pan before adding the bacon, but the bacon will let out so much fat that you don't really need to.) Remove bacon with a slotted spoon or tongs and place on a paper towel, keeping the fat in the pot.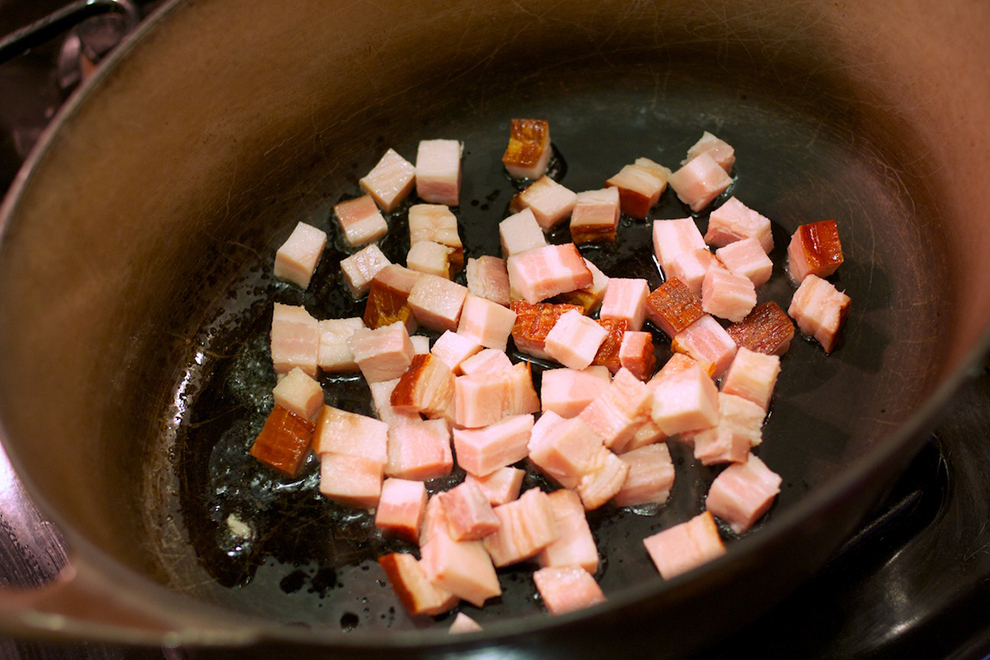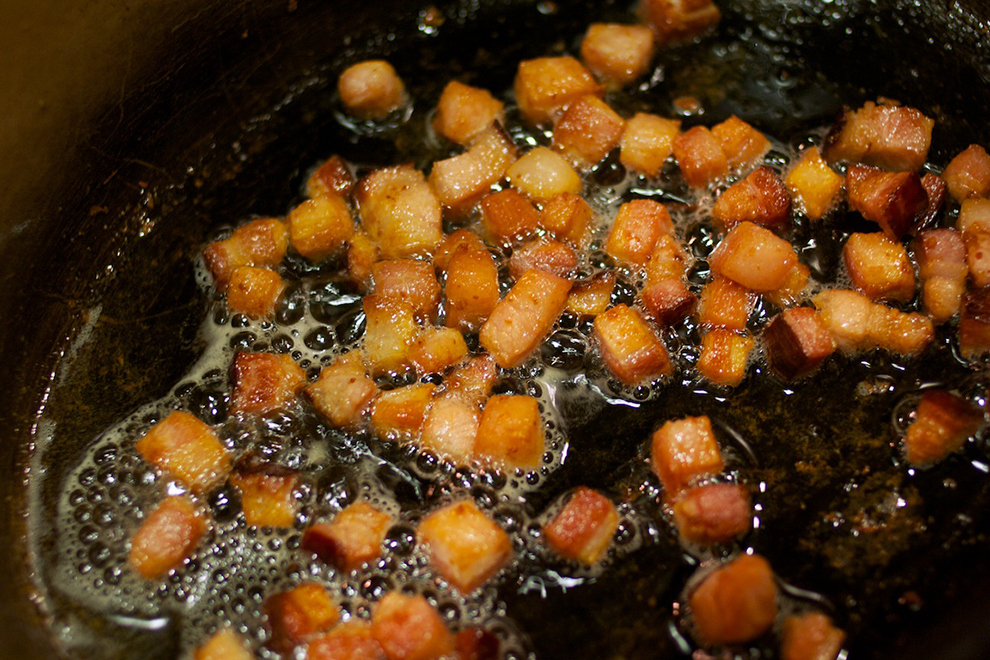 3. Generously sprinkle kosher salt and freshly ground pepper on the chicken pieces, then brown them (in batches if necessary) over medium-high heat in the bacon fat (you can add a little more olive oil if the pan looks dry), flipping as needed until all sides are a nice golden brown. The key to this step is not to crowd the pan and not to move the chicken around to much so it develops a nice brown color.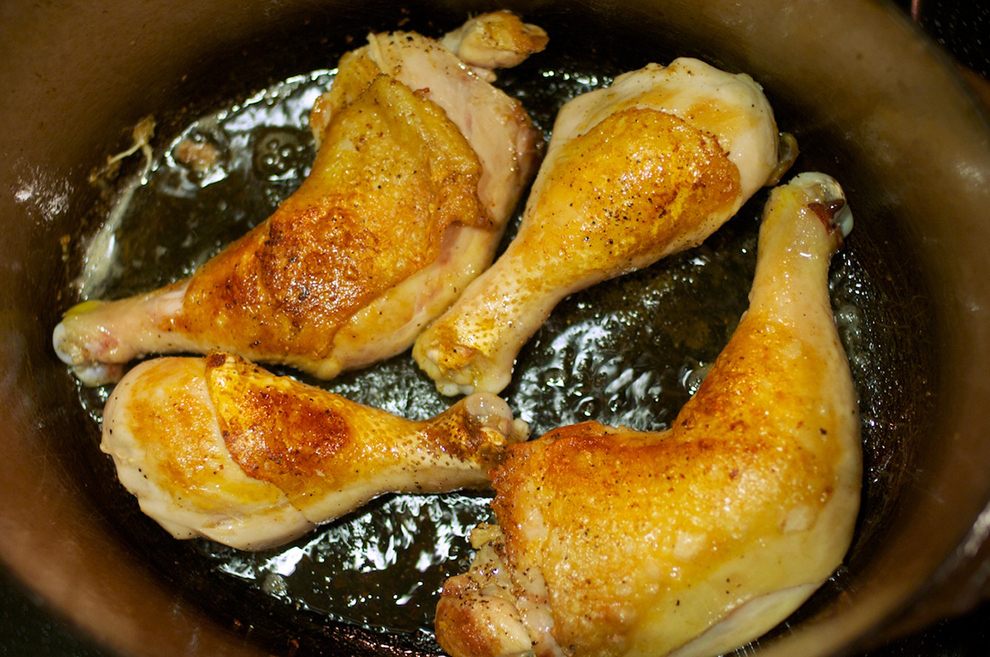 4. If you were working in batches, put all the chicken back in the pot, and pour in three or so shots of cognac. Let it bubble for 30 seconds, then spark a lighter or a match just above the chicken, and flambé that thing! This is very fun. (If the fun turns into *too much fun*, cover the pan with the lid).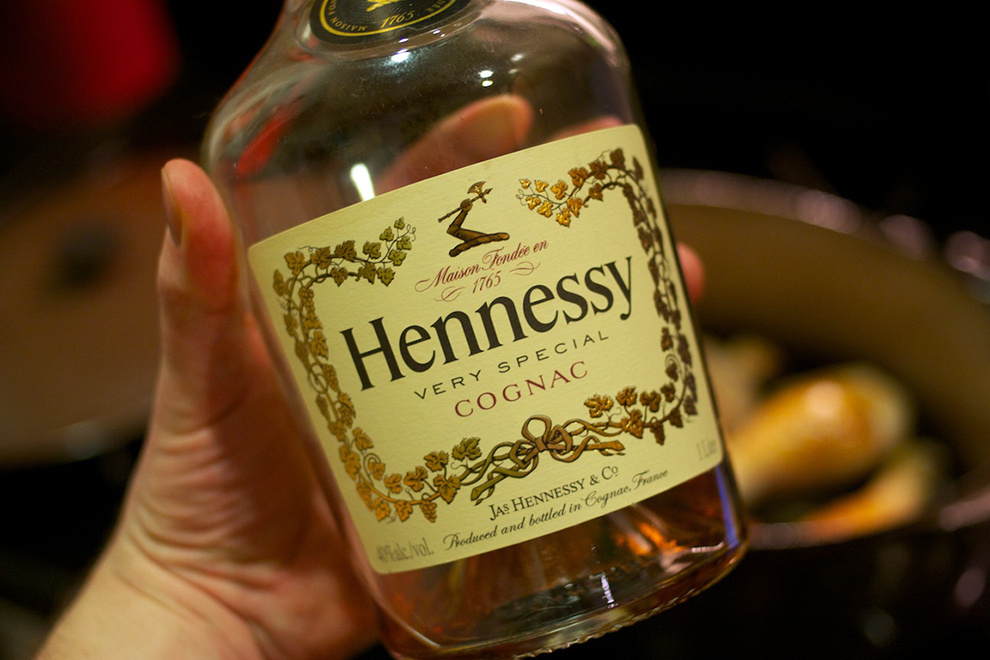 5. Toss the chopped carrot and the frozen pearl onions into the pan (no need to defrost), and simmer them with the chicken pieces and juices for about 5 to 10 minutes, or until the vegetables begin to brown slightly. If things get smoky, reduce the heat to medium.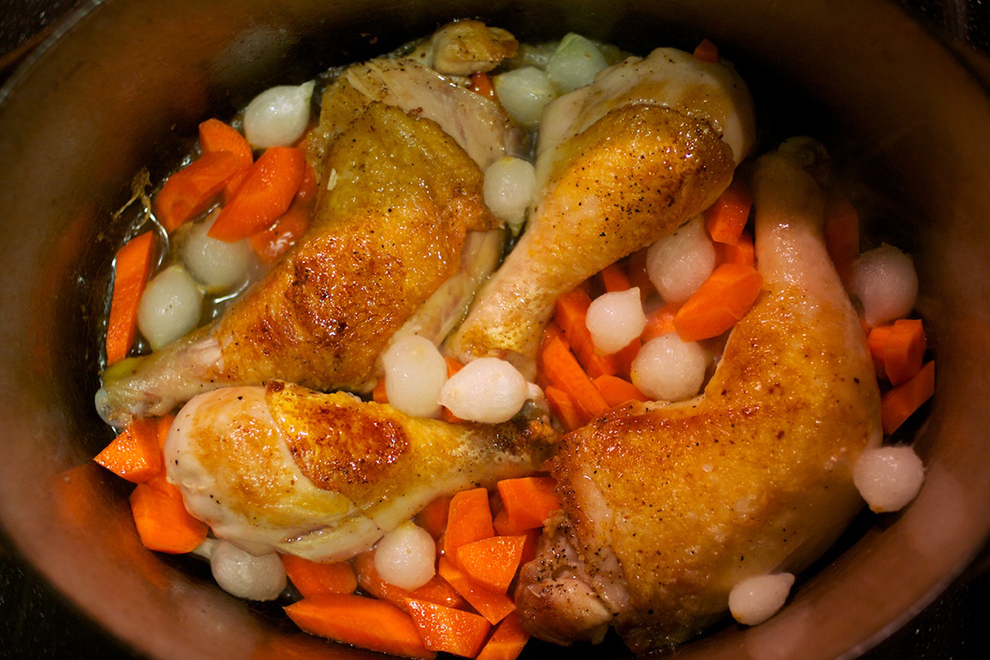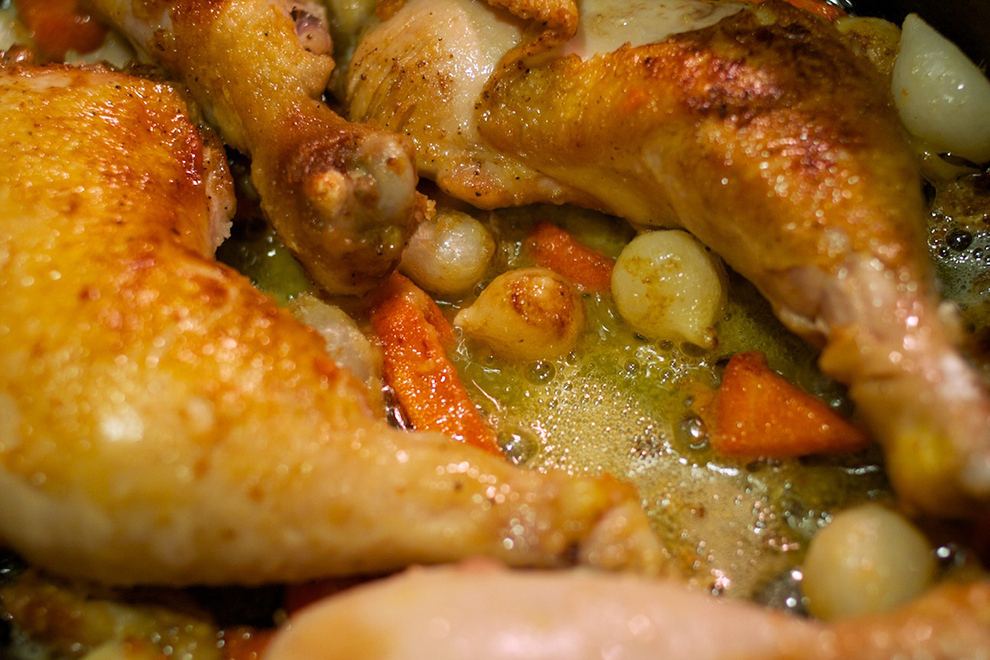 6. Sprinkle the flour over the chicken pieces, then turn them over with tongs so that the floured surface sits in the juice. Break up any lumps that may form with your spatula. Simmer for 5 more minutes.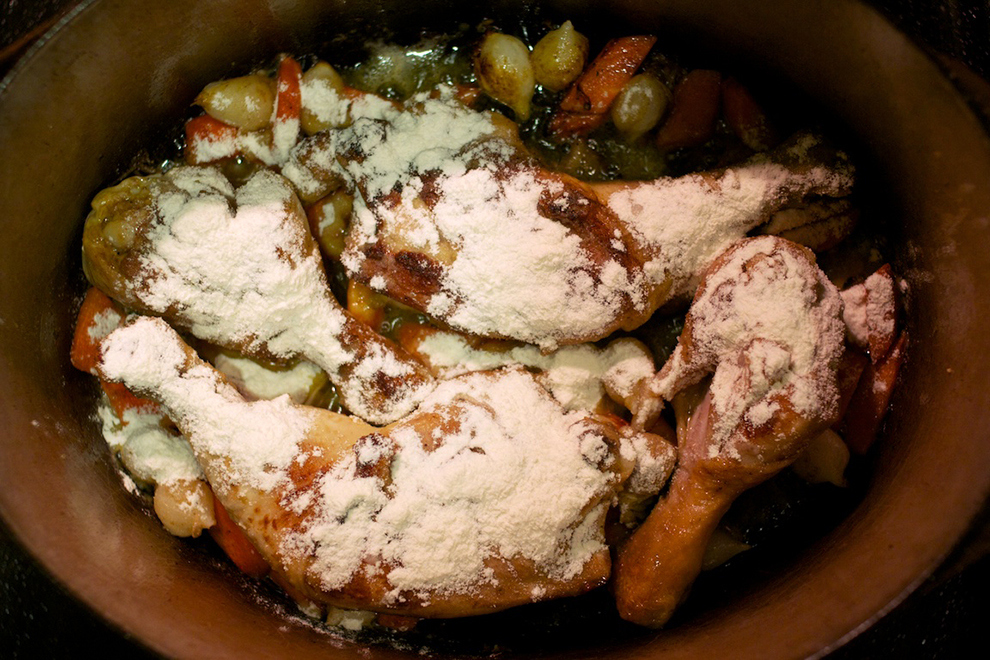 7. Now add equal parts wine and beef stock so that the chicken is just barely covered with liquid. Also add the garlic, bay leaf, thyme, tomato paste, and browned bacon. Stir to incorporate, then cover and simmer on low heat for 20 or 30 minutes (you can go longer to intensify the flavors, but remove the chicken when it's done so it doesn't overcook).
8. About 5 minutes before you intend to serve, toss the mushrooms into the stew and stir them in (I like them firm. If you want yours cooked softer, add sooner). At this point, you can adjust the thickness of the stew to your liking by adding more flour (mix the flour with a little cold water or stock first) to thicken, or more wine or stock to thin.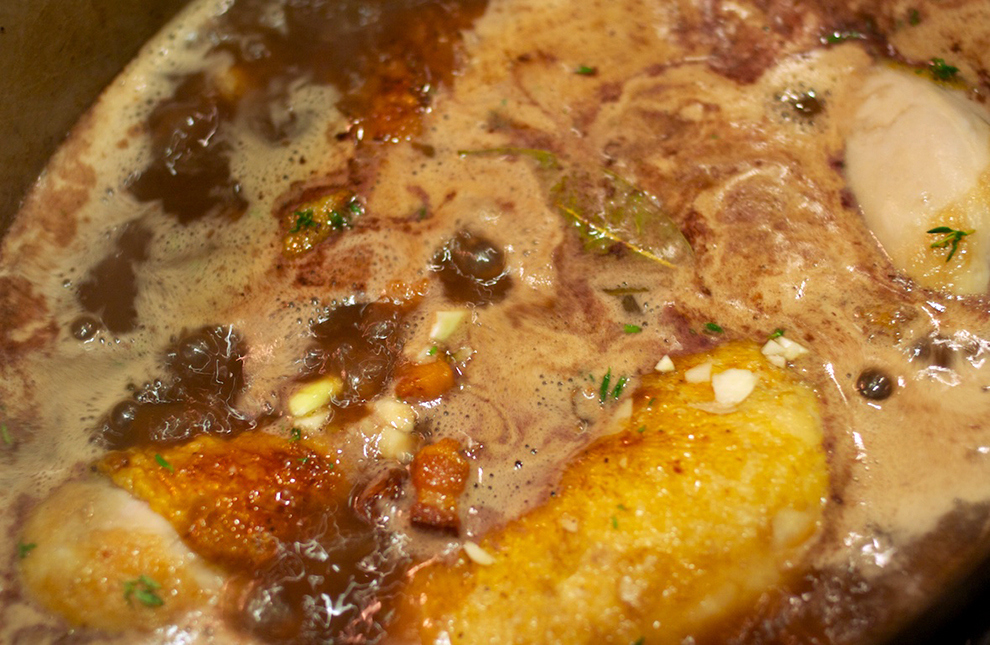 9. That's it! Serve over egg noodles or polenta, sprinkling a little of the fresh thyme or some parsley over the top for color.
10. Bask cozily in the warmth of what you've made.