How To Make A Healthy, Delicious White Bean And Kale Stew
Your Winter Stew Correspondent is back — and with so many vegetables!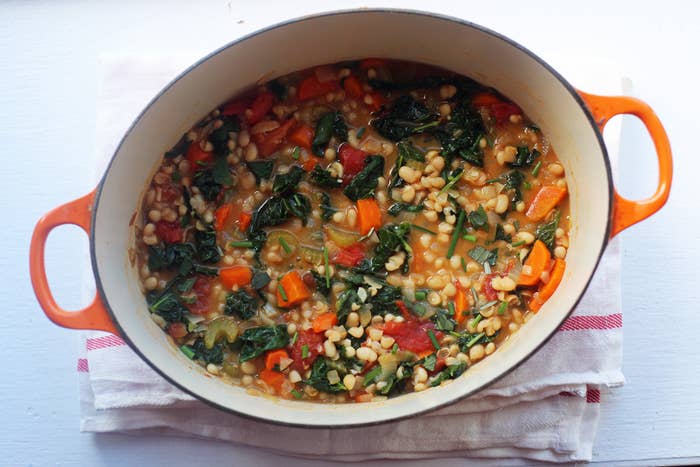 When most people think "stew," they think "meat." And they're not wrong: The broken-down collagen in bones and connective tissue is what thickens a thin soup into a hearty stew. But as your Winter Stew Correspondent, it is my duty to advise you that even in the frozen armpit of winter (aka late February), there are occasions best served by lighter fare.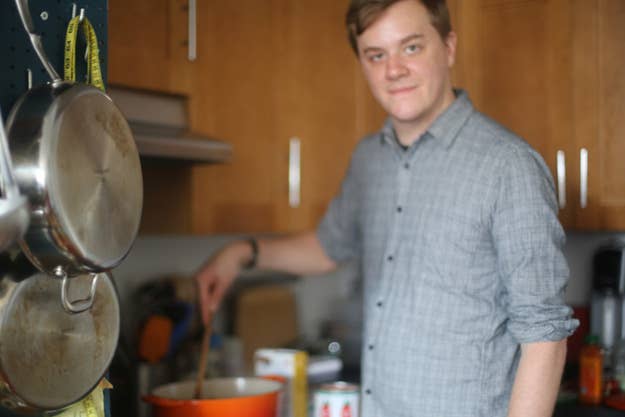 For those times when coziness is the goal, but food-coma lethargy is not (or, of course, for those times when you're a vegetarian), we call on our friend White Bean and Kale Stew. It has no meat, tons of kale (a "SUPERFOOD") and very little fat other than olive oil. Beans are almost all protein (good!), but they also contain fiber and starchy carbohydrates. We can thank those starchy carbs for subbing in for meat collagen to add richness and body to the stew.
Also, in the spirit of experimentation, I'm going to show you a little trick: add cinnamon. It's not called for in the original recipe from farm-to-table NYC chef Dan Barber, but you can trust your Correspondent here — it's awesome. And finally, a hat-tip to the excellent Smitten Kitchen for the addition of tomatoes to the stew and the serving suggestion of poached eggs and toast.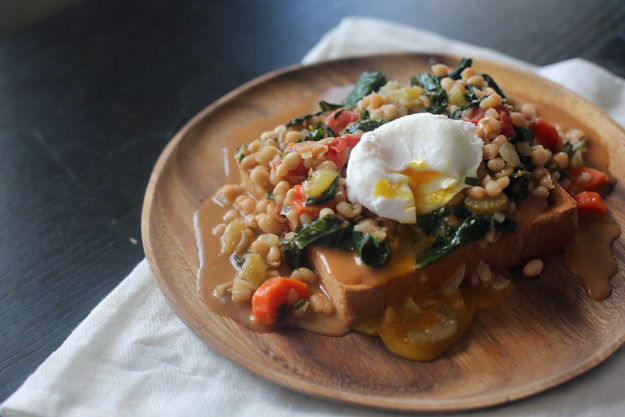 White Bean and Kale Stew
INGREDIENTS
Olive oil, kosher salt, ground black pepper
1 large carrot, peeled and chopped coarsely
1 large celery rib, chopped coarsely (include the leaves if you have them—they are very tasty)
2 large or 3 medium shallots, chopped
2 cloves garlic, chopped
A tiny dash (1/2 teaspoon max) cinnamon
1 cup dry white wine
2 15-ounce cans white beans (cannellini, habichuelas blancas, navy, whatever!), drained and rinsed of their canning goo
Four or five whole tomatoes from a can, squished, and a tablespoon or so of their juice
4 cups (approximately) chicken or vegetable stock
1 bay leaf
1 pound (roughly) kale, washed and chopped coarsely with thick stems and veins removed. Kale shrinks A LOT as it cooks, so start with an amount that looks slightly crazy and you'll be good.
3-4 tablespoons assorted chopped fresh herbs—thyme (I would definitely include thyme), rosemary, chives, tarragon, parsley–all good
1 tablespoon Sherry wine vinegar
Optional:
Grated Parmesan cheese
1 egg per person
Bread for toast (one slice per person). I used crazy 2cm-thick-cut Japanese white bread from Pan-ya in New York, which makes EXCELLENT toast. Texas toast or garlic bread would also be great.
PREPARATION
Before you start cooking, get all of your ingredients prepped and ready to go.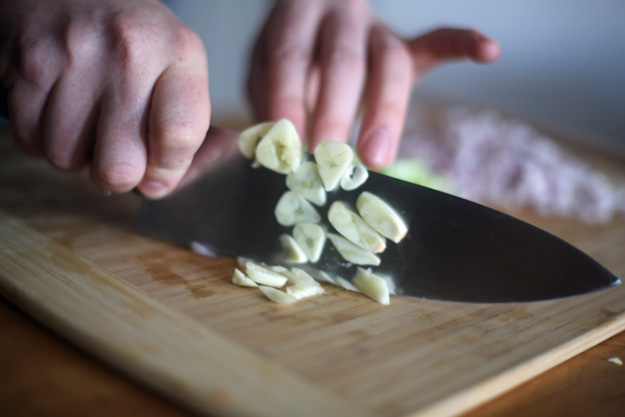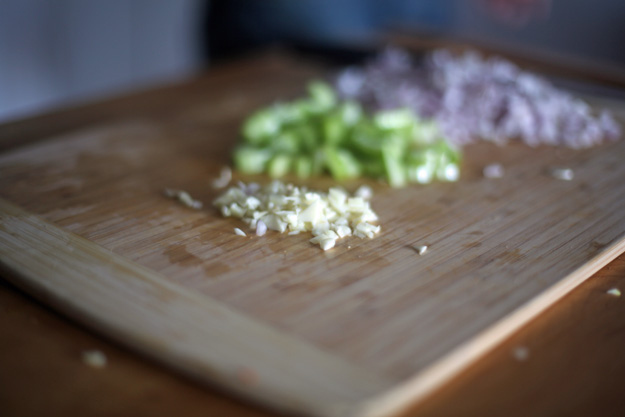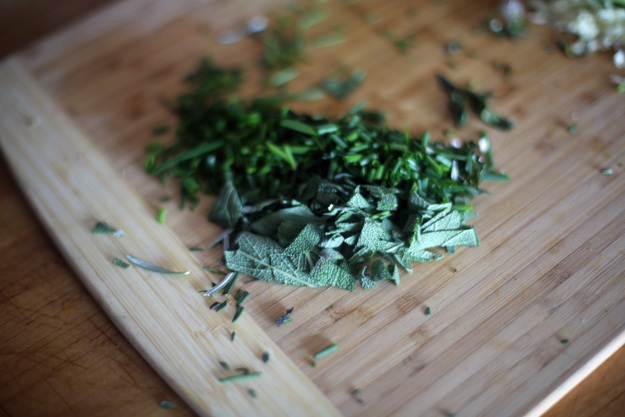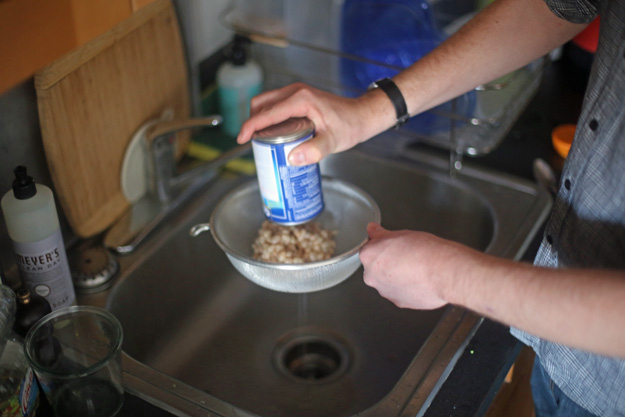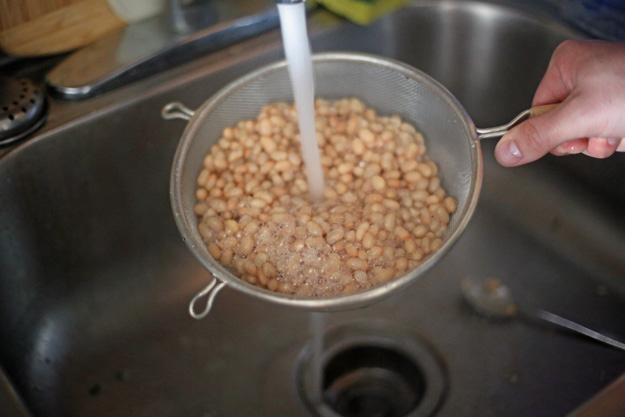 OK NOW START COOKING
1. Throw your carrots, celery and shallots (mirepoix!) into a heavy-bottomed pan or dutch oven under medium-high heat with some olive oil (a few tablespoons), and cook for about 10-15 minutes until softened and lightly browned.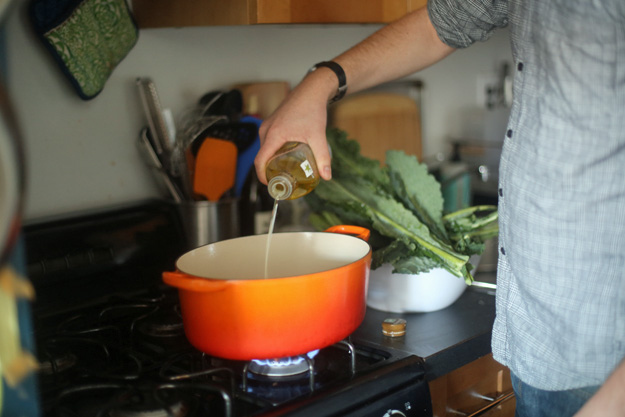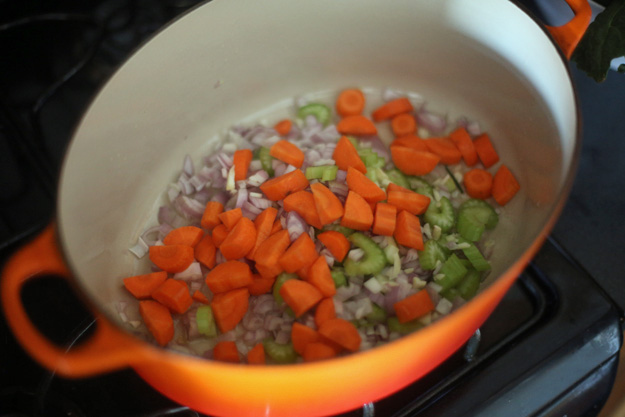 About halfway through cooking the mirepoix, add the chopped garlic and your secret ingredient: a dash of cinnamon.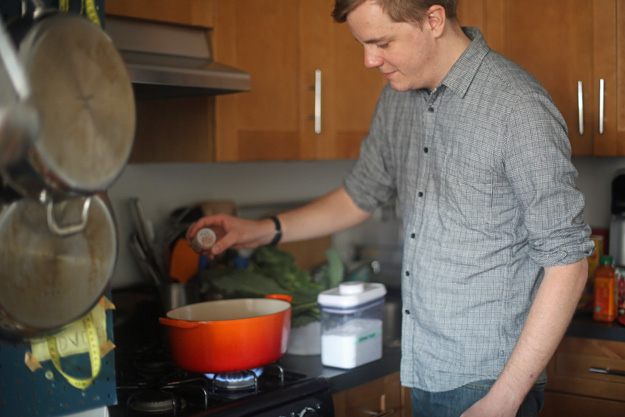 Ever since I nearly killed myself eating an ungodly amount of this Jamie Oliver lasagna recipe, cooked expertly by a friend of mine, (coincidentally also named Jamie), I've been a huge proponent of cinnamon. It gives savory, acidic ingredients an amazing new flavor.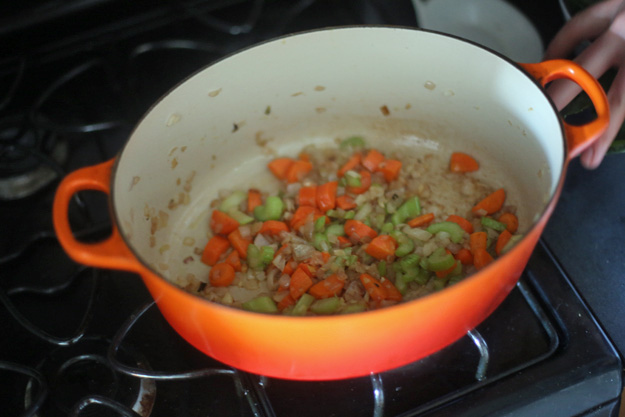 2. Add the white wine and simmer for about 5 minutes.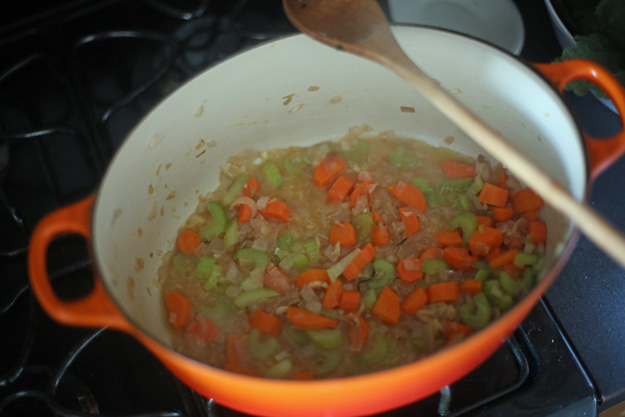 3. Add just about everything else: the beans, kale, tomato (and a tiny bit of tomato juice—we're going to add vinegar later so we don't want it to be too acidic), stock, (you can make the stew as thin or thick as you want by eyeballing the amount), bay leaf, and half the chopped herbs (save the rest for sprinkling over the top at serving time). Turn the heat down to medium-low and simmer for 20 minutes or longer.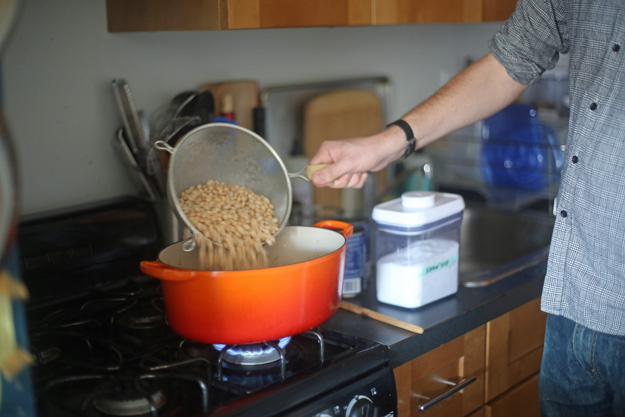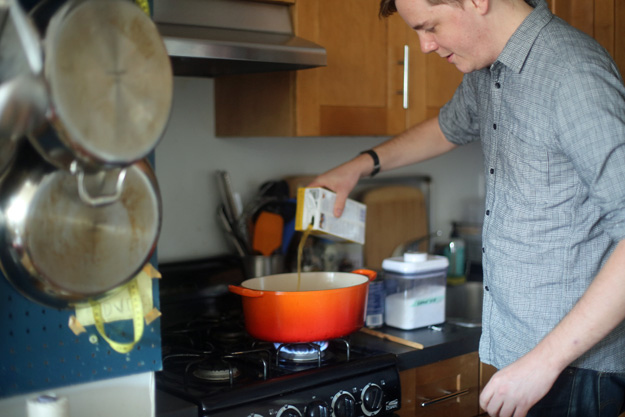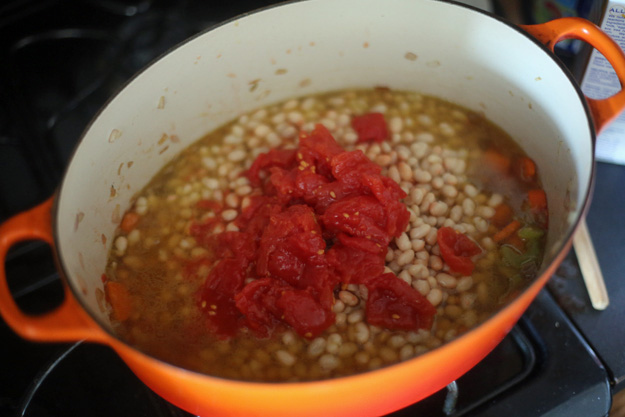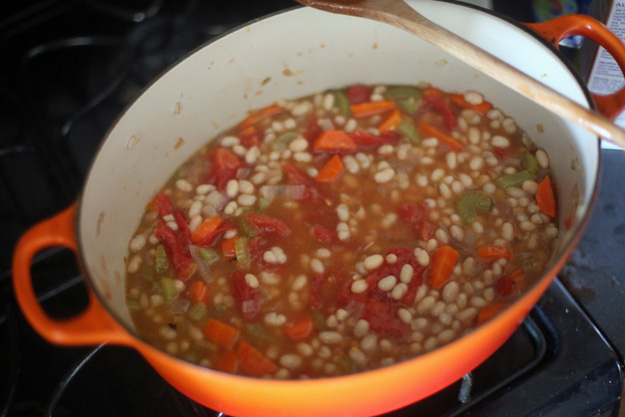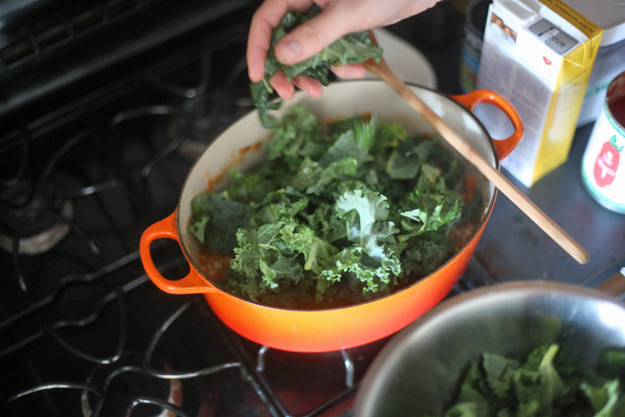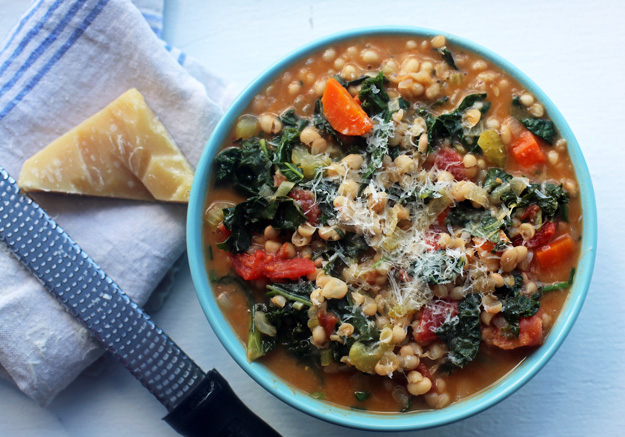 At this point you could add your Sherry vinegar and serve it. OR, to serve it over toast with a poached egg (very much recommended by your correspondent):
4. About 5 minutes before you're ready to serve, make toast.
5. At the same time, poach one egg per person. Here's how:
- Heat cold, UNsalted water with a couple of tablespoons of white vinegar and bring it to barely a simmer. The exact temperature is 180F, but you'll know you're there when the first few bubbles start to break the surface.
- Crack the egg into a small bowl or cup. Then drop it into the water and time it for exactly 3 minutes, keeping the water at a simmer. After three minutes, lift the egg out with a slotted spoon and drain on a paper towel.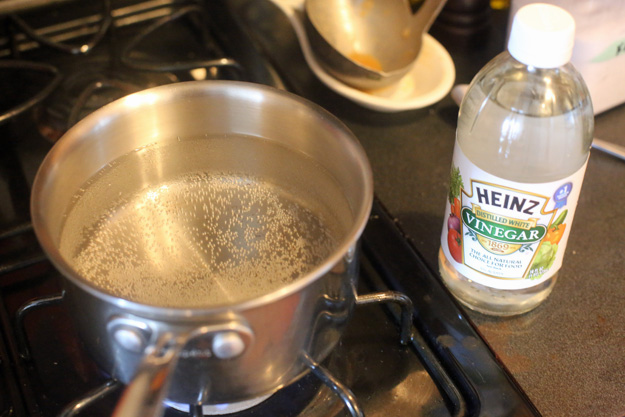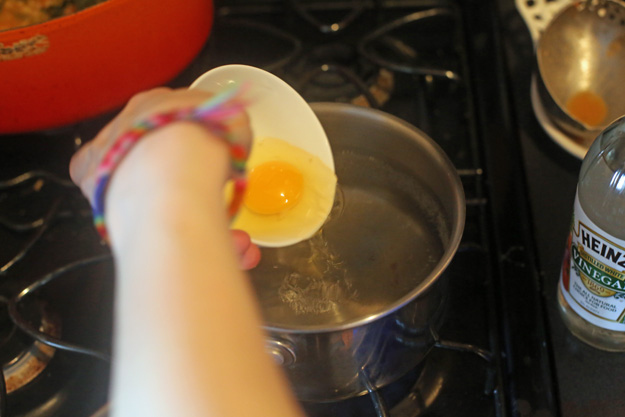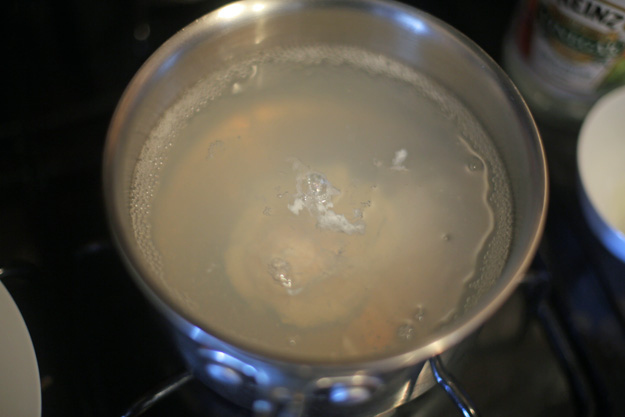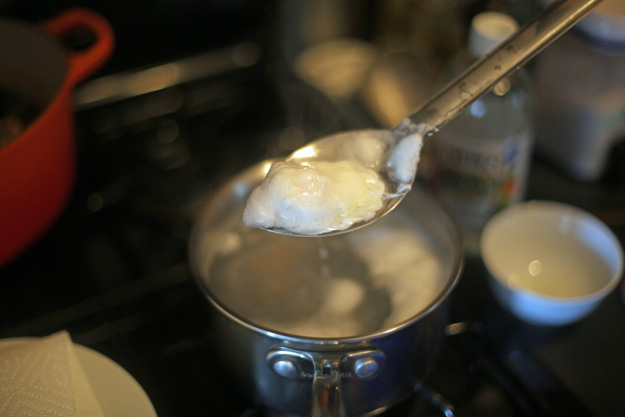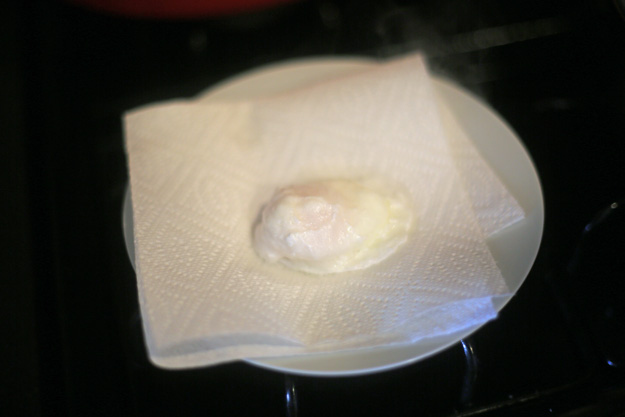 6. Right before you're serving the stew bowls, stir in the vinegar. This will give the stew a nice bite without too much salt, so wait until now to taste and season with salt and pepper as needed.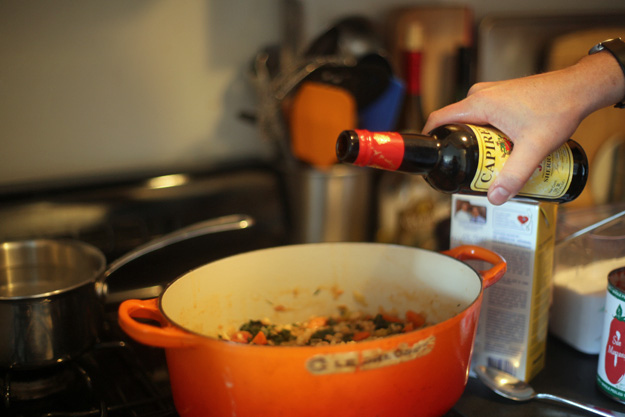 7. Put a piece of toast in a bowl or on a plate, cover with a ladle full of stew, and top with the poached egg.
8. Grate Parmesan and sprinkle some of the remaining herbs over the whole thing. Pierce egg, marvel at the slow ooze of running yolk, enjoy.