I have retired my thick-bottomed stewpot (and my favorite stew-eating sweater and mitten set). It is time to move outside, into the sunshine, to eat with friends and neighbors and birds and bugs and all the great living things of summer. Are you ready? Man, so am I.
Over the next few months, we're going to grill some easy and delicious things together. It will be great. Here are the rules:
1. The stuff we grill will be easy. We shall not grill anything that can't be composed more or less from scratch ingredients in a park or on a rooftop with a basic grilling setup. Or anything that becomes prohibitively difficult after two or three (or four or five) tallboys.
2. It will be casual. We shall not grill anything that requires an elaborate serving setup. This correspondent believes that grilled things are best eaten hot off the grill, more or less family style.
3. It will be a little out of the ordinary. Hot dogs and burgers will be forever delicious, but here we shall plunge boldly into the world of grillables beyond. (But remember, every BBQ that happens within these shores is in their debt — please pay homage to hot dogs and burgers from time to time.)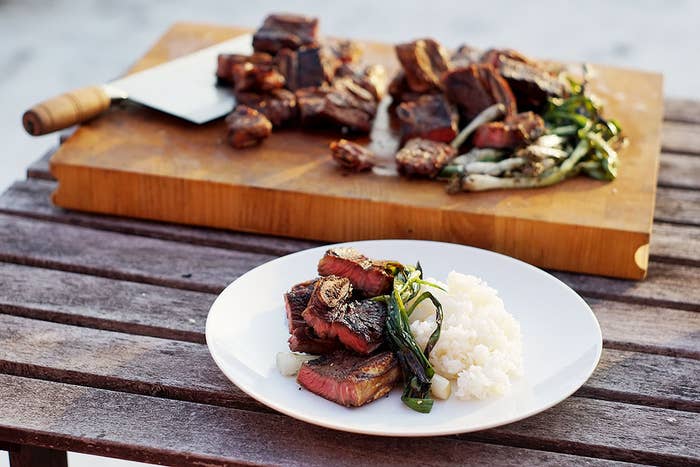 The Korean-style short-ribs (kalbi) we're starting with satisfy all the aforementioned commandments. Kalbi is a fatty, rich cut that becomes very flavorful on the grill--they'll be both unexpected and familiar to anyone who loves beef. Plus they're bite-sized, they cook in less than 10 minutes, and each even comes with its own bone-in handle. No utensils required.
They were also the first thing I grilled this season. (I'd just come back from a trip to Hawaii, where I'd eaten close to my weight in grilled kalbi at a very wonderful place and still wanted more.) They turned out so delicious that I think everyone should get to eat them. So let's do this.
1.
Get some short ribs cut "flanken-style" — about a pound per person.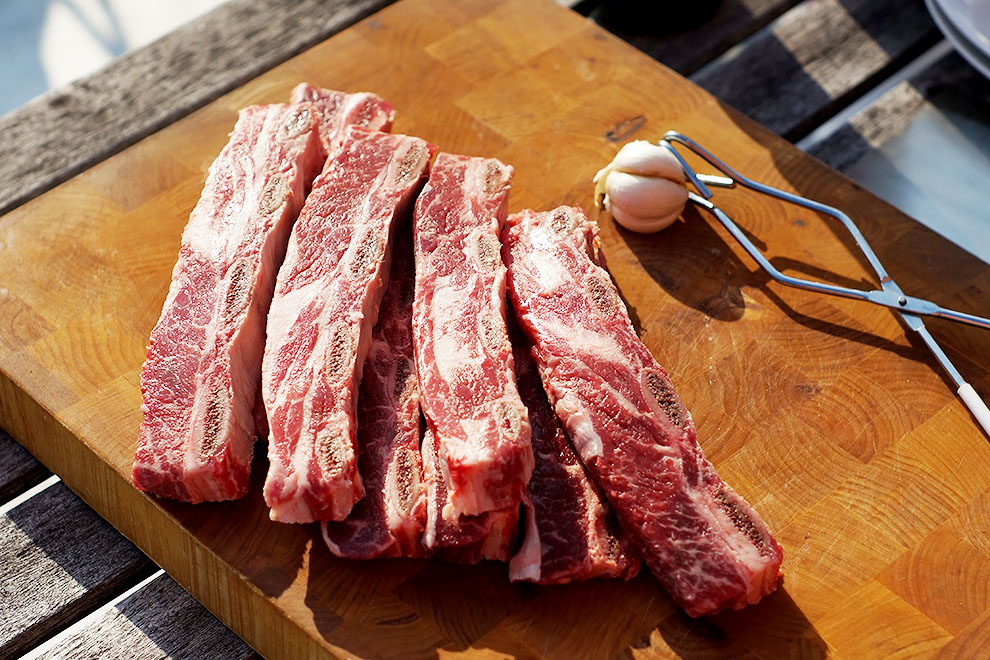 2.
Get your grill going.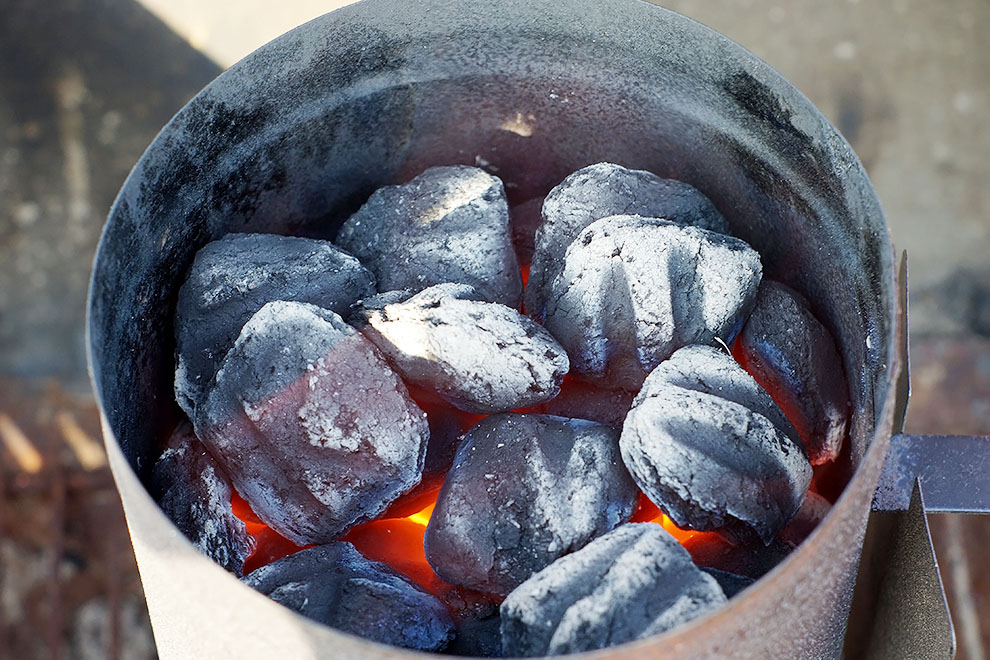 3.
While the grill is heating up, put ribs in a bag with a whole head of chopped garlic.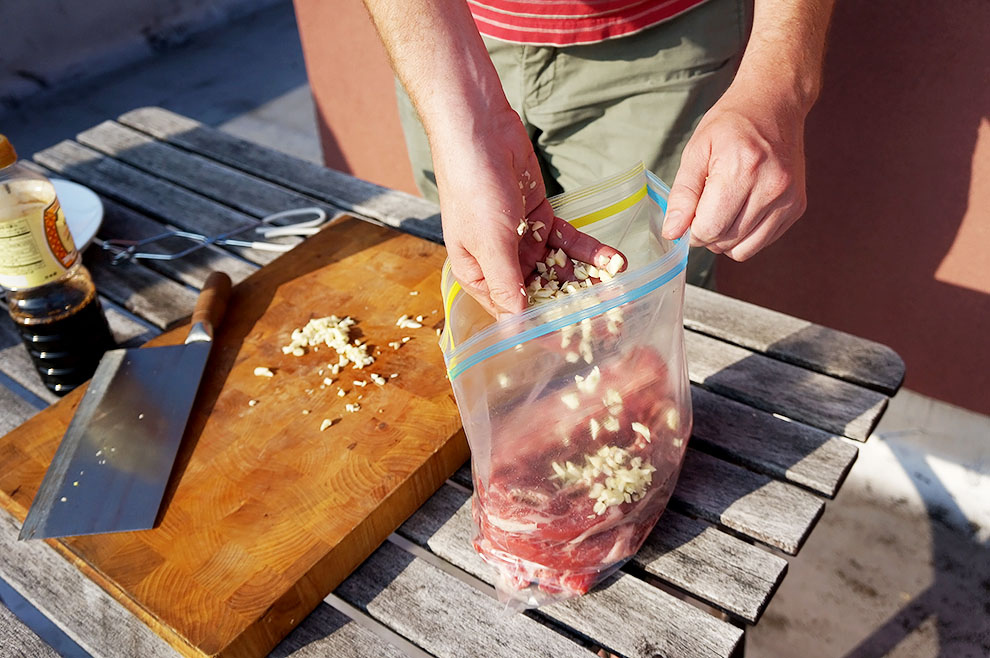 4.
Add soy sauce.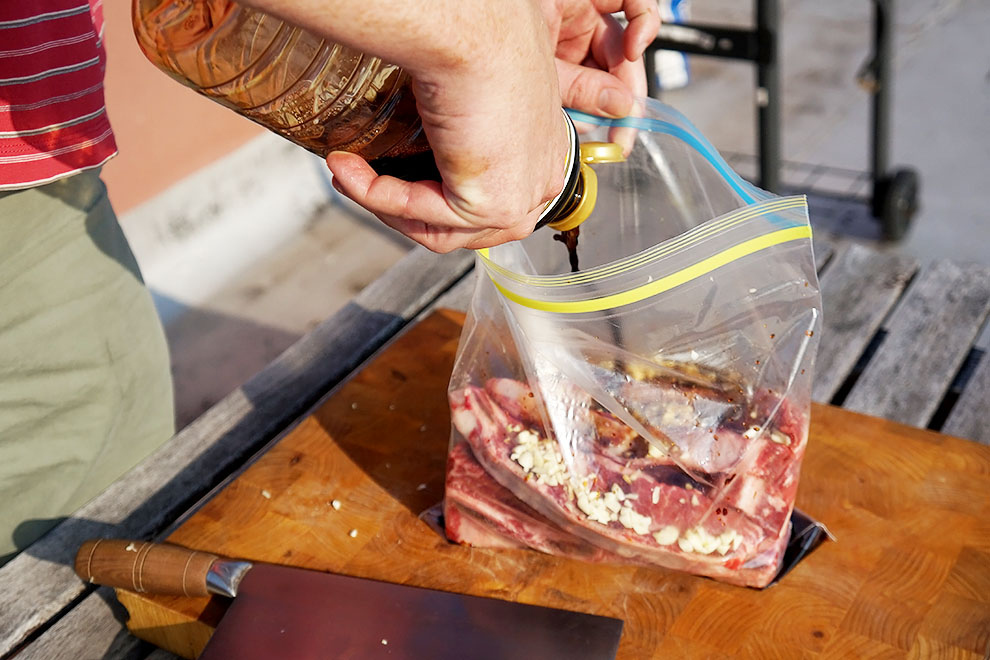 5.
Seal the bag and let it marinate 20-30 minutes.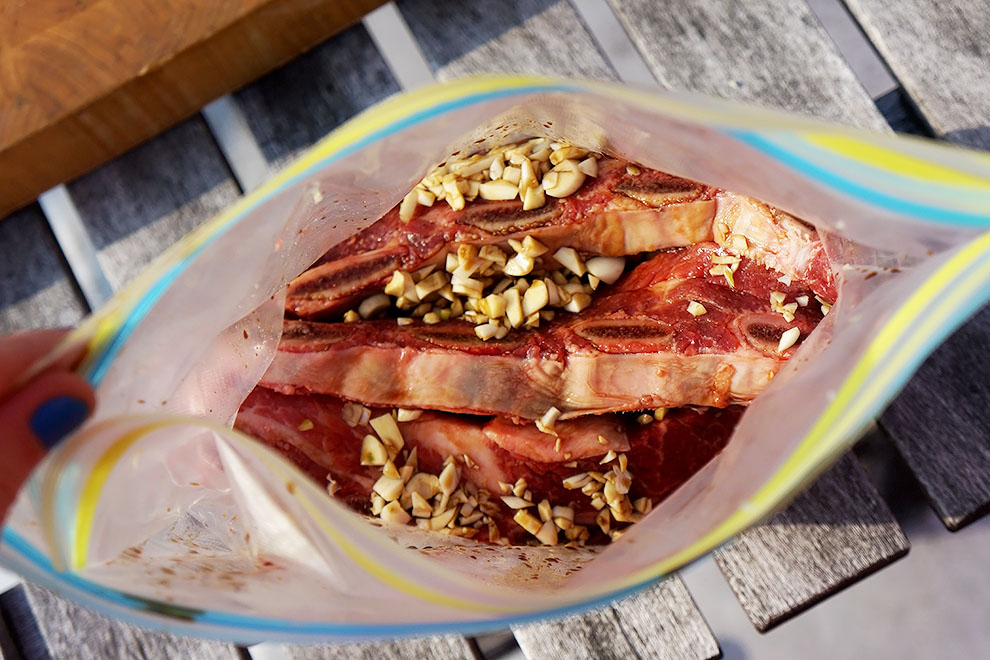 (At room temp, not in direct sunlight.)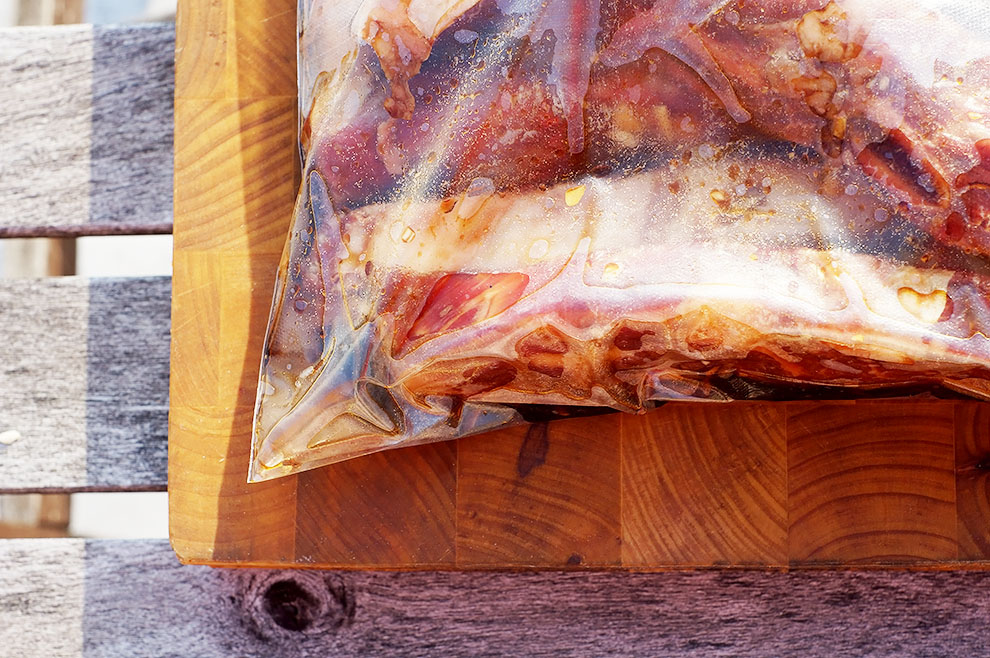 6.
Once the coals have turned white, they are ready to be dumped from the chimney to the grill.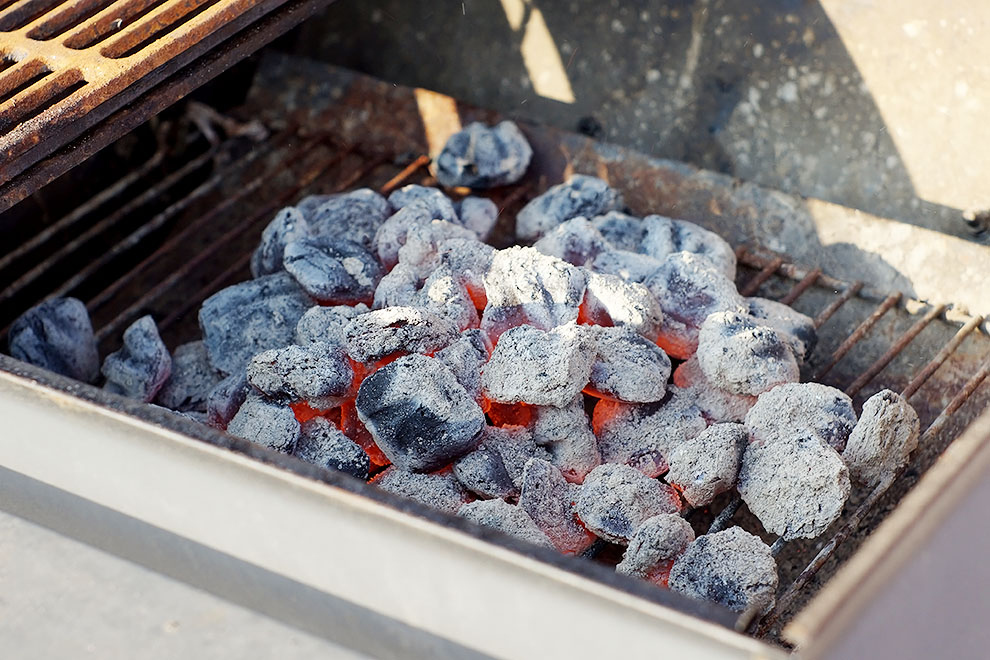 7.
But oh no, the grill grate is dirty.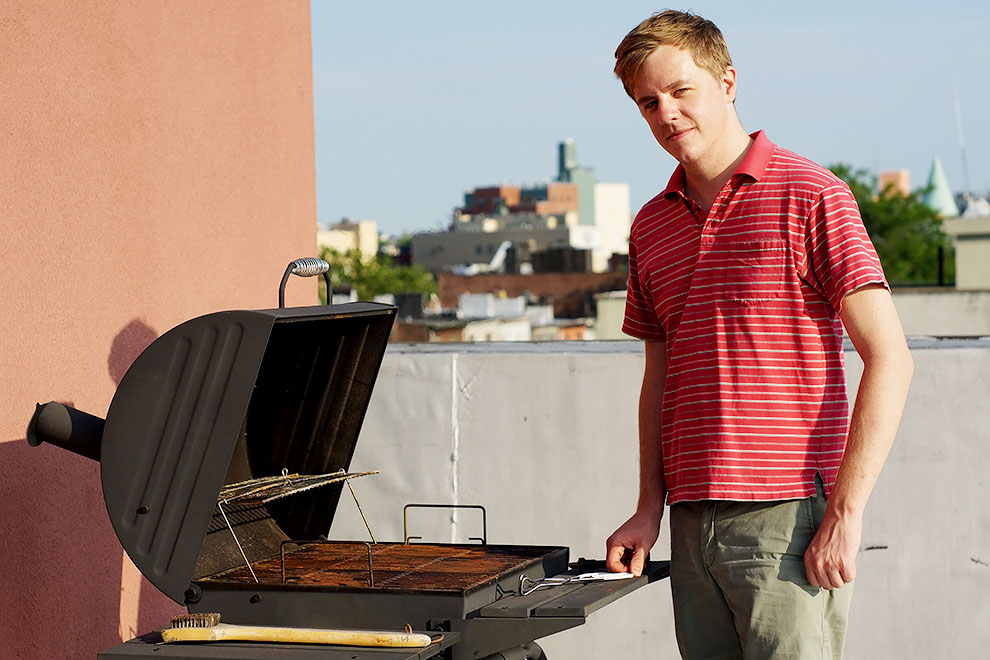 8.
Make a friend clean it.
9.
Make sure he does a thorough job.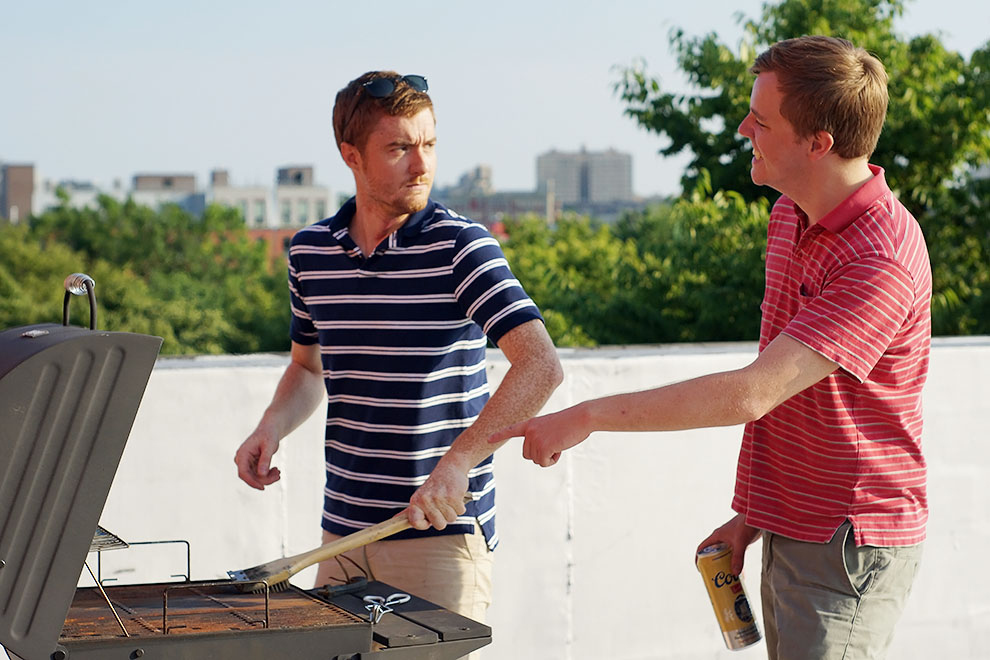 10.
Now that the grill is clean, the ribs won't stick to it, and they'll get nice clean char marks.
11.
Grill your marinated short ribs on one side over the hottest part of the grill for four minutes.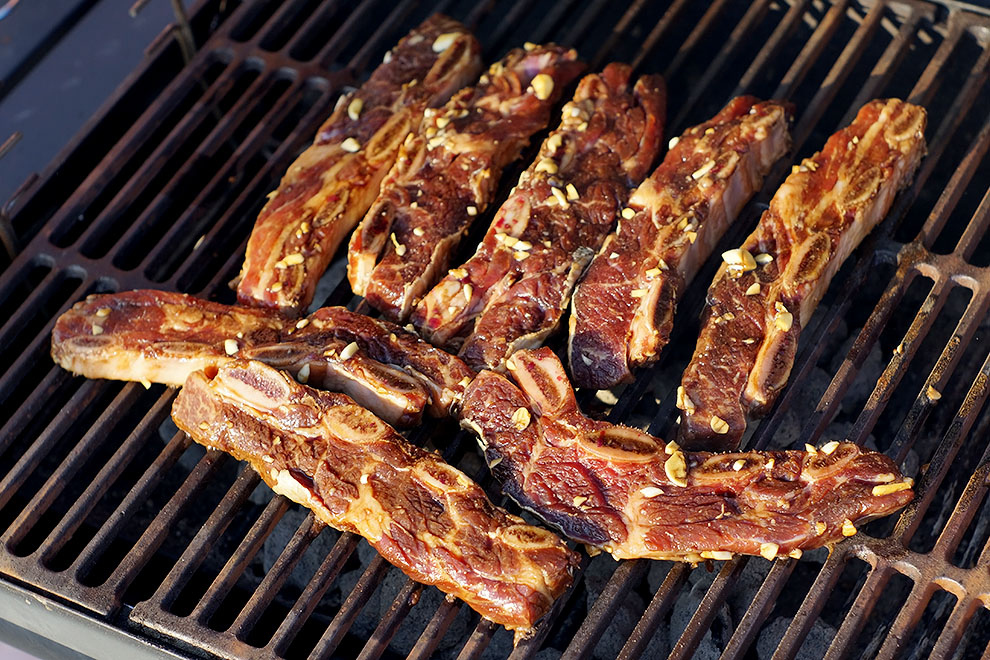 12.
Flip them.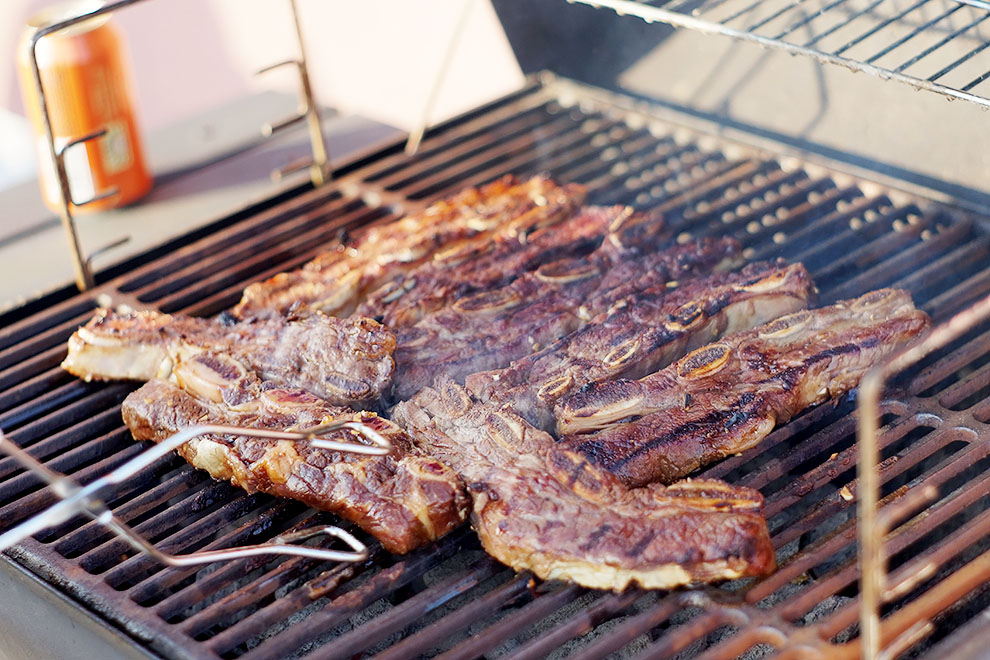 13.
Then four minutes on the other side.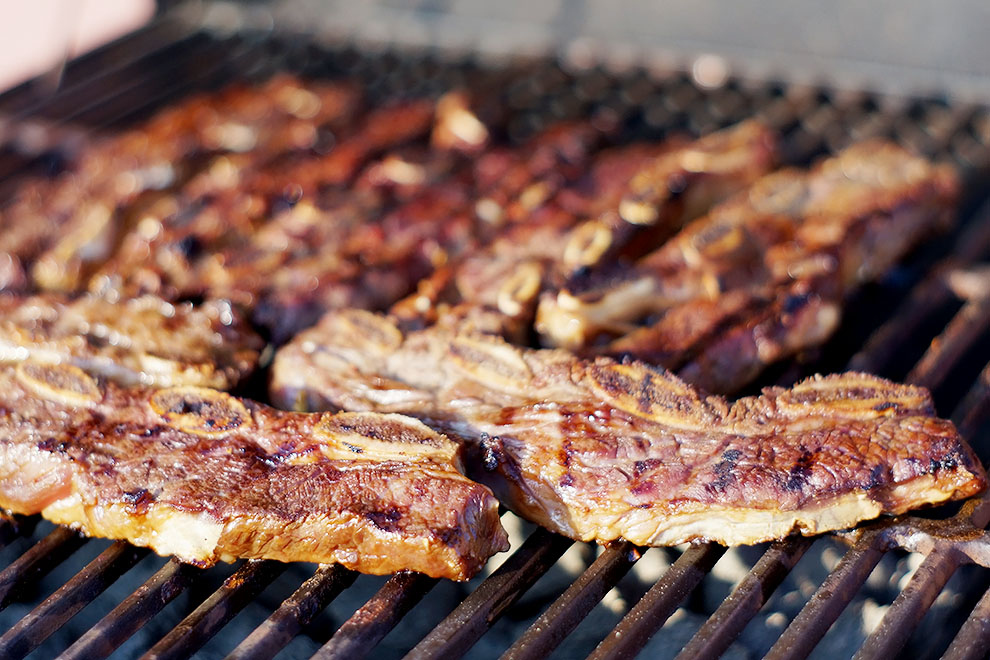 14.
Take them off the grill — they'll be medium rare.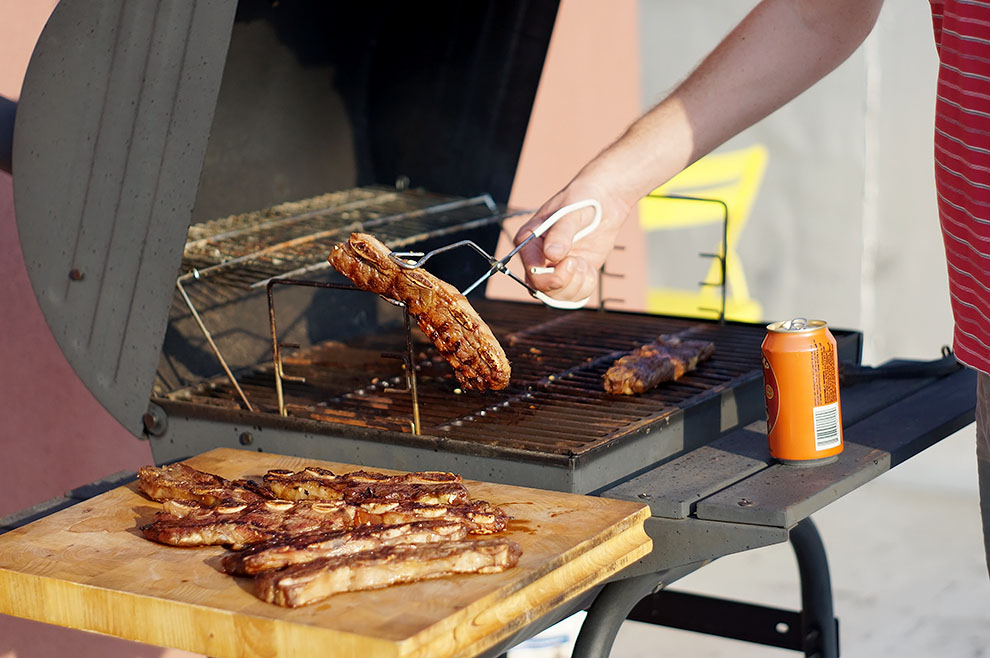 15.
Let them rest to seal in the juiciness.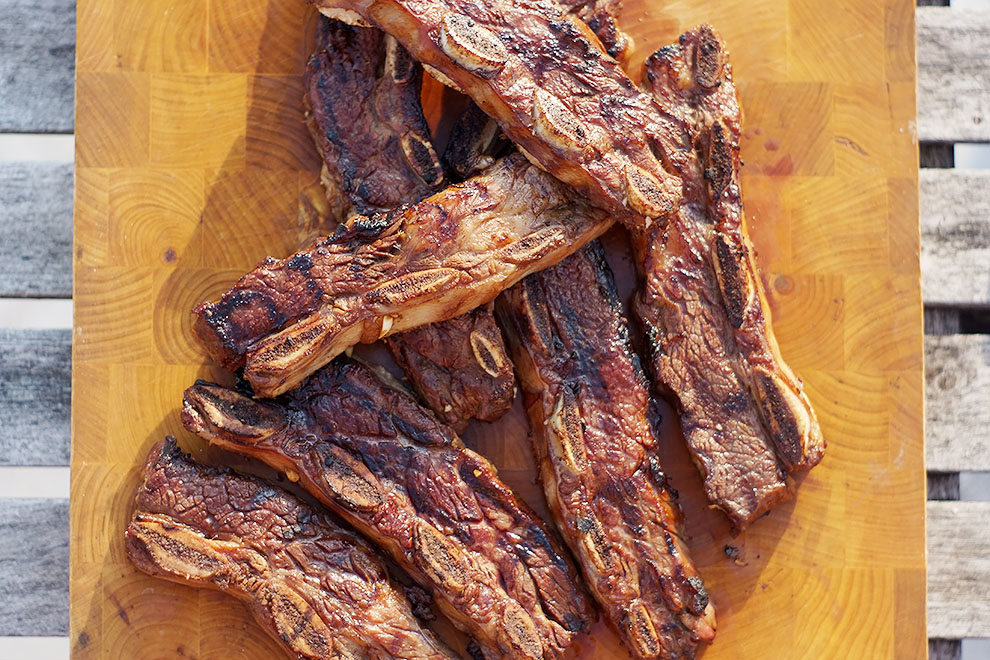 16.
Throw some scallions on the grill and move them around so they don't burn.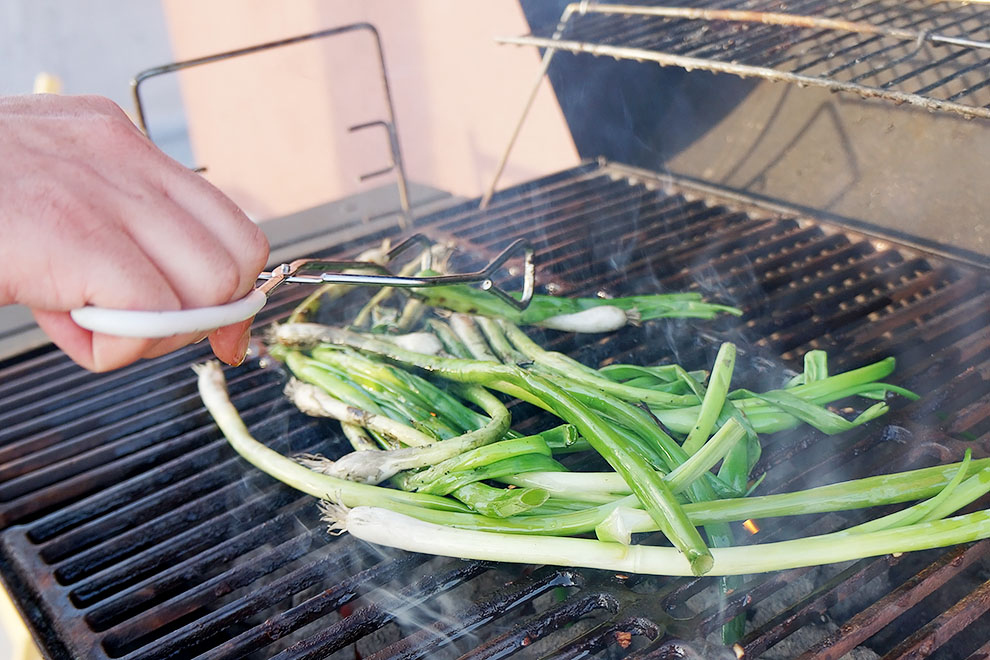 17.
Sprinkle them with sesame oil.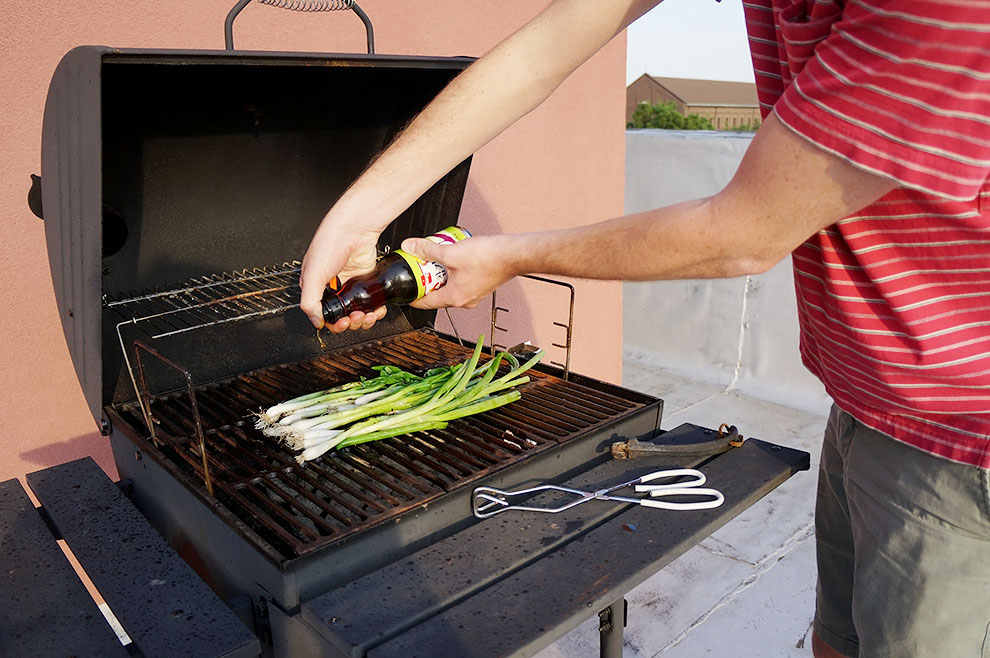 18.
Add sesame seeds just before you remove them.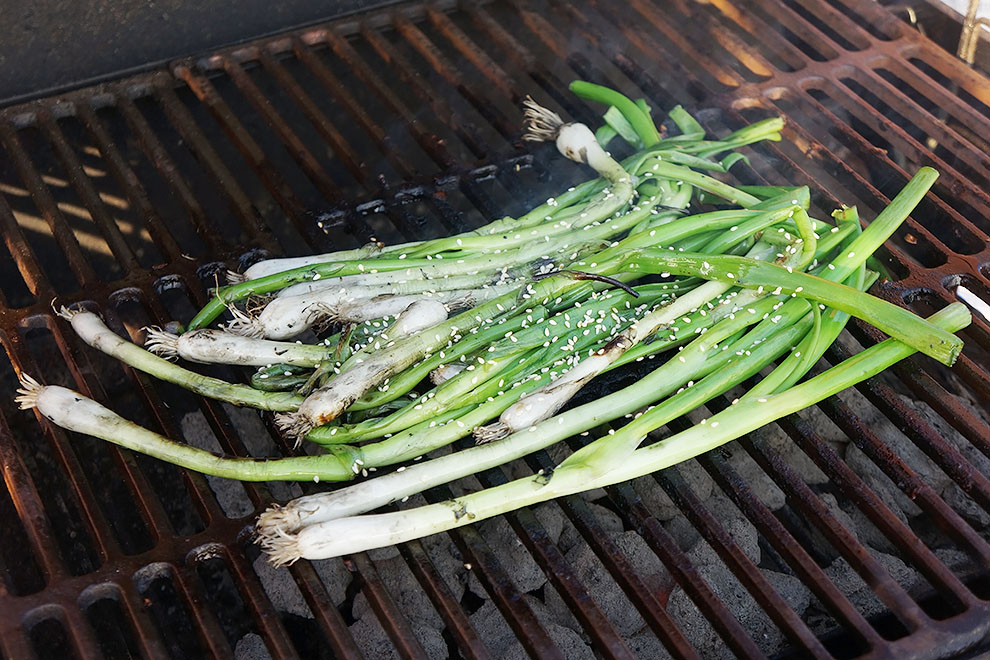 19.
Put them with the ribs.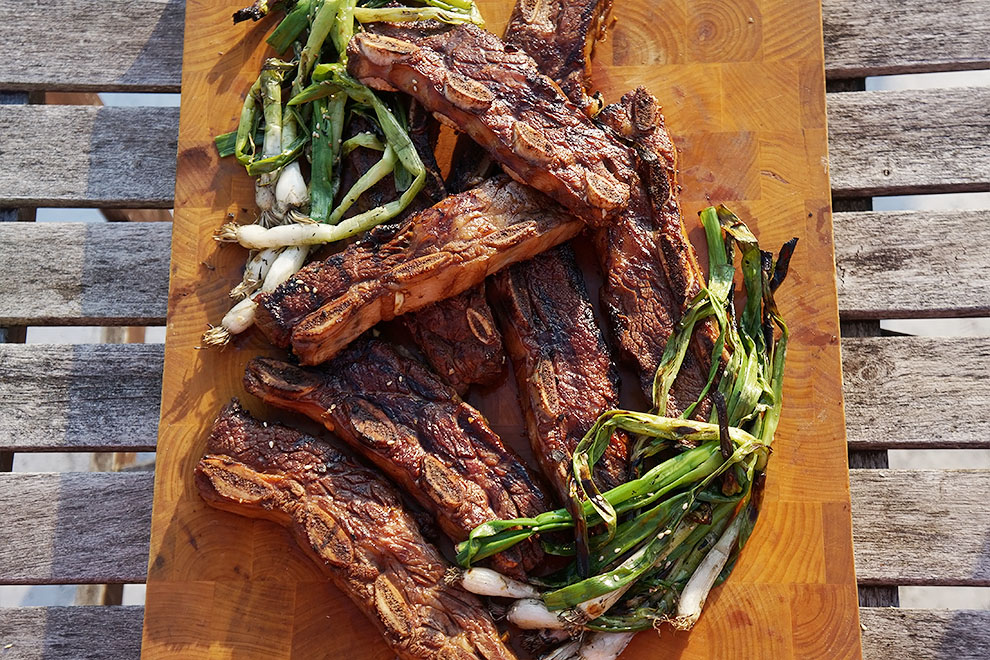 20.
Cut the short ribs between the bones.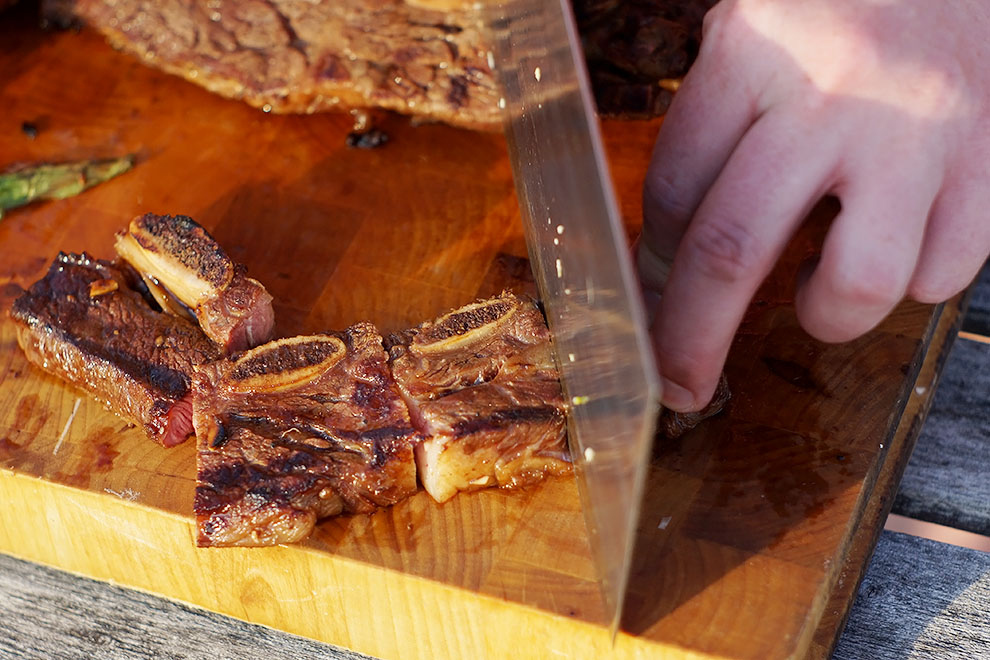 21.
Admire.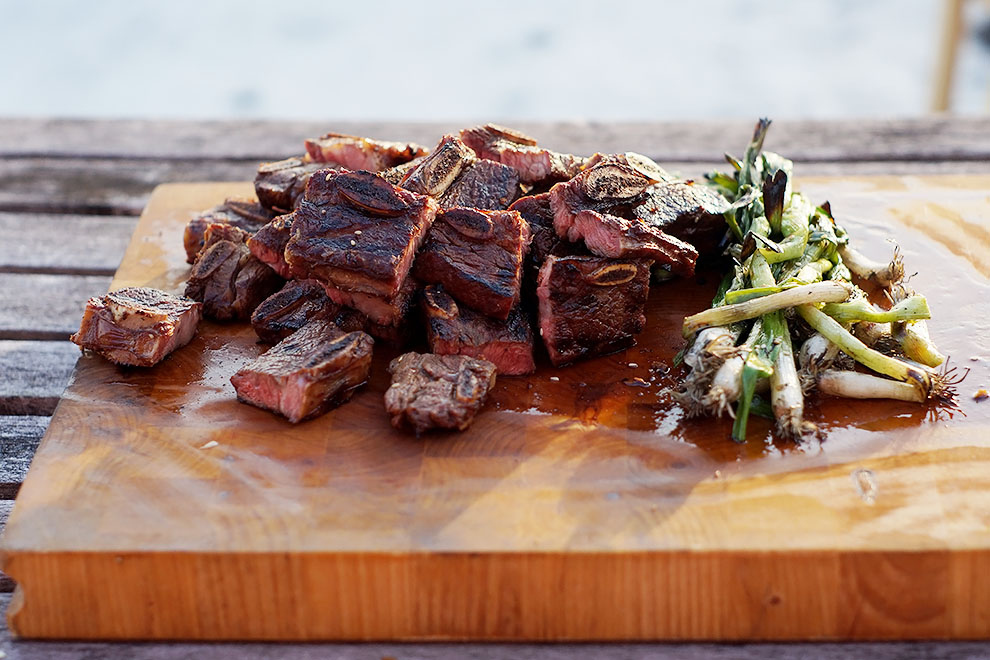 22.
Set out a huge bowl of white rice and tell everybody it's time to eat.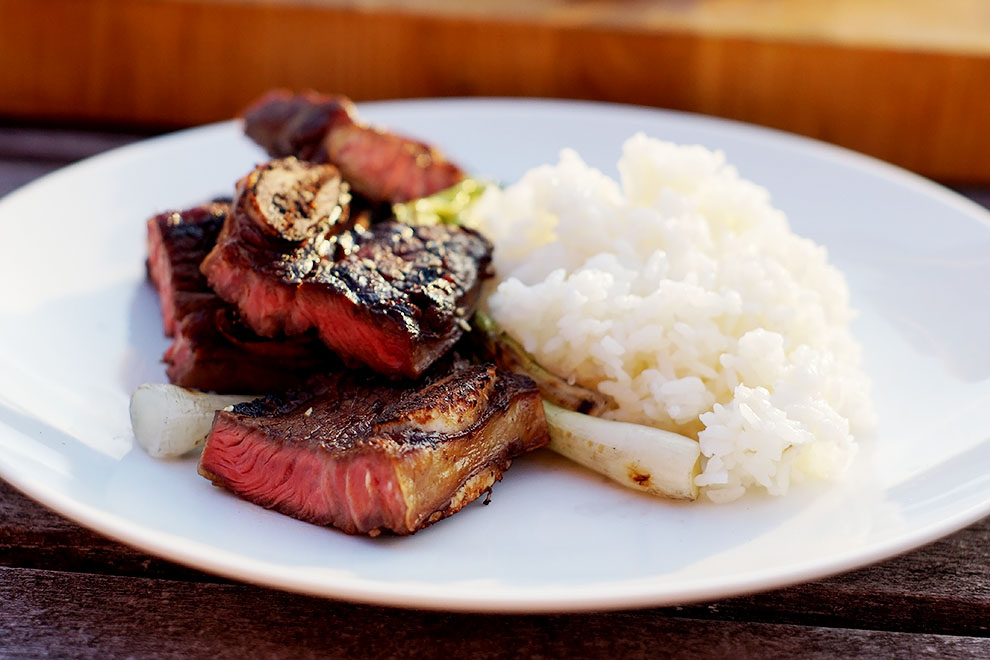 Super Easy Grilled Kalbi Ribs
Serves about 6 — but is easily scaled up or down
INGREDIENTS
Short ribs (about a pound per person — enough for leftovers). The cut you want is often called "flanken" — they're inch-thick strips of bone-in short rib meat cut across three or four bones, instead of parallel to one long bone. If your grocery store doesn't have this cut, compliment your meat guy's hairnet or blood-soaked butcher coat and he'll probably be nice enough to cut some of their regular short ribs this way for you.
For the 30-minute marinade
- garlic, one whole head peeled and chopped
- soy sauce, enough to cover the ribs when placed in a large Ziploc bag (so, a cup or two — it's hard to use too much, so don't be shy)
For easy sides (optional)
scallions, two or three bunches, for the grill
sesame oil, a drizzle (or any other oil or meat juice)
sesame seeds (a handful)
cooked white rice (is there is a kitchen or Chinese takeout place nearby?)
PREPARATION
1. Prepare your grill — if it's charcoal you want hot coals mounded in the center for direct heat grilling. If it's gas you want to crank it to high.
2. Put the short ribs in a plastic bag, dump in the chopped garlic and soy sauce and seal the bag. Distribute the marinade around in the bag so all ribs are covered, and let it sit for 20-30 minutes at room temperature. (Not like, directly in the sun.) You can also marinade even longer or overnight in the fridge for extra flavor; if you do this, I'd back off on the soy sauce a little bit so they don't get too salty, and maybe consider adding a tablespoon or two of sugar dissolved in a cup of water for even more balanced flavor. If it's a quick marinade, make sure you bring them to room temperature before grilling so they cook through evenly.
2. Over hot coals or a gas burner cranked to high, grill each strip for 4 minutes per side for medium rare. Short ribs can be a tough cut of meat, but if you cook them fast and hot on the rarer side of medium rare, they're succulent and tender on the grill. Fans of well-done beef will probably be bummed, but why are you friends with them anyway? Four minutes per side hasn't failed me yet!
3. Put the finished ribs on a platter or cutting board and let them sit for 5 or 10 minutes. This lets them finish cooking and retain their juiciness.
4. While the short ribs are resting, toss the scallions in a tablespoon or so of sesame oil and throw them on (you can even oil them up on the grill for an extra char, but be careful of the flames!). Grill them for about 2-3 minutes until limp and charred, turning them to avoid burning. Just before you pull them off, sprinkle on some sesame seeds.
5. Cut each strip of meat into bite-sized single-rib bits between the bones.
6. Serve the ribs with rice and grilled scallions and eat these up fast before anyone else does. Also pairs extremely well with kimchi. And red wine.
And that's it! Much more grilling to come this summer. Stay tuned.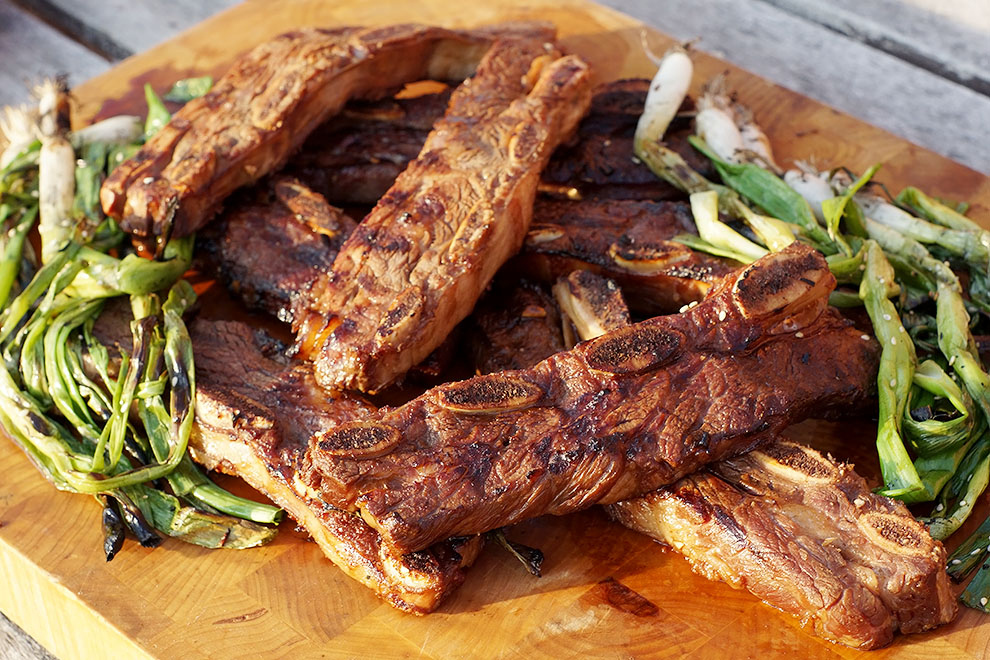 Photos by Emily Fleischaker and John Mahoney