Watermelon Fruit Pizza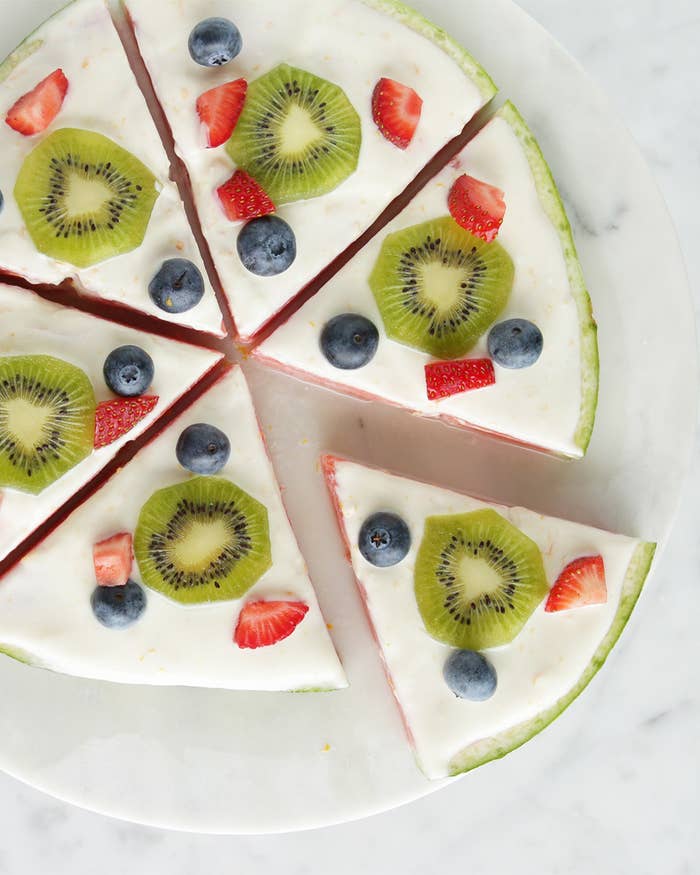 INGREDIENTS
Serves: 6
1 seedless watermelon, sliced into 1-inch thick rounds
1 kiwi, peeled and thinly sliced
1 pint blueberries
1 pint strawberries, diced
1 ½ cups plain Greek yogurt
1 teaspoon vanilla extract
2 tablespoons honey
1 tablespoon orange zest (1 orange)
2 tablespoons of orange juice (half an orange)
PREPARATION
1. Slice the watermelon into 1-inch thick rounds.
2. In a medium bowl, combine the Greek yogurt, vanilla, honey, orange zest, and orange juice and mix until well-combined.
3. Pour some of the yogurt mixture onto a watermelon round and smooth with a spatula so that the mixture covers the entire round.
4. Place the kiwi, blueberries, and strawberries decoratively on top of the yogurt sauce.
5. Cut the pizza into 6 even slices and serve.
Want BuzzFeed Tasty right in your inbox? Sign up for our newsletter!