This Beef And Veggie Stir-Fry Is Perfect If You're Trying To Follow A Paleo Diet
No grains here!
by
,
Paleo Beef And Veggie Stir-Fry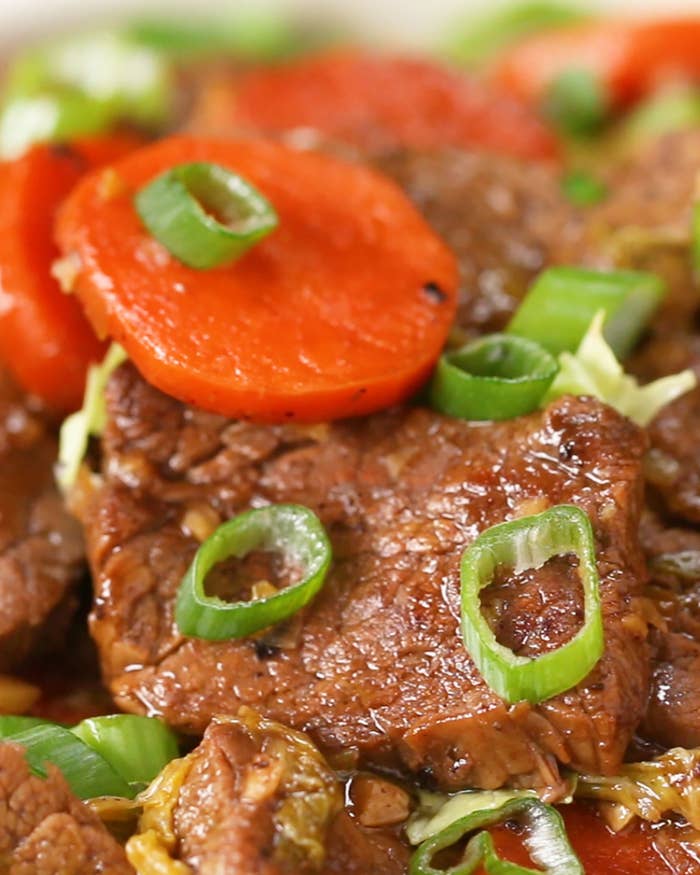 INGREDIENTS
1 pound flank steak, trimmed and sliced thin against grain into 2-inch pieces
2 teaspoons lime juice
2 teaspoons coconut aminos
2 tablespoons avocado oil (or other oil), divided
3 carrots, peeled and sliced ¼ -inch thick on the bias
1 small head Napa cabbage, thinly sliced, plus more for serving
3 scallions, minced, plus more for thinly sliced for garnish
1 tablespoon ginger, grated
4 garlic cloves, minced
Sauce:
6 tablespoons coconut aminos
2 tablespoons lime juice
1½ teaspoons tapioca flour
PREPARATION
1. Add the flank steak, coconut aminos, and lime juice to a bowl, and toss to combine. Set aside to marinate for 10 minutes.
2. Heat 1 tablespoon of oil over medium-high heat in a large nonstick skillet. Place half the meat in the skillet and sear for 1 minute on each side. Place the seared steak in a clean bowl and repeat with the second batch, draining excess liquid from the skillet as needed.
3. Once all of the meat has been seared and removed from the pan, heat the remaining 1 tablespoon of oil in the pan. Add in the carrots and sauté until softened, about 5 minutes.
4. Add the Napa cabbage to the pan and quickly toss with the carrots.
5. Move the cabbage and carrots away from the center of the pan and sprinkle in the scallions, ginger, and garlic. Stir the mixture in the center of the pan until fragrant, about 30 seconds.
6. Mix all contents of the pan together and toss in the meat.
7. Pour in the coconut aminos, lime juice, and tapioca flour. Stir the contents of the pan until well combined ad the sauce has thickened, about 1-2 minutes. Remove from heat.
8. Divided the mixture between bowls filled with Napa cabbage and garnish with scallions.
9. Enjoy!