DIY Multipurpose Cleaning Wipes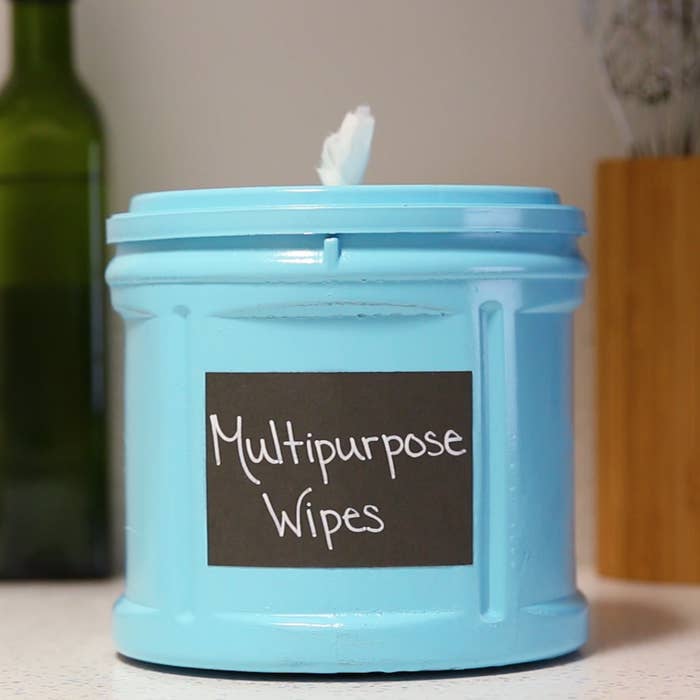 SUPPLIES
1 coffee can, emptied and rinsed
Spray paint, your choice of color
1 roll extra strong paper towels
½ cup white vinegar
¼ cup rubbing alcohol
¼ cup water
8-12 drops essential oil, your choice of scent (optional)
1 teaspoon dish soap
INSTRUCTIONS
1. Using a box cutter, cut a small "X" in the center of the coffee can lid.
2. Spray paint the coffee can, if desired, and let dry for about 4 hours before handling.
3. Using a bread knife, cut through the paper towel roll to create 2 rolls that will fit into the coffee can.
4. In a measuring cup or bowl with a spout, mix together the vinegar, rubbing alcohol, water, essential oils, and dish soap until well combined.
5. Place one of the half paper towel rolls in the coffee can and gently pour the liquid mixture over, evenly soaking the entire roll.
6. Let the roll soak for about a minute and gently remove the cardboard roll in the center.
7. Pull up the paper towels from the center of the roll and push them through the bottom opening on the coffee can lid. Seal the lid on top of the coffee can and simply pull up on the wipe that is peaking out to clean most household surfaces.
8. Enjoy!