One-Pot Shrimp And Spinach Fettuccine Alfredo
Shrimp swimming in noodles.
One-Pot Shrimp And Spinach Fettuccine Alfredo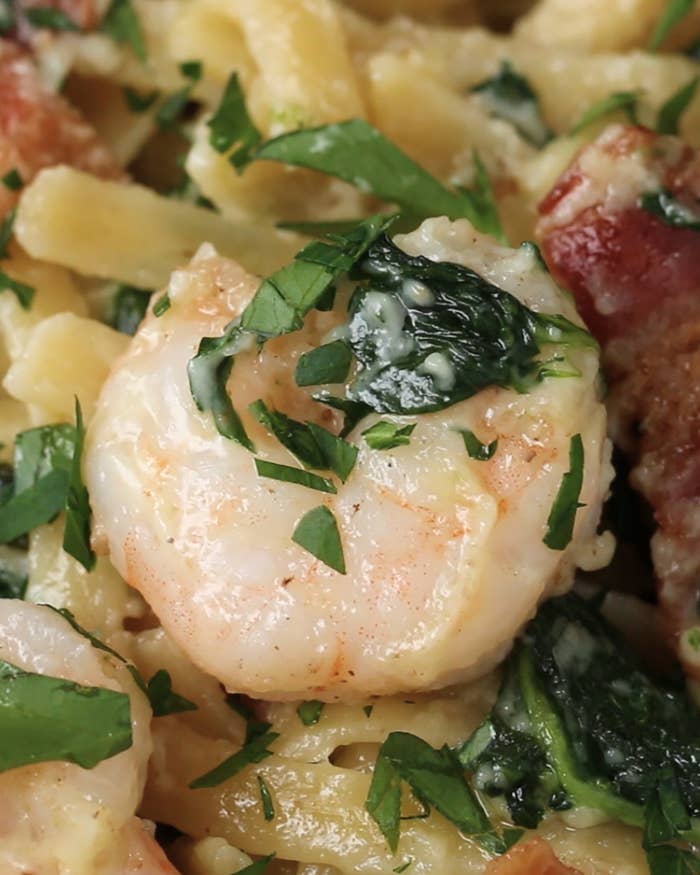 INGREDIENTS
Servings: 8
2 tablespoon butter
1 pound shrimp, peeled and deveined
Salt, to taste
Black pepper, to taste
3 cloves garlic, minced
½ pound bacon, cooked, cut into small strips
7 ounces baby spinach
1½ cups heavy cream
1 pound fettuccine, cooked
¾ cup parmesan cheese, grated
⅓ cup parsley, chopped
PREPARATION
1. In a large pot, heat the butter over medium-high heat until browned.
2. Toss in the shrimp and season with salt and black pepper. Sear just until pink on both sides. Remove the shrimp from the pot and set aside.
3. Sauté the garlic and bacon until fragrant, about 30 seconds. Add in the spinach and stir until it begins to wilt.
4. Pour in the heavy cream and stir the pot to combine. Let the sauce come up to a simmer and reduce until thick and creamy, about 5 minutes.
5. Toss in the fettuccine, sprinkle over the parmesan cheese, and toss to combine.
6. Sprinkle in the parsley and add the shrimp back to the pot. Toss until everything has warmed through.
7. Remove from heat and serve.
8. Enjoy!