Make This Fajita-Stuffed Chicken Breast To Spice Up Your New Year's Resolution
Healthy can be flavorful, too!
by
,
Healthy Fajita-Stuffed Chicken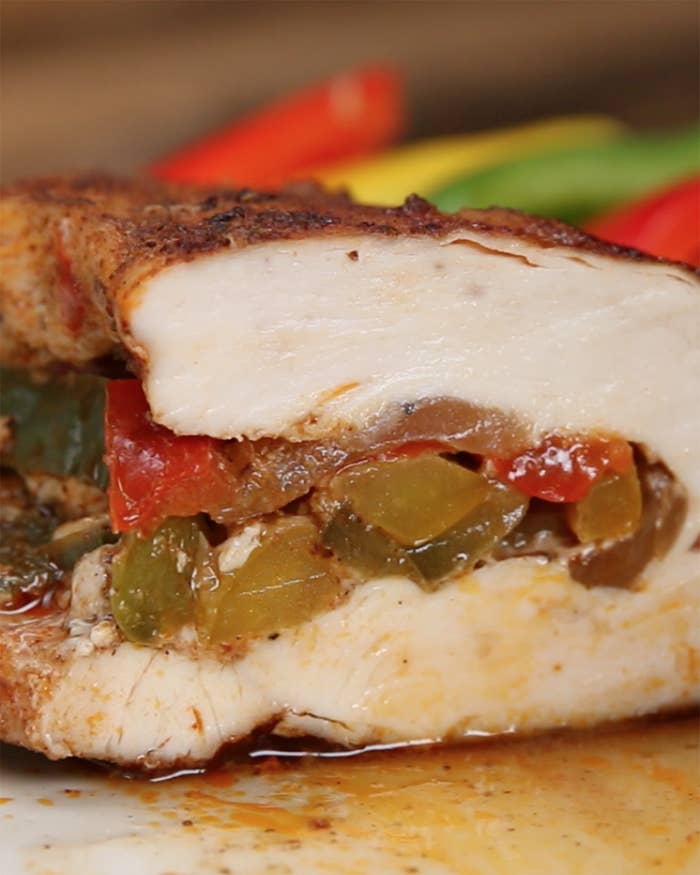 INGREDIENTS
For the chicken:
½ red bell pepper, thinly sliced
½ yellow bell pepper, thinly sliced
½ green bell pepper, thinly sliced
½ white onion, thinly sliced
2 large chicken breasts
2 tablespoons oil, divided
For the fajita seasoning:
1 teaspoon salt
½ teaspoon black pepper
1 teaspoon paprika
¼ teaspoon garlic powder
1 teaspoon chili powder
1½ teaspoons cumin
PREPARATION
1. Preheat oven to 400°F/200°C.
2. In a small bowl, mix together all of the fajita seasoning ingredients and set aside.
3. Heat 1 tablespoon of the oil in a large, ovenproof skillet. Toss in the bell peppers and onions and sprinkle on 2 teaspoons of the fajita seasoning. Sauté until the veggies have softened, about 6 minutes.
4. Using a sharp knife, slice into the side of a chicken breast to form a large pocket, being careful not to cut all the way through.
5. Spoon in some of the fajita pepper mixture so that the breast is comfortably stuffed.
6. Season the chicken on both sides with fajita seasoning.
7. Heat the remaining oil in the skillet and brown the chicken, about 4-5 minutes per side.
8. Transfer the skillet to the oven and bake for 10-15 minutes, until the meat is cooked through.
9. Let the chicken rest for 5 minutes before slicing.
10. Enjoy!