Chili Lime Steak Tacos With Avocado Sauce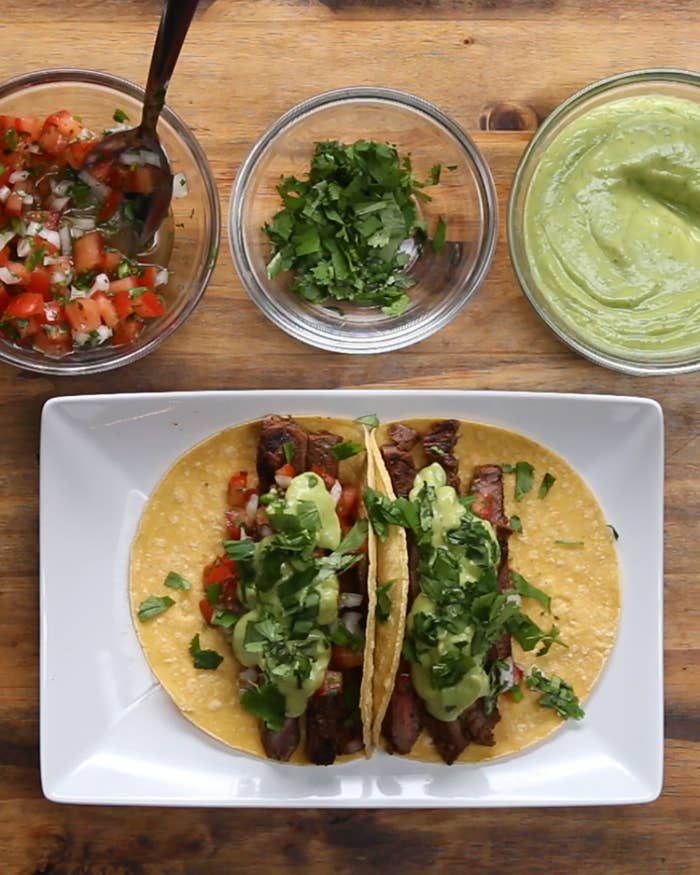 INGREDIENTS
Avocado Cilantro Lime Sauce:
1 ripe avocado
⅓ cup cilantro
3 tablespoons lime juice
⅔ cup water
Salt, to taste
Chili Lime Rub:
1½ teaspoon chili powder
1 teaspoon ground cumin
1 teaspoon dried oregano
½ teaspoon salt
½ teaspoon black pepper
1 clove garlic, minced
2 tablespoons lime juice (1 lime)
½ pound top sirloin steak
Pico de gallo, or salsa of your choice
Corn tortillas
PREPARATION
1. Place the avocado, lime juice, cilantro, water, and salt in a blender or food processor. Blend until smooth and set aside.
2. In a small bowl, combine the chili powder, cumin, oregano, salt, pepper, garlic, and lime juice.
3. Rub the chili lime rub all over the steak in a thin, even layer.
4. Grill the steak on either a grill or stove-top grill pan. To get the "X" grill marks, sear the steak for 1 minute, then adjust about 90 degrees and grill for another minute. Flip the steak when you've achieved desired grill marks and repeat the process on the other side.
5. Allow the steak to rest for 5-10 minutes once taken off the heat.
6. Slice the steak thinly, against the grain of the meat.
7. Prepare the tacos by topping the corn tortillas with a few strips of meat, salsa, the avocado cilantro lime sauce, and cilantro, and serve.
Enjoy!