Chicken Salad With Thai Dressing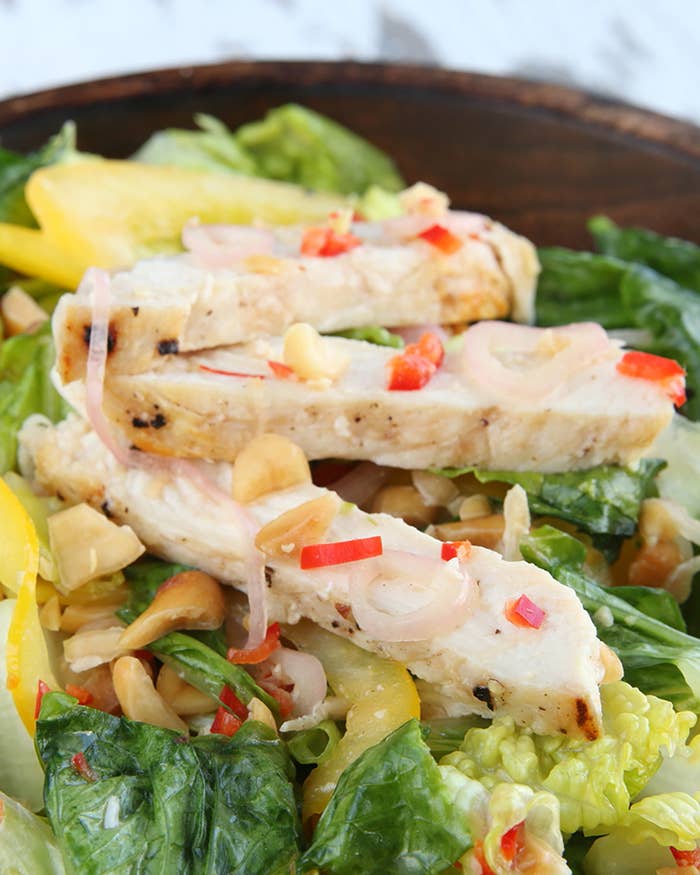 INGREDIENTS
3 romaine hearts, chopped
1 yellow bell pepper, thinly sliced
½ cup peanuts, roughly chopped
1 chicken breast
Salt, to taste
Pepper, to taste
PREPARATION
1. Chop the romaine and slice the bell pepper, placing them in a large bowl.
2. In a small container or bowl, combine all the dressing ingredients and stir or shake until well-combined. Set aside.
3. For the chicken, season both sides of the chicken cutlet with salt and pepper. 4. In a hot, oiled skillet, fry the chicken until fully cooked, about 3 minutes per side.
5. Let the chicken rest for 5 minutes and cut into thin slices.
6. Pour the dressing over the romaine and add the chicken and peanuts. Toss until all the leaves are evenly coated.
7. Enjoy!
Want BuzzFeed Tasty right in your inbox? Sign up for our newsletter!