Chicken Cobb Ranch Salad With Homemade Ranch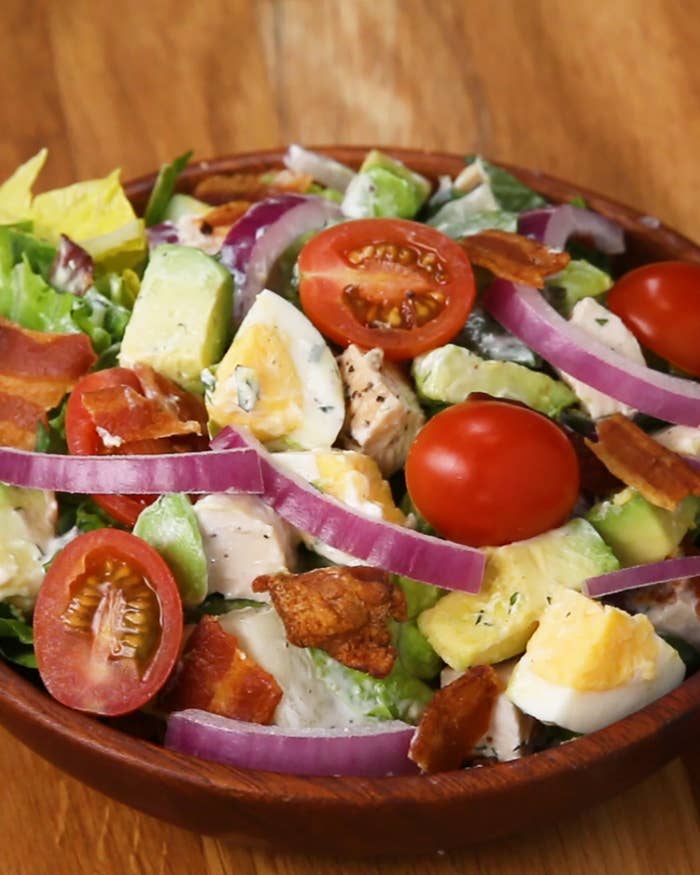 Here's what you'll need:
Homemade Ranch:
* 1 cup full-fat Greek yogurt
* ⅓ cup milk
* 1 tablespoon white vinegar
* 2 tablespoons parsley, minced
* 2 teaspoons dill, minced
* ¼ teaspoon onion powder
* ⅛ teaspoon garlic powder
* ½ teaspoon black pepper
* Salt, to taste
* 2 chicken breasts, boneless and skinless
* Salt, to taste
* Black pepper, to taste
* 1 large head romaine lettuce, chopped
* ½ red onion, thinly sliced
* 1½ cups cherry tomatoes, halved
* 1 avocado, diced
* 3 eggs, hard boiled, peeled, and diced
* 8 strips bacon, cooked and crumbled
Here's what you'll do:
1. Preheat oven to 400°F/200°C.
2. In a medium bowl, combined the Greek yogurt, milk, vinegar, parsley, dill, onion powder, garlic powder, black pepper, and salt and mix until smooth. Set aside.
3. Place the chicken on a greased roasting tray and season both sides with salt and pepper.
4. Bake for 20 minutes, or until the chicken is cooked through and the juices run clear.
5. Let the chicken rest for 5 minutes before dicing.
6. In a large serving bowl, combine the romaine lettuce, red onion, cherry tomatoes, diced chicken, avocado, eggs, and bacon. Pour desired amount of ranch dressing over the salad and toss.
7. Portion the salad among serving bowls and top with more dressing, if desired.
8. Enjoy!