Check Out These Super Satisfying Sweet Potato Breakfast Boats
All aboard the healthy breakfast boats!
by
,
,
Sweet Potato Breakfast Boats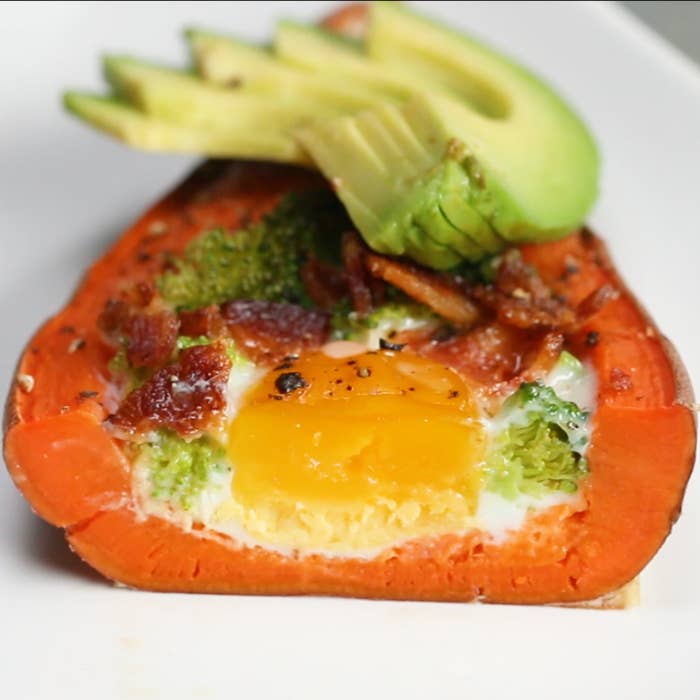 INGREDIENTS
2 large sweet potatoes
4 large eggs
Salt, to taste
Black pepper, to taste
Assorted Fillings And Toppings:
Spinach
Tomato, diced
Broccoli florets
Cheddar cheese, shredded
White onion, diced
Red bell pepper, diced
Bacon, cooked and crumbled
Sriracha
Avocado
PREPARATION
1. Preheat oven to 400°F (200°C).
2. Use a fork to pierce holes all over the sweet potatoes.
3. Microwave the potatoes for 7 minutes until they have softened significantly.
4. Slice the potatoes in half and use a spoon to scrape out the inner flesh, making sure to leave at least a ¼-inch thick border on each side, saving the scooped out potato parts to use for side dishes.
5. Transfer the potatoes to a parchment paper-lined baking sheet.
6. Fill each of the potatoes with 1 egg and an assortment of fillings for whatever flavor combinations you'd like. Season each potatoes with salt and pepper.
7. Bake for 8-12 minutes, until the egg has cooked to preferred doneness.
8. Top the potatoes and side dishes with your choice of topping and garnishes and serve.
9. Enjoy!