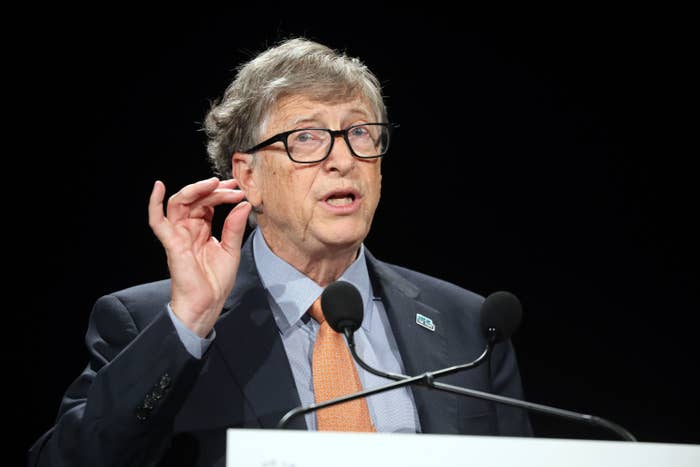 The journalists at BuzzFeed News are proud to bring you trustworthy and relevant reporting about the coronavirus. To help keep this news free, become a member and sign up for our newsletter, Outbreak Today.
A false Bill Gates quote about "spirituality" and the novel coronavirus appeared on social media on Sunday; within a day, after being shared by some verified Facebook pages with millions of followers, it was written up by two of Britain's biggest news publishers.
Its journey demonstrates the breakneck speed at which a falsehood can start on WhatsApp and take on a life of its own, becoming impossible to suppress when given a boost by major public figures and mainstream media outlets.
The lengthy quote falsely attributed to Gates describes the "spiritual" purpose behind the coronavirus.
It warns against consuming water "contaminated with chemicals upon chemicals" and concludes "whereas many see the Corona/ Covid-19 virus as a great disaster, I prefer to see it as a *great corrector*".
A spokesperson for the Bill and Melinda Gates Foundation confirmed to BuzzFeed News that the Microsoft cofounder did not say these words.
The false quote appears to have started in a few small Facebook groups on Sunday evening, according to a BuzzFeed News analysis using CrowdTangle, a social media monitoring tool.
The quote then got a huge boost on Monday when it was shared by major Facebook accounts, including that of Julian Lennon, a British singer and son of John Lennon.
Julian Lennon has 1.4 million Facebook followers. His post gained thousands of likes and shares in under 24 hours.
His post begins with a disclaimer: "(I haven't verified this yet, but it's more about the point that is being made, rather than who said it...)"
It also contains an unorthodox writing style: "Our true work is to LOOK AFTER EACH OTHER as our Grand Parents did , to PROTECT each other & to be of BENEFIT to one another."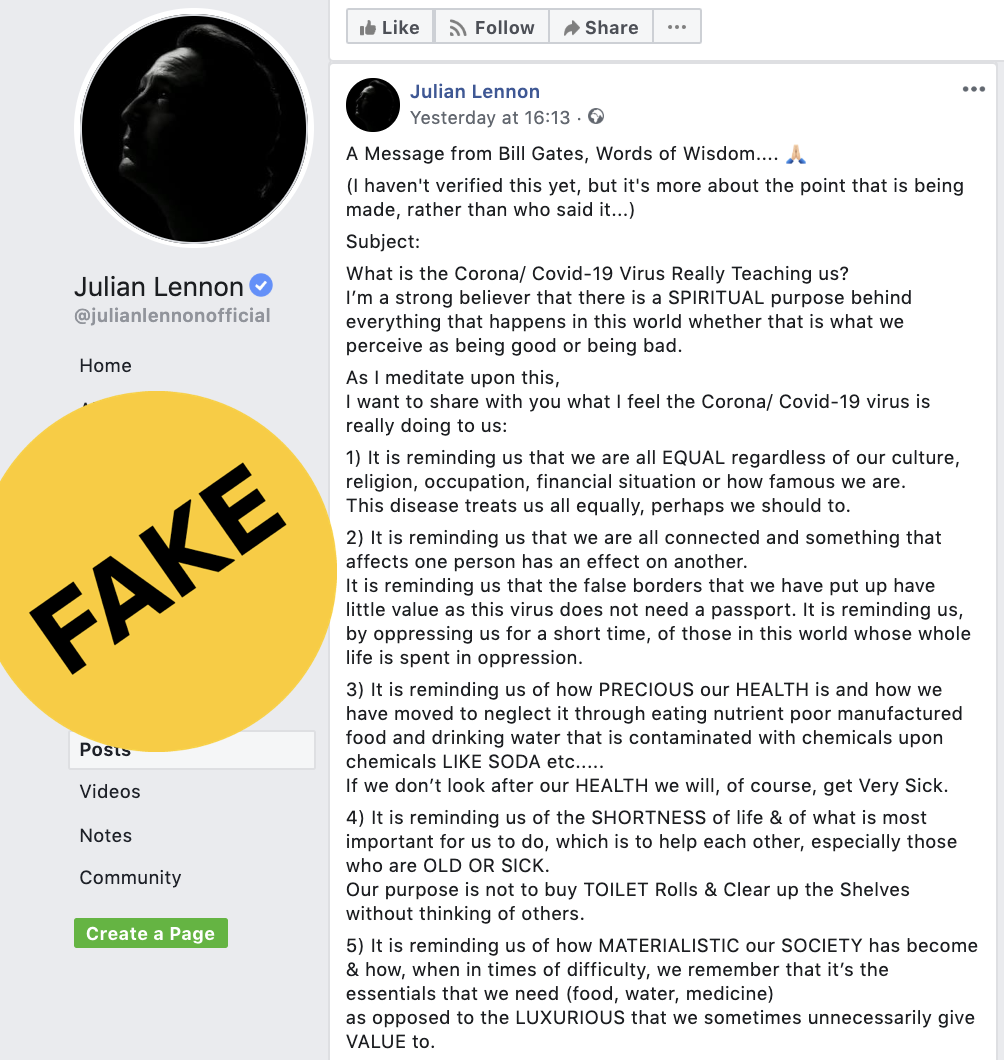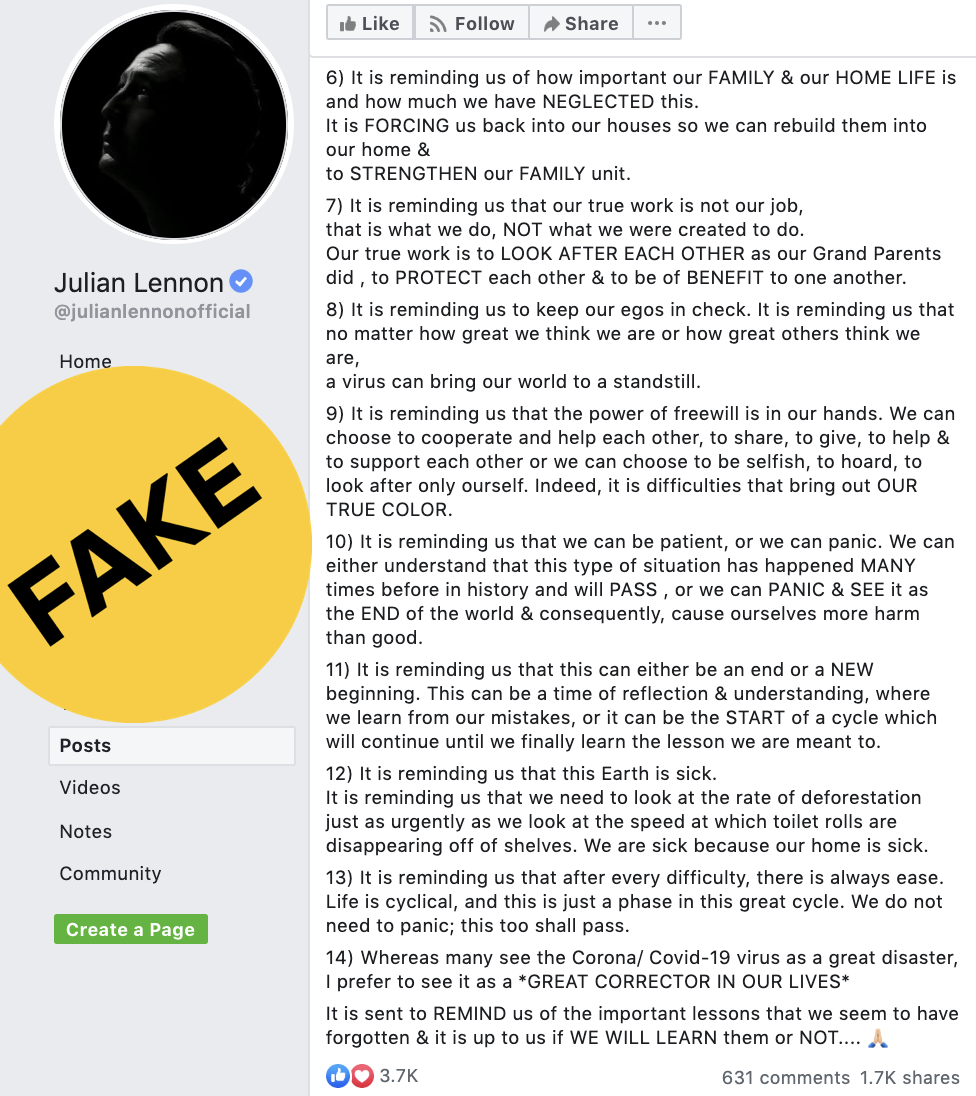 Last week, BuzzFeed News reported that Julian Lennon's Facebook page was one of the biggest accounts to share a viral list of "positive news" about the coronavirus, which a fact-checking site has deemed "mostly true" but with misleading elements and lacking important context.

On Monday the false quote was also shared by several large Facebook pages with a blue verified tick, including those of Doc Willie Ong, a Filipino doctor with 12 million followers, and CafeBiz, a Vietnamese news site with 1.1 million followers.
Some of the other versions of the post do not include the unorthodox capitalisations, making it seem more legitimate.
BuzzFeed News has been contacted by Mohammed Ali, a business consultant and 'Facebook philosopher' from London, who claims the quote was first published on his own Facebook wall - not attributed to Gates - on March 16.
"Obviously if it's got Bill Gates' name on it, it's going to get a lot more reach than someone from Harrow, so I'm pretty flattered basically," he told BuzzFeed News.
The post does preexist any other example we could find, though we were not able to 100% verify the claim.
The false quote also received a huge boost from the Instagram account of UniLad, a British youth-oriented news site, which has 3.8 million followers.
The post was deleted after Unilad was contacted by BuzzFeed News.
A spokesperson said: "UNILAD is working hard to ensure we are informing our global audience as well as sharing positive, hopeful messages at this time of worry and anxiety. We shared an uplifting quote which has since been revealed to be a hoax. It was a mistake and we have removed the post. We apologise for the error."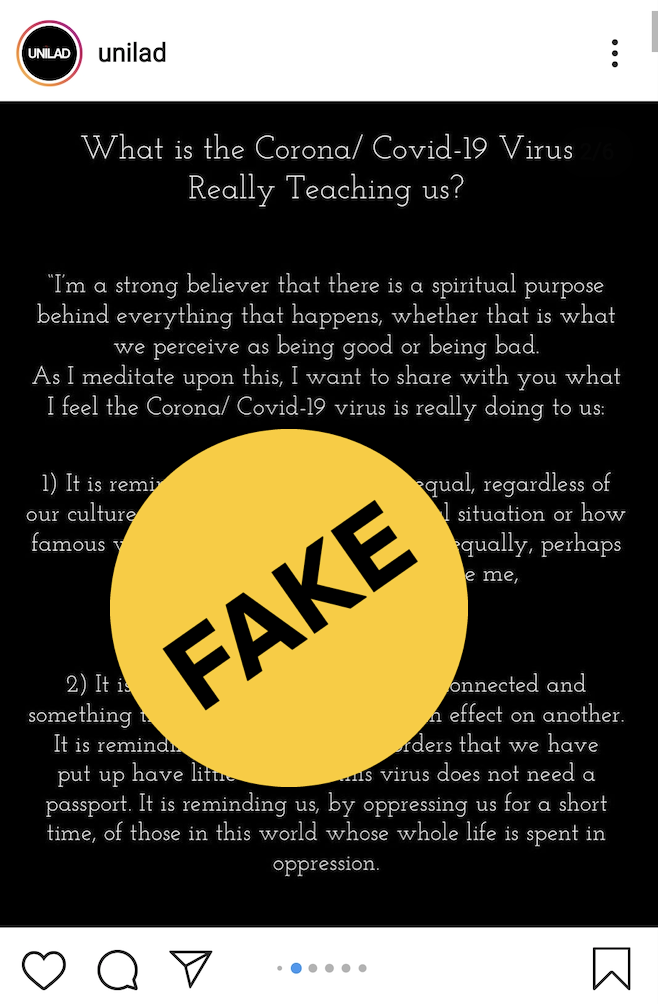 The best-known outlet to write up the false quote was the Sun, Britain's highest-circulated paid-for newspaper, and in the Metro, which is given free to commuters.

Searching "Bill Gates coronavirus" on Google brings up a result for an article on the Sun's website, headlined, "Bill Gates Coronavirus Letter Reminds Us We Are All Equal". It has since been deleted.

A spokesperson for the Sun said: "In the heat of events yesterday, The Sun online mistakenly published a spoof story which was doing the rounds on WhatsApp. The story has now been removed. Every day The Sun chooses not to publish hundreds of stories and we apologise for this error."
Although we can track the spread of the false quote on Facebook, Instagram, and Twitter, it is not possible to see how far it has spread by email or WhatsApp, an encrypted messaging platform owned by Facebook.
This is not the first time an online quote has been mistakenly attributed to Gates. In 2016, Snopes debunked a story about Gates supposedly saying vaccinations are a tool for governments to depopulate the world.
Although the "spirituality" quote is false, Gates has spoken at length about the coronavirus, recently taking part in an "Ask Me Anything" session on Reddit.
The internet has long been a breeding ground for quotes falsely attributed to famous figures.
In 2017, Donald Trump posted and then deleted a Twitter and Instagram post with a picture of Abraham Lincoln alongside the quote "In the end, it's not the years in your life that counts, it's the life in your years". Lincoln never actually said this.
Fake George Orwell quotes also do a roaring trade on social media — one common favourite is "during times of universal deceit, telling the truth is a revolutionary act".
This "spiritual" post attributed to Bill Gates may not be the most sinister example of coronavirus-related misinformation compared to rumours of troops marching through London or claims that the virus is a "bioweapon".
But the speed with which a falsehood can jump from untraceable WhatsApps to major news outlets is a cautionary tale, as everyone sits at home refreshing, screenshotting, and forwarding, gripped by the latest news about this pandemic.
The full quote falsely attributed to Bill Gates:
What is the Corona/ Covid-19 Virus Really Teaching us?


I'm a strong believer that there is a SPIRITUAL purpose behind everything that happens in this world whether that is what we perceive as being good or being bad.




As I meditate upon this,
I want to share with you what I feel the Corona/ Covid-19 virus is really doing to us:




1) It is reminding us that we are all EQUAL regardless of our culture, religion, occupation, financial situation or how famous we are.
This disease treats us all equally, perhaps we should to.




2) It is reminding us that we are all connected and something that affects one person has an effect on another.
It is reminding us that the false borders that we have put up have little value as this virus does not need a passport. It is reminding us, by oppressing us for a short time, of those in this world whose whole life is spent in oppression.




3) It is reminding us of how PRECIOUS our HEALTH is and how we have moved to neglect it through eating nutrient poor manufactured food and drinking water that is contaminated with chemicals upon chemicals LIKE SODA etc.....
If we don't look after our HEALTH we will, of course, get Very Sick.




4) It is reminding us of the SHORTNESS of life & of what is most important for us to do, which is to help each other, especially those who are OLD OR SICK.
Our purpose is not to buy TOILET Rolls & Clear up the Shelves without thinking of others.




5) It is reminding us of how MATERIALISTIC our SOCIETY has become & how, when in times of difficulty, we remember that it's the essentials that we need (food, water, medicine)
as opposed to the LUXURIOUS that we sometimes unnecessarily give VALUE to.




6) It is reminding us of how important our FAMILY & our HOME LIFE is and how much we have NEGLECTED this.
It is FORCING us back into our houses so we can rebuild them into our home &
to STRENGTHEN our FAMILY unit.




7) It is reminding us that our true work is not our job,
that is what we do, NOT what we were created to do.
Our true work is to LOOK AFTER EACH OTHER as our Grand Parents did , to PROTECT each other & to be of BENEFIT to one another.




8) It is reminding us to keep our egos in check. It is reminding us that no matter how great we think we are or how great others think we are,
a virus can bring our world to a standstill.




9) It is reminding us that the power of freewill is in our hands. We can choose to cooperate and help each other, to share, to give, to help & to support each other or we can choose to be selfish, to hoard, to look after only ourself. Indeed, it is difficulties that bring out OUR TRUE COLOR.




10) It is reminding us that we can be patient, or we can panic. We can either understand that this type of situation has happened MANY times before in history and will PASS , or we can PANIC & SEE it as the END of the world & consequently, cause ourselves more harm than good.




11) It is reminding us that this can either be an end or a NEW beginning. This can be a time of reflection & understanding, where we learn from our mistakes, or it can be the START of a cycle which will continue until we finally learn the lesson we are meant to.




12) It is reminding us that this Earth is sick.
It is reminding us that we need to look at the rate of deforestation just as urgently as we look at the speed at which toilet rolls are disappearing off of shelves. We are sick because our home is sick.




13) It is reminding us that after every difficulty, there is always ease. Life is cyclical, and this is just a phase in this great cycle. We do not need to panic; this too shall pass.




14) Whereas many see the Corona/ Covid-19 virus as a great disaster, I prefer to see it as a *GREAT CORRECTOR IN OUR LIVES*




It is sent to REMIND us of the important lessons that we seem to have forgotten & it is up to us if WE WILL LEARN them or NOT....