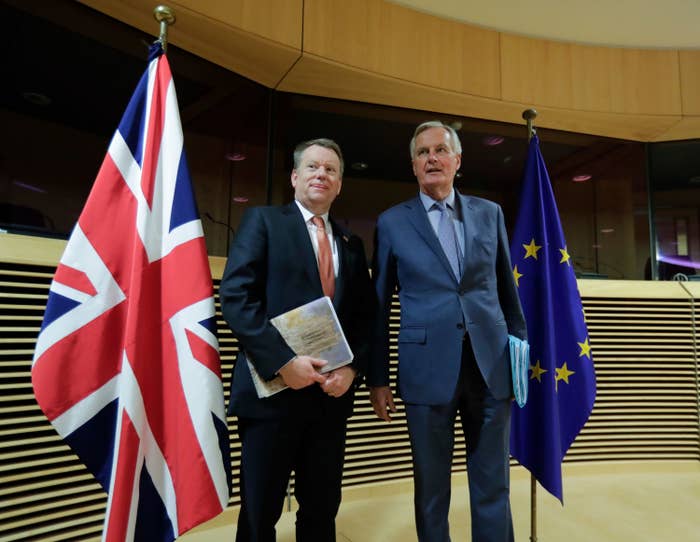 The coronavirus is making it difficult for Britain and the EU to continue the Brexit negotiations even by video conferencing because some of the European Commission officials are now working from home as a result of the outbreak, BuzzFeed News has learned.
The two sides were due to meet in London next week for the second round of negotiations, but those face-to-face talks have been cancelled.
Now UK officials are concerned that even remote talks will be impossible because of security concerns about commission staff video conferencing from home, a source familiar with the discussions told BuzzFeed News.
Negotiators are aiming to do some video calls before Easter but even this is in doubt, according to an internal email seen by BuzzFeed News.
A UK government spokesperson said "both sides are working constructively to ensure that talks can continue despite the coronavirus".
An EU source told BuzzFeed News that the two sides were in touch and still hoped to find a solution for some form of video conference to be held next week.
The European Commission, which leads negotiations for the EU side, announced on Thursday that all non-essential staff were invited to work from home as of next week.
The internal email also states that the UK is aiming to share its legal text on the free trade agreement with the commission early next week, on condition that it is not forwarded to member states or the European Parliament — a continuation of the secretive tactic adopted by Britain in the withdrawal agreement talks last year.
The UK government spokesperson confirmed the text would be shared next week, adding "we will share texts as the basis for confidential discussions with the EU, as would be normal at this point in the negotiations. We will consider whether it is useful to publish as those discussions proceed."
EU chief negotiator Michel Barnier confirmed on Friday that a draft trade agreement outlining the bloc's latest position had already been sent to other EU institutions for discussion.
Since leaving the EU on January 31, the UK is in a Brexit "transition period", during which it follows most EU rules while a trade deal negotiations take place. This is set to end on December 31.
The prime minister's spokesperson denied on Friday that this period may be extended because of coronavirus, saying "In UK law, a request for an extension is not possible".