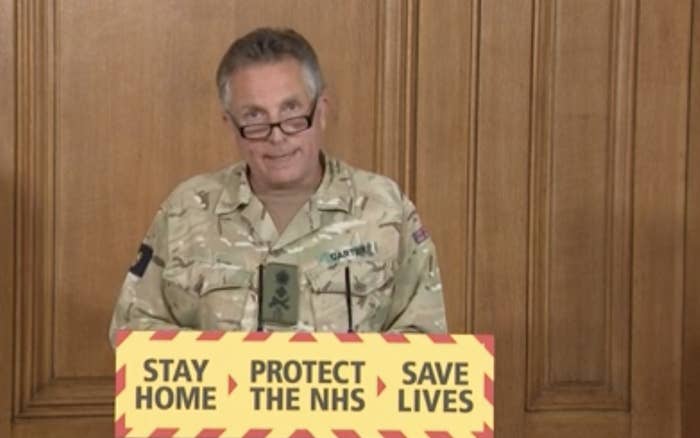 The journalists at BuzzFeed News are proud to bring you trustworthy and relevant reporting about the coronavirus. To help keep this news free, become a member and sign up for our newsletter, Outbreak Today.
A British Army unit that specialises in using social media and internet data to carry out information warfare is helping the government fight online misinformation relating to the coronavirus, the UK's most senior military officer revealed on Wednesday.

General Sir Nick Carter, chief of the defence staff, said members of the army's 77th Brigade were "helping to quash rumours about misinformation, but also to counter disinformation".
Carter, who was speaking at the UK government's daily press conference dedicated to the coronavirus response, said officers were working alongside officials in the Cabinet Office's "rapid response unit" tasked with tackling misinformation and disinformation.
A government spokesperson told BuzzFeed News that military staff have been "tackling a range of harmful narratives online — from purported 'experts' issuing dangerous misinformation to criminal fraudsters running phishing scams".
He added that the UK would also be "deploying two experts in countering disinformation for the formation of NATO's COVID-19 communications hub".
Soldiers in the 77th Brigade, which was formed in 2015, are based in Berkshire and spend their time producing video and audio content, using data to understand how the public receives different messages, and creating "attitude and sentiment awareness" from large sets of social media data, according to a 2018 report by Wired.
While some "information campaigns" are openly the voice of the military, others are covert. These include those dedicated to counter-piracy, counter-insurgencies and counter-terrorism, the Wired story said, adding that almost half of the personnel were "reservists from civvy street, with full time jobs in marketing or consumer research".
According to the brigade's website, its aim is to "challenge the difficulties of modern warfare using non-lethal engagement and legitimate non-military levers as a means to adapt behaviours of the opposing forces and adversaries".
As well as causing over 18,000 deaths in the UK so far, the coronavirus has also led to an epidemic of misinformation spreading online.
Claims have included potentially harmful medical myths, and false rumours about the Army marching through the streets of London.
Public figures have been criticised for promoting debunked claims and social media companies have come under fire for not doing enough to combat them.
One widely circulated myth links 5G mobile networks to the spread of the virus, which has no basis in scientific evidence but has been promoted by celebrities including TV presenter Eamonn Holmes to a mass audience on national television.
Last year, Middle East Eye reported that Twitter executive Gordon MacMillan was also an officer in the 77th Brigade, though both Twitter and the Ministry of Defence denied any formal relationship.
The British Army is also deploying two "experts in countering disinformation" to NATO's COVID-19 Communications Hub, a government spokesperson told BuzzFeed News.