This is his story: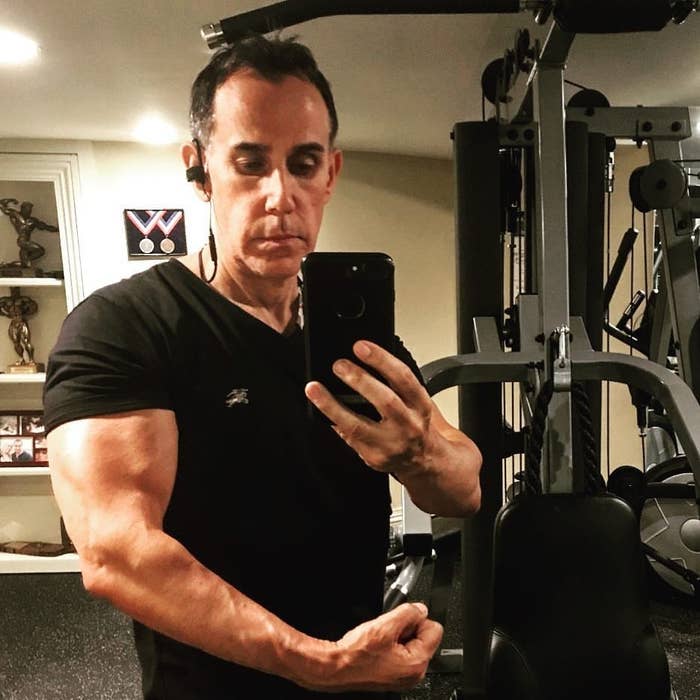 Competition In The NPC Nationals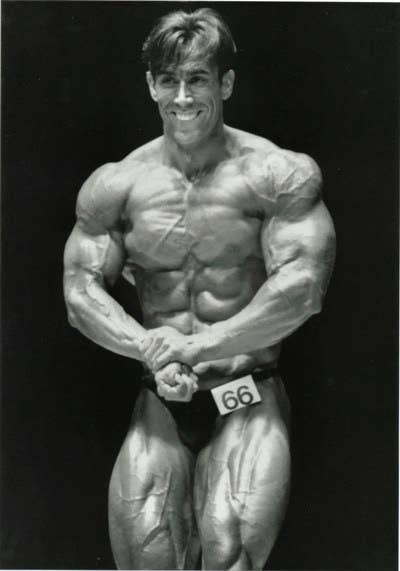 Trouble With Consistency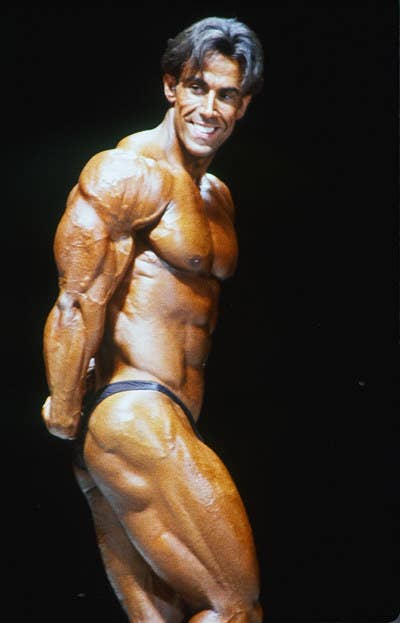 Proudest Moment
Armand's proudest moment to date was when he became a father.
Training
Armand is a firm believer in using free weights for building solid muscle. He says this is where the most muscle stimulation occurs. He also likes to stress the importance of developing the supporting muscle through isolation exercises.
This, as Armand puts it, is to avoid the risk of injury through muscle imbalances. "You are only as strong as your weakest link."
Here is Armand talking about his training approach to sets and reps;
"I always use free weights when I'm doing any low rep heavy lifting, and then move on to high rep drop sets with machines. Machines play an important role for me whenever it's time to shock any muscle group with intense high rep drop sets or deplete glycogen for contest prep."
"In a nut shell I train muscle groups once a week split into thickness and width. I owe my aesthetics and symmetry to this training program."
A lot of bodybuilders have their own approach to cutting up for a competition, some like steady state cardio on the treadmill or cross trainer. While others like to use spinning bikes or other HIIT circuits. Armand likes the Stairmaster, this, he says, gives him the best results.
"Nothing gets me cut up and ready for a competition faster, or more efficiently while sparing muscle mass, than High-intensity interval training.
Armand's Training Routine
Monday – Chest/Triceps/Calves
Flat Barbell Bench Press 4×8
Incline Barbell Bench Press 4×8
Pec deck Flies 3x drop set
Cable Tricep Extension 3×12
Skull Crushers 3×12
Dumbell Tricep kickbacks with very light weight
Tuesday – Legs/Abs
Squat 4×8
Leg Press 3×8
Leg Extensions 3x drop set
Stiff Legged Deadlift 4×8
Leg Curls 3x drop set
Cable Abdominal Crunches
Wednesday - Rest
Thursday – Back/Traps/Calves
Bent Over Barbell Rows 3×8
Bent Over V-Bar Rows 3×8
Seated Cable Rows 3x drop Set
Deadlift 3×8
Barbell Shrug 4×8
Standing Calf Raises
Friday – Shoulders/Biceps/Abs
Military Press 3×8
Barbell Upright Rows 3×8
Side Raises 3x drop set
Rear Pec Deck 3x drop set
Barbell Curls 3×12
Hammer Curls 3×12
Cable Curls 3x drop set
Leg Raises
Saturday
Sunday - Rest
Recovery day
Nutrition
Being a fan of high carb, low fat eating when getting ready for competitions or photo shoots, Armand would extend his carb eating to get the most benefit. His diet would normally consist of 3 days carb, 3 days no carb cycling split; 250 gr, 150,100. There were times when he'd add in an extra day of two of low carbs at 50g per day to get the best results.
Here's Armand talking about his ratio of low carb days and extra cardio;
Armand's martial arts background kept him looking lean most of his bodybuilding career, once he started lifting weights, he managed to stay at around 8% bodyfat in his peak.
After he gained 8kg of lean muscle during his bulking phase through good nutrition and a solid training program, he's a firm believer in clean bulking.
Armand's Supplements
Whey
Multi Vitamin
Creatine
BCAA's
Omega 3
ZMA
Pre-workout when I need an extra boost
Vitamin C (severely underestimated)
Idols and Influences
He studied many books of Arnold, Frank Zane and many other closely for years, this sparked a keen interest in wanting to become a professional bodybuilder. As Armand puts it; "Like a proper artist or architect I took all the tools and tricks and glued them together into my own method and process."
Some other idols and influences are Flex Wheeler, which he actually had the pleasure to meet in person. Kevin Lavrone and Lee Labrada are also huge inspirations for Armand. He was lucky enough to receive positive comments from these larger than life legends. Their supportive comments, after his first competition win inspired him to be more like his idols.
What we can learn from Armand Peri