CORVALLIS, Ore. — The mass text message went out on the morning of Aug. 25, 2008, a reminder from Oregon State University men's basketball coach Craig Robinson that everyone should tune into any one of the major news channels that evening. This had nothing to do with basketball. Instead, Robinson was slated to introduce his younger sister Michelle Obama on the opening night of the Democratic National Convention. His speech would come two days before Barack Obama would officially accept the party's presidential nomination.
One of the people who received the text message was Roberto Nelson, then a 17-year-old basketball star from Santa Barbara, Calif. Robinson had entered Nelson's life only a few months earlier during a recruiting visit. Nelson came away especially impressed with Robinson, in part because the coach never brought up the subject of basketball.
"That was totally different from all the other coaches," Nelson told BuzzFeed. "We just hit it off immediately. You could tell that he really cared about me as a person."
Nelson was dazzled when he saw Robinson introduce the future first lady. Robinson strode to the stage in a black suit and bright orange tie, the colors of Oregon State. "Today," Robinson told the crowd, "I'm proud to be the coach of the Oregon State men's basketball team. Go Beavers!" "It was so powerful," Nelson said recently, still awed at the memory. Nelson committed to Robinson and the Beavers a few weeks later, choosing the traditional basketball doormat over national powers such as UCLA, Florida, and Ohio State.
"I had to explain it to people," recalled Nelson, now a 23-year-old fifth-year senior for the Beavers. "I was thinking more about my future than they were. I understood the vision that Coach Rob had."
That vision includes living meaningful lives on and off the court, the sort of well-rounded experience that so many colleges claim to offer to their athletes. The 6-foot-7-inch Robinson is the embodiment of that ideal: He was a two-time Ivy League Player of the Year, a graduate of Princeton University and the University of Chicago Graduate School of Business. He was a successful businessman before he pursued a career as a college basketball coach.
Robinson lived up to expectations at Oregon State in all ways — except basketball. So Craig Robinson epitomizes an uncomfortable question: Is it enough for a coach to mentor boys into accomplished men in full, or does he also have to win?
Now at the end of his sixth year in Corvallis, Robinson has a record of 94-105 overall, 39-69 in the PAC-12 Conference. Oregon State has finished better than eighth place in the league only once.
The nadir came Wednesday in a third-tier post-season tournament called the College Basketball Invitational. The Beavers got eliminated in the first round, losing 96-92 at home to to Radford — a team that in regular season had lost by double digits to Hampton and Virginia Military Institute and that had exactly one starter taller than 6 feet 4 inches. In the arena, the number of empty seats was jarring. "I was told there were more people at Gill Coliseum for the 4A girls consolation finals Saturday morning than tonight," tweeted Steve Gress, the sports editor from the Corvallis Gazette-Times.
The next morning, The Oregonian — the state's largest daily newspaper — ran this headline: "Should Oregon State Beavers fire Craig Robinson?" Nearly two-thirds of the more than 4,000 voters chose this option: "Yes. He's had enough time to show what he can do … and it's underwhelming."
In his best-selling memoir A Game of Character: A Family Journey from Chicago's Southside to the Ivy League and Beyond, Robinson explains his theory — learned from his late father — that "you could tell everything you needed to know about someone by how they played the game." He famously used a pickup game in 1990 to assess the character of his sister's new beau at the time, a young Chicago lawyer named Barack Obama. "He was real, down-to-earth, a good guy," Robinson wrote. "He had passed the test with a definitive thumbs-up on his playing and character."
"Playing and character." By his own account, both measures matter. But on the first, Robinson's Oregon State hasn't been good enough to succeed against its peers in the PAC-12.
This is a story about Craig Robinson and whether that uncomfortable but unavoidable fact should matter. Almost any parent would want Craig Robinson to mentor their son. Whether at work or home, he has made it known that the door is always open to his players. In his memoir, he wrote of "letting (his) players see me not just as a basketball expert — but also as a husband, a father, and a citizen," a change from Princeton, where he never even met his coach's wife.
Nelson, as much as anyone, has taken advantage of the open-door policy. There was the time, he said, that he told Robinson about his plans to retire at 50. Robinson gave his protégé a lesson in financial planning.
"He told me, 'If you have a kid, just think about the price of college tuition now compared to how much it's going to be,'" Nelson said. "That kind of set me back. Like, basically, I can't stop working. I have a long way to go before I'm financially where I want to be."
"He's still a young man trying to figure things out; it was one of those lightbulb moments for him," Robinson said. "I really try not to be too preachy. I learned that from my own dad. My dad was an easy guy to talk to. He wasn't judgmental. And I just found if I come at it from that sort of angle, these guys will sit there and listen and ask more questions." Robinson's biography parallels the first couple's: Their stories all involved modest upbringings, Ivy League educations, Chicago connections, professional success, and national prominence. But while the president plays basketball as a hobby, Robinson chose it as a career.
After playing for Hall of Fame coach Pete Carril and graduating from Princeton, Robinson secured a spot in a sales training program with Proctor & Gamble and then pursued a roster spot with the Philadelphia 76ers. Robinson, who knew the odds of making it in the NBA were long, was one of the team's final cuts.
In his memoir, Robinson remembers 76ers assistant coach Matt Guokas telling him, "You've got a job with P&G, so you don't need to worry about this." It's been a common thread in his life; Robinson's talents have always seemed to be meant for more than games. "I was livid," Robinson said. And he continued to pursue his hoop dream, spending two years with a professional team in Manchester, England.
When his playing days were finally over, Robinson returned to Princeton to talk with Carril about getting into coaching. Robinson remembers the famously irascible coach encouraging him to make another career choice, calling it a "dead-end, no-win, thankless job."
Carril doesn't quite remember it that way. "I wouldn't say it was a dead-end job. But he didn't come to Princeton and study his rear end off to get into something like coaching," he said. "Craig had talent in other areas, so I thought it'd be better for him to do that. I just suggested other alternatives."
Robinson became a broker at the retail brokerage firm Dean Witter, got married, had two children, and settled into a comfortable life in Chicago. He spent the rest of the decade as a bond trader, including seven years as a vice president of the firm.
In time, however, the six-bedroom home, high-six-figure salary and related perks — the Porsche, designer suits, jewelry, and five-star vacations — weren't enough to sustain him or his marriage, he wrote. By the end of the decade, his marriage was on the rocks, and he seized an opportunity to coach at a local high school. Robinson got immediate results, helping the University of Chicago Lab School win its first league championship in 25 years.
Still, "I had no idea that I'd eventually end up coaching" full-time, Robinson said, sitting in his office. "I went into investments and thought I had it all figured out. Then, boom, things change. Your life takes on a life of its own."
The moment of decision came on the trading floor the day after Labor Day 2000. Robinson took a phone call from new Northwestern coach Bill Carmody — another former Carril assistant — who offered him a position on his coaching staff. Robinson would become a 38-year-old assistant coach, an especially late start in a career that values youth and energy.
Even more inauspiciously, Robinson has said he made a fraction of what he was making in finance. That was particularly bad timing for someone going through a divorce settlement that required him to make child-support payments based on his former earnings. He was forced to move back into his childhood home on Chicago's South Side with his mother.
At Northwestern, Robinson helped turn "a basement program into a competitor." The Wildcats never reached the NCAA tournament and rarely finished in the top half of the Big 10 Conference, but they were no longer a doormat. Unbeknownst at the time, this stretch would look an awful lot like his time at Oregon State. "We started in the basement," Robinson said. "It's hard to get people to understand that. They want stuff fast." He moved on to his first college head-coaching opportunity in 2006 with Brown University, an Ivy League school without much basketball pedigree or the ability to award athletic scholarships. Robinson accepted the job on a Monday in June and married his current wife, the former Kelly McCrum, that very Saturday.
Brown — a school that was barely drawing 1,000 fans per game — got stuff fast. By the end of his second year, Robinson had won a school-record 19 games and led the Bears to only their fourth postseason berth (albeit in the less prestigious College Basketball Invitational) in 108 years. He'd even managed to split a two-game series with Northwestern and win all four games against Princeton.
He did it by taking the renowned Princeton offense — a system of constant motion, passing, and backdoor cuts — he learned under Carril, the motivational abilities of Carmody, and his own natural leadership ability to win trust and build the confidence of a players in a program accustomed to losing.
"He was always there as a role model, a coach, and a mentor," said Damon Hoffman, who played his final two seasons at Brown under Robinson. "There was never a doubt about whether he was going to be a great coach. But his personality and demeanor is meant for a big-time program. We knew that right away. There was no hesitation."
On the other side of the country, more than 3,000 miles away, Oregon State was looking for someone who just wanted the job after finishing 6-25, including 0-18 in the league. The Beavers even lost to Division II Alaska-Fairbanks. At least three candidates — it's rumored as many 30 coaches were contacted — had already turned down what was then the PAC-10's worst job.
As Oregon State was reeling from those rejections, Robinson's agent reached out to Beavers athletic director Bob De Carolis. Robinson didn't have the experience typical of most other big-time college coaches, but the Beavers were open to trying something different.
There were skeptics close to home. "Robinson has one winning season as a head coach," wrote The Oregonian's longtime sports columnist John Canzano. "It's a ridiculous hire."
OSU President Edward Ray told ESPN.com that De Carolis, who didn't respond to numerous requests for an interview, did not tell him about their new coach's famous family ties until late in the process. "And I said, 'You know what, if he doesn't win some basketball games, nobody is going to give a damn who his brother-in-law is.'" Robinson entered Roberto Nelson's life during an especially wrenching period. Only a couple months before Nelson's senior year of high school, his father Bruce Nelson
was sent to prison for a sex offense
.
The case was big news in Santa Barbara, where Roberto was one of the city's most-celebrated athletes and his father was an assistant basketball coach at the same high school. Bruce Nelson, himself a former high school star and college athlete, had poured much of his life into the development of his only son. Their relationship was first detailed in the book Play Their Hearts Out, a look at the sleazy side of the youth basketball circuit by Pulitzer Prize-winning journalist George Dohrmann.
After Roberto's father was sent to prison, his grades suffered, putting his college eligibility in jeopardy. He endured numerous slights at school. He ached for his father.
Then he met Robinson, who was a model for balancing athletics and academics. "He stepped in and picked up that void and helped Roberto keep his head," Bruce Nelson told BuzzFeed.
Yet when Roberto committed to Oregon State, his father was disappointed. He wanted him to go to a traditional powerhouse, Ohio State, near where Bruce was raised and still has family, or UCLA. Of course, Bruce Nelson was in no position to help or advise his son from prison. Even today, his disappointment lingers.
"That just came too far out of left field," said the elder Nelson, who was released from Tehachapi State Prison in December 2011 and remains in Santa Barbara, looking for work as a coach again. "When you look at the schools he could have gone to, you kind of have to scratch your head. I didn't think Roberto could go there and resurrect things." The best way to get to Oregon State University is to catch a flight into Portland, drive about 80 miles south on Interstate 5, then head west on Highway 34 for 10 miles until you find yourself on the campus of the state's sprawling land grant university. Founded in 1868, the school of 26,000 sits in the heart of the Willamette Valley, perhaps best known as the idyllic culmination of the Oregon Trail.
The highway into town is lined with old barns and lush green pastures tended to by flocks of sheep. The picturesque Coast Ridge mountains separate the Valley from the Pacific Ocean.
"It was an eye-opening experience coming here to visit, seeing how rural it is," Robinson said. "But having been to some colleges in other rural areas before, it wasn't like I had sheep shock."
It's almost hard to believe anyone ever played big-time college sports, let alone basketball, out here. But it happened: Oregon State was the nation's third-winningest college basketball program as recently as a couple decades ago.
The Beavers flourished under Hall of Fame coaches Amory "Slats" Gill, for whom the university's arena is named, and Ralph Miller. This long run of success got its start in the 1930s and lasted through the '80s. The last whiff of national relevance for the program came in 1990, the first season after Miller's retirement. The Beavers won a share of the PAC-10 championship and made their last NCAA tournament that year, led by Player of the Year and future NBA Hall of Famer Gary Payton.
Prior to Robinson's arrival, four coaches had tried and failed to resurrect the program. They combined for only two non-losing seasons in the preceding 18 years.
What happened?
Well, Oregon State and Corvallis don't have the same panache or entertainment options of conference rivals UCLA and USC (Los Angeles), and Stanford and Cal (California's Bay Area), or Washington (Seattle). Nor does it have the sun and lively social scene of Arizona (Tucson) and Arizona State (Tempe). None of the post-Ralph Miller coaching hires were able to recruit well enough to make up for such disadvantages. And in a region that develops precious little top-tier basketball talent of its own, no recent blue-chip prospect from Oregon has signed with the Beavers. That list includes NBA players Damon Stoudamire (Arizona), Kevin Love (UCLA), and Mike Dunleavy and Kyle Singler (Duke).
"Now we're recruiting nationally and not getting anywhere with it," said Ron McCoy, one of the program's biggest boosters.
That's mostly because there's been a titanic shift in college basketball since Oregon State was a powerhouse. In those intervening years, basketball for players aged 12 to 18 has been transformed by powerful athletic apparel companies such as Nike and Adidas, which bankroll youth all-star circuits. In this system, virtually all of the nation's best players — many of them in Southern California — are funneled to top college programs. OSU is no longer one of them.
"Oregon State is a school you go to when no one else wants you," said Brian Beard, former coach of the powerful Compton (Calif.) Magic summer basketball program. "A guy born and raised in L.A. doesn't want to talk about Oregon State."
Robinson, who talks often about the importance of him and his brother-in-law "seizing their windows of opportunity" despite the challenges, didn't have the luxury of worrying about the program's recent futility. If he wanted his big break, this would have to be it.
"I didn't have time enough to do a deep dive about why they were so bad for so long," Robinson said. "Taking the Oregon State job allowed me to skip a couple of steps. I just figured I could get them back there."
"You can get people to Corvallis. You just have to give them a reason to get up here." "I'm a boring guy," Roberto Nelson told reporters after a loss to Arizona State on March 5, 2011. He wasn't talking about his game — he had scored 34 points.
Nelson was one of only six players available after Robinson suspended several players, including three starters, who broke curfew after a game earlier that week. Nelson was boring in the sense that he was in his room during the bed check.
Nelson played all 40 minutes, running out of gas in the second half as Arizona State turned up the defensive pressure.
"He was disappointed for me," Robinson told BuzzFeed. "He almost single-handedly won that game. He probably wouldn't say this, but I think he wanted to win that game so bad just so that we could make a point to the guys and help them learn something."
In fact, Nelson would say that.
"I felt bad for Coach," Nelson said earlier this week. "But the guys respected Coach Rob a lot more because of that. It really said a lot about him. He wanted to make a statement that he wasn't going to tolerate anything other than excellence."
Though it cost him a game, Robinson found out that he had something more than a good kid in Nelson. He had a star. Someone who had character and who could play.
Prior to that game in Tempe, Nelson's previous career high was 15 points and he'd scored in double figures only eight times in 22 games. "I think at that time, I was doubting my abilities a little bit," he said. "When I finally got a chance for quality minutes, I proved that I was more than capable of competing."
Now he has ended up as the fourth-leading scorer in school history, trailing only players who have had their numbers retired there. He has a better-than-average chance to make money playing basketball, if not in the NBA, then overseas.
On a typically dark and rainy late-winter afternoon in the Willamette Valley, three male students — all wearing orange-and-black-colored ponchos — approached the ticket window at Gill Coliseum. There were no lines, no waiting. There were also about four hours left before the start of that night's game against Arizona, then the nation's third-ranked team.
The group came to find out how early they needed to arrive that night to guarantee a spot in the student section, dubbed the "Beaver Dam," for the 8 p.m. tip-off.
"I don't know," a woman working at the window told them. "Maybe 7 or 7:30?"
"You sure?" one of the guys asked. "What about 6 or 6:30, just to make sure?"
"No, you should be fine," the woman said. "You won't have any problems."
This, on a night when the school had encouraged students to storm the floor in the event of an upset of the visiting Wildcats. And, indeed, there were plenty of seats available in the Beaver Dam and throughout the arena that night. Attendance for the game, which Arizona won 74-69, was barely two-thirds capacity.
And that was a good night. This season the Beavers didn't even reach half capacity; they averaged just 4,108 for the 9,600-seat Gill Coliseum, already the second-smallest venue in the conference.
A couple months before the game against Arizona, the student newspaper, The Daily Barometer, published a column begging the Beavers' fan base to "reach its potential" and made shockingly elementary suggestions for how to do so: Cheer and create distractions while opponents shoot free throws.
It was even worse Wednesday in the opening-round debacle of the College Basketball Invitational, the post-season tournament that OSU had to pay $35,000 to enter. The athletic department had offered free tickets to the first 1,000 students to show up at the game. The promotion was a flop; announced attendance was 1,351. Many were dubious of that figure.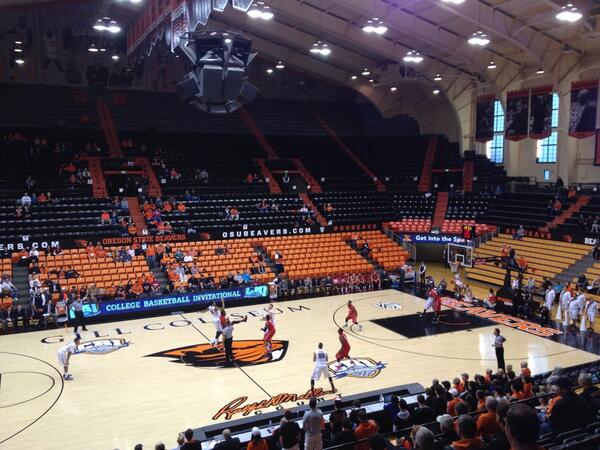 One of OSU's former greats, A.C. Green, isn't fazed by the drop in attendance. "We've got to be patient and understand the program is headed in the right direction," said Green, who has donated to the program. "Coach is trying to build something here that's about more than wins and losses."
Another former Beavers star and donor, Gary Payton, has expressed his approval of Robinson in a particularly powerful way: His son Gary Payton II, a standout guard for Salt Lake Community College, will join the program next fall.
"It's extremely humbling that (Payton) would send his son to me," Robinson said. "With a name like Gary Payton, he could probably send his son anywhere. In spite of the negative folks, it's good to know he believes in what we're doing."
Still, many blame Robinson for the erosion of fan support.
"We used to pack Gill," said William "Frosty" Comer, a prominent OSU alum who has courtside seats for each home game. "It's going to take some consistent winning to get us back to where we used to be. And some aren't sure Craig is the one who can do it."
One of those is his friend McCoy, a former Oregon State student and booster who's owned season tickets for nearly a quarter-century. McCoy is especially frustrated with the two contract extensions Robinson has received since taking over the program. Those extensions mean Robinson is owed $4 million by the athletics department through the 2016–17 season, likely making it cost-prohibitive for cash-strapped Oregon State to fire him.
"I think as long as the president of the United States is the president of the United States, they're not going to do anything with Robinson," McCoy said. "That would just give everybody a black eye here. That means we've got two more years of sucking. And I'm kind of tired of sucking."
"Talk about political clout," said Dean Hansen, a 1969 graduate of OSU and season ticket holder since 1972. "It makes for a real interesting situation."
The idea that Robinson's ties to the White House have protected him in Corvallis is nothing new. In March 2010, midway through Robinson's second season, a chain email claimed the Obama administration's $831 billion stimulus program included a $17 million payoff to Oregon State to save his brother-in-law's job. The allegation made little sense given that Robinson's first year was a resounding success: The Beavers went from winless the previous season to 7-11 in league play, and they went on to win the College Basketball Invitational in the postseason.
Nonetheless, Factcheck.org was compelled to debunk the claim, and the university released a statement calling the email "false" and "baseless."
There's no consensus for why Robinson has been unable to win in Corvallis. Explanations include the following:
• A stubborn dependence on an offense better suited for the Ivy League and poor coaching of defense. "I don't particularly subscribe to the Princeton offense," said Bruce Nelson, the only person willing to speak on the record about Robinson's coaching acumen. "I don't think it's a good fit for the athletes in this league."
Not surprisingly, Carril, whose most enduring legacy may be the popularization of the Princeton offense, dismissed that criticism: "That's the thing about basketball. When you're a heart surgeon, nobody can complain about what you're going to do because you're the only one who knows. But everybody knows basketball." • An inability to woo the top recruits in Southern California, the largest — and most important — base of high school talent on the West Coast. Robinson did have early success with Southern Californians Nelson, Joe Burton, and Jared Cunningham, who left OSU after his junior year and was the 24th overall pick in the 2012 NBA draft. But since then he's had little luck there. "I think Craig may be too smart for his own good in the PAC-12," said Beard, the former Compton coach. "Sometimes he has same mentality of recruiting the sort of kids he had when he was at Brown."
Robinson points to his successful recruiting efforts in other areas, including the New York–New Jersey area that turned up senior forward Devon Collier and freshman guard Hallice Cooke, who both attended national powerhouse St. Anthony High School in Jersey City. "We don't concede Southern California. We're strategic about it," he said.
• An unwillingness to consider the needs of the program before those of individual players. "I don't know if he has the knack of throwing the bull, if you know what I mean. You've got to go out there and recruit and tell kids what they want to hear," said Carril, his old college coach. Robinson even encouraged Cunningham to forgo his senior season and enter the draft, a big blow to the next year's Beavers team. The same might happen with forward Eric Moreland, a 6-foot-10-inch junior who is considered the team's top draft prospect. "Coach Rob treats us like one of his own," Moreland said. "He would never mess me over. He told me that he's a businessman and he'd never tell me to pass up the opportunity if it presents itself."
Robinson makes no apologies for putting the needs of his players first. "I'm an economist: If you can get guaranteed money today, it'd be prudent for you to go for it. I try to do what's best for the guys and sometimes the best thing is for them to leave."
"We've heard a few rumblings about the hot seat this year," said the coach's wife, Kelly McCrum Robinson.
The disgruntlement hasn't gone unnoticed by the OSU fan-in-chief. "Once, when we took the guys to the White House, [President Obama] told them, 'You guys have to start winning some games because I don't want to worry about my brother-in-law,'" Robinson recalled. Robinson made no secret of the reason for his decision to move the Senior Day celebration to after the final game of the season instead of before, as it had been previously.
"I get too emotional," he said. Last year, Robinson said, he shed a few too many tears for Joe Burton — the first of his recruits to end his college basketball career — and the team had a hard time regrouping. They ended up losing to California by a single point. This time Roberto Nelson, Devon Collier, and Angus Brandt would be among those taking part in the senior send-off, and Robinson didn't want a repeat.
The Beavers scored the game's first nine points and led Arizona State throughout much of the first half. They did it without much help from Nelson, who missed four of his first five shots and deferred to teammates early as the Sun Devils focused much of their defense on him.
That changed in the second half. Arizona State slowly but surely charged back down the stretch, turning a seven-point deficit with 1:38 left in the game into a 67-67 tie at the end of regulation. The crowd let out a collective groan. The Beavers were falling apart again. Robinson placed his face in his hands, almost as if embarrassed by the late-game collapse. It was a rare, if subtle, admission of frustration and failure.
In between the end of regulation and overtime, Nelson's teammates approached him and told him that the game was in his hands.
Nelson got off to a fast start, scoring on a breakaway layup five seconds into the overtime. On the next possession, Nelson rebounded a teammate's miss and then followed up two misses of his own with a strong move under the basket that led to another score. At 6 feet 4 inches and 195 pounds, Nelson basically outfought much taller and bigger opponents to get off that shot.
On the next trip down the floor, Nelson was fouled while shooting and made one of two free throws. Still, Arizona State hung tough and pulled to 73-72.
With 51 seconds left, Nelson stole the ball and casually set up for a final shot. He dribbled around on the right side of the floor, probing the defense for a weakness until the shot clock got under 10 seconds. Then Nelson faked as if he was going to drive to the basket but suddenly rose high over his defender for a three-point attempt. The jumper found the net and gave the Beavers a four-point lead. Twenty-one seconds later, the game was over and the Beavers had pulled it out.
Now it was time for the formal send-off.
As predicted, Robinson teared up as each of his seniors approached for their hug. Robinson embraced Nelson the longest. Nelson never stopped smiling. Was it the victory? Was it gratitude for everything Robinson has done for him? Or was it both?