Friday Night Lights, Miami Edition: Two Days Inside Football's Glitziest, Grimiest Talent Pipeline
Why are there so many players from a few Miami high schools starring in college and the NFL? Maybe because they spend their entire childhoods competing with one another.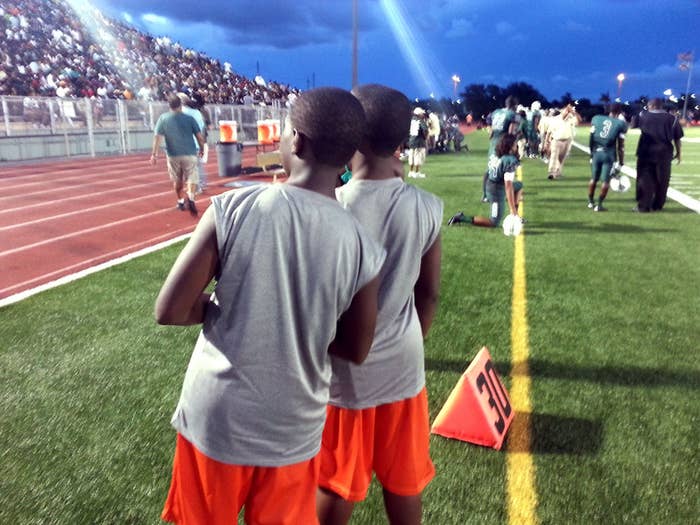 MIAMI — Treon Harris, a quarterback at Miami's Booker T. Washington High School, seems destined for college football fame and, possibly, professional riches. It's a path that's been traveled by South Florida predecessors like Chad Johnson, Willis McGahee, Andre Johnson, and this year's Heisman Trophy frontrunner, Teddy Bridgewater — all of whom played their way out of local leagues in the Miami area and into the NFL.
But first there's some business that needs tending to on this late-summer Friday night. Standing in Harris' way right now is Miami Central High School, and more specifically, the dynamic duo of Joseph Yearby and Dalvin Cook, who have dominated local youth leagues since they were around four feet tall and are now powering their own high school's rise to the top of the national polls.
Yearby and Cook have been beating Harris for years in those youth football leagues, which serve as feeders for Dade County's high school powerhouses and many of the nation's top college programs. Harris' record against Yearby and Cook is something like 0-and-always; in high school, Harris and Booker T. Washington came up a field goal short against Central in 2011, and a second-half BTW collapse in 2012 turned a 16-point halftime lead into an 11-point loss to the same foes.
This latest edition of the Booker T. Washington and Central rivalry — billed as the first-ever meeting of two schools from the same county both ranked No. 1 in one of the half-dozen national polls that compare high school teams — is Harris' last chance to notch that elusive win. "This one means the most to me," Harris says. "I love playing against [Yearby and Cook] because they're both great competitors. But this is my senior year and I can't go out like that."
According to one recruiting analyst, as many as 30 players at the game — including a few who aren't even starters on their respective teams — have the talent to play football at a major-college program. "This is such a fertile area for football talent," says Larry Blustein, who has covered high school football in South Florida since 1970. "Still, this will be the most prospect-rich game anyone will ever see."
People begin lining up outside of the gates of Nathaniel "Traz" Powell Stadium hours before the game. Tickets had been sold out since morning. In addition to long lines, fans are greeted by five TV trucks and dozens of police officers.
The crowd roars at at kickoff and follows the game closely. Every other play features a big hit that draws whoops and shouts. Things move fast. "Bring his ass down," shouts one of Central's assistant coaches, about Harris.
Even in football-mad Miami, this contest is accompanied by an unusual level of excitement. Traz Powell Stadium holds close to 10,000 spectators. By comparison, these teams played in front of crowds of fewer than 2,000 people — made all the more minuscule in the 70,000-seat Citrus Bowl — in their respective state championship games last winter in Orlando. Both schools' marching bands, which borrow heavily from the jazzed-up routines of historically black colleges, are lively. Both schools have close ties to the local black communities, and fans' loyalties go deep enough to get a little convoluted.
"My heart leans toward BTW because of the tradition of Overtown and Liberty City," says Joe Ellis...who's actually a 1968 graduate of Miami Northwestern High...and was seated on the Central side of the stadium. "I'm proud of what they're doing."
It's a game, sure. In a community where playing, coaching, and endlessly discussing football talent is a near-universal hobby, it's also an oversized family reunion.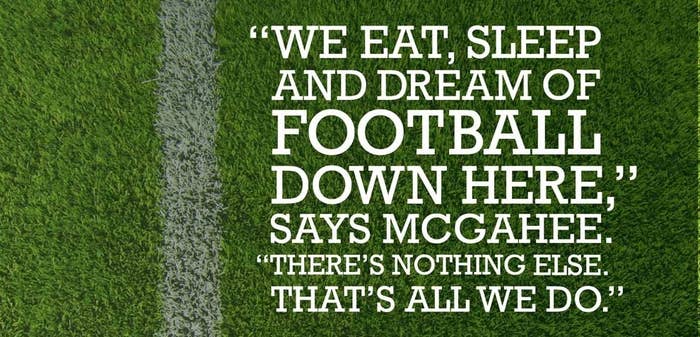 It's the Thursday morning before the game and about 10 people are waiting in line outside of the main office of Central High School, all of them looking to score some of the hottest tickets in town. Radio ads on hip-hop stations are hyping the event. Word is, even a few local celebrities plan to make an appearance.
Inside the office, the woman working the switchboard answers an avalanche of calls that have little to do with academics. "Tickets are $8." "They're on sale from 8 a.m. to noon on Friday." "Yes, kickoff is at 7:30 p.m." This goes on, virtually nonstop, for an hour. "You can buy as many tickets as you want, sir."
No less preoccupied is Central athletic director LaToya Williams. She's putting together a list of media outlets who had requested access ("There's a lot of y'all") and shepherding a pair of reps from Nike, among other tasks. A last-minute effort to get the game broadcast comes up empty. "This wasn't one of the weeks that airtime was available," Williams says. "But it doesn't bother us at all. It will still be a good show."
This sort of spotlight is essentially new to Central, which had a middling football program until a scandal at dominant local rival Northwestern High in 2007 rocked the balance of power among local schools. Then-Northwestern football head coach Roland Smith and his staff were removed, athletic director Gregory Killings resigned, and principal Dwight Bernard was indicted in connection with the alleged coverup of a report that star running back Antwain Easterling had sexual intercourse on-campus with a 14-year-old girl. (The school's administrators were later cleared of wrongdoing — Bernard was acquitted in April 2008 — and Easterling was allowed to enroll in a pretrial diversionary program before accepting a scholarship to Southern Mississippi.)
In the fallout, a former Northwestern assistant took the head coaching job at Central in 2008. He turned the Rockets into a juggernaut, compiling a record of 60-10 and winning two state championships in five years before leaving for a gig with the University of South Florida. That created an opening this year for Roland Smith, who'd spent the intervening five years teaching at a middle school, to return to big-time high school football.
"This was a good fit," Smith says. "It was easy to see Central was on the rise. And I've known all of these boys for most of their lives."
Smith has inherited a team coming off a Class 6A state championship and that many considered the nation's best, with senior running backs Yearby and Cook leading the way. And Central's rise wasn't just on the football field: President Obama visited the school in March 2011 to trumpet its academic improvement after years of failing test scores. It was quite a turnaround from 2009, when the state threatened to take over the school, which once had the worst academic record in Florida. "You are proving the naysayers wrong — you are proving that progress is possible," Obama told the audience that day.
Coach Roland Smith and the Rockets are part of that proof. Things have rarely been better at Central, and Friday would give them another stage to show as much to the world.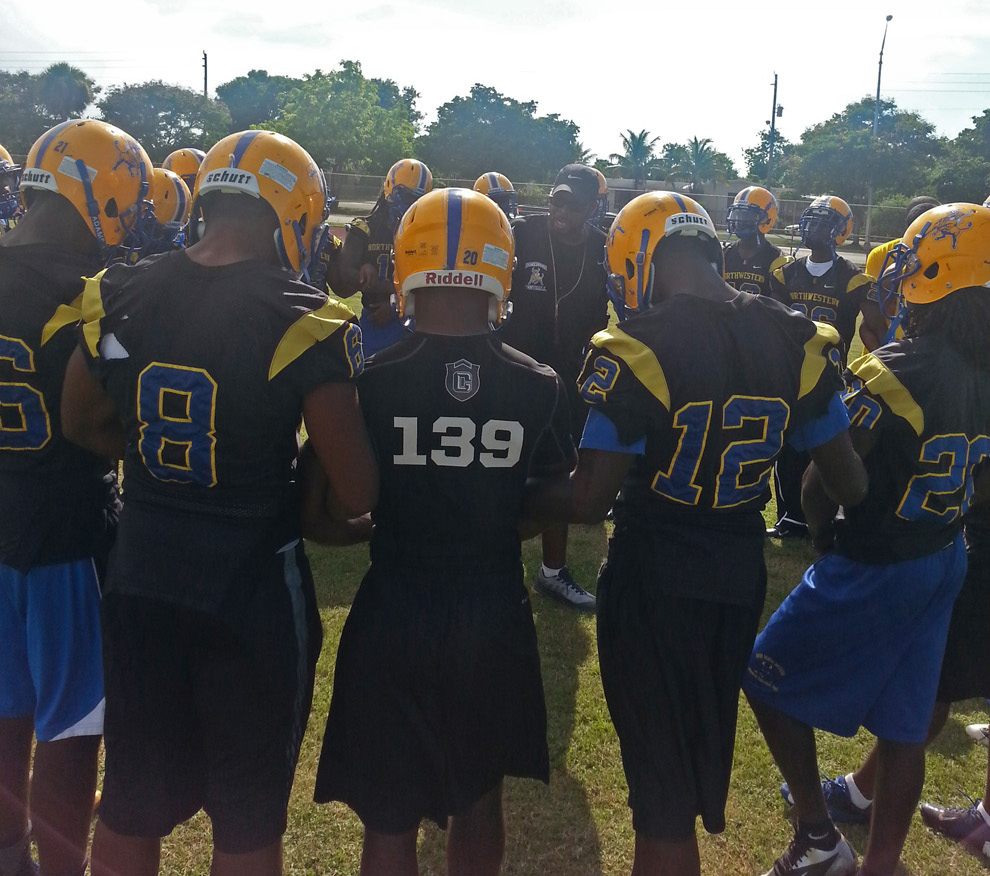 Among many middle-aged black Miami residents, Central High is still commonly referred to as "the white school." This is because it opened in 1959 on the northern — almost all-white — fringe of the Miami area, where black people weren't allowed to live yet. Black students weren't welcomed to Central until the mid-1960s, but it didn't take long before waves of new immigrants and other socioeconomic forces changed its demographics altogether. Today, "the white school" isn't so white: At the latest count, 78% of its student body was black or African-American and 21% was Hispanic or Latino.
Only seven miles south down Interstate 95, Booker T. Washington High has always had its roots firmly in the city's black community. BTW opened in 1926, making it one of the first schools to serve the black students in Dade County. The school is in the heart of the Overtown area, once a thriving center of black culture and commerce in Miami. But the fortunes of the school changed with the neighborhood, which suffered deeply when I-95 was planted in the middle of the area. The city turned BTW into a middle school in the 1960s during the process of meeting desegregation requirements, and the neighborhood's students were sent to other schools — Central, Miami High and Miami Beach High, among them. It wasn't until 1999 that BTW reopened as a high school.
Today, BTW resembles a neatly-manicured prison: The sprawling campus isn't visible from the street — it sits just alongside a freeway overpass — and its beige-colored buildings have few windows. 50.8% of its students are black or African-American and 47.1% are Latino or Hispanic. The state considers 90% of the students "economically disadvantaged."
BTW football coach Tim "Ice" Harris has used that dreary landscape to his advantage. He has built a juggernaut in Overtown, taking kids who are quite literally hungry and turning them into a fast and brutally efficient unit. "These kids don't have much," Harris says. "But they've got a hunger to achieve. These kids are doing something to keep this community together."
Harris has gone 85-9 and won two state championships over seven seasons in two stints at BTW. He left to work as an assistant coach at the University of Miami in 2008 but returned in 2011 and promptly reeled off a pair of 13-1 seasons.
But this could be Harris' best team yet. With son Treon — a Florida State-bound quarterback — at the helm on offense and a defense anchored by 6-foot-5-inch end Chad Thomas (a University of Miami recruit), the Tornadoes have the look of a national champion. They'd confirmed their status the previous week in a 55-0 rout of nationally ranked Norcross (Ga.) High in the Atlanta area on ESPN. "It was a game that was supposed to feature two of the nation's best. Instead, it featured a running clock," read the lead paragraph in the Atlanta Journal-Constitution the next morning. (Normal rules about when to stop and start the game clock are sometimes lifted in lower-level football to try and bring blowouts to a mercifully quick end.)
Even with a loss Friday night, the Tornadoes could still win a state championship — they're the prohibitive favorites in Florida's Class 4A. (Central is the top team in the larger 6A classification.) However, a loss means they can't claim a city or a national championship. And those titles — mythical though they might be — matter every bit as much to the teams.
"We're trying to win a national championship," BTW's Harris says. "To do that, you've got to beat everybody."
"Oh, this is for the national championship," Central's Yearby says. "We want that too."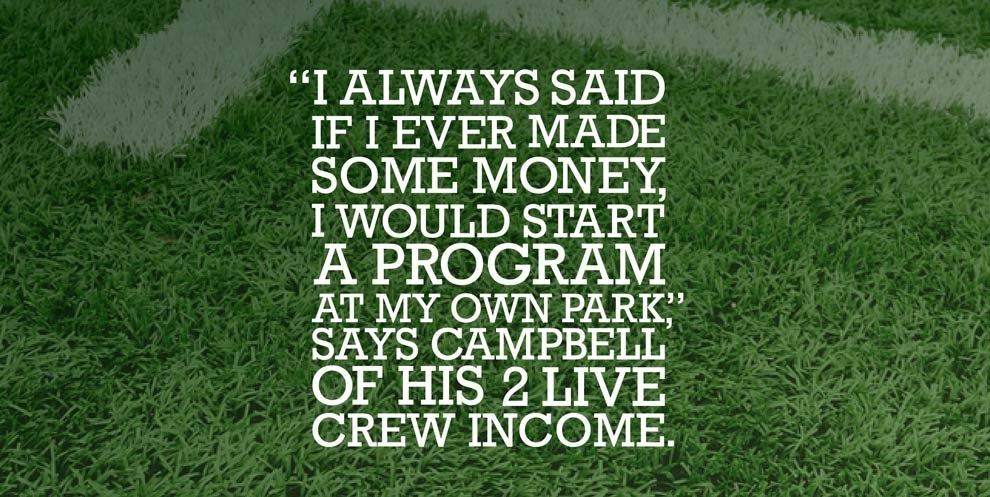 Why are kids from Miami so good at football? Part of the answer might lie in an unlikely person: Luther Campbell, best known outside of South Florida for his raunchy exploits as a member of the 1990s rap group 2 Live Crew. And yes, he's still known for those exploits in South Florida too. But he's also made a name for himself as one of the area's foremost patrons of young football talent.
In fact, Campbell became infamous (well, more infamous) in the late 1980s and early 1990s for being too much of a patron to players at the University of Miami. Though never an official booster of the football program, Campbell was a major presence and allegedly orchestrated a bounty system that involved cash for sacks or interceptions. He's always denied those allegations over the years — though he's sometimes done so with with a wink and a nod.
Around the same time as the Hurricanes were on the rise, Campbell also spent tens of thousands of dollars to start a youth-league football program in Liberty City. Campbell said he started the Optimists program so kids in his neighborhood could stay home and play rather than having to take a bus to Miami Beach, as he had done years before. (His own career didn't go much further than the beach, where he played football for a high school on the tonier side of the Biscayne Bay.)
These days, Campbell spends most afternoons at Northwestern High (the school where Central's Roland Smith used to coach), where he works as a defensive coordinator. Gone are the black bandanna and rope-sized gold chains of his youth. Today, 52-year-old "Coach Luke" wears a black long-sleeved shirt and black shorts with his black cap turned backward on his head.
"Motion-motion-motion-motion-motion." Campbell uses a rapid-fire staccato with his team that's not unlike the one he used as a cheerful hype man inviting ample-bottomed women onstage during concerts. It's just hours before the Central-BTW game, and Campbell is painstakingly taking his players through their game plan. His work here is no vanity project; Campbell clearly knows the 4-3 defense.
Music took Campbell around the world, but football brought him back to Liberty City — an area with block after block of boarded-up buildings, burned-out homes and large mounds of rubble where generations of families used to live. The Huffington Post recently dubbed Liberty City "Miami's worst neighborhood." Football is one of the area's scant sources of pride, if only for a few hours at a time.
"I always said if I ever made some money, I would start a program at my own park," Campbell says. "We started something that I don't think any other program in the country can compare to."
That program, along with several others in inner-city Miami, has produced hundreds, if not thousands, of college players and several professionals over more than 25 years. A number of assistant high school coaches have also emerged from those leagues, effectively creating a pipeline from youth ball to high school that keeps the best players from being poached by suburban and private high school teams — or by other sports. The level of competition is always top-notch, and South Florida — Miami in particular — has developed a reputation as one of the top producers of elite football talent in the country. Schools like Booker T. Washington can produce more college players than some entire states.
"Kids that used to come out of there would go to Miami Beach [High], Miami High, or other schools," says Blustein, the recruiting writer. "But now they've got the whole Overtown on lockdown. Now they're tapping into that talent and nobody comes in there at all." If Michael Oher, the simultaneously massive and graceful main character of The Blind Side, had grown up here, he never would've had to rely on luck and generosity to end up getting trained as an offensive tackle — or ended up whooping on overmatched opponents at a private suburban school. He would've been doing drills, catching coaches' eyes, and facing off against fellow future stars from the time he was about eight years old.
NFL running back and former Central High star Willis McGahee played his first organized football games in an Optimist league. "We eat, sleep, and dream of football down here," says McGahee, who has rushed for more than 8,000 yards in his nine-year NFL career. "There's nothing else. That's all we do. We all want to get out." In other words, Miami kids are so good at football, perhaps, because it's become a self-fulfilling prophecy. Every athletic young kid dreams only about football, and every adult is looking for kids with a knack for football and only football.
Coaches, players, and parents also point to another factor: poverty. Many of the boys see football as their best way out of often-desperate circumstances. Smith and his staff often pay for post-practice food out of their own pockets to ensure some of his players have at least one meal a day. Campbell talks at length about players on his team who are homeless, have parents or siblings in jail, or can't afford cleats. Many players know of classmates and former teammates killed on nearby streets. "We deal with so much at these schools," Campbell says. "It's very difficult."
That might be why no one talks much here, if at all, about concussions and traumatic brain injuries and the wages of pre-pubescent collisions. Those concerns are reserved for children with more options and even more security. In Liberty City, life can be more dangerous away from the field.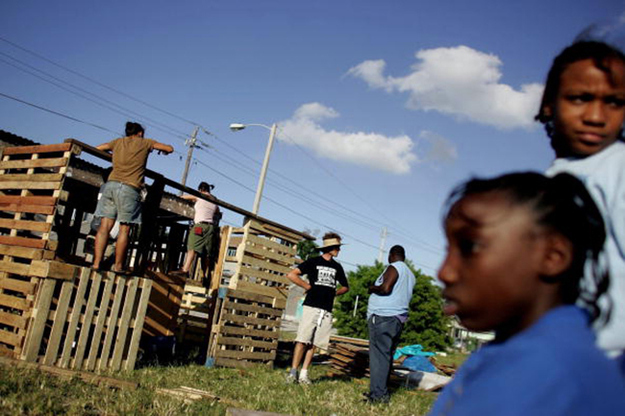 "These boys soft as fuck," says one of the Central offensive linemen, as Central scores a touchdown in the second quarter. But that turns out to be wishful thinking: BTW manages to fight back from a 7-point halftime deficit and takes a 21-17 lead late in the fourth quarter on Treon Harris' 3-yard touchdown run.
Treon's future coach is here to see it. He's committed to Florida State; FSU doesn't have a game the next day, so head coach Jimbo Fisher and recruiting coordinator Tim Brewster, wearing their Seminoles gear, are taking in the evening from behind the south end zone. They are there to check in on at least two recruits (Treon and Central defensive lineman Frederick Jones) and make an impression on some of the others. Hundreds of alumni, local officials, and media members are standing on the sidelines. Dozens of former players have made it to the game. McGahee shows up with a few friends.
Everyone gets the show they came for. BTW and Central's game is a 48-minute exhibition of speed, brute force and intensity rarely seen at the high school level. BTW's 6-foot-5-inch Chad Thomas and his 6-foot-5-inch partner on the defensive line, Demetrius Jackson, both of whom plan to attend Miami next fall, keep Central running backs Yearby and Cook in check for most of the game. Harris remains calm as Central blitzes him throughout the night.
The game is, in many ways, a classic contrast of size (Central) versus speed (BTW). Central runs an offense that would appeal to demolition derby fans, Cook and Yearby churning out yards behind an offensive line that averages more than 290 pounds per player. But the fleet Harris ultimately gets his long-awaited victory over Cook, Yearby, and Central, 28-17. He finishes with more than 150 yards of offense and three touchdowns. It's Central's first loss to a team from their own county, Miami-Dade, since 2008 — when these seniors were playing on their seventh-grade Optimist teams. For at least a night, maybe even a week, Miami finally belongs to Harris and BTW.
"I've been wanting this game for a year," says BTW defensive back Nigel Bethel, a Miami recruit. "Every time I trained, I think, Central, Central, Central. We had to get them."
The fans certainly saw enough talent to justify the $8 they paid for tickets. After the game, Miami-Dade school board member Dr. Dorothy Bendross-Mindingall, whose district includes both BTW and Central, calls the evening "a perfect representation of our community."
"We come out here and support our schools and our children in all that they do," Bendross-Mindingall says. "Our communities are desolate and have their share of problems. But we have our children and we love them."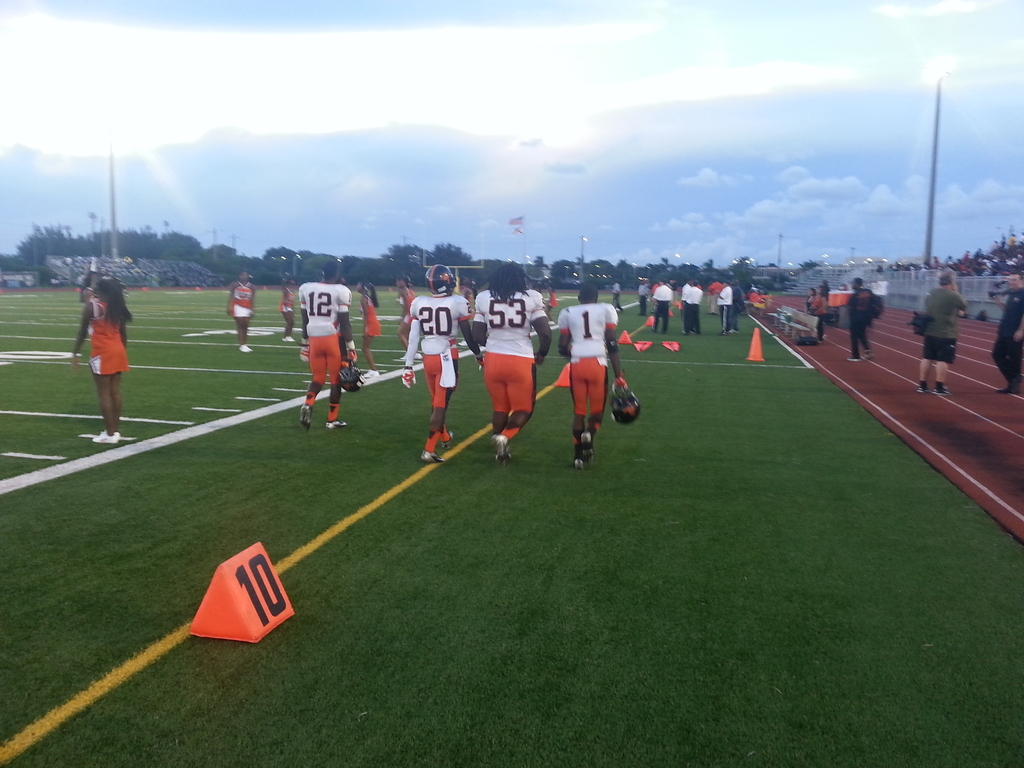 The party moves to the parking lot, where 1975 Central graduate Clarence Tucker and four of his friends are sitting around their pickup trucks and listening to 1980s R&B more than two hours after the final whistle. They are just one of several pockets of old high school friends and neighbors who are still hanging out and reliving the last four hours. There's still a post-game buzz outside the Traz; someone exclaims, "Treon ain't about that shit!" from far across the lot.
Tucker proudly wears his green Rockets Windbreaker and cap. The other men, all of them graying with the rounded faces and broad shoulders of former football players, let him do most of the talking.
Tucker claims to have no problems with the Central Rockets' game plan that night — "We were beat up coming into the game and our boys just got tired" — but spends the better part of the next hour outlining his problems with the game plan. In short: Central needed more depth and should have given Yearby and Cook — who play both offense and defense — more of a rest against the rare team capable of tiring them out.
When the music is finally silenced and the rest of the lot is dark and empty, the men agree there might never be another tandem to come through Central like Yearby and Cook, who (at this point) plan to sign with Miami and Florida, respectively. Tucker and his friends have already given them a place alongside some of South Florida's former high school legends, some who made it to fall Saturdays and beyond, and a bunch of others who didn't. Wherever Yearby and Cook end up, they can rest assured that they'll live on in these post-game tailgate conversations for the next few decades.
The conversation turns to the future and whether Central will be able to prevent another high school from stealing away one of its top receivers — a 6-foot-1-inch junior who has already pledged to sign with Florida — in the offseason. Valender Hubbard, one of Tucker's friends, speaks up: "You know someone is going to come and get him." In Miami, protecting the future of football is a job that never ends.