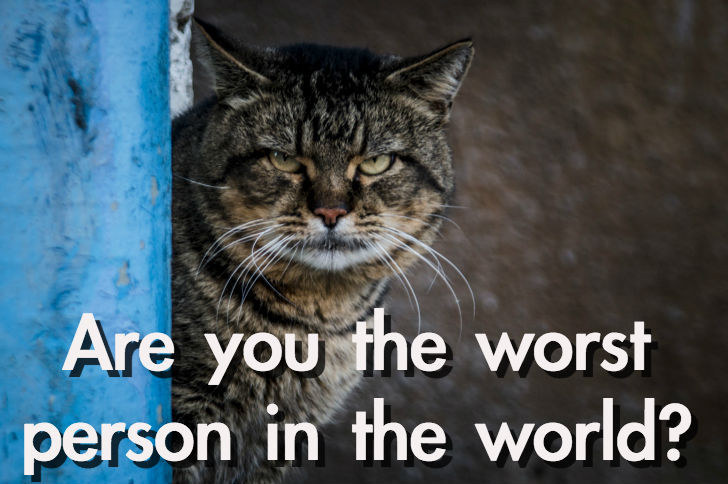 I refer to champagne exclusively as "champs."

I laugh openly at the pain of others.

I would like to tell you about the dream I had last night.

I have said, "Excuse me, do you have any Grey Poupon?" as a joke.

I own more than 17 fedoras and/or bucket hats.

I quote "Family Guy" more than once per day.

I quote the movie "Anchorman" at least three times per day.

I relate to the character Ross from "Friends" more than any other fictional character.

I live in an apartment with neighbors below me and I love stomping around in boots pretty much all the time.

I'm pretty sure I'm smarter than most people.

I have intentionally created a "man cave" in my home and refer to it openly as a "man cave."

I like to walk up a busy staircase and stop in the middle for no reason.

I go into soup stores at lunchtime and sample every flavor of soup before making a decision.

When it comes to dating, I "don't like labels."

I have a link to a TED Talk I think you'd enjoy.

I like to refer to Sunday as "Sunday Funday."

I would eat a baby if I had the right opportunity.

I'm known for the extravagant voicemails I leave.

I get a thrill out of correcting the grammar and spelling of others online.

I like to randomly scream.

If you're eating a food I don't like, you're gonna hear about it!

It pains me to listen to music from any other source than vinyl.

I often start sentences with "No offense, but…"

You just never know when I'm going to whip out an apple and bite right into it.

When someone says something boring, you know I'm following it up with a "cool story, bro."

I end all my text messages with a period.

I will pull out an acoustic guitar and start playing "Wonderwall" at any moment.

I have some great stories from my college study abroad program I'd like to share with you.

If there's a really long line, I will find a way to discretely cut. It's called being strategic.

I'm never not chewing gum.