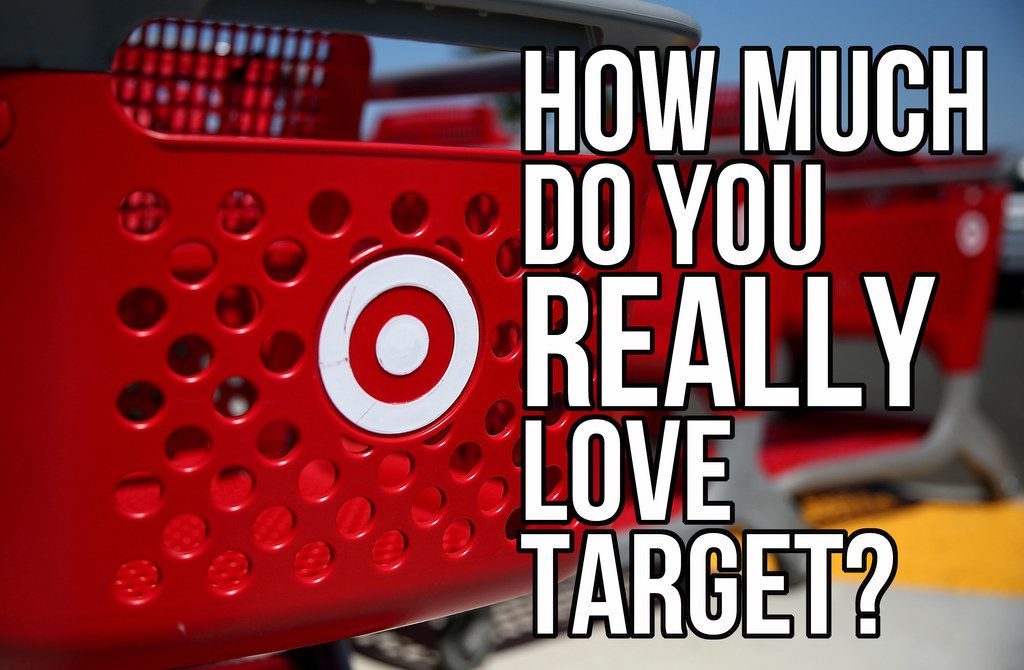 Check all that apply to you

I openly express my love for Target to anyone who will listen.

When I say I "love" Target, I'm talking about a serious, emotional love like one might feel for a family member.

My heart starts beating faster when I pull into a Target parking lot.

Going to Target feels like an explosion of pure ecstasy.

I spend hours inside Target.

I completely lose track of time inside Target.

I go to Target at least once per week.

I go to Target at least once per day.

Going to Target is my favorite activity.

My idea of a perfect day is getting lost inside Target, wandering the aisles.

When Target is closed I feel sad and empty inside.

I look at Target and all I see is something truly beautiful.

If I met a person who didn't like Target I would feel hurt and upset.

If someone said "Target is dumb" I would feel a deep, primal sense of anger.

If Target disappeared my heart would break into a million pieces.

I have had at least one dream about going to Target.

All my troubles melt away when I step inside Target.

As far as I'm concerned, Target is the happiest place on earth.

I would get a Target tattoo.

I would consider naming a pet or a child Target.

I would name my child Target for a lifetime 50% discount at Target.

I wish I could live inside Target.

I never want to leave Target.

Whenever I'm not at Target I wish I was there.

I would rather spend time at Target than with other people.

I'm a little bit sexually attracted to Target.

A world without Target is not a world I'd want to live in.

Target gives me a feeling of happiness that nothing else in my life can provide.

Without Target my life has no meaning.

I am willing to sign a pledge promising not to shop at any other store besides Target.

I would give my soul to Target.

Target, my sweet Target, I pledge my life to you.

I am willing to prove my love for Target with a blood sacrifice.

I have already proved my love for Target with a blood sacrifice.

O Mighty Target, by whom all things are set free, I cast myself utterly into thine arms.

Target!!!!!!!!!!!!!!!!!!!!!!!!!!!!!!
Looks like there are no comments yet.
Be the first to comment!