After the 2016 election, Penellope Logue and her partners, Jen and Kat, decided they needed to create a safe space for themselves "away from cis society." So they sold Logue's house in Denver and built the Tenacious Unicorn Ranch — an off-the-grid farm located near Westcliffe that's now home to a herd of 100 alpacas and provides housing and jobs for queer and trans people.
"When I came out and realized the extent of the problems that just being alive and transgender causes for people, me and my girlfriends very quickly decided, especially after Trump's election, that we need somewhere safe to be," she tells BuzzFeed LGBTQ.
Though she knew the trans community needed more housing options, Logue couldn't predict how much the coronavirus pandemic would exacerbate that need. Now, as trans people continue to be disproportionately affected by job losses and evictions, she says she receives at least three new messages a day from people who are in "desperate" situations — many as a result of the pandemic.
"It's harrowing out there right now," she says. "I have to take long breaks from my phone. It gets really rough."
Before the pandemic, the ranch had eight residents including Logue and her partners. She says they hope to have 20 by the end of 2020, though more than 50 have reached out, and they have a confirmed waitlist of 23. "It's hard telling people they can't come up," she says. "So, we're doing all we can."
The ranch is trying to create more space as quickly as possible, and it is not alone. In the wake of the global pandemic and new anti-trans policies from the Trump administration, trans folks from New Orleans to Eureka Springs, Arkansas, are fundraising and pooling their resources to create refuges away from violence and the continued spread of the coronavirus.
And, in the process, they are rethinking what "community" looks like.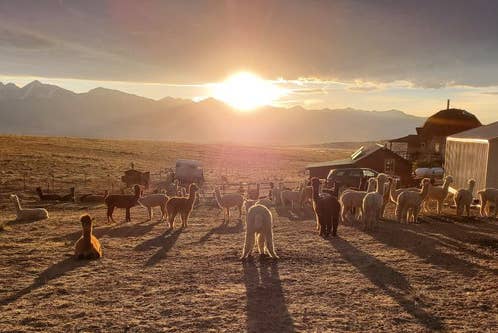 An Ever-Growing Crisis
Trans people faced higher rates of homelessness and housing discrimination long before the pandemic. They are twice as likely to live in poverty compared to the overall US population, and one-third have reported experiencing homelessness at some point, according to a 2015 survey of nearly 28,000 transgender people conducted by the National Center for Trans Equality.
Since the start of the pandemic, the Trump administration has also targeted the trans community. On June 12, the Department of Health and Human Services finalized a rule to remove an Obama-era policy that protected LGBTQ+ people from discrimination in healthcare and health insurance. Then on July 1, the Department of Housing and Urban Development proposed a rule that would allow federally funded homeless shelters to house people according to their sex assigned at birth rather than their gender identity. Katelyn Burns reported for Vox that the text of the rule also tells shelters how to spot trans women using "factors such as height, the presence (but not the absence) of facial hair, [and] the presence of an Adam's apple."
Though advocates say the policy will make things worse for trans people, many shelters weren't safe for them well before the HUD rule. According to a 2011 survey by the National Center for Transgender Equality and the National Gay and Lesbian Task Force, 55% of trans and gender nonconforming (TGNC) people who tried to access a homeless shelter were harassed by shelter staff or residents, 29% were turned away altogether, and 22% were sexually assaulted by residents or staff.
Even in cities where there are shelters that openly accept LGBTQ+ people, trans folks often don't feel welcome. "No shelter is safe for trans people or nonconforming people unless it's being led by trans people," says Mariah Moore, copresident of House of Tulip: Trans United Leading Intersectional Progress, a new trans-led community land trust based in New Orleans that will provide emergency and long-term housing for TGNC people.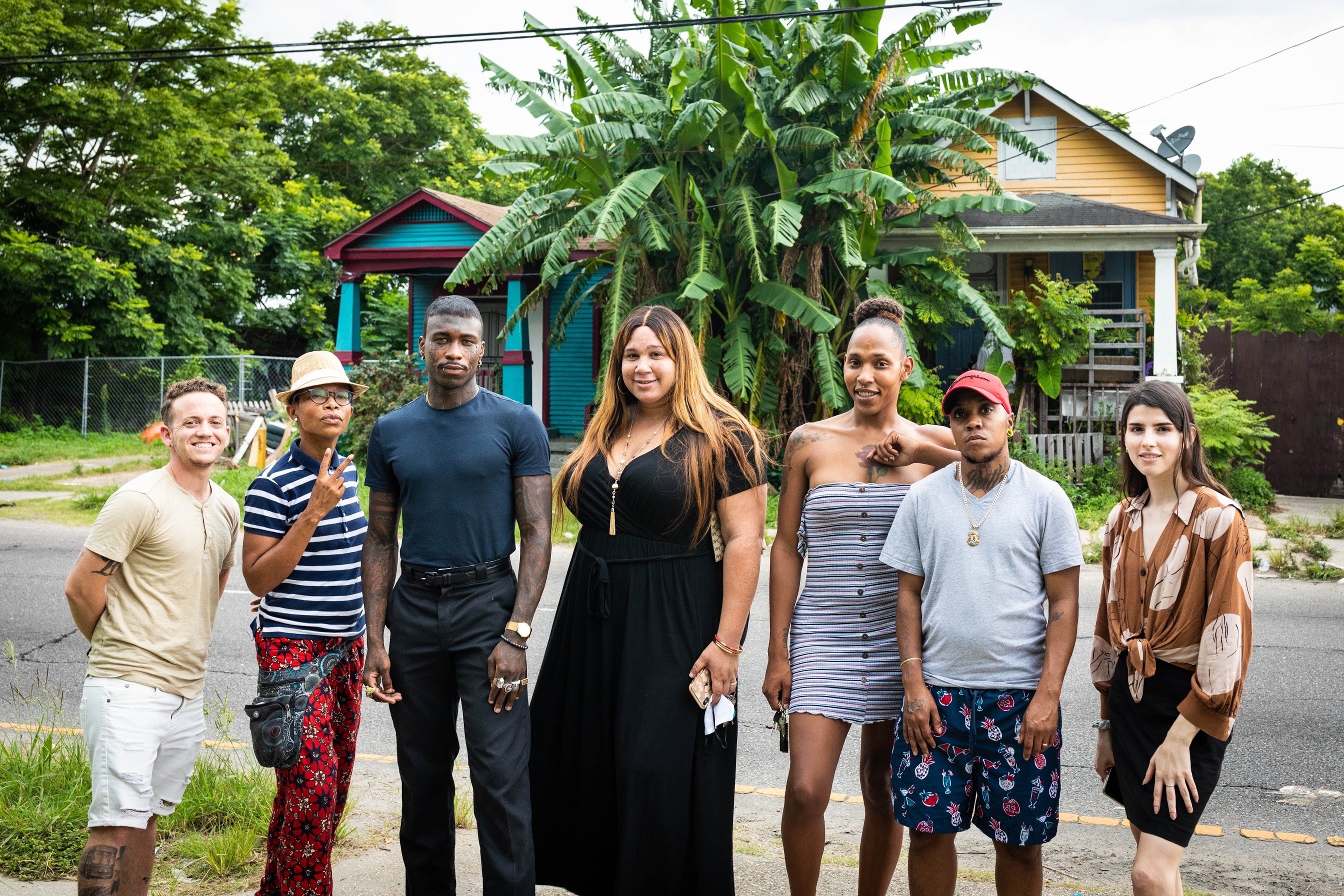 House of Tulip grew out of a COVID relief fund created by Moore, cofounder Milan Nicole Sherry, and other local activists. "As we started to raise more and more money, the one thing that kept coming up, as it always has, is housing and fear of losing housing," says Moore, who has experienced homelessness but never felt safe staying in a shelter.
Moore and Sherry created a GoFundMe to purchase a property with six units that they plan to renovate into tiny homes. Eventually, they also hope to buy additional property to build more homes. Their goal is to offer a supportive space for trans people and a path to homeownership. In just one month, they've raised more than $300,000 of their $400,000 goal. They plan to house people on the property by the summer of 2021.

"We're here to care for you and let you know that your trans life and your body — it matters."
Unlike many shelters, Moore tells BuzzFeed LGBTQ she doesn't want to operate House of Tulip from a position of power, but rather as a community member. "We're your friends, we are your siblings, sisters, brothers, and we love you," she says. "We're here to care for you and let you know that your trans life and your body — it matters."

Like Moore, Rev. Debra Hopkins didn't feel safe in shelters in Charlotte, North Carolina, and she wanted to give trans people another option. She was unhoused for about two and a half years after diabetic retinopathy caused her to lose her eyesight and, as a result, her job. In 2018, her experience led her to create There's Still Hope, a nonprofit that provides emergency housing for transgender people in the Charlotte area.
Until recently, There's Still Hope provided emergency shelter for up to a week and would then connect clients with long-term shelters. But Hopkins says many of those places weren't safe for trans people. "I can attest to it 'cause I was a homeless victim at one point in time, so I knew exactly the story [my clients] were telling me," Hopkins says. "They felt threatened, and many of them felt that they would be best served if they just lived on the streets."

In April, after North Carolina Gov. Roy Cooper issued a stay-at-home order, Hopkins began offering a "short-term extended stay" program. She now has contracts with extended-stay hotels, where she can house people for up to a year while also connecting them to groups that can provide healthcare and job counseling.
Prior to the pandemic, Hopkins says she served seven to nine clients a year. In just the last few months, she has worked with 24 trans adults experiencing homelessness, most of them trans women of color. "[The pandemic] has put a massive strain on our finances," she says, noting that she's trying to conserve resources. "I know that in the late fall and winter of 2020, [there's] going to be a great demand for our services, and I've gotta be in a position to try to help as many as I possibly can."
Queers and the City
Like Hopkins' organization, other trans-led groups in rural areas have tried to shelter as many people as possible. In addition to building more housing, Logue says the ranch is considering purchasing a neighboring 35-acre property with a five-bedroom house. "We can't build fast enough," she says. "Things are just falling apart, so we're trying to keep one foot ahead of the curve."
In Arkansas, the pandemic has slowed Ethan and David Avanzino's efforts to build an LGBTQ+ tiny home community. When Ethan came out as trans in 2015, he says his friends, family, and employer were all supportive, but he realized that's not the norm. "I had quite a few friends who had been kicked out of their homes or their partners had left them, or [they] had been fired from their jobs and were ... either couch surfing among friends or trying to find shelters that would accept them," he says. So, in 2018, they founded Safe to Be, a nonprofit to create housing for LGBTQ+ people, and in October 2019, they purchased property near Eureka Springs.
He and David chose Eureka Springs, which has a population of just over 2,000, after visiting on vacation, in part because it's located between bigger metropolitan areas in the South. "The reason we chose our location on our little mountain is for safety reasons," David tells BuzzFeed LGBTQ. "We also want to give our residents a chance to discover themselves. If we have someone transitioning, we want them to go through a safe transition and to be with someone who's been down that road before. … We are really tired of seeing our brothers and sisters murdered simply because they're trans."
"We can't build fast enough."
They're now living in one of the two existing cabins, after moving to Arkansas from their home in Dallas in June. They've plotted out 32 spots for tiny homes and hope to have the first two done by the end of the year. Despite the fact that they don't have much space to offer yet, they say four people have contacted them about living on the property, and they were able to take in one person, who now lives in the other existing cabin.
So far, funding for the project has come entirely from grassroots donations on Patreon, but before the pandemic, drag queens in Atlanta, Tulsa, Eureka Springs, and Dallas also fundraised for them.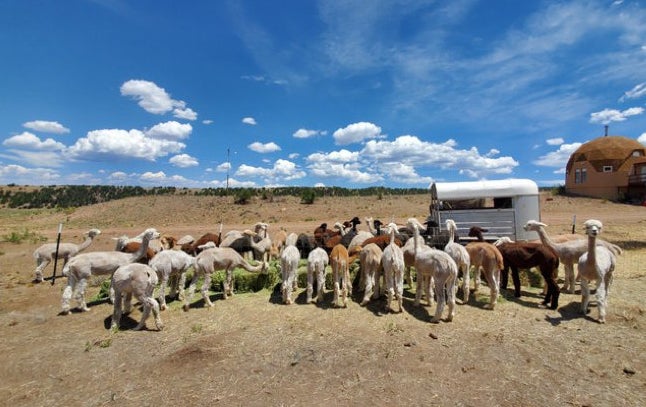 The idea of creating a rural "trans commune," as Logue calls it, isn't a new one. There are subcultures like Cottagecore, and LGBTQ+ people have been creating rural escapes for themselves for decades. "Queer folks like to be around queer folks, and sometimes we can't necessarily choose to be in a liberal or blue state," Ethan says. "So we have to create that space for ourselves wherever we're at."

Across the country, two hours north of New York City in upstate New York, Cal is one of three people who live in a trans intentional community on 14 acres of land, which they used to host groups of campers before the pandemic. Cal said they don't have a lot of permanent housing, but that they've still taken people in when they can.
"She did not die of AIDS and does not want to die of COVID."
"The pandemic meant that we had a couple of people who needed to get out, specifically of New York City, which was really scary in the early months," they say. The community, which Cal didn't want to name out of fear that they wouldn't be able to meet a greater demand for housing, decided to take in two "medium-term residents" — one who camped on the property for two weeks before being allowed to stay in the house, and a 72-year-old immunocompromised trans woman named Renée. Cal says they deferred their mortgage and purchased an RV for her to live in temporarily. "She's a veteran, she's got PTSD. She cannot get sick," Cal says. "She did not die of AIDS and does not want to die of COVID."
A few more residents will be moving up in August after purchasing a house next door, and Cal says the community is also considering building small cabins. They say that one of the hardest parts of the pandemic has been seeing people feel isolated and lonely, so they want to offer trans folks refuge. "We can't have lots of people come at once, but if you can get yourself here, we will feed you," they say. "We will give you a chance to breathe. You can just roll around in the grass if you want to, you can pet the dog. Please come and recharge your soul. And then when you head back to the city, you can be ready to go back to the fight."
On some days, Tenacious Unicorn Ranch residents will sit on the porch at the end of the day, under the stars, and watch the herd graze with the mountains in the distance. Bonnie Nelson, who uses "e"/"em"/"eir" pronouns, moved to the ranch in August 2019, and says e can be eirself at the ranch in a way e couldn't elsewhere. "I've never really felt like I understood what having a family meant until I moved out here," e says.
"The fact that we're all in this together and we're all making it happen no matter what, that kind of motivation isn't anything I've really had before."