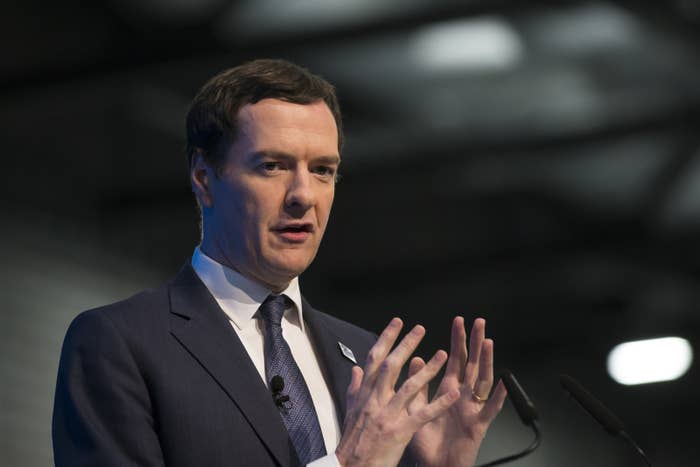 It was supposed to be the stark economic warning that kept Britain in the EU during the final week of the referendum campaign. But George Osborne's plan to warn of an emergency post-Brexit Budget was derailed by an extraordinarily simple oversight that allowed Vote Leave to undermine coverage of the announcement.

A Vote Leave campaign source told BuzzFeed News the anti-EU campaign had access to the media mailing lists of Stronger In throughout the referendum campaign, enabling it to prepare strong rebuttals before the original stories had even appeared in the press.
What's more, Stronger In was baffled.
"The campaign couldn't understand who was leaking," recalled one Labour politician involved in the pro-EU campaign.
But far from any dirty campaign tactics, their opponents had simply signed up to receive embargoed press notices on mailing lists intended only for journalists.
"From day three we managed to get onto their press list by using the fact they'd tweeted out a link to their Mailchimp [mailing list management service] account, which anyone could do," said the Vote Leave source. "We signed up about three accounts in the end."
It would, in theory, have been possible for any member of the public to do this – and it was up to Stronger In to check who was on the list.
One Vote Leave campaigner even signed up to the mailing lists using his own name and personal email address. Although this was eventually noticed by the pro-EU campaign, others survived.
"They never removed our fake accounts, things like 'londonnews@gmail.com'," said the Vote Leave source. "We were on their main news list, their broadcast list, everything. We could work out where their exclusives were going. One day we worked out they had a health letter in The Times, something else in The Guardian."

George Osborne's emergency Budget was a case in point: With just a week to go before the vote, and with Leave appearing to be in the lead, the then chancellor issued a warning saying he would be forced to increase taxes and cut public spending if Britain voted to Leave the EU.
Stronger In had hoped this warning would dominate radio and TV coverage for 24 hours, convincing voters who were terrified by the prospect of tax hikes.
But shortly before going on Radio 4's Today programme to discuss the idea, the chancellor was ambushed with a letter signed by 57 Tory MPs saying they would refuse to back such a proposal, completely undermining his authority and changing the story into an internal Conservative dispute with very different headlines.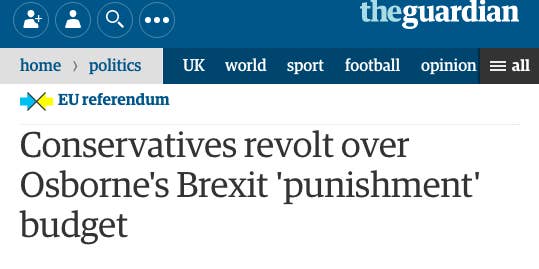 Stronger In were blindsided by such a quick coordinated response. In reality it was because Vote Leave's press team had received the details at the same time as the media. The press release was sent out on a strict midnight "no-approach" embargo – meaning journalists were given advance sight of information in return for not approaching other groups or individuals for comment before midnight so opponents weren't tipped off. The embargo system relies largely on trust but is usually respected by the media.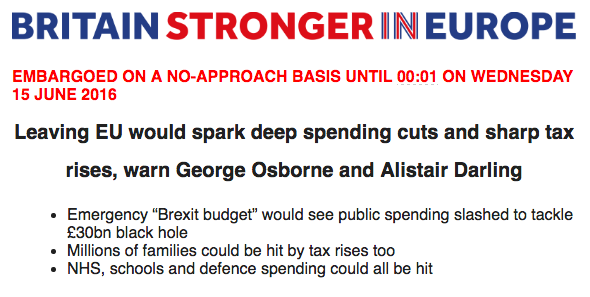 But Vote Leave campaigners also received the press release by 6pm, giving them ample time to work out a rebuttal strategy. They decided this would take the form of a letter signed by Tory MPs directly attacking Osborne's authority and decrying it as a "punishment budget".

Their efforts were helped by the fact that a large number of anti-EU Tory MPs were at a party that night hosted by their colleagues Nigel Adams and Chris Heaton-Harris, close to the Vote Leave offices. The majority of the signatures on the rebuttal letter were collected simply by asking those present to sign the letter while having a drink, according to one MP.
"Those 60 names came together in an hour," said the Vote Leave source. Otherwise the campaign would have had to wait until newspaper front pages were tweeted at around 10pm to see it and mobilise their response, meaning the story would have been very different.
Or as the Vote Leave source put it: "It certainly meant that it was a very different story in the morning to what the chancellor George Osborne had intended."

One individual who worked on the Stronger In campaign played down the significance of any such mailing list weakness and insisted both sides were desperately trying to get one up on their rivals by obtaining intel: "We were getting their press releases, they were getting ours."
But throughout the campaign, despite a long list of dire warnings from experts and world leaders, Stronger In was unable to deliver a fatal blow to the campaign to take Britain out of the EU, while the ability of its opponents to prepare a full and ready response to its big announcements helped undermine its cause.
Despite worries inside the Stronger In camp that someone was leaking their plans ahead of public release, BuzzFeed News understands the reality was simply that an easily fixed security flaw was handing all their information directly to their opponents.