Corbyn Supporters Are Already Planning For When They Win The Leadership Election
No one at Jeremy Corbyn rallies in Derbyshire will countenance the possibility of defeat to Owen Smith in the Labour leadership election. Instead, pro-Corbyn activists from all sides are looking ahead to what he can do once he's re-elected leader.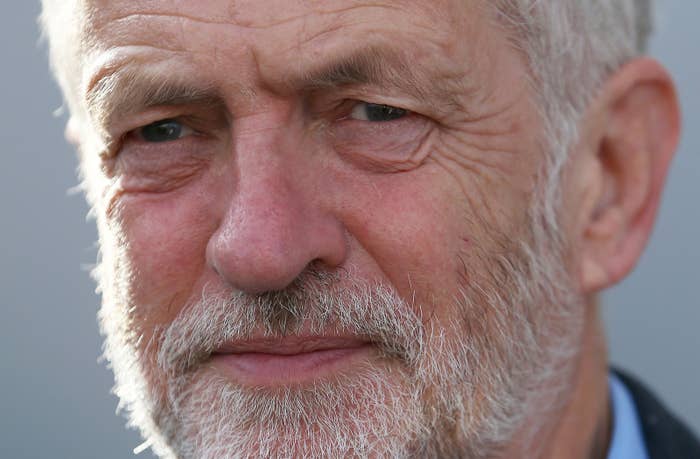 It's preposterous to claim Trotskyites have taken over the Labour party, insists self-identified Trotskyite Steve Score as he wanders around Jeremy Corbyn's leadership campaign rally in Derby selling copies of the The Socialist newspaper and asking people to vote for the Labour leader in this summer's leadership contest.

"I wish there were 300,000 Trotskyites in Britain," he says, in reference to suggestions by Labour's deputy leader, Tom Watson, that the party has already been quietly infiltrated by fans of the late Russian revolutionary Leon Trotsky. "Sadly there isn't."
Still, Score hopes that could change – but first he needs to ensure Corbyn is re-elected as leader. And what's clear from attending Jeremy Corbyn rallies in Derby city centre and the nearby spa town of Matlock is that the Labour leader's supporters are already planning ahead to how the Labour party can be changed when – not if – Corbyn is returned as leader in September.
Of the dozen Corbyn supporters who speak to BuzzFeed News at the two campaign stops in Derbyshire – ranging from teenagers, to established local members, to old activists returning to the Labour fold – none consider a defeat for their candidate in the leadership election a possibility.
For many of them Corbyn's rival, Owen Smith, barely registers on their radar, and if he does, it's often as someone who wants to privatise the NHS – and there's zero hope they could be convinced to switch sides before leadership ballots are issued next week. Many attending perceive the majority of the parliamentary party as the enemy, a detached elite who just don't get what Corbyn is doing with his realignment of Labour. Many are particularly angry at the party's elected politicians; others are just baffled by what they see as attempts to undermine Corbyn.
But what matters to most people at these rallies is finally having a party with "true Labour values" – and that means making good on the leader's rhetoric and truly turning Labour into a wider left-wing movement, despite warnings from Labour centrists that this could make the party unpalatable to the general public.
All of which helps explain why hundreds of people have turned out on a sunny Tuesday lunchtime to see Corbyn speak. The party leader is introduced by former local MP Chris Williamson, who lost Derby North to the Conservatives by 41 votes at the 2015 general election.
"Had Jeremy Corbyn been the leader we'd have won by a quite significant margin," says Williamson, clearly distraught to be out of parliament, before eliciting boos from the crowd by mentioning former Labour foreign secretary Margaret Beckett, the anti-Corbyn MP for Derby South.

Another speaker jokingly welcomes the substantial crowd of "Trotskyites and fantasists" who have come to hear Corbyn deliver leadership pitch and call for universal free education, better funding for the health service, reduced inequality, and a reduction in nuclear weapons.

Corbyn, flanked by a group of teaching assistants campaigning against the local Labour council's decision to change their pay and conditions, begins by setting out the number of times Labour has defeated the government under his watch.
"It's not as if there hasn't been a lot of success in the last year," Corbyn tells the crowd to cheers, before listing a series of victories over the Conservatives. He goes on to praise the recruitment of hundreds of thousands of extra members to the party and calls for members to have control of party policy: "Do we allow an elite to decide what the politics should be?"
Crowd member Evelyn Silver, who gave her profession as "independent celebrant", is delighted to have briefly met Corbyn: "I just thought he was so lovely and sweet and ordinary and he was just one of the people. I can't bear the fighting and the horribleness. We just have to be united against the Tories."
Time and time again Corbyn's political consistency is praised by people at the rally.
"Owen Smith likes to change his mind a lot, doesn't he?" says local student Joel Martin Bryan. "The whole thing about him [criticising] the privatisation of the NHS, the only reason he's come out against that is to cover his tracks."

Instead Bryan praises shadow home secretary Andy Burnham, who refused to quit the shadow cabinet: "He's respected for that."
Activists from the pro-Corbyn group Momentum are working the crowd, collecting email addresses, but the strongest campaigning is by Score and his team of Socialist party activists.
Score is a former Labour member who quit the party under Tony Blair and has since stood for election to parliament against Labour three times on a TUSC ticket. He insists claims of existing Trotskyite incursions into Labour are simply "red scare" stories put about by the media.

He and other local members of his group – a rebranded version of the Militant faction that was ejected from Labour in the 1980s – are instead pursuing what they believe to be a different, legitimate route: campaigning hard to re-elect Corbyn because they hope he will change the rules and allow them to formally rejoin the mainstream Labour party.
"There's a battle on in Labour which needs to be seen through to its conclusion," says Score, who is currently barred from joining Labour after standing against Liz Kendall in Leicester West in 2010. "What we would prefer is to be able to affiliate. In the past other left parties were part of the Labour party."

A fellow activist at the rally called Tom Barker, who's helping to man the Socialist party stall, agrees: "We've got quite a big party at the moment working outside the [Labour] party but we also go to Momentum meetings. What we want is to be part of Labour and open up Labour on a federal basis."
Barker says the centre of Labour's gravity has shifted to the point where his proscribed group's views are barely different to that of the party leader: "Trotsky's ideas are very relevant for understanding the world today. One thing that Tom Watson has inadvertently done is make people want to find out who Leon Trotsky is."
Following a short railway journey to the spa town of Matlock during which a local activist regales railway fan Corbyn with details of the line's rare signalling equipment and the Labour leader takes pictures of a railway station, Corbyn sits in the late afternoon sun in the spa town's bandstand.
A few hundred people have gathered to hear him speak in the town's park, while young children run around and a speaker castigates the "mass media" for refusing to tell the public about Corbyn's policies.

Corbyn tells the crowd his decision to campaign in a safe Tory seat – Matlock is in the constituency of cabinet minister Patrick McLoughlin – proves "there are no no-go areas" for the Labour party under his leadership. He's clearly delighted with the size of the crowds coming to his speeches – "1,000 people in Cornwall!" – and makes a pledge to visit all parts of country.
He also promises that after the leadership election is over Labour will rely increasingly on soliciting the views of "everyone who's got a good idea or a different way of doing things".
"It's called democratic policymaking," he says, "and that's what I want to see in the Labour party."

Ann Tobin, a university lecturer, says she turned up suspicious of Corbyn but left convinced: "I've seen too many people being demagogic without substance to back it up. This sounded serious and sensible and worked-out."
Another Corbyn supporter in the Matlock crowd, wearing a garish shirt, turns out to be David Bishop, the leader of the Bus Pass Elvis political party: "I joined last year and paid my £3 but they [Labour HQ] said I couldn't vote for him because I'm the leader of a rival political party. I didn't even get my £3 back."
Bishop says he'd like to affiliate his party if Corbyn could change the rules: "I've got my own policies, like better daytime TV for the unemployed and legalised brothels."
Corbyn concludes his speech by saying his campaign is about remaking politics: "At one level this is a campaign about who is the leader of a party. But another it's about how we do politics in this country. Let's go back into parliament that day and take the fight straight back to the Tories.

"This is a preparation for a general election campaign to carry a message of cohesion and what we can achieve as a society."
But these rallies are also about getting control of the party. It's hard to imagine how Owen Smith could convince anyone in this crowd with arguments about electability against values.
After the speech, Hannah Fry, who works for a local furniture company, sums up the crowd reaction as Corbyn is mobbed for selfies on a hot summer afternoon in the park. She finds Owen Smith "really smarmy and awful", felt things "went wrong" with Labour under Tony Blair, and is convinced Corbyn can win a general election.
But the main goal, both for Fry and for many at Corbyn's Derbyshire rallies, is the long-term realignment of Labour: "Even if he doesn't win, then at least he'll shift the party back to the left instead."