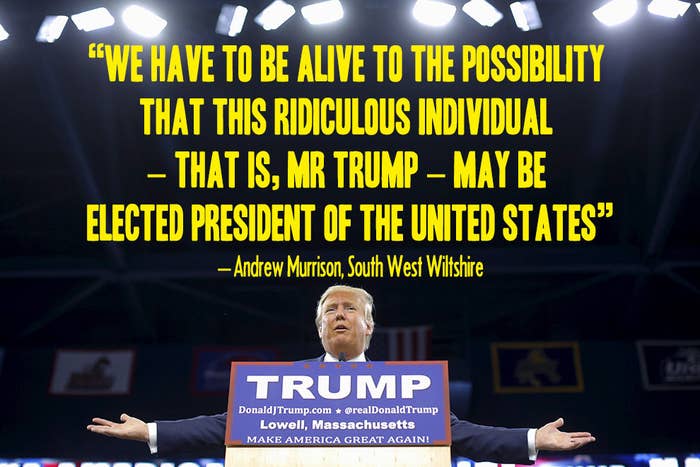 MPs described Donald Trump as a "fool", a "buffoon", and a "wazzock" in a lengthy parliamentary debate about whether to ban the Republican presidential frontrunner from entering the UK.

As Trump himself addressed thousands of students at the evangelical Liberty University in Virginia on Monday, British MPs retreated to a dusty secondary debating chamber in the Houses of Parliament and spent three hours debating whether a man who has pledged to stop all Muslim immigration to the US should himself be stopped from visiting Britain.

"We have to be alive to the possibility that this ridiculous individual – that is, Mr Trump – may be elected president of the United States," said Andrew Murrison MP in Monday's debate, which was held after 500,000 members of the public signed a petition branding Trump's comments as "hate speech" and calling for him to be excluded from the UK.

The largely flat debate in Westminster Hall was one of the best-attended discussions in the history of parliament's secondary debating chamber, and was even broadcast live on US political channel C-Span. Although entirely symbolic, it provided three hours of grandstanding for MPs, who variously made serious legal points about Trump's right to come to Britain and attempted to come up with innovative ways of insulting the potential future US president.

"This is about buffoonery," boldly declared Tory MP Alex Chalk, urging for the Apprentice star to allowed into the country. "And ultimately buffoonery should not be met with the blunt instrument of a ban but with the classic British response of ridicule."
SNP politician Anne McLoughlin noted Trump was the son of a Scottish immigrant, before adding: "And I apologise for that."

More confusingly, Paul Scully MP stood up to declare: "Britain is pretty good at roasting beef – do you not think it's better that we just roast Trump?"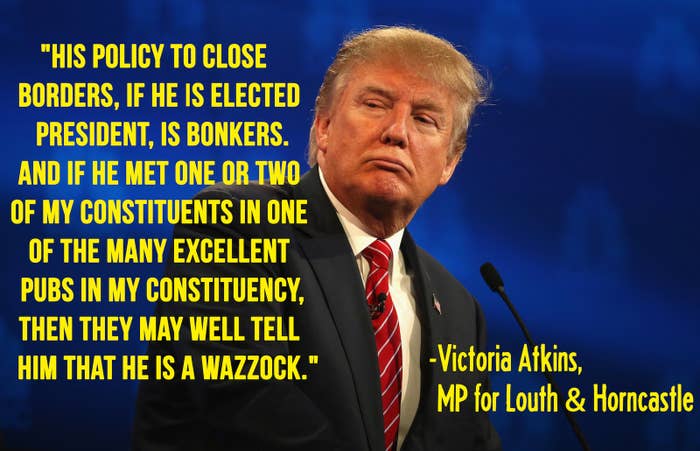 One MP, in apparent bafflement at US politics, simply stated: "It is not for us to try and get into the mind of Donald Trump."
Meanwhile, Muslim Bradford West MP Naz Shah compared Donald Trump to the notorious left-wing politician George Galloway, who she defeated in May's general election: "It's not the first time I've dealt with a demagogue."

Instead she channelled verses from the Qur'an: "Donald Trump would like me banned from America. I wouldn't get my visa. But you know what, in my Islam, in the Qur'an I understand... what it teaches me is that goodness is better than evil. If someone does bad you do good in return."
Conservative MP Victoria Atkins, whose rural Lincolnshire constituency contains a tiny village called New York, said she hoped to stand up for the true "New York values" represented by her constituents, rather those of Donald Trump.
"His comments regarding Muslims are wrong," the MP said. "His policy to close borders if he is elected president is bonkers. If he met one or two of my constituents in one of the many excellent pubs in my constituency then they may well tell him he is a wazzock for dealing with this issue in this way."
But she said she didn't want a ban and insisted Trump would be exposed if he ever came to Britain: "We in the United Kingdom should have enough confidence in our values to allow him to say whatever he wants in New York, New York; New York, Lincolnshire; or anywhere else in the world."
Almost all sides – from the left and right of UK politics – were unanimous in their condemnation of Trump's comment on race and immigration, with the exception of Philip Davies, the outspoken Conservative MP for Shipley, which has a large Muslim population.

"I've heard the remarks that Donald Trump's made by a large number of my constituents," said Davies. "Lots of my constituents would agree with what Donald Trump says, whether I like that or not. [Do fellow MPs] think they should be expelled from the country because of their views and if not, what's the difference?
MPs spent most of the debate giving attention to Trump while simultaneously raising concerns about the level of attention that he was receiving as a result of the debate.
Trump, who has seized on the debate as another example of the establishment turning against him, had threatened to withdraw £700 million of investment in British golf courses if he is banned. However, immigration minister James Brokenshire suggested in the debate that Trump could be over-inflating his figures: "Over the years Mr Trump has made a number of statements about the different scale of his investments in the UK and his willingness to maintain them."
Only the home secretary has the power to ban individuals for hate speech. The government has indicated it is not inclined to ban him and the debate did not end in a vote.

Veteran Labour MP Paul Flynn warned the issue of Trump's potential presidency was a major concern for the UK on many levels: "While we have no right to inform Americans on who they should elect as leader… we do look forward with some trepidation to a future where difficult decisions have to be taken. Should they be taken by a person who is seen to be impulsive, and not well-informed, and has been accused of racial views?"