Water Cannon Will Be On London's Streets By The Summer
First time on the UK mainland. Whether they can actually be used is a different matter.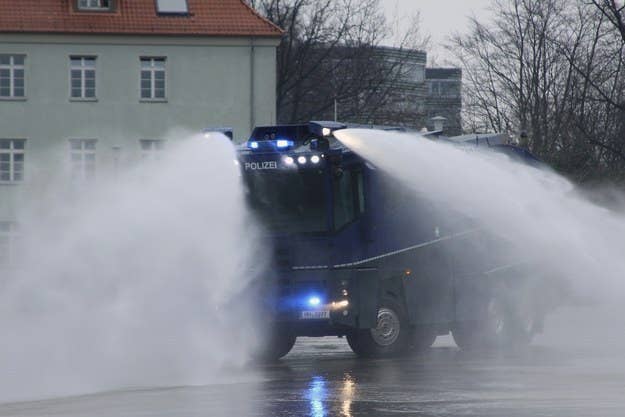 London's Metropolitan Police will have possession of water cannon from this summer, it emerged today, after Boris Johnson's deputy approved the purchase of three of the controversial vehicles.
But the decision has been taken without the backing of the Home Office, which has yet to allow the use of such devices on the UK mainland.
Johnson has personally lobbied for the use of water cannon to be allowed on London streets and £217,300 will now be spent buying three such Wasserwerfer vehicles from the German Federal Police.
The Met believes the cannon will help them control crowds and maintain public order in the event of a repeat of the 2011 London riots. Sir Bernard Hogan-Howe, commissioner of the Met, insists the water cannon will be "rarely used and rarely seen".
British police are only currently allowed to use water cannon in Northern Ireland but Home Secretary Theresa May is considering altering the law to allow use on the mainland. However, if she does not give her approval then the purchase could be a costly mistake.
May has already rejected a request to fund the purchase from central government funds and the water cannon will instead be bought with City Hall funds.
Stephen Greenhalgh, Boris Johnson's deputy mayor for policing and crime, said he took the decision to rush through the purchase in order to ensure London could buy the second hand vehicles at a knock-down rate. If permission to use them is not given then he will attempt to sell them on to another purchaser.
Greenhalgh also said a swift deal would ensure the water cannon are available for use on London's streets this summer.
"Whilst there is no intelligence to suggest an increased risk of this summer, the MPS's [Metropolitan Police Service's] experience demonstrates that if water cannon are to be of value then it is most likely that this will be during the summer, in which disorder is statistically more frequent," he wrote in a document explaining the purchase.