UKIP Just Announced Some Left-Wing Policies And It's All A Bit Confusing
The party is trying to win former Labour voters by mixing traditional right-wing policies with its own brand of populism.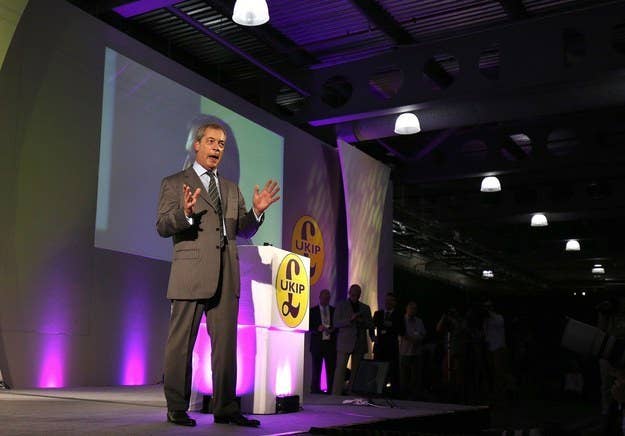 DONCASTER – UKIP announced a load of left-wing policies on Friday, confusing everyone trying to work out exactly where the party fits on the political spectrum as it attempts to attract Labour voters.
Nigel Farage said he'd had enough of being portrayed as the party of "kedgeree-eating half-retired colonels". The amount of grey-haired men in tweed at UKIP's annual conference at Doncaster Racecourse suggested he might not be winning that particular battle. But it's clear he increasingly believes the party's future growth will come from appealing to disaffected voters from any political affiliation, especially Labour.
According to Farage, UKIP doesn't care about "right and left, but right and wrong".
This means that a party that used to describe itself as "libertarian" in the top line on its website is now increasingly willing to adopt almost any populist policy going in the search for votes, even if they're nominally left-wing. Taxes would go up on things that affect the rich, the NHS would be protected to appeal to old voters, and there would be a new "luxury tax" on all pairs of shoes costing over £200.
But at the same time inheritance tax would be cut to benefit elderly homeowners worrying about the next generation, there would be British-only passport queues at airports, and there would a ban on ill people entering the country.
In short, everything's gone a bit weird in an already quite weird party which journalists usually describe as "right-wing and anti-EU".
It's definitely still anti-EU to its core, although the party's opposition to Brussels was barely mentioned by Nigel Farage, who preferred to focus on domestic issues in a conference speech that was largely unscripted and scribbled on two pieces of paper.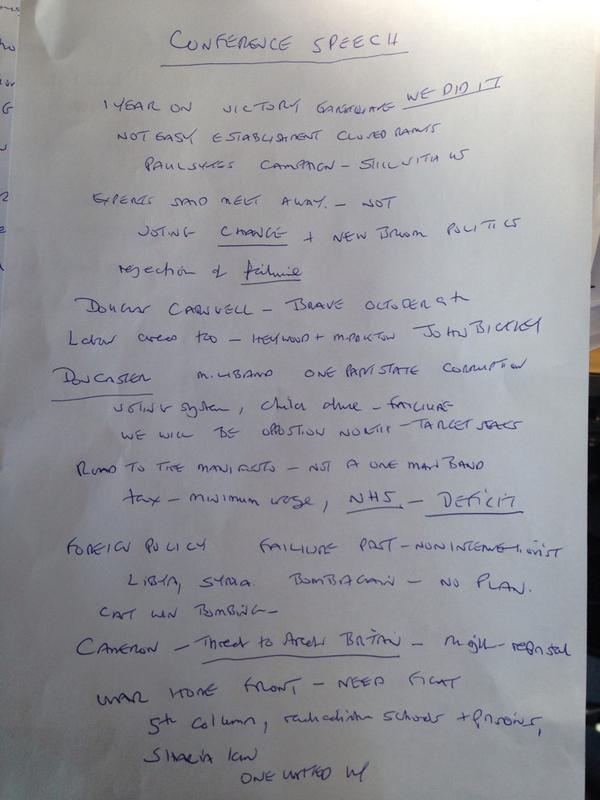 But for every right-wing policy announcement there was a strange, slightly uneasy left-wing equivalent, reflecting UKIP's newly acquired ex-Labour support base.
At the last election the party backed a flat rate of tax for all individuals; now it backs a cut in the 40p rate to 35p for people earning up to £55,000 as part of a progressive system.
And in a bid to appeal to low-wage workers, UKIP said it would massively reduce immigration and stop all minimum wage workers from paying income tax.
"The minimum wage has become the maximum wage because of the massive oversupply of labour coming into this country," said Farage.
Labour spent the day claiming UKIP are "more Tory than the Tories", and pushing images such as this one on Twitter.
But UKIP hit back, claiming it would work with the trade union Unite to stop a transatlantic trade deal that could open up the NHS to US private health firms. It doesn't really matter if it's just bluster (and all these policies are largely irrelevant, since UKIP is unlikely to have a role in the next government) if it helps the pitch to floating voters on the doorstep.
"Labour will tell everyone that UKIP wants to privatise the NHS," said Farage. "But it was the Labour party, in government, that introduced the PFI deals on new-build hospitals that have cost the taxpayer billions to the benefit of private investors."
All of this leaves the party in an uneasy alliance. Next month, Douglas Carswell will, barring disaster, become the party's first MP to win election, in the forthcoming Clacton by-election. (The Conservatives, busily managing expectations, privately say they'll be happy to lose the seat by 5,000 votes and hope to take it back at the 2015 general election.)
But Carswell is an ex-Conservative MP and self-professed libertarian in a party that is now tacking to the left in some key areas. The risk of a split between the old, Thatcher-influenced party and the new recruits could still boil over into something more serious, although probably only if the party gets a sniff of power.
"We are now parking our tanks on the Labour party's lawn," declared Farage.
Despite the hatred towards UKIP from many left-wingers, this pure populism could work in some Labour constituencies, even if voters don't quite know what the party they're backing actually stands for.