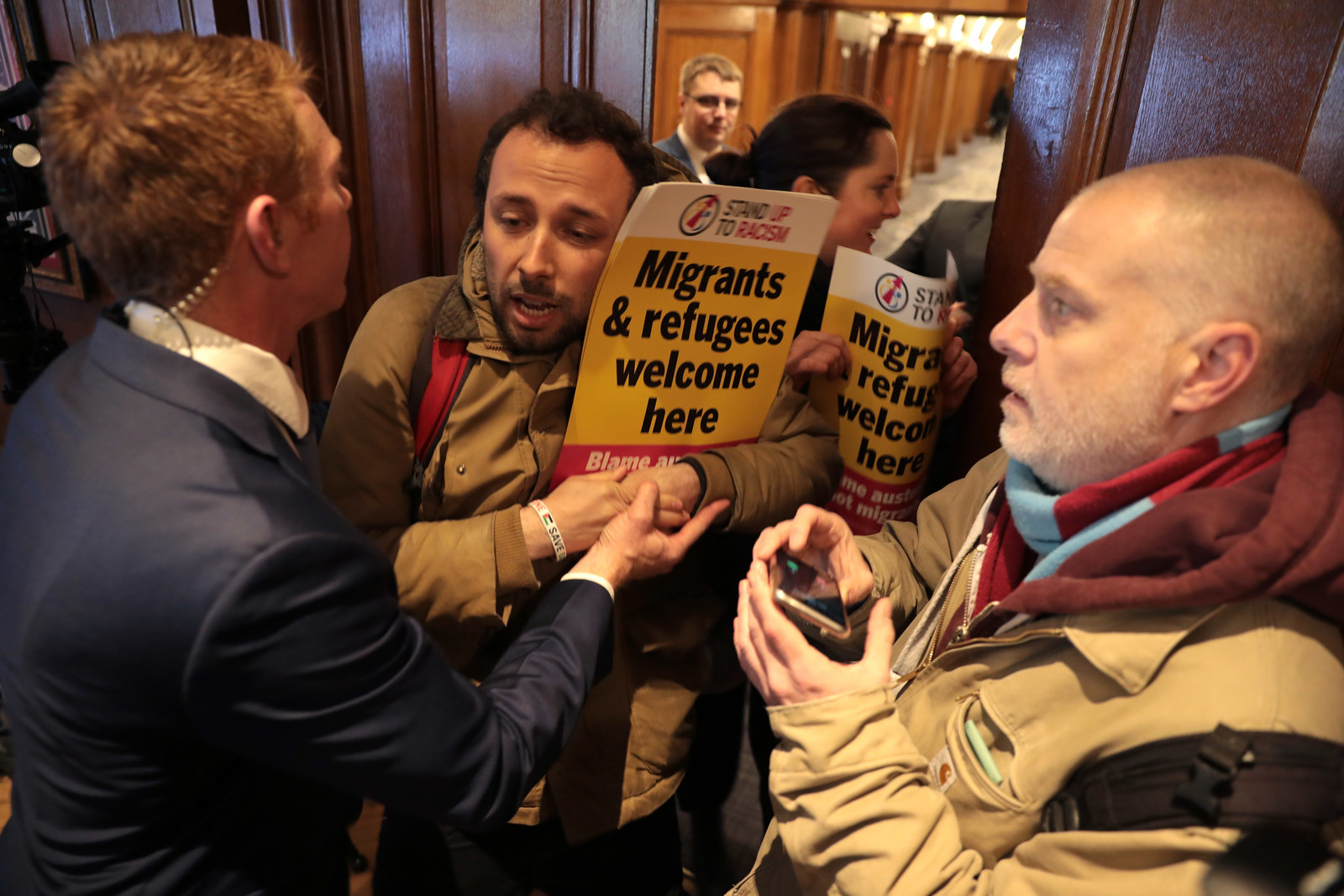 UKIP attempted to launch its general election campaign on Friday morning. It didn't go well.
Activists from Stand Up to Racism invaded the venue shortly before the event was due to begin, shouting that UKIP was "Islamophobic", after the party published an integration policy that would ban all face coverings in public and mandate checks on girls for signs of female genital mutilation.
The small group of protesters were eventually removed, but panicked hotel staff at the Marriott County Hall hotel in central London put the entire venue on lockdown, leaving at least a dozen journalists locked outside in a hotel bar.
At least a dozen journalists were locked out, depriving the party of press coverage, while exasperated hotel staff and UKIP officials attempted to rescue the event. The police were called but did not seem to view the removal of protesters as a priority call.
Protester Weyman Bennett, a longtime member of the Socialist Workers Party, told BuzzFeed News he was particularly angered by the party's decision to focus on apparently anti-Islam policies.
He insisted it was fanciful to say FGM is "a critical problem in British society when we've got unemployment" and pledged to continue disrupting events for "as long as UKIP doesn't accept that women should be allowed to wear what they want".

"I believe they're trying to whip up racism in order to win votes," he added.
One exasperated UKIP press officer, attempting to put a positive spin on events, suggested that the launch was still not as catastrophic as the party's 2014 attempt to run a racial diversity carnival in Croydon.

Inside the launch event Paul Nuttall said his party still had a future, despite Theresa May's Conservatives giving full backing to Brexit, insisting: "We have to see this through to the end; we are only halfway through the war."
"A whopping Conservative majority will only serve to put Brexit in peril," he said.

Nuttall repeatedly refused to say where he would be standing for election, suggesting only that reporters would need a "bucket and spade" – a potential reference to the seaside constituency of Boston and Skegness, where UKIP came second in 2015.
The party's leader also accused May of "flagrant opportunism" in calling a snap election for 8 June because her party has such a huge lead in the polls.

UKIP, by its own admission, is ill-prepared for a general election campaign and has lost support in the polls since the EU referendum. It has already indicated it will not be standing in some seats where there is a pro-Brexit candidate from a major party. Many party activists and financial backers have drifted away from the organisation since the EU referendum and former leader Nigel Farage has confirmed he will not be standing.
UKIP is also rushing to produce a manifesto that ensures it remains relevant now it is not the only pro-Brexit party standing for election.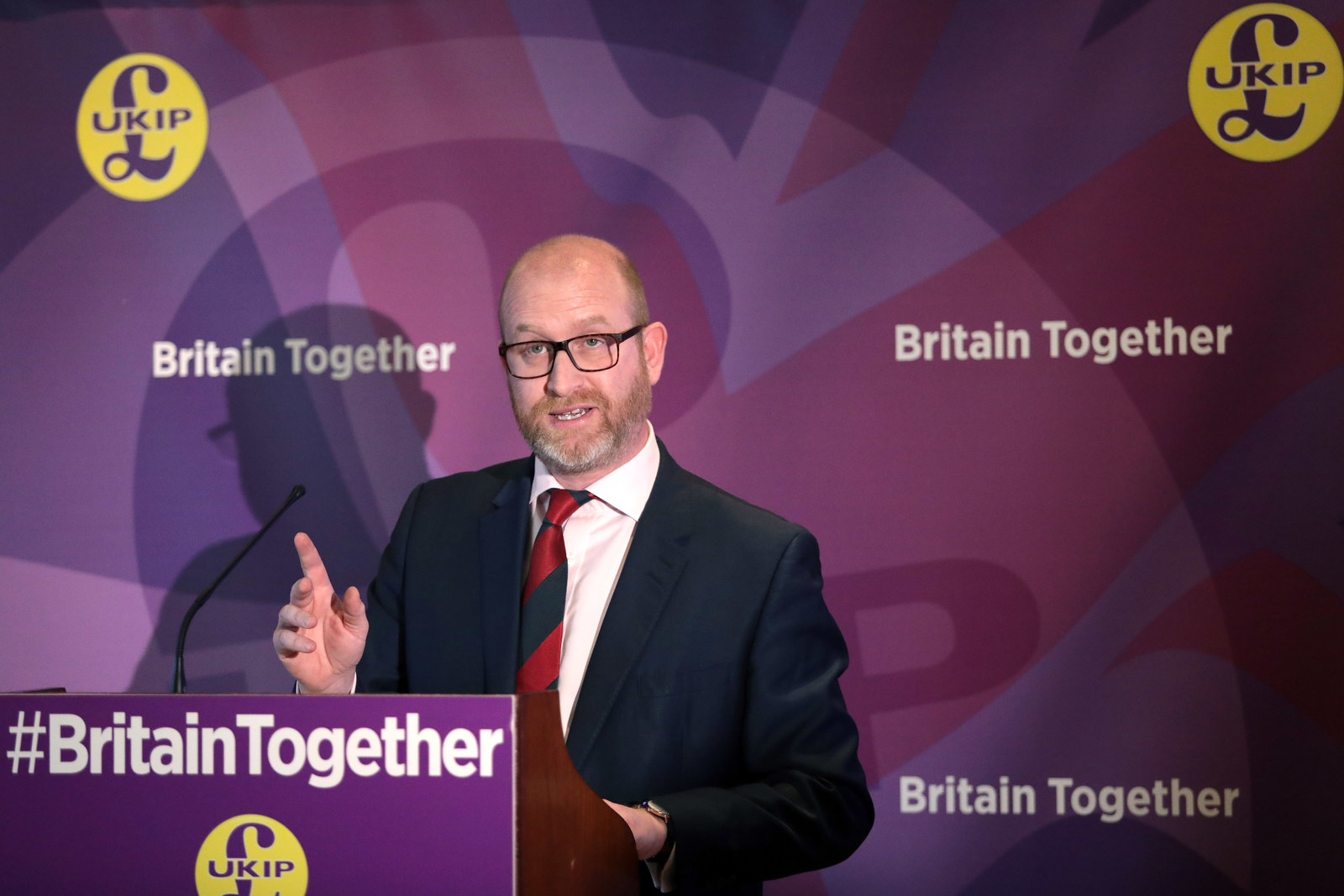 Senior UKIP officials were clearly angered by repeated questions about whether beekeeping masks would be covered by a proposed ban on face coverings, which has already prompted a rebellion within the party from individuals who oppose the attempts to regulate women's clothing.

"Under Paul Nuttall UKIP is not going to be the party that wants to expunge Islam from Britain," said Patrick O'Flynn, one of the leader's top advisers, defending the proposal to ban veils on the streets of the UK.
"The full-face covering is not a requirement of the Muslim religion. I am proud of it [the policy] – it is UKIP taking on an issue that the establishment parties won't touch."