UKIP Already Blaming Brussels Terror Attacks On The EU
Another reason to vote for Britain to leave the union in the referendum, apparently.
UKIP has blamed the EU for this morning's terror attacks in Brussels, even though authorities have yet to identify suspects or a motive.

Party leader Nigel Farage said he was "upset" by events and retweeted a message from Daily Telegraph columnist Allison Pearson attacking people who support Britain remaining in the EU.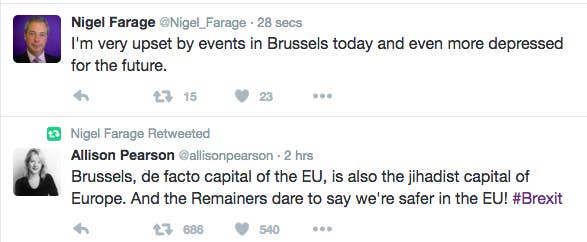 Immediately after news broke of the apparent terror attacks on the Belgian capital's airport and metro system, anti-EU campaigners were using the incidents to make the case for Britain to leave the EU.

UKIP defence spokesperson Mike Hookem MEP sent a press release within an hour of the first bomb at Brussels Airport blaming the incident on EU immigration policy and the Schengen zone, which allows individuals to move across the continent with reduced passport checks.

"This horrific act of terrorism shows that Schengen free movement and lax border controls are a threat to our security," he said. "The head of Eurpol said in February that 5,000 jihadists are at large in the EU having slipped in from Syria.

"There are 94 returned jihadists currently living in Molenbeek, Brussels. This fact alone should alert people to the fact that open borders are putting the lives of European citizens at risk."
Other anti-EU campaigners quickly connected events in Belgium with the EU referendum, including Sun columnist Tony Parsons.
Although some commentators suggested it was too soon after the attacks to make political points about the UK's upcoming referendum on whether or not to leave the EU.