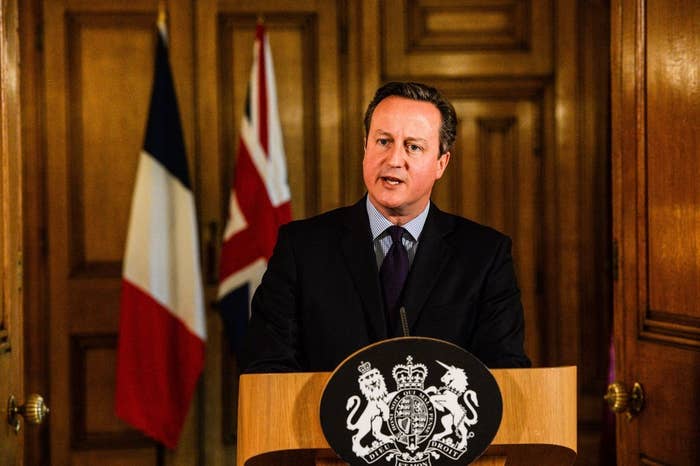 David Cameron has called for a new international agreement to attack ISIS targets in Syria following the Paris terrorist attacks and claimed that the UK security services have stopped seven similar incidents in Britain so far this year.
The prime minister said it is now imperative that international leaders agree a political deal in Syria to help undermine ISIS, which has claimed responsibility for the deaths of 129 people in coordinated attacks in the French capital on Friday night.
"You can't really deal with the so-called Islamic State unless you get a political settlement in Syria which allows you then to permanently degrade and destroy that organisation," Cameron told Radio 4's Today programme.
A major sticking point is Russia's reluctance to back any deal that would immediately remove Syria's president, Bashar al-Assad, but Cameron said this should not be allowed to block a deal: "We have to find a settlement where Assad leaves and there is a government that can bring Syria together, and we must not let the gap between us be the altar on which this country of Syria is slaughtered."
The prime minister said British intelligence agencies had been expecting similar attacks but "the warning that we were previously planning and responding to came out of al-Qaeda". As a result officials would now reassess whether the UK is able to cope with such an attack.
"Whenever anything like this happens you have to go back to the drawing board and look at how many people were involved and how many locations and work out what more steps you need to do to try to keep yourself safe." he said.
Speaking from the G20 summit of world leaders in Turkey, he also called on MPs to back the extension of the UK's bombing campaign against the Islamist terrorist group from targets in Iraq to targets in Syria: "ISIL don't recognise the border between Iraq and Syria, and neither should we."
But he said he would not bring the vote to parliament, because he is not confident it would pass due to opposition from Labour and some backbench Conservative MPs: "We won't hold that vote unless we can see that parliament would endorse action because to fail on this would be damaging. It is not a question of damaging the government, it is a question of not damaging our country and its reputation in the world."
However, he said that if Britain was under threat then he would "act and take immediate action" in Syria, before reporting to parliament at a later date.
Labour leader Jeremy Corbyn remains staunchly opposed to military intervention and told ITV's Lorraine that further bombing raids in the region were "probably not" the answer: "The idea has to be surely a political settlement in Syria, very difficult to achieve. There are some signs that the talks over the weekend have made some progress. Iran, Russia, USA, European Union around the table together with all the regional governments, particularly Turkey, is key."
Cameron also suggested there may be an argument for giving more powers to the security services, in the form of Theresa May's investigatory powers bill. His spokesperson later told reporters that Downing Street would "review the timetable" for introducing the new law, given current plans mean it could take until the end of 2016 for it to be implemented.
The prime minister said a similar attack could happen at any point in almost any European country: "This is the struggle of our generation. This disease of Islamist extremist violence, this perversion of the religion of Islam that is being carried out by this minority is a challenge we will have to face with everything we've got."
He also urged the public to continue with their normal routine and said he would be willing take his children to the England-France football match at Wembley Stadium on Tuesday night, although his spokesperson was not sure whether the prime minister would be attending the game.
Cameron's team later said they are working to identify British fighters returning from Syria. "We take national security extremely seriously and while we wouldn't get into any operational details," a spokesperson said, "we clearly would make an assessment on anyone who poses a threat and take the relevant action."