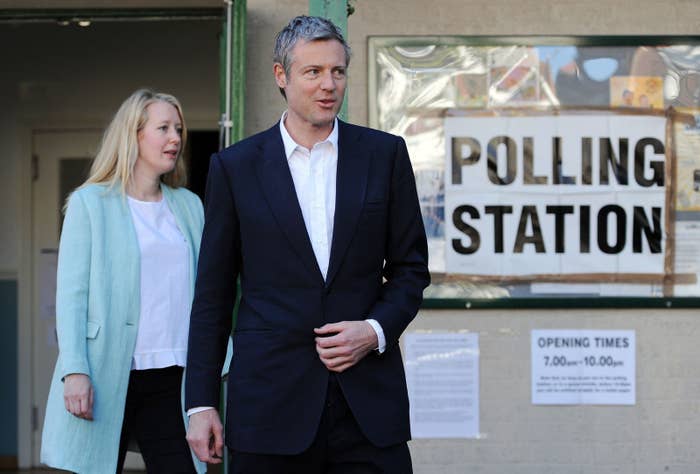 The outgoing Conservative deputy mayor of London has attacked Zac Goldsmith's "foolish" mayoral campaign for making race a major issue in the contest and leaving a "negative legacy" for the capital's Tory party to clean up.
Roger Evans told BuzzFeed News he feared the Tory mayoral candidate's campaign, which repeatedly attacked Labour's Sadiq Khan for having alleged links to Islamist extremists, had undone years of work to build the Conservative vote in the capital, especially among ethnic minority voters.
"I'm concerned that the campaign we've run is going to leave a negative legacy which we in London are going to have to clear up long after the the people who ran Zac Goldsmith's campaign have gone on their way," Evans said at London's City Hall.
"I've been the deputy mayor for the last year and it's been my job to go and talk to communities in London," he said before the result was declared. "I've always been very pleased with the courtesy with which I was received and the hearing all communities were willing to give to a Conservative politician.
"We're going to have to do quite a lot of work to re-establish trust with a lot of communities in London, that's a shame and an opportunity missed."
Although the result has yet to be confirmed, recriminations over who is responsible for the negative Goldsmith campaign are already underway in the Conservative team. Evans' comments come after fellow London Tory Andrew Boff took to BBC Newsnight to declare that Goldsmith had fought an "outrageous" campaign against people with "conservative religious views".
Evans, who served as Boris Johnson's deputy mayor, rejected the idea that Goldsmith should blame his team of advisers for making the campaign about race: "It's the fault of the candidate. In 26 years I've fought nine elections and won them all and one of the reasons is I've never been scared to contradict people when they were giving me a message that wasn't going work.
"If Zac had been stronger about that we would find ourselves in a better position. And that's down to the candidate, not anyone else. He's going to have to take responsibility for that."
In summary, he said, the Conservative campaign had been a "day late and a dollar short".
"I don't think the Goldsmith campaign gave Londoners enough of a reason to vote for him. It was a bit light on policy, it was a bit shallow, and that's why the negativity came to light because there wasn't much else to talk about," he said.
"What we do know is that when race becomes an issue in a campaign it always drives up the Labour vote. On that basis it seems to me a very foolish campaign decision to make a campaign about race in London."
However, Conservative assembly member Kemi Badenoch defended Zac Goldsmith's mayoral campaign, suggesting it was a matter of sour grapes on the part of some of those making the criticism. "The narrative of this being a dog whistle campaign is from his enemies. There's nothing [Zac] said that wasn't true and there's so much else that he said about TfL and investment and it just seemed to fly over people's heads."
She suggested Andrew Boff's comments on Newsnight may have been motivated by his own disappointment at missing on the Tory nomination for the mayoralty: "It's what he does. I didn't even think he'd do it that quickly. He hasn't really been happy since he came last in the mayoralty and he's also not happy that he got bumped down to number two on the [London Assembly] list.

She also suggested Sadiq Khan had been able to use his religion to avoid valid criticism over his decision to share platforms with alleged extremists: "It's very disappointing that people are calling it racism and dog whistle politics – and I say that as a member of an ethnic minority myself. You cannot have people who are immune from criticism because they belong to a particular religion. No one has said anything about [Khan's] race or religion, it's all about the people he shared platforms with. Imagine if Boris had shared a platform with the National Front."

"The public has spoken and that's fine – but it's wrong to say that these things shouldn't be mentioned."