Andy Burnham Supporters Are Renaming Old Twitter Accounts And Annoying People In The Process
The politician is running to be Labour leader. One keen supporter is quietly renaming popular left-leaning Twitter accounts to pump out pro-Burnham material.
In a tightly fought leadership election, it's important to get your message in front of as many party activists as possible.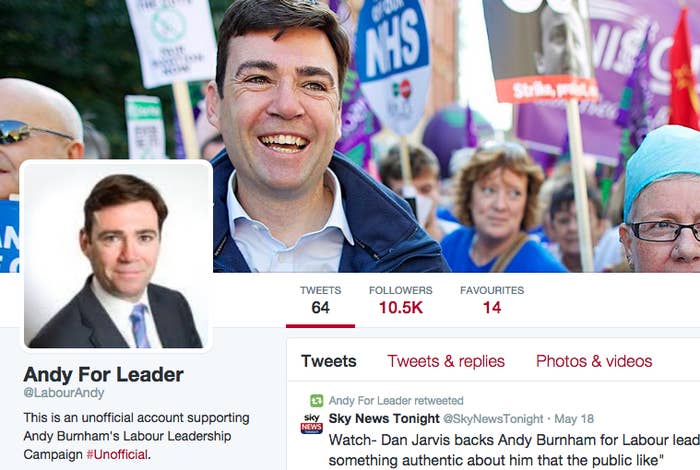 Which is why it's incredibly useful for Andy Burnham that – within days of announcing he would run for leader of the Labour party – he had a fan Twitter account called @LabourAndy with over 10,000 followers pushing supportive messages to party activists and journalists.
A nonstop stream of graphics and pro-Burnham messages was soon finding its way into timelines.
But a lot of the account's followers were confused as to how they'd ended up following an account splurging pro-Burnham info.
As noted by the likes of Guido Fawkes and Political Scrapbook, some users were baffled by the appearance of the account in their timeline.
That's with good reason. Originally the page was called @EvidenceUK and was run by well-known Labour Twitter activist Dr Éoin Clarke.
Clarke, who holds a PhD in history, has spent the last five years running a number of increasingly popular blogs and Twitter accounts supporting figures on the left of the Labour party.
Although his work has sometimes resulted in a series of formal apologies over inaccuracies in his reporting, he has since found a very successful home on Twitter producing highly viral pro-Labour material, while also running parallel accounts.
@EvidenceUK was one of his accounts and it built up a substantial following in the run-up to the general election by "fact-checking" Conservative claims.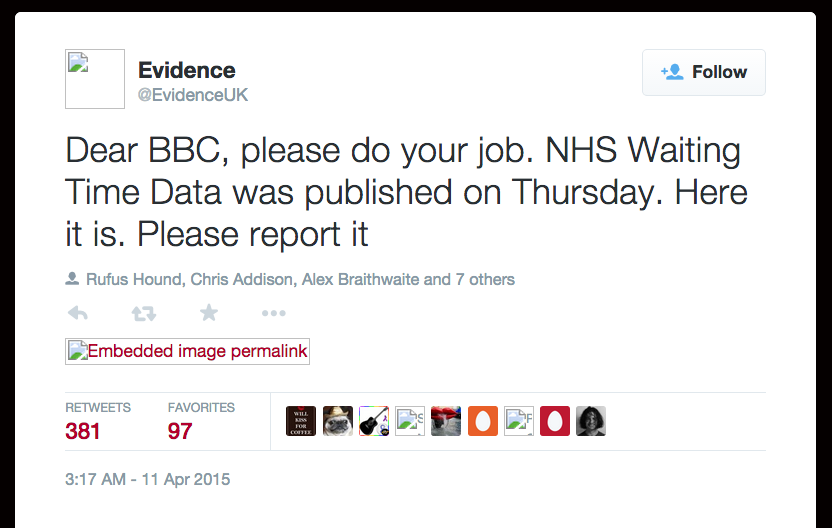 Many of its tweets went viral among left-wing Twitter users.
It was popular with Labour MPs and journalists and gained thousands of followers. But within days of the election the account had been completely wiped from Twitter.
All the account's tweets were deleted and its favourites cleared. But, rather than abandon the valuable 10,000 left-leaning followers, Clarke simply renamed it "@LabourAndy" with a new bio pic, and instead began pushing out pro-Burnham photoshops and quotes, according to embedded tweets on an archived version of an associated EvidenceUK website.
Flipping Twitter handles is a highly successful tactic used by social media marketing companies, such as The Social Chain, which regularly alter accounts to serve new purposes while keeping their old followers. However it's an unusual tactic in politics. Clarke did not respond to a request for comment on why he decided to flip his account in this way.
Followers aren't alerted of the change, resulting in the irate followers.
In the case of @EvidenceUK people who followed the account for generic pro-Labour material suddenly find they're receiving highly partisan tweets in favour of one particular candidate.
Burnham's team confirmed that Clarke was behind the account and said it was not endorsed by the official campaign.
"They're nothing to do with us," an aide told BuzzFeed News, who said the campaign wanted to verify the substantially less popular official campaign account in order to make this distinction clear.
"We know Eoin but he's not involved in an official way and he's not running any of the official accounts. He's just doing his own thing as a supporter as anyone's allowed to."
That said, they insisted it's the work of true supporter: "Some of it's quite creative; he's a big fan of Andy's."
Burnham's campaign team might not be able to control what is put out on the unofficial channel, or whether it's annoyed followers.
But Labour leadership elections rely on attracting the maximum number of votes from a small selection of party activists. With this in mind, having direct access to several thousand of them could make a real difference, especially when rival campaigns have less of a presence.