This Man Just Got A Jacob Rees-Mogg Tattoo
We live in strange times.
The year is 2017 and people are getting Jacob Rees-Mogg tattoos on their chest.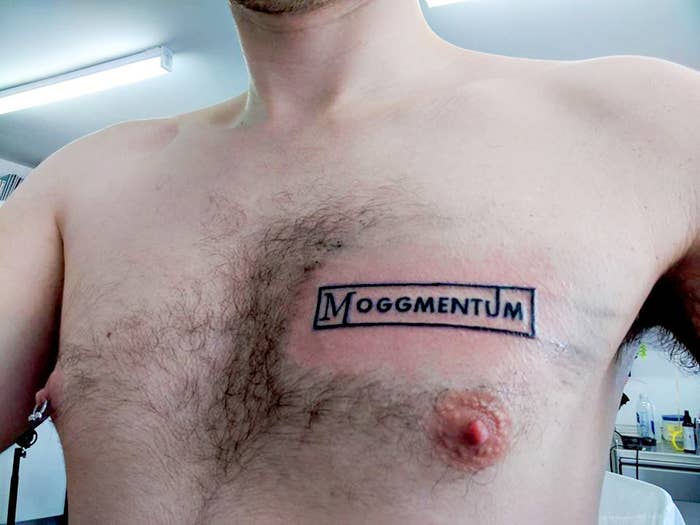 Moggmentum, one of the most unlikely of the many semi-ironic political movements that the internet has created, has grown up over recent months around the Tory MP Jacob Rees-Mogg.
Young Conservatives, jealous of the attention (and tattoos) Labour's Jeremy Corbyn has received, are responding by rallying around a man who has been a figure of fascination for his outmoded mannerisms since his time at university in the 1980s.
Rees-Mogg, a permanently suited father of six and investment manager, represents the constituency of North East Somerset in an unashamedly traditional Tory manner. In recent weeks he seems to have become aware of his meme potential and expanded into Instagram and Twitter.
Whether the nascent scene can survive beyond the quiet months of the summer is a moot point.
Which is where Ross Atkinson, a marketing assistant from Doncaster, enters the story, with a tattoo based on an adaptation of the logo of Labour-supporting group Momentum.
"I like a good laugh, don't take life too serious and only live once. I believe tattoos are meant to represent yourself, what you believe or what interests you and [I] thought it would be funny to be honest," he told BuzzFeed News.
The Conservative supporter said he decided to get the tattoo because he didn't want to have any regrets in life.
"He's an old kind of Conservative who doesn't worship the altar of individualism but understands that a state should step in every so often," said Atkinson, explaining why Rees-Mogg appeals to a northern Conservative activist. "He also stands for his only beliefs even if the party is against it, although he tends to agree with the party a lot anyway.

"He's a genuine guy but he also has a really dry sense of humour much like a character from Yes Minister (him talking on Have I Got News For You about Boris Johnson and Saudi Arabia is a prime example)."
Atkinson also insisted his girlfriend of seven years finds the tattoo "amusing" and he reckoned the MP would find it "amusing and confusing" if he saw it.
And if Rees-Mogg goes out of fashion?
"I believe you only live once and my parents have a lot of regrets from their youth – I wanna have as few as possible," he said. "I can always remove it later in life anyway, or cover it."