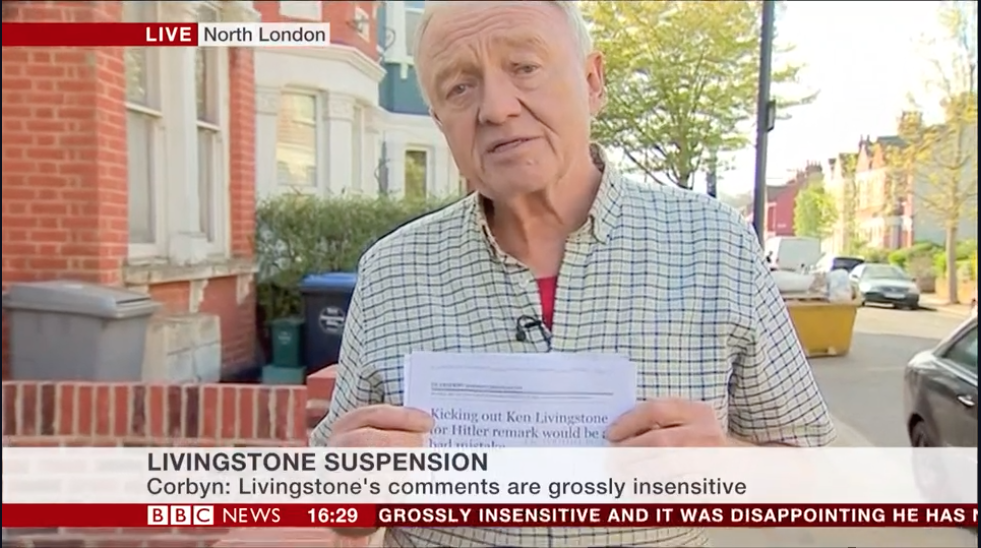 A Jewish newspaper wants Ken Livingstone to stop suggesting it has spoken out in his defence, after the politician was suspended from the Labour party for two years over repeated comments about Hitler working with Zionists in the 1930s.

During media interviews on Wednesday Livingstone repeatedly alluded to support for his position from Jewish News, which bills itself as the UK's biggest Jewish newspaper, as evidence there is grassroots support among the Jewish community for his stance.
"Look at this, this is last week's edition of the Jewish News," Livingstone said in an interview on the BBC News channel, holding up a printout of a piece headlined 'Kicking out Ken Livingstone for Hitler remark would be a bad mistake'.
"It says they're expelling me for those remarks," Livingstone said. "It goes on to say I was misquoted, and actually at the end congratulates me for actually drawing attention to the Holocaust because a lot of kids are growing up not knowing that."
He made a similar claim on LBC radio.
Richard Ferrer, the editor of the Jewish News, said in reality Livingstone is mistaking an opinion blog hosted on his website for the newspaper's stance. In reality the Jewish News has repeatedly campaigned for Livingstone's expulsion from the Labour party, a stance which the editor claims is shared by the majority of his publication's readers.

"He is dreadfully confused, emphasising how deluded the poor man has become," Ferrer told BuzzFeed News, and suggested the former mayor of London might not want to look at the publication's actual print front page editorial, which is far less complimentary.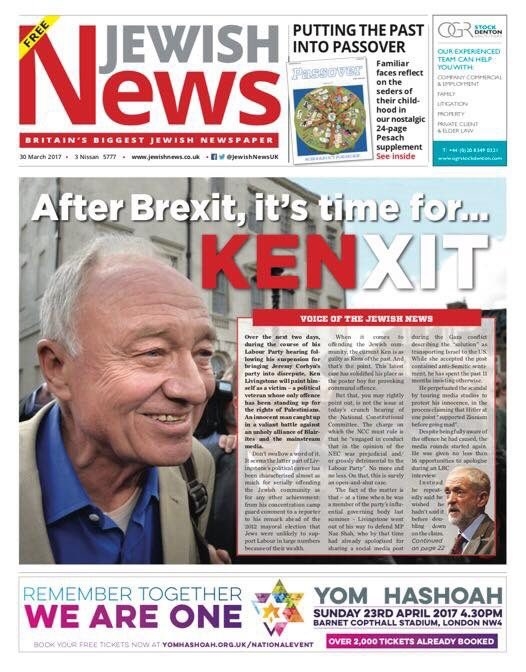 Ferrer suggested Livingstone had managed to "find five of the 300,000 Jews in Britain who support him" and then convinced them to speak up on his behalf.
He said his publication's blog section was willing to host opinion columns reflecting controversial stances, since in any meeting of two Jews there would be "three opinions", but insisted the vast majority of the newspaper's readers wanted Livingstone expelled.
"We publish columns with all sorts of opinions as long as they stay within the realm of rationality," he added. "It's not our editorial opinion."
Livingstone has doubled down on his defence of his comments after unexpectedly avoiding permanent expulsion from the Labour party following a disciplinary panel on Tuesday night. Dozens of Labour politicians, including deputy leader Tom Watson and current London mayor Sadiq Khan, have criticised the decision not to expel Livingstone.
Labour leader Jeremy Corbyn has also referred Livingstone back to the party's governing body over his "subsequent comments and actions" following the suspension.
Livingstone was unrepentant, telling BBC News he stood by his statement and said he was regularly approached by supporters. He said: "I can't recall the number of Jewish people who have come up to me on the street and said 'don't these MPs know their history, we know what you said is true'. I don't feel offended if someone says that in 1938 the British government signed a deal with Hitler that allowed him to keep the occupied territories of Czechoslovakia.
"No one who's Jewish today – whether in Britain or Israel – should feel embarrassed that 80 years ago a group of Zionists took a deal with Hitler, because you could make the justification that if they hadn't done that deal the 60,000 Jews who then moved to Palestine could have ended up in the gas chamber."