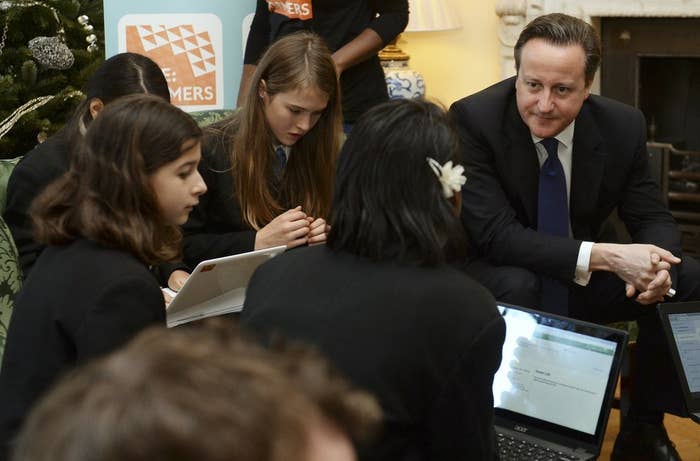 David Cameron will today launch a new crackdown against online child abuse images with the support of Google, Facebook, and Twitter. But the real story might be how the policy came about, and Downing Street's perception that it has to fight against the libertarian tendencies of tech companies to reach a deal.
The package of measures, which includes plans for the government's GCHQ spy service to work with the National Crime Agency (NCA) to police the so-called dark web, also features a new Google-designed database that will catalogue child abuse videos and attempt to stop them appearing on search engines in the future. Fellow tech firms are also committing to new software for tracking illegal images.
But the debate behind the announcement is perhaps more interesting. It reveals a split between two different power bases: On one side, the increasingly powerful tech companies who believe government attempts to police the internet are essentially impossible. And on the other, the prime minister's team, who want something – anything – to be done to regulate the darker corners of the internet, especially when it comes to child abuse images.
Members of Cameron's team claim they were initially exasperated with what they perceived to be knee-jerk libertarianism among tech executives when they broached the issue of cracking down on child abuse images.
"They thought we were modern day equivalents of Mary Whitehouse," a Downing Street source told BuzzFeed News. "They have a very broad, completely anti-censorship view and think the internet should be a place without boundaries."
According to this No. 10 insider, web companies repeatedly raised fears that filtering their service in any form at the behest of the UK government could make it easier for repressive regimes such as Russia or China to justify more excessive demands.
"But this is not censorship, this is criminality," the source insisted, before attacking suggestions that further attempting to control the internet, even for child abuse images, risked limiting freedom of speech and inadvertent censorship of other material. "It's about recognising the world's a bit more complicated than that."
The comments reveal the thinking at the heart of Downing Street and suggest there is a deep desire to police the web more thoroughly among the prime minister's top team: "It's very easy to reduce these to arguments like, 'This is like Lady Chatterley's Lover in the 1960s', but D.H. Lawrence was a well-established literary novelist pushing the boundaries of taste in fiction at that time. That's a perfectly legitimate thing and banning that is nothing like what we're talking about."
The concern within Downing Street about material available online extends from child abuse images to the separate issue of the easy availability of extreme pornography made by consenting adults. This has been repeatedly targeted by the coalition due to the belief within the government that its prevalence is causing serious harm to society.
Despite today's announcements, there are questions about the extent to which the measures can be successful. The new joint GCHQ-NCA police unit admits it will be difficult to police the so-called dark web, accessed through anonymising services such as Tor, where most of the trade in child abuse images takes place. But it points to a recent prosecution in which GCHQ helped track down a Briton who was dealing in such material despite his use of anonymising software.
Google and Facebook have decided to publicly back the prime minister's announcement, made at a web safety summit at London's Lancaster House. Whatever their private misgivings, the web firms are currently having to play along with the government's line.